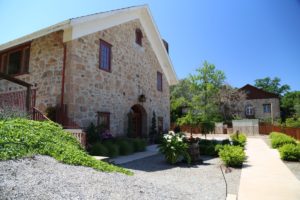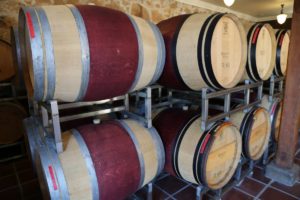 Morlet Family Vineyards was started by French winemaker Luc Morlet and his wife Jodie; 2006 was their first vintage. Luc was born in Epernay France (Champagne) and is from five generations of winegrowers; he has worked over 30 harvests. He has been surrounded by the wine industry his entire life – his family has been growing grapes and making wine since the early 1800's. The family winery, Champagne Pierre Morlet is located in Avenay-Val-d'Or, Champagne France about a 15 minute drive from the center of Epernay. Their focus is on Pinot Noir and Chardonnay creating several multi-vintage Champagnes as well as a vintage wine during exceptional years.
Luc holds several degrees in winemaking and viticulture from France and after working at his family's winery he worked at wineries in Burgundy, Bordeaux, Champagne and the southwest part of France. His first introduction to the Napa Valley however, was in 1993 – met Jodie for the first time in France in 1994. He returned to Napa permanently in 1996 where he took over for John Kongsgaard at Newton and he and Jodie were also married that same year. Before Luc became their Director of Viticulture and Enology he had a chance to work with John and later continued crafting their well-known, Unfiltered Chardonnay.
Jodie grew up in Sacramento to parents who were teachers and she later also became a teacher. Her introduction to wine was through Luc – in 1999 she founded The Morlet Selection, importing Pierre Morlet Champagnes. Today she is the General Manger for Morlet Family Vineyards.
Luc also consulted with French blending master Michel Rolland during his time at Newton. Later Luc became the full time winemaker at Peter Michael Winery (just north of the Napa Valley in Knights Valley) and more recently was winemaker at Staglin Family Vineyard. He is still the consulting winemaker at Peter Michael – helping his brother Nicolas who is their primary winemaker.
Luc is an extremely talented individual whose knowledge about wine and passion has helped create some of the top wines in valley including working with some of the most sought after vineyards including Beckstoffer's To Kalon. He is also an inventor; he created a special type of sorting/destemmer device and had it patented under the name Le TrieurTM. It is now sold under Santa Rosa based P&L Specialties with over 150 in production and it is used at some of the top wineries in the valley. While Luc's own Le Trieur is unlabeled, we have personally seen this product at several wineries in the Napa Valley.
Not only does Luc source from premium vineyards in Napa County, but his philosophy is to source from a variety of micro-climates and terroir seeking out regions that best match the varieties. As a result he sources from a number of vineyards in both Napa and Sonoma County as well as to the north. His winemaking is certainly "old world" in style and influence but uses the best of California fruit from specific terroir within Northern California's wide range of wine regions. Luc calls his own style "neo-classic laissez-faire without compromise". He takes a minimalist approach to winemaking but with one important factor: start with premium vineyards.
While the focus is unwavering from a vineyard perspective the winemaking is no less demanding in attention to detail. Using Luc's own destemmer, the grapes are removed and then double sorted. And rather then crushing the grapes, before fermentation someone gently uses their hands to break up some of the grapes. The wines are mostly unfiltered and indigenous yeast is used for the fermentations. Luc has access to a number of artisan French coopers. Some of his fermentations are conducted in demi-muid barrels – large style puncheons.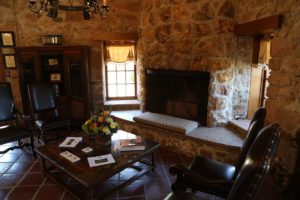 After several years of making their wine at another winery, in 2010 Morlet purchased an old stone gravity-fed winery just north of St. Helena from 1880 built by German immigrant William Castner. This old winery was converted into a home during the early years of Prohibition. The previous owners, Flying Horse Winery had already been working to restore the old building to a winery and after the Morlet's purchased the property they fully converted the part of the building to a winery. The crush pad is located behind the stone building, outside – they have plans to eventually tunnel a cave into the hillside for barrel storage.
And an old home on site (slightly north of the winery) is one of Napa's oldest wooden homes – dating from 1853 (Luc & Jodi lived here for several years); today it has been completely restored.
Select Wines
It is unusual to find an artisan Napa producer with such a varied lineup of wines. Fourteen different wines are in production at the time of this review bottled under Morlet Family Vineyard. In addition, a number of Luc's family Champagnes imported from France are also available through the winery. The Morlet Family wines are produced in small quantities usually from 50 cases to several hundred cases. All the wines have French names.
Morlet produces inspired wines with power yet a simultaneous finesse. These are classically created wines with grapes coming from premium mostly Napa Valley vineyard sites. Attention to detail is paramount, both in the vineyard and in the winery – anchored by a rich generational wine making heritage.
The 2008 Morlet Family Vineyards La Proportion Doree is a unique white wine blend from vines ranging from 50 to 100 years old in neighboring Sonoma County. This wine is a blend of Sémillon, Sauvignon Blanc and Muscadelle. La Proportion Doree means "the golden proportion" in French. This wine was fermented in barrel using indigenous yeasts. It shows a golden yellow hue in the glass. Offers notes of ripe red apple and honeysuckle. The entry is soft and rounded continuing across the palate. This wine has a wonderful depth of flavor with lingering zesty spices on the finish. The richness of flavor continues for some time. This is also their most produced wine – about 500 cases and for those looking for an exceptional white wine, well worth seeking out.
The 2007 Morlet Family Vineyards Knight's Valley Mon Chevalier or in English, "my knight" has a dual meaning – named in honor of his son as well as for the Knight's Valley source vineyard. This wine was made in a Rhone style and includes the 5 major Bordeaux varieties – the majority being Cabernet Sauvignon. Dark fruit and sage on the nose lead to a palate that shows predominately blue and black fruit including blackberry and black cherry. The finish shows appealing texture with soft and rounded tannins. This is an elegant food friendly wine. As with his other wines Morlet uses a judicious amount of French oak often from artisan coopers – with the oak adding complexity to the wine rather than dominating; the focus being on balanced wines.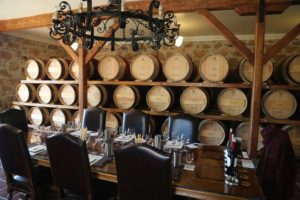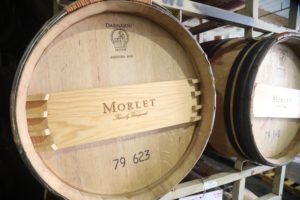 One of our favorite Syrah's from a Napa Valley producer is their Bouquet Garni ("Garnished Bouquet); the 2007 Morlet Family Vineyards Bouquet Garni, 100% varietal Syrah is from a vineyard in Santa Rosa's Bennett Valley in neighboring Sonoma County. Dark fruit aromas on the nose along with hints of toasted oak lead to an initially soft palate which quickly gains complexity across the mouth. This wine is voluptuous without being too big and shows finesse without being too delicate. Notes of spice on the palate include pepper and cloves. The finish is anchored by rather soft delicate tannins and is wonderfully in balance.
The 2012 Morlet Family Vineyards Mon Chevalier (from their Knights Valley vineyard) is dark ruby color offering a diversity of aromas including dark cherry, ripe plum, cigar smoke, old leather, a subtle herbal note, sweet baking spices and milk chocolate. This is a fun wine to smell. Good acidity anchored by long lasting dusty tannins – slightly chewy. Also finishes with darker spices and hints of espresso. Still has loads of life ahead with proper aging.
Rather then a single vineyard expression, Passionnément is a barrel selection which today includes their three vineyard sites. The 2012 Morlet Family Vineyards Passionnément was sourced from select Beckstoffer owned vineyards in Oakville. An intriguing somewhat savory bouquet presents itself immediately with aromas of leather, dark chocolate, truffle, blackberry and creme de cassis. Richly endowed on the palate, offers mouth watering acidity with darker fruit tones including blackberry and plum. Firm, robust and slightly chewy tannins anchor a very long finish complemented by darker spices.
During select years, Morlet produced a natural botrytis late harvest dessert wine called Billet Doux. The 2012 Morlet Family Vineyards Billet Doux (translates to 'love note' in English) is a blend of Sémillon, Sauvignon Blanc and Muscat sourced from vineyards in Alexander Valley, Sonoma County. In its youth, showcases an aromatic intensity of ripe fruit including apricot, peach and notes of honey. Equally as intense on the palate and sweet with a rounded softness or creaminess if you will from mid palate through to the finish. Concentrated flavors of apricot with a long flavor filled finish. It will be interesting to let this wine age for many more years to experience the additional complexities that will invariably develop over time in the bottle.
Vineyards
Morlet both owns vineyards and sources grapes from long term contracts with growers – allowing them to consistently access specific vineyard blocks each year. Morlet's own vineyards are planted to both Cabernet Sauvignon and Cabernet Franc. Their first acquisition was the 7-acre Mon Chevalier Vineyard (creatively named in French which translates to 'my knight') located in Knights Valley – just north of Calistoga in neighboring Sonoma County.
The site of the winery contains 6 acres of vineyards. And in 2015 Morlet purchased a prime piece of land in Oakville, the 20 acre Coeur de Vallee vineyard – located on the Oakville Bench (alluvial fan soils, which are some of the most coveted sites in the valley); nearby vineyard neighbors include Gamble Family and Ashe Vineyards, a site that is not far from the famed To Kalon Vineyard.
Champagne Pierre Morlet
To be updated after we visit Champagne Pierre Morlet by 2022 or 2023.
Morley Family Vineyards imports approximately 2000 cases of Champagne Pierre Morlet to the United States each year; for a fairly small producer and high quality of the wine, these wines are available at a reasonable retail price.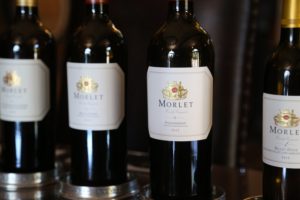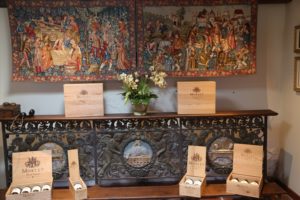 The 2002 Champagne Pierre Morlet Grande Reserve is a softer styled Champagne with appealing subtle aromas of melon, peach and watermelon on the bouquet. White toast, strawberry, watermelon and other delicate fruit show on the slightly creamy palate. This Champagne was partially fermented in the larger demi-muid barrels (a rarity in Champagne). This Champagne is an excellent value. For more information about their wines and the family winery in Champagne, France visit: www.champagnepierremorlet.com
All Morlet's wines are verifiable and easily authenticated by the Bubble Seal and Prooftag that appears on every bottle. This seal certifies the authenticity of every bottle of wine; the identity codes can be entered on the company's website. For more information about this unique and innovative way of securing the authenticity of every wine bottle visit: www.prooftag.com
Most of their wines are sold direct through the mailing list although you can find the wine locally at 750 Wines in St. Helena. They also have good distribution in Los Angeles and are found at Spago Beverly Hills. For more information and to join the waiting list, visit: www.morletwines.com
Coeur de Vallée Vineyard

Champagne Pierre Morlet

Photographs coming by 2022 or 2023 as part of yet another Napa Valley trip to Europe.