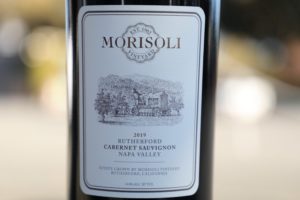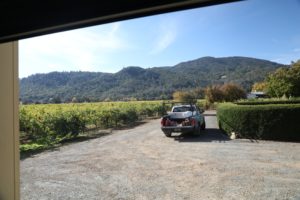 Morisoli Vineyard. The Morisoli family is deeply rooted in Rutherford. Fifth generation, Chris Morisoli's great great grandfather Rocco Morisoli immigrated to the U.S. from the small town of Monte Carasso in what is now southern Switzerland in 1883. Monte Carasso is located about an hour and 15 minute drive from the airport in Milan and is in the Bellinzona region of the Ticino Canton. It is located in a beautiful part of the country surrounded by picturesque mountains.
Those who visit Monte Carasso can explore the nearby region including taking the Mornera (cable car) from Monte Carasso into the mountains for hiking (and food at the restaurant located at the uppermost stop), walking across the 270 meter Carasc Tibetan Bridge, visiting the ruins of the Prada's Village, spending time at the church of San Barnárd and if timing permits, shopping at the Saturday morning city market in Bellinzona. And there are at least nine wineries in the vicinity
Remarkably there are other families who own wineries or brands in Napa Valley who are also from either Monte Carasso or nearby villages including the Pestoni's and the Regusci's. And numerous Morisoli's still live in the village – one only has to visit the local cemetery to see all the Morisoli families who are buried here. Our photographs from our visit to Monte Carasso are shown at the end of this review.
Ten years after Rocco immigrated to the U.S he married Lodovina and they both settled in a small house on Niebaum Lane in Napa Valley in 1902 as sharecroppers. After they divorced in 1906, Lodovina continued to live in Napa Valley, and in 1910 along with her new husband Natale Tonarelli (a viticulturist) purchased 11 acres in Rutherford and moved onto the property. Ludovina was listed as the owner of record of the property. Subsequent generations purchased additional contiguous land; the Morisoli Vineyard is now 57 acres of which approximately 53 acres are planted to vines spread among three adjoining parcels.
Chris's great grandfather Plinio was born in 1902 at his parents' house on Niebaum Lane and married his wife Clementina in 1926. Plinio was deeply involved in the wine industry; at various points in his career worked as a manager at Louis Martini Winery, a manager at Greystone Cellars in St. Helena in the 1940s (now the home to the Culinary Institute of America in St. Helena) and later in his career as supervisor at E&J Gallo Winery in Modesto. Chris showed us an old newspaper clipping referencing Plinio selling a ton of grapes for $20 to the Italian Swiss Colony in 1934.
Plinio operated the General Merchandise Store in Rutherford from 1926-1928 on site of what is now Rutherford Grill. Chris remembers hearing stories from his family of how Plinio would personally deliver supplies to miners working nearby cinnabar ore mines (Mercury) in the Mayacamas mountains during the late 1920s. An article dated November 24, 1928, in the Napa Journal mentions that he sold his provisions business to an A. Bosetti of San Francisco and a Peter Brovelli of St. Helena.
Morisoli Vineyard is one of the iconic properties in this part of Rutherford which also includes neighboring Inglenook, J.J. Cohn (Scarecrow) and Phelps' Banca Dorado Vineyard.
Vines were originally planted on their property in the late 1880s and were then replanted between 1902 and 1908. The oldest vines on their property (perhaps in all of Rutherford) date from 1910 and are a 2-acre field blend located at the top of a rise of at least nine red varieties. In 2001 French ampeleographer, Jean Michel-Boursiquot and Director of Domaine Vassal, the world's largest conservatory of grape varieties, walked Morisoli Vineyard and identified the following nine varieties: Alicante Bouschet, Carignan, Durif, Grand Noir de la Calamette, Muscat Hamburg, Negrette, Syrah, Valdiguié and Zinfandel.
Domaine du Vassal, France

And the Morisoli family still farms their vineyard with old tractors and keeps all the vineyard management in-house (rather than hiring a vineyard management company). Chris's father Gary collects and restores old tractors, in particular the Caterpillar D2 model, a tractor that was manufactured from 1938 until 1957. But the two-acre old block site is exclusively farmed with a restored 1934 Cletrac Tractor (it starts using a hand crank). An image of this tractor dragging a cultivator (used for tilling) appears on the wine label.
The property is primarily planted to Cabernet Sauvignon but also contains seven acres of a 1980s planting of Zinfandel. And this section of Zinfandel was one of the original vineyard sources for winemaker Dave Phinney's earliest bottlings of The Prisoner wine. Some of the first vineyard designate bottlings from Morisoli Vineyard were by Elyse Winery and Whitehall Lane.
One walks the Morisoli property and immediately observes a few things: its location in the heart of Napa Valley and its proximity to the nearby Mayacamas mountains and one also notices its smells including the dustiness of the disced soils on a warm summer's day and the darkness of old grease, oil and gasoline when walking into the tractor shed. This site is rooted in history with a significant sense of place.
Winemaker
Winemaker Joel Aiken crafts the Morisoli Vineyard Cabernet Sauvignon each year. Joel has strong ties to Rutherford having spent 28 years at Beaulieu Vineyard from 1982 until retiring in 2009. But retirement is all relative, the day after he retired from Beaulieu Vineyard, he took a consulting job and by harvest of that same year he was already crushing fruit for his own brand Aiken Wine. While he is no longer producing wines bottled under Aiken, one of his wines was a vineyard designated Morisoli Vineyard Cabernet Sauvignon.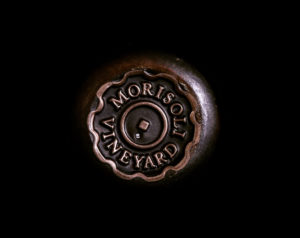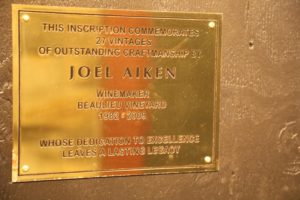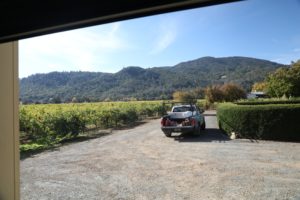 Joel grew up in Fresno and later nearby Clovis after his family moved to a 15-acre property in the country. The site was planted to an 8-acre peach orchard along with a similar sized vineyard. His father removed the old Muscat vineyard but kept the peach trees. Joel's first introduction to agriculture was during these formative years when he would help his brother manage the orchard and, in the summer, harvest peaches. His parents never drank fine wine; Joel recalls the gallon jug wines they purchased in 4 packs for $1 per jug.
When deciding upon college Joel thought perhaps for convenience sake, he would stay close to home and attend Fresno State but his mother encouraged him to leave Fresno and study a bit further afield. Ultimately Joel enrolled at the University of California, Davis and completed his undergraduate degree in Biology. Weekend trips to Napa Valley hooked him on wine and upon graduating, worked his first harvest in Napa Valley at Inglenook Vineyards in 1980. He returned to UC Davis for his master's thesis as he recalls a number of his fellow students were involved in often esoteric master's thesis's but his had immediate real wine world applications – comparing French and American oak barrels for the purposes of aging of Cabernet Sauvignon.
Tonnellerie Française had just opened their cooperage in Calistoga in 1980, the first French cooperage in the USA. This cooperage is now known as Nadalié USA. Prior to their opening, American oak barrels used in domestic winemaking were non-toasted whisky barrels. Tonnellerie Française took the unprecedented step to air-dry and toast American oak. Joel worked with them in trials to compare the taste of American versus French oak and noted that they weren't able to tell the difference between the two oaks if both woods were treated exactly the same (air-dried and then toasted).
While working on his Master's, Beaulieu Vineyard took note of his interesting research and hired him as an enologist in 1982 (he recalls all the commuting back and forth from Davis for a period). Within three years at Beaulieu Vineyard Joel was promoted to winemaker (their youngest winemaker in history). During his time here, he played an instrumental role including overseeing the construction of the winery within the winery for the Georges DeLatour Reserve Winery at Beaulieu Vineyard, ran a Pinot Noir clonal research program in Carneros, oversaw the replanting of some of Beaulieu Vineyard's vines in Rutherford, oversaw winemaking at Acacia and Provenance and was privileged to work with international wine consultant Michel Rolland and for a short while, "Mr. Beaulieu", André Tchelistcheff towards the end of Andre's life.
Joel recalls Andre visited Beaulieu Vineyard at age 89 in 1990, some 16 years after leaving a 36-year career there which began in 1938. The winemaking team was proudly showing him the winery and traditional winemaking practices (including older American oak barrels) that in part Andre setup back when he was working at Beaulieu Vineyard. Andre remarked, something like, "it has been 17 years since I have worked here, I have changed, why haven't you".
Joel has worked with more than 50 vineyards in Napa Valley; he told us that his best vineyard sites have always come from Rutherford, especially from the parts of this sub appellation which are located on old river gravel and alluvial fan sites.
Joel's winemaking philosophy is simple yet at the same time profound – start with great vineyard sites and do not conduct extensive winemaking in the winery to overpower the characteristics provided from the vineyard. And work with growers who have the same high regard to quality – and over time, learn how to manage each vineyard on its own merit to express the maximum potential of the site without letting the winemaking take over.
Select Wines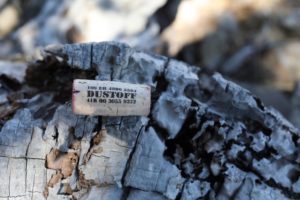 The Morisoli wines are crafted to be balanced and elegant, even in their youth. The wine is typically aged in 60-65% new French oak using a variety of coopers for two years and then another two years in bottle before being released. The grapes for each vintage of their Cabernet Sauvignon come from the same section of the vineyard every year and are harvested from clones 7 and 8 on 110R and 1103P (Paulson) rootstocks. This wine is always 100% varietal Cabernet Sauvignon.
The 2020 Morisoli Vineyard Cabernet Sauvignon is deep ruby in color; for reference we tasted this bottling about a year before its release. The bouquet is shy in its youth and took about 40 minutes to fully evolve in the glass. Its initial aromatics show as darker including notes of library book/parchment paper, an earthy note including dust and dark chocolate. This is not as fruit forward as the immediately opulent 2018 was upon release. It eventually develops aromas of plum, cherry, cardamom and cloves. The palate is primarily red fruited and reveals flavors of plum, cherry and currant. This vintage and this bottling in particular offers bright acidity. Fresh. Balanced. No questions there. The tannins are supple, showcasing the Morisoli textural trademark and linger slightly creamy with a gentle texture.
The 2019 Morisoli Vineyard Cabernet Sauvignon is dark ruby with some purplish tinges on the rim of the glass; the bouquet is immediately elegant with a pleasing union of both primary and secondary aromatics. The aromas show both red and dark fruits including blackberry, boysenberry, bramble and ripe mulberry along with tobacco spice, old cedar box, Graham cracker, milk chocolate and leather. Give the bouquet time to breath; the fruit becomes the star of the show as this wine continues to evolve. Like on the bouquet, there is not one aspect of the palate that dominates. We immediately wrote the word, seamless to describe its cadence and structure. We sometimes use the word chalky to describe finely knitted tannins, but these are lighter and finer than even that description conveys. The finish also shows a savory character with a brightness of acidity plus a darker spice note including of dried tobacco leaf and old cedar. This is a beautiful rich, yet balanced bottling.
The 2018 Morisoli Vineyard Cabernet Sauvignon (inaugural vintage) is dark ruby in color; the bouquet is opulent and shows plenty of up-front fruit including aromas of blackberry, dark plum and black cherry along with espresso, tobacco spice, cedar and dust. The aromatics are arguably riper than the 2019 vintage while the palate offers more intensity and density of both flavor and structure. The tannins are firm, earthy, dusty and offer a gravelly texture which continues to persist for some time. This wine finishes dark and savory with some notes of crushed pepper, cedar and a tobacco spice along with an accompanying parallel of fruit. The grapes for this wine were harvested with a scheduled pick date prior to the start of the devastating Glass Fire.
In 2023, Morisoli began producing Zinfandel from their old block.
—
The packaging is highly personal to Chris; instead of GPS coordinates highlighting the vineyards' location, Chris uses the Military Grid Reference System (MGRS) in homage to his time serving in Afghanistan and Iraq and now in the California Army National Guard. The first set of coordinates, 10S EH 4986 5584 refer to the location of Morisoli Vineyard and the second set of coordinates, 41R QQ 3055 9322 refer to the Zaray-Panjwaji region in Afghanistan where he served flying helicopters for a MEDEVAC company. A portion of the proceeds from the sales of the wine will be donated to foundations whose focus is on support combat injured service members.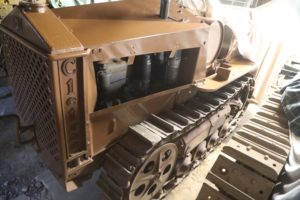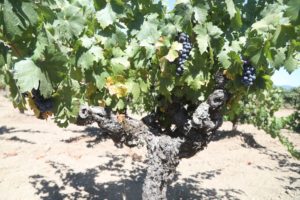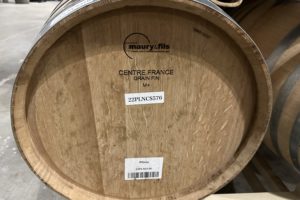 And in homage to their land and the work needed to disc the soils between every row each year, an outline of a disc blade appears on top of the capsule and is also incorporated into their logo. This practice has several practical applications including to help maintain soil moisture during the dry summer and fall months. In fact, Chris has created metal signs using old disc blades fastened to some of the end rows welded with names of wineries; these identify sections of the vineyard sold to various wineries who purchase their grapes.
Designer Cynthia Kirk created the label designs; she has created wine labels for a number of premium Napa Valley based brands including Seavey, Biale and Hoopes among others. Each bottle is assigned its own number. The wines are sold direct to consumer in three-pack wooden cases built by Cody Collins of Spring Mountain Case Company. The focus of production is on merely one wine each year with production totals hovering at just under 150 cases per year. Distribution is extremely limited; with select vintage availability in Gary's in St. Helena and Backroom Wines in the city of Napa.
Morisoli Vineyard is a member of the Rutherford Dust Society (est. 1994), an organization composed of Rutherford based growers and wineries whose goal is to preserve the heritage and vineyards of this sub appellation. The society hosts several events each year including tastings for both consumers and trade.
And Morisoli Vineyard is a member of the Historic Vineyard Society whose focus is very specific; to preserve these old vineyards while simultaneously educating, researching and promoting their historical value along with hosting related events. Over the years they have compiled a list of California's oldest vineyard sites; to be included, a vineyard must be at least 50 years old and 1/3 of the vines must be original plantings. For reference the two oldest commercially producing vineyards in Napa Valley are Canard in Calistoga and The Crane Assembly in St. Helena, both with original vines dating to the 1880s.
For more information about Morisoli Vineyard or to purchase wine, visit: www.morisolivineyard.com
Morisoli Agriculture, Monte Carasso Switzerland

Monte Carasso, Switzerland