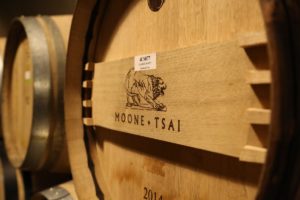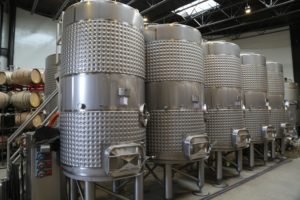 Moone-Tsai Wine released their first vintage in 2006 and is a partnership between the husband wife team of Larry and MaryAnne Tsai. More recently Larry and MaryAnne purchased out the other person in the partnership, Mike Moone. This winery is a culmination of many years combined experience in the Napa wine industry. Mike Moone built an enviable career with over 40 years in the food and wine industry. He was President of Beringer Wine Estates – ultimately turning the winery into a powerhouse by significantly improving quality and increasing sales – he founded Luna Vineyards as well as Silverado Properties which currently farms over 5000 vineyard acres in Northern California.
In the late 1980's Mike invited MaryAnn to come to the the Napa Valley; she joined him at Beringer and then after Luna Vineyards was founded – she became their President in 2001. She spent some 20+ years at Beringer. Her husband Larry was most recently managing the Napa Valley Opera House and today is Moone-Tsai's General Manager.
The focus of Moone-Tsai has always been on Cabernet Sauvignon. The Cor Leonis is their primary Cabernet Sauvignon – they produce a Napa Valley Cabernet Sauvignon, a red hillside blend and also a Chardonnay. The label is of a lion for several reasons. In Greek and Roman mythology the lion is the valiant protector of the wine god Bacchus and it shows strength, elegance and endurance – all qualities they strive for in their wines.
Philippe Melka makes the wines – with a degree in Geology and in winemaking, 20 years working in Napa and an exceptional palate – his services are much in demand in the valley and beyond. With Mike and MaryAnn's experience in Napa Valley – and the vineyard expertise and connections of Philippe it is not surprising that their vineyard sources are from some of the most sought after vineyards in the valley including To Kalon in Oakville, select vineyards on Pritchard Hill and in Coombsville.
They are careful how they manage structure in their wines – they create wines that are powerful yet have elegance and finesse. This requires a careful balance of course; they focus on each vineyard and the purity of the fruit. Moone-Tsai ultimately wants to create wines that will continue to evolve and reveal complexities over time.
Select Wines

The 2009 Moone-Tsai Napa Valley Chardonnay is sourced from a vineyard high on Mt. Veeder at about 1600 feet. This is a unique wine because it is the first Chardonnay that Philippe Melka has made for a Napa vintner – and he has made a lot of very highly regarded wines for a number of Napa producers over the past 20 or so years. This is Moone-Tsai's first release of a white wine. The bouquet shows a fullness that foreshadows the palate. Inviting aromas of crème Brule, caramel undertones and honey show on the bouquet. The palate is soft upon entry with a creamy and rounded mouth feel. The complexity and concentration of flavor show around the mid palate and continue through the lingering finish.
Often white wine is thought of as best consumed during warmer months – however this is the perfect wine to have during holidays and the colder winter months – it is not a delicate chardonnay and delivers both structure and flavor.
Balance is a word that is used to describe fine wines or wines that have become "fine" after cellaring. Its not always used to describe the bouquet – but the 2008 Moone-Tsai Napa Valley Cabernet Sauvignon shows a bouquet that certainly is in balance. Its not an explosive nose with overly ripe fruit and its not muted either. Black fruit, berry and black cherry certainly show and as the wine opens the bouquet reveals a little pepper and dark chocolate. The palate shows good mouth watering natural acidity with a core of delicious red fruit.
Most of the Cabernet Sauvignon for this wine was sourced from the cooler Coombsville region (south valley) and the Merlot comes from about 2100 feet on Howell Mountain.
—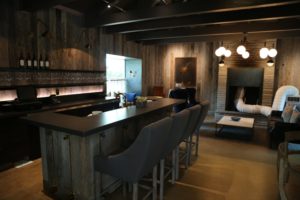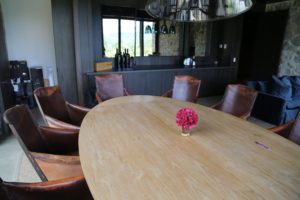 Philippe is a surfer and Larry makes a comparison between surfing and wine. When your on the board, every wave is different – just like every vineyard and wine is different. The wave changes as it rolls onto shore and crests and so does wine as it matures, peaks and then begins its decline. It is up to the surfer to ride each unique wave into shore as it is up to the winemaker to craft a wine based on each unique vineyard.
Neither the Tsai's are looking to turn this into a large winery – Mike and MaryAnn already have experience with much bigger productions. Less than 200 cases was released from their first vintage (2003); they have grown every year since – today they make just under 4000 cases. The wines are prized by collectors locally as well as overseas; most of the wine is distributed via a mailing list. Locally you can find the wine at select restaurants including Morimoto, La Toque, and Ad hoc.
Tastings have been hosted at several places over the years – including at Luna Vineyards (where we first met up with Larry and MaryAnne) and at Caldwell Vineyards – based on where the wines were made or connections the owners had to specific wineries. Today tastings are hosted in one of the tasting rooms at Brasswood Winery (about 5-7 minutes driving north of the town of St. Helena) where the Moone-Tsai wines are made. Brasswood is not only a production winery (home to a number of very premium wine brands) but also a community with a restaurant, deli, art gallery and several of their own tasting rooms to showcase the Brasswood Wines.
Moone-Tsai offers several tasting experiences including current releases paired with various artisan cheeses and another tasting paired with a three-course lunch. Visits are for serious wine enthusiasts and are by appointment only.
For more information, to book an experience and or to join their mailing list, visit: www.moonetsai.com