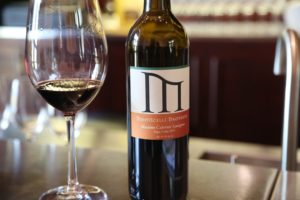 Monticelli Brothers Winery is owned and operated by two brothers, Massimo and Mario – both 4th generation winemakers. There other brother Marcus is not involved; instead, he is a chemical engineer. In Italy, small towns have a "local winemaker" which was a role their grandfather filled in a small village in Tuscany, about 30 minutes north of Florence. After WWII he and his family including Massimo and Mario's father Marcello Monticelli immigrated to the USA, settling in Madera (Madera County). Bringing cuttings in a suitcase, their grandfather literally brought his business with him, which were the beginnings to start a vineyard in California. For many years he grew grapes in the Central valley for making raisins but kept a number of rows planted to Italian varieties for home wine. As a result, both Massimo and Mario have spent their entire lives in and around the wine industry. Their father Marcello was winemaker and later an executive for Gallo Winery spending almost his entire winemaking career there from 1970 through 2020. He worked with Julio Gallo and later became a mentor to many in the industry including Julio's granddaughter Gina.
One should not confuse this winery with Monticello Winery (named after Thomas Jefferson's estate and no relation to the family); Monticelli Brothers actually made the first few vintages of their wine at Monticello Winery, perhaps contributing to some confusion at that time.
All their wines are named after family members and as of our latest update to this review they produce four different wines. We met with Massimo for our tasting. He is spirited, enthusiastic and extremely passionate about the hands-on part of wine making. Once on the fast track to be a doctor, he graduated from UC Irvine with a degree in Chemistry and Biology. But his family roots called out and he changed career paths eventually earning his masters in Enology and Viticulture from UC Davis. His first wine job in Napa Valley was as an Enologist for Silver Oak. Along with making his own wine, he also consults for a number of select fairly small producers. He often works with great Napa vineyard sources, and he uses a soccer analogy in regard to his winemaking, "the goalie is out of the cage and it's his job to tap it in." He doesn't take credit for the wines – rather deflects praise on his vineyard sources.
Select Wines
The 2015 Monticelli Brothers Cabernet Sauvignon is a blend of vineyards from St. Helena and Coombsville. This wine has plenty going on in the bouquet with aromas of plum and dark cherry and as the wine breathes, sweet dessert spices including vanilla, a hint of cedar plank and a blood orange nuance. Highly aromatic; it keeps evolving nicely over time. The palate has very good acidity, showing a mouthwatering brightness accompanied by firm but not overly gripping tannins.
An extremely unique offering for a Napa Valley based producer is their Sagrantino; this Italian variety is indigenous to Umbria. 2018 was their first ever vintage of this wine.
For many years the brothers sourced their Sangiovese from the Russian River, on a property owned by Gallo. Gallo planted 10 different clones of Sangiovese including one of their grandfather's clones brought to the U.S. when he immigrated. At one point the rows of all the other clones were removed leaving just four rows of their grandfather's Sangiovese. But eventually these rows were also removed and as of latest update to this review, Monticelli Brothers no longer produces wines from this variety. The 2003 Mario Sangiovese is made in an Italian style. True to the Italian way of making this wine it is 100% varietal. It has bright fruit, lively acidity and very fruit driven aromas. Notes of red cherry with an assortment of spices are found on the mid palate; the finish is very smooth.
One variety that Massimo loves working with is Cabernet Sauvignon; he told us that he would rather drink a mediocre Cabernet Sauvignon than any other variety. The 2006 Monticello Brothers Massimo Cabernet Sauvignon (named after himself in regard to his passion for this wine) is anything but mediocre. It is sourced from several premium Napa Valley vineyards. It is dark and inky and conveys very nice balance both on the bouquet and on the palate. This is a rich mouthwatering wine. The lengthy finish is somewhat dusty and almost earthy in nature.
Out of more than 1,100 Napa commercial wine producers we have visited and tasted with on this project we have run into only a non-vintage red wine a handful of times (we are not counting non-vintage sweet Port-style wine); it is very rare to find this type of wine in Napa. This is the wine that both Massimo and Mario would drink while "making" wine in the cellar. They determined (correctly) that since it was something they enjoyed (even while working), why not bottle it commercially. Little did they know how popular of a wine it would become as now it is their best seller.
After tasting it, we can see why. By bottling a modified Solera style non-vintage wine, you combine the characteristics that aging brings to the wine as well as additional fruit from the younger "juice". They strive for consistency with this wine always using the same oak program from year to year as well as 50% of the wine left in barrel always carries over to the next year's vintage. This wine is called Rolando Rosso, named after a great uncle. It is a blend of Cabernet Sauvignon, Syrah and Merlot. We tried the current release; the aromas are floral, and hints of violet are intermingled with very ripe fruit. The palate is juicy ready to drink now, and the mouth feel is smooth and velvety with appealing fruit flavors.
For one vintage only (2003), they produced a rich dessert wine called Lito Vin Santo (which was their mother's favorite wine). The grapes for this wine are harvested late and are laid out on mats to dehydrate. They were then pressed off creating resulting juice that is very rich and concentrated in flavor. Fermentation and aging then takes place in sealed oak barrels. After 3-5 years of aging the clear wine is removed from the cloudy lees and other yeast material. The "mother yeast" is always left in the remaining barrels which are then filled with the current years vintage.
Historically this same yeast has been used in their family for this type of wine since the 1950s. Some interesting varieties are used to make this wine including Muscat Canelli, Malvasia Bianca, followed by Sangiovese, Aleatico and very small amounts of Brachetto, Semillon and Trousseau. The 2003 is a pleasant wine (residual sugar only 2% with a relatively low alcohol content) with a honey profile on the nose which also shows as flavor on the palate. We also noted apricot, crème Brule, a toasted nuttiness and a slight baking spice to the finish.
—
Their focus of distribution is within restaurants; one can find them locally on the wine list at Don Giovanni's in Napa (where sometimes one can find Massimo hanging out at the bar) and the Rutherford Grill. The have select distribution in New York and Florida. The wines are priced extremely well for the quality. They also sell direct to consumer and have a wine club, appropriately called, 'the brotherhood'. For more information and to join their mailing list, visit: www.monticellibros.com