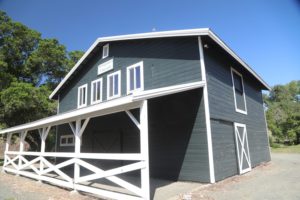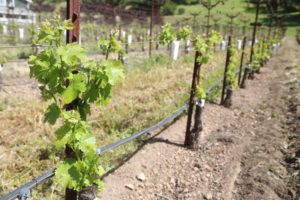 Montgomery Vineyard. Proprietors Bob and Val Montgomery were visiting friends in San Francisco in the late 1970s when these friends suggested they make a visit up to the Napa Valley. That was their first visit; then later Bob and Valerie returned to the valley on their own and in 1978 they spotted a 'for sale by owner' sign in the far northern reaches of the valley – not far from the Sonoma County line directly off of Highway 128. On an impulse they made an offer that year; they were one of three offers and not the highest one either. However, the owner Alex Miltrovich (in 1952 founded Alex's Fine Foods in Calistoga) and his wife Ann took a liking to Bob and Val (even calling Bob his long-lost Yugoslavian son despite Bob's heritage not being from that part of Europe) and eventually chose to sell to the Montgomery's.
Bob was born in Pennsylvania (his father worked in the coal mines); after graduating from law school, he applied for positions in select cities across the country – eventually taking a position at Gibson, Dunn & Crutcher in Los Angeles where he recalls he was one of 67 lawyers on their team at the time. When he retired as senior partner from this firm some 40 years later, he recalls the company had remarkably grown to over 1300 lawyers.
Their original intent when they purchased this property was as a respite from their busy lives. Because of Bob's work with the law firm, he was often traveling and especially after long international trips he and Val always looked forward to stays at their Calistoga property – a place they could go and 'decompress' as he calls it. Bob's family did not drink wine during his childhood – it was later through work related meals and events that he was introduced to wine.
Once he and Val owned this property – they began to spend more time in Napa Valley, meeting local vintners including Louis Martini and Robert Mondavi through a square dance group that Bob and Val were members of. Along with being residents of the valley, it was also through Bob's work that they met a number of vintners and to-be vintners. In fact, while representing one of his clients, A-M Homes of southern California, he met A-M's co-founder Bart Araujo and invited him to attend several of the earliest Napa Valley Vintner wine auctions. Bart was seduced by the Napa Valley lifestyle from these early visits and after he sold A-M Homes, he his wife Daphne founded Araujo Cellars and much later, Wheeler Farms.
The Montgomery property is peaceful, tucked into the hills with its own tiny valley and very picturesque lake to the rear of the property. Despite bordering Highway 128 the property is far removed from the much busier southern part of the Napa Valley. It is 50 acres and had never been planted to grapes although previously part of their land was used to grow hay. After some 25+ years of owning the property but never using it for wine purposes – in 2003/2004 the property was planted by Pina Vineyard Management Company to about 7.5 acres of vines – primarily to several different clones of Cabernet Sauvignon along with a tiny block of Petit Verdot (bottled as its own wine each year). Grapes have been sold to notable vintners or wineries over the years including Duckhorn, Paul Hobbs, David Ramey and currently to Lewis Cellars.
In addition to grapes, they grow three varieties of already mature Tuscan olive trees and produce a very limited production of olive oil.
Their first wine releases from the property, 2007 through 2009 were for friends and family – and to ascertain the quality of their site. Winemaker at Araujo Estate at the time, Françoise Peschon made those first few vintages. 2010 was their first commercial release. Winemaker Robbie Meyer (previously at Peter Michael and Lewis Cellars) has produced their wine every year since the 2010 vintage. Interestingly enough, Bob and Val met Robbie Meyer in Santa Barbara at a party celebrating the first release from Santa Ynez based Vogelzang Vineyard. They remembered being impressed by his energy and wine knowledge at that time – and reached out to him once they were ready to start producing wine from their own property.
In 2017 the infamous Tubbs Fire (which started nearby and eventually reached Santa Rosa, a 30-minute drive to the west) raced through their property, destroying the guesthouse, several water pump stations, a barn and their stand-alone garage. Remarkably and what Bob calls a miracle, the fire scorched the side of their primary home but did not burn it – rather it burned almost all the immediate exterior of the home.
Select Wines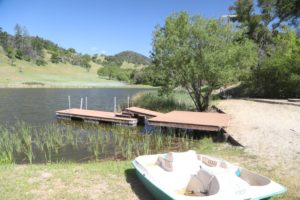 Until the 2020 vintage, their Sauvignon Blanc was sourced from the well-regarded Ryan's Vineyard in the Oak Knoll District – utilizing two clones of this variety – SB1 and Musqué. This site is a popular source for Sauvignon Blanc for a number of premium producers including Accendo Cellars and Matthiasson. However, Block 5 (slightly more than an acre) at Montgomery Vineyard was field grafted from Cabernet Sauvignon to Sauvignon Blanc – still using these same clones.
2021 was their first ever estate bottling of Sauvignon Blanc; their entire production will be from the estate moving forward. Incidentally, one of the first Sauvignon Blanc wines that Bob really enjoyed was from Spottswoode; he desired a wine to somewhat emulate the Spottswoode style.
The 2017 Montgomery Vineyard Napa Valley Sauvignon Blanc (Ryan's Vineyard) is medium yellow with a floral sweetness of aromas including citrus blossom and as the wine opens further, notes of honeysuckle. Rounded across the palate but not creamy – offers flavors of citrus including mandarin, red apple and a lime nuance. Lingers with a brightness on the finish but not a tartness. Superbly balanced – a wine that drinks nicely by itself. California style – showcasing ripeness and elegance but not greenness.
The 2016 Montgomery Vineyard Cabernet Sauvignon is medium to dark ruby in color; the bouquet shows some ripeness but also a simultaneous elegance. This balance is an appealing part of the aromatics which includes notes of berry fruits (blackberry and raspberry). A tiny bit savory with hints of cedar and an all-spice component including hints of nutmeg. Extremely balanced across the palate and very approachable. The tannins are a little dusty, subtle chalk-like and are well integrated in the finish. Lingers with notes of red cherry and hints of cedar and vanilla – the oak complements this wine rather than detracts.
The 2013 Montgomery Vineyard Petit Verdot is dark ruby; upon opening, immediately shows aromas of mushroom, forest floor, and cedar with hints of dried herbs. Somewhat savory – a little bit briary at times. This wine needs some time to breathe and as it does its fruit begins to show. Reaches a gorgeous aromatic plateau after about 30 minutes – with multiple layers including offering notes of blackberry and plum. Very well layered both on the bouquet and the palate. Somewhat savory on the finish showcases textured tannins with some density but not a heavy grip – lingers with notes of cedar and hints of white pepper. We tasted this wine 7 years post vintage – still plenty of life and energy left, probably hasn't even peaked yet. Some Cabernet Sauvignon is always blended into this wine.
Montgomery Vineyard produces wines that both Bob and Val enjoy drinking – wines with some extra age and are balanced, elegant and approachable in their youth. The Cabernet Sauvignon and Petit Verdot age for approximately two years in barrel and then another 2 years in bottle before release. Total production has not wavered much since their first vintage – around 500 cases each are produced of their three wines.
While some of their wines have been available in select local restaurants in the past – their wines are primarily sold direct to consumer through their mailing list. For more information and to sign up for their mailing list, visit: www.montgomeryvineyard.com