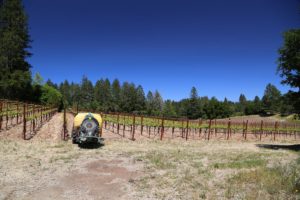 Moffet Vineyards produced their first commercial vintage in 1984 and were located at an old ghost winery near St. Helena for many years (what is now Dana Estates). The second generation became involved, restructured operations and now maintain their home estate vineyard near the town of Angwin in the Howell Mountain appellation. This is a prime Howell Mountain vineyard neighborhood – nearby neighbors include Arkenstone Winery and the well regarded Lail Mole Hill Vineyard.
The Moffet Family originally moved to the Napa Valley in 1976; at that time they were just looking for a quiet, rural agricultural place to raise their children. However they lived on Cabernet Lane with a terroir location of "Rutherford Bench". With a street name such as this and the Rutherford Bench being prime Cabernet growing land, how could you not make wine!
As with many vintners we have met with on this project, the "Napa Allure" kicked in and they found themselves with a vineyard manager and selling all fruit every year to local wineries. With their fruit in high demand they began asking the question every grower in the valley asks who doesn't actually make wine. They started taking some courses in wine making and quickly decided to retain some of their fruit for their own wine. This is truly a family owned and operated winery with all members handling some role ranging from the actual wine making to cellar operations as well as the sales & marketing.
Their new/estate vineyards on Howell Mountain are now producing. They are not open to the public but do accept appointments from interested serious wine enthusiasts. There is no signage for their location so be sure to get directions ahead of time. Look for the mailbox located at the top of a 20 foot pole near their dirt driveway! You will always taste with one of the owners – typically the winemaker himself. They produce a variety of wines including their Gemstone which is predominately Cabernet Sauvignon with several Bordeaux varietals blended in. This is the one Livingston Moffett label that will be continued as the rest of their labels will be called solely Moffett.
All vintages from 2008 onwards are now found under the Moffet label. This Cabernet Sauvignon is from the Gemstone vineyard in the Yountville district and has an interesting story as only women are allowed to manage the actual portion of this vineyard. Also be sure to try their Syrah. Syrah can be a difficult wine to make properly and they do a very good job with theirs. It is bottled unfined and unfiltered, native yeasts are used during the fermentation and a small percentage of the white varietal, Viognier is blended in.
Trent and his wife Colleen produce several other labels including Screen Play Wines and formerly C&T Cellars which had its first commercial production in the early to mid 1990's. The name C&T comes from the first initials their names. C&T is a fun wine with lively names such as Skinny Dip Sauvignon Blanc, Patio Pinot, and Rooftop Red among others.
The 2006 C&T Sauvignon Blanc is a crisp clean wine that will pair well with food. The bouquet has notes of pear and citrus with the citrus following onto the palate.
These Napa wines are all priced extremely affordable, especially by Napa standards. In 2014 Trent and his family moved their operations to Oregon (a location about 25 minutes south of Portland). The continue to make their Napa wines from Napa sourced fruit but are also making Oregon wines now. They have plans to build a winery at their Oregon property – tastings can be arranged with Trent if you are in the Portland area. Visit: www.moffettvineyards.com
NOTE: this review is now archived because while they are still sourcing Napa fruit, they are no longer located in Napa.