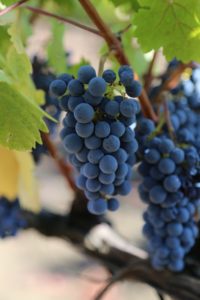 Modus Operandi Wines is operated by Jason Moore, a Texas transplant to the Napa Valley. Jason worked for several years in the restaurant industry waiting tables at fine establishments while living in Dallas and during this time earned his real estate license. He would wait tables by night and sell real estate by day. Ambitions of going on to a successful career in real estate were slowly squelched when he realized this was something that he was just not passionate about. Racking his brain for a career that would combine "fun" and education with something he was already passionate about clicked one day when his wife said, "how about doing something with wine".
This seriously hit home and within months they had sold most everything they owned and moved to Davis, California with the possible intent of attending UC Davis (prominent enology and viticulture programs) down the line. While in Davis he started to learn as much about wine as possible by immersing himself in wine making books, talking to other UC Davis enology and viticulture students and those in the industry. Being a hands-on guy and describing winemaking as "art supported by science" he eventually decided he needed to get some hands-on experience.
What turned into a fortuitous event occurred at a wine tasting. He met a Napa vineyard owner who had bought a piece of land for a vacation home which happened to have a sizeable vineyard. At the tasting, this gentleman told Jason about his vineyard and that he knew next to nothing about vineyard management and winemaking. Jason asked if it would be ok if he took his second crop and the reply came back that he could have the entire first crop.
Many things are often said at tastings, and you never know if someone is serious or not. Several months later Jason approached this man, and the deal was still on. In addition, he bought Jason all the necessary wine making equipment and setup a small lab containing everything he needed in a garage. Jason was able to put all his theory and studying to the test and he made several garagiste produced vintages. During this time, he was still working in the hospitality industry, in this case at the well regarded La Toque Restaurant which at the time was located in Yountville.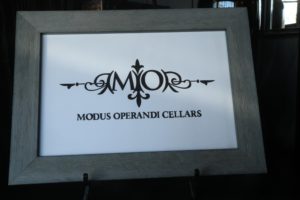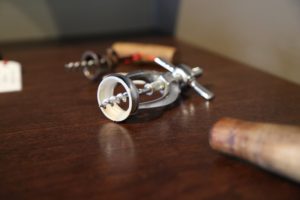 These were extremely long days in Napa (while still commuting between Davis) – besides his job at La Toque and his own wine making project he was also on the wine making team at Viader where he furthered his winemaking experience. It is clear that Jason has a well-focused passion for his art and truly enjoys wine making. Working with a number of small lots he has the flexibility and interest to experiment with different yeasts, barrel programs and a number of other winemaking techniques using grapes from the same vineyard. This experimentation is more of a long-term philosophy by over time choosing what works and applying this to future harvests.
His first vintage was in 2004; over the years he has moved his wine making operations to several small wineries in the valley including at Silenus Vintners and at "JuiceBox", a state of the art "business park" winery located in south Napa. Currently Jason produces his wines at Brasswood Winery in St. Helena (a state-of-the-art production facility where a number of premium labels are made). Jason also provides consulting winemaker services for select other Napa based producers.
We met with Jason soon after he returned from visiting small family-owned vineyards in France – as he says, his plan is a long term one for his own wine. He wants to pass this business down to his family similar to how generations run small wineries in France, Italy and other European countries. He currently makes three labels, Modus Operandi, Vicarious and Antithesis.
Select Wines
The 2008 Modus Operandi Sauvignon Blanc is sourced from an organic vineyard in Rutherford. This wine strikes a very nice balance between the grassier New Zealand styled Sauvignon Blancs and the Napa more fruit forward versions. It is a wine that is a result of several years prior experience using fruit from this vineyard as well as testing different yeast regiments and barrel programs. This wine saw both tank and barrel during its aging, is pale straw in the glass with excellent aromatics including notes of citrus blossom and honeysuckle. The palate is not overly creamy or for that matter too lean. It is crisp and clean with a super long finish leaving lingering notes of citrus on the palate including grapefruit.
All of the Modus red wines are blends – the 2006 Modus Operandi Cabernet Sauvignon is from some excellent vineyard sources including the Rocca Vineyards in cooler Coombsville (just east of the town of Napa), Merlot from Oakville and a bit of Cabernet Franc from the Crocker Starr Vineyard in St. Helena. This is a dark wine with lots of black fruit showing on the nose as well as touches of cocoa powder and cedar. The entry is soft and juicy but builds up structure rather quickly by the mid palate leading to a finish with broad dusty tannins. Jason is very careful in his tannin management and his red wines do not display huge chalky tannin-based finishes, rather they are meant to be enjoyed now and with food.
The 2007 Modus Operandi Vicarious is a unique red blend including the majority varietal being Cabernet Sauvignon as well as smaller amounts of Petite Sirah, Cabernet Franc, Syrah and Merlot. This wine was released in October 2009. It is a wine that over delivers for the price. It is a soft and voluptuous bottling which is extremely dark in color. In our opinion, this is the type of wine that will probably appeal to a wide variety of palates. It shows dark berry fruit, dark chocolate and is a good candidate to pair with something gamey or something BBQed. Rounded dusty tannins anchor the pleasing finish.
His Antithesis is a very unique proprietary red wine which combines two varietals we have not yet seen in a wine from a Napa producer. If you are lucky to get your hands on this wine, you can test your palate to try and identify these two red varietals! The Antithesis is made in such small quantities that is sells out rather quickly.
Collectors take notice: an extremely unique and rare wine is the Modus Operandi Collection Series wine. For three years in a row at a wine dinner Jason asked the proprietor of Tonnellerie Sylvain, Jean-Luc Sylvain if he would sell him an extremely limited production barrel called Collection. After describing the special attributes of how he would make and market this wine, i.e., it would be seeing extended barrel aging, special bottling etc. – Jean-Luc relented.

Jason purchased his first Collection barrel in 2010 and is allocated merely one barrel a year. These are some of the world's most expensive barrels of their size. Sylvain has access to a specific forest in France where only one ancient tree is cut down each year. Jason inscribes the approximate year the tree was planted along with the year it was cut down. These trees date back to the 1600s.
Note: this section of this review has been identified as needing current release tasting notes. We will taste select bottlings of the current Modus Operandi releases sometime in 2023 or 2024 and will update our notes here.
—
Modus Operandi wines are generally distributed in a number of select restaurants in certain states nationwide including California, NY and Florida. Their total production is currently under 1000 cases. As expected, one can find the wines at La Toque Restaurant in Napa and also V Wine Cellars, an upscale wine shop in Yountville. Modus maintains a wine club. A bonus for being a member are the small lot wines – these are made from the individual components that will appear in the final blends.
Also of note is Jason's Sauvignon Blanc made it to the White House. It was served at President Obama's first State Dinner for the Prime Minister of India.
Tastings
Private tastings by appointment are held in the Winemakers Den at Brasswood Winery located just north of St. Helena. This private room within the Brasswood Winery complex of buildings is a comfortable place to hang out – an hour can quickly turn into two with good friends and excellent wines. Formerly the St. Helena Factory Outlets, the property now features a number of tasting rooms, the physical winery, an art gallery and a restaurant and a gourmet deli.
This is a very unique Napa property. It is approximately 50 acres and straddles two sub appellations including Spring Mountain and St. Helena. While no grapes are currently planted on the property for commercial use, they have up to 20 acres to develop in the future. The property also comes with a variety of valuable permits – one being the extremely rare Napa permit to allow weddings on site.
This "campus" if you will, features four tasting rooms including the main tasting room where most walk-in visitors will taste wines), The Winemaker's Den, an appointment only room across from the main tasting room, the Vintner's Den just outside of the wine cave and one within the winery.
Guest can choose several experiences including the classic tasting, taste with the winemaker or cook with the winemaker.
Note that (starting in July 2015) the Modus Operandi wines used to be available for tasting and purchase in The Wine Thief in the city of Napa, but the wines are no longer available here.
For more information, to purchase wines, to join one of their three levels of wine club memberships, or to schedule a tasting, visit: www.moduswines.com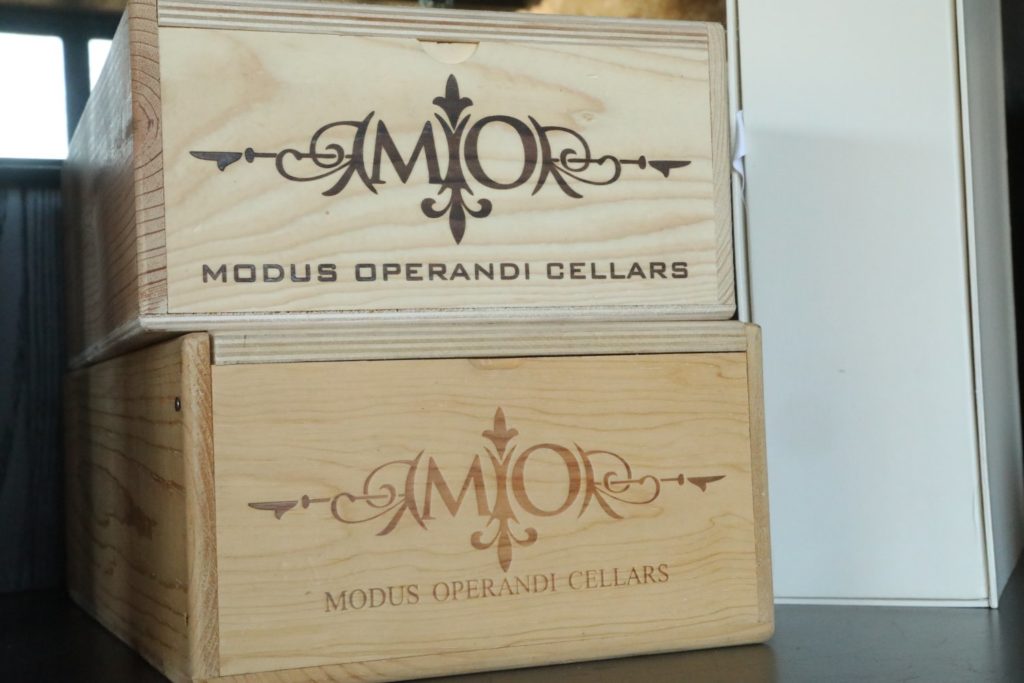 The Find, Danville
NOTE: The Find Permanently closed in 2022. We keep these notes here for historical reference. In March 2020, The Find opened in a new building in downtown Danville (about 45-to-60-minute drive from The Wine Thief depending on traffic). This wine bar offered a rare chance to taste very limited production wines from some of the Napa Valley's finer boutique producers. While not directly associated with The Wine Thief – The Find was created through existing relationships integral at both spaces.
Founded by three partners, including Jason (who we bumped into during our visit here) – along with Andrew Renda and Louis Calli, (Sommelier, wine buyer & proprietor of Alinda Wine). The original concept came from one of the vintners represented here, Kale Wines. One of Kale's wine club members kept asking Kale when he was going to open his own tasting room. Kale never had plans to open a tasting room but then this member mentioned a property in Danville he might want to take a look at. Kale told Andrew about this – and long story short, they decided to create a space outside of the Napa Valley showcasing wines primarily from Napa Valley based producers.
Spacious, contemporary and very inviting – guests can opt to sit at the counter or relax in a number of other seating spaces. Wines can be ordered by the bottle or by the glass. The wood used in the bar and for the small tables came from a single Black Walnut tree that had to be taken down after the 2017 fires in Napa/Sonoma. A private room can be reserved for more intimate tastings – the centerpiece in this room is a table with an intriguing glass outline of part the Napa River as it winds its way through Oakville.
Small bites are available including several boards with a variety of cheese and small bites, vintner favorites (select dishes from Napa based restaurants) and a number of other delicious small plates. Louis used to work for the Boisset Collection – when reviewing foods to include in their menu he contacted Jean Charles Boisset for ideas; Louis sampled a number of items from JCB's Atelier Fine Foods in Yountville, some of which made it onto their menu.
During a visit we tried the Calamari in Ragout – admittedly the best seafood we have ever eaten from a tin. And for some sweet bites, The Find provides select chocolates made by Kollar Chocolates in Yountville.