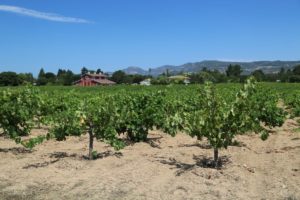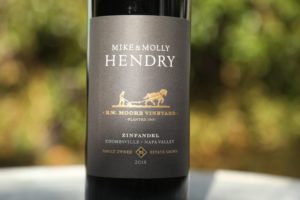 Mike & Molly Hendry is a small wine brand run by Mike and his wife Molly – focusing on a single vineyard, single wine each year – a Zinfandel. Both Mike and Molly have vineyard connections to the Napa Valley. Mike's grandparents purchased 120 acres in 1939 at the base of the southern Mayacamas mountains on the way up Redwood Road to the Mt. Veeder appellation. The property remains in the family to this day (location of Hendry Winery).
Mike's background is interwoven with Napa and its grape growing history. He was born in Davis – which isn't a bad place to be born if vineyard management and wine making is to become a career. His uncle is George Hendry who runs the successful Hendry Winery (on the edge of Napa's suburbs in the southern part of the valley). Mike moved to Edmonton, Alberta when he was two due to his father's work. He returned to Napa in the summers during his teenage years helping work in the vineyards.
He went to UC Davis and earned a degree in Mechanical Engineering. However, while he was in college, he took full advantage of the campus's fine viticulture and oenology programs and took a number of classes in both fields. Today he is the vineyard manager at Hendry Winery and also oversees the vineyard management of the R.W. Moore vineyard which produces the grapes for the Mike & Molly Hendry wines.
Mike has a strong interest in Napa's grape growing history and is an encyclopedia of knowledge about various varietals and the ebb and flow of the percentages of different grapes planted in Napa over the decades. In 1887, Zinfandel was the most planted grape varietal in Napa; it was a very popular varietal in the 1870's and 1880's. Contrast that with contemporary Napa Valley in which Cabernet Sauvignon is by far the most dominant red variety.
The historic R.W. Moore Vineyard is approximately 10-acres of vines located in the southern part of Napa Valley in the Coombsville District (still the most recent sub appellation in Napa Valley having been approved in December 2011). Coombsville is mere minutes' drive east of the city of Napa and is characterized by its gentle rolling hill and numerous small family-owned vineyards. The R.W. Moore Vineyard is one of only a select few sites in Napa Valley that still produces fruit commercially from vines which are more than 100 years of age. Most of very few remaining of these ancient vineyards in Napa Valley are primarily Zinfandel and other mixed blacks. The earliest vines here date from 1905. To put that into perspective, the automobile was in its very early infancy and the great 1906 earthquake in San Francisco was still a year away. And this is the oldest still commercially producing vineyard in Coombsville.
Based on the age of this vineyard, many of the vines have been replaced due to disease and other factors. As they are replaced, Mike preserves the heritage of the vineyard and replants with varieties which have historically grown here. The vineyard is planted to the following varieties: 95% Zinfandel, 1% Petite Sirah, 1% Carignane, 1% Mourvèdre and 2% Mourtaou, an obscure variety which traces its heritage back to Bordeaux and sometimes goes by the name Cabernet Pfeffer). Remarkably despite the age of the oldest vines, this vineyard is remarkably disease free and bright red leaves that often are prevalent late in the year in equivalent vineyards of this age are far and few between here.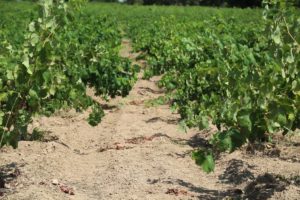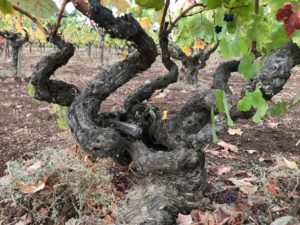 In 1995 UC Davis scientists took samples from many of California's oldest Zinfandel vineyards and identified 19 "heritage" varietals of Zinfandel. Ultimately this project led them to identify 19 of these Heritage clones – this vineyard was one of these producing a Heritage Zinfandel clone.
The majority of the vineyard is planted to Zinfandel. But as a result of this "field blend" about 5% of their wine is composed of these other varietals. These low yielding vines are head pruned and dry farmed. The volcanic soils are well drained; we experienced this several times walking through this vineyard after rainfall and the dirt did not stick to our shoes.
Mike speaks reverently about managing this special vineyard. He uses the same vineyard workers employed by Hendry (where their average time spent with Hendry is 20 years). He wants those who touch these vines to think ahead when they prune them and be the same people still pruning them years down the road. A vineyard like this takes a lot of work – from having to be very careful when using the tractor (the old vines grow very low to the ground) to weeding by shovel to selectively picking the fruit.
The property has changed ownership something like twelve times over the years. Mike has copies of most of the deeds from the property showing historical sales of the vineyard property ranging from $10,000 to $3. One deed dating from 1895, simply states the sale was completed for "love and affection" and no money changed hands. Current owner, retired orthodontist, Bill (R.W.) Moore has owned this vineyard since 1983 (Molly's Uncle). Not only does he 'collect' old vines, but he also collects and restores old boats.
The fruit from this vineyard was going into Turley Vineyard's well regarded "earthquake" wine for many years. When the contract was up for renewal, timing worked out and Mike was able to purchase fruit from Bill starting in 2009 (their first vintage). The only other producer who currently sources fruit from this vineyard is Biale Vineyards.
Select Wines
Mike puts significant efforts into farming this property entirely by hand, with the resulting product a single wine each year (although in some years he may produce a rosé). Plans may eventually call for a late harvest dessert wine from the property.
The 2019 Mike & Molly Hendry Zinfandel is medium ruby in the glass; offers a 'zin' spiciness on the bouquet including aromas of old cedar box, tobacco, tea leaf along with notes of red licorice, spicy Santa Rosa plum skin and red cherry. Somewhat savory. As the bouquet breathes, additional nuances show including of mocha and clove. The fruit is front and center on the palate, as it should be with this variety, but is presented with restraint. Offers flavors of plum, raspberry, currant and red cherry. This wine is very approachable and balanced in its youth (we tasted only 2 years post vintage date). Lingers with bright fruit in parallel with very integrated and slightly dusty tannins along with darker spices. Begs another sip.
The 2018 Mike & Molly Hendry Zinfandel is medium to dark ruby in the glass; the aromatics are meaty, with notes of iron, old leather, spicy plum, dark berries, mocha, espresso and toasted cedar. The bouquet showcases both a freshness of fruit in its youth along with some savory notes. Offers an intensity across the palate with flavors of blackberry and black currant. The broadly dispersed tannins are earthy and dusty yet are well integrated into the finish due to their supple and rounded character. Lingers with a darker pepper spice along with a very subtle note of dried tobacco leaf. Good acidity.
The 2012 Mike & Molly Hendry Zinfandel is 15% alcohol. One who enjoys a lower alcohol wine should not simply disregard this wine based on its alcohol. We have smelled and tasted many Zinfandel wines in this alcohol range which are too ripe, prune-like or jammy on the palate. It is immediately clear that this wine is not one of these. The bouquet is elegant with bright fruit, blackberry, raspberry and red licorice complemented with baking spices and just a hint of mocha that show deeper in the aroma as the wine breathes. Mike mentioned that these old vines seem to have a good balance in the vineyard and that quality is evident in the wine. The palate is smooth on entry with well-integrated fine-grained tannins that linger slightly, outlasted by the fruit flavors. More red fruit shows than black fruit on the palate. This wine has good acidity.
530 cases were made of the 2012 vintage – a normal year sees anywhere between 300 to 500 cases. A typical vintage spends approximately 18 months in both French and Hungarian oak and then a year in bottle before being released. There is less of the 2013 vintage. Hendry Winery (where the wine is made and stored) sits right on two earthquake faults and some product was lost during the 6.1 earthquake in August of 2014. Mike described items on one side of the winery leaning one way and on the other side leaning the opposite way. Unfortunately, they lost several barrels of their 2013 vintage. But the silver lining was that there was no current vintage wine in the large tanks which would have most likely toppled over in the earthquake.
—
To join their mailing list and or to purchase wine, please visit: www.mikeandmollyhendry.com