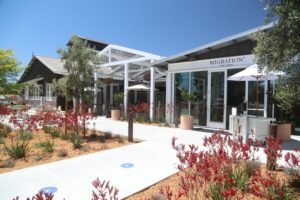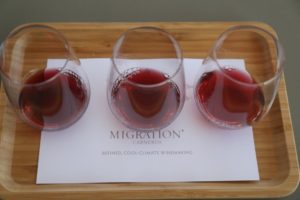 Migration Wines is owned by TSG Consumer Partners, a San Francisco based private equity firm. In addition to Migration, TSG Consumer Partners owns Duckhorn (their flagship brand), Calera Wine Company in the Mount Harlan appellation east of Salinas in San Benito County on California's Central Coast (a long time producer known for Pinot Noir), Canvasback (originally a label part of Paraduxx – now a Walla Walla, Washington based vineyard and brand), Decoy (can taste at Duckhorn), Greenwing (eastern Washington), Goldeneye (based to the north of the Napa Valley in Anderson Valley, Mendocino County), Kosta Browne Winery in Sonoma County and Paraduxx and Postmark (both Napa Valley). In addition to these wineries or brands, the company owns approximately 900 vineyard acres (15+ unique sites ranging in size from 5 acre parcels up to 75 acres) with a total production of over 900,000 cases.
Their focus is almost entirely on Chardonnay and Pinot Noir although they do produce limited production bottlings of other varieties. At the time of our visit and the latest update to this review, Migration produces no Napa Valley grown wines (certainly an anomaly for a Napa Valley based winery and tasting room – although perhaps in the future they will source grapes from the Napa Valley). Their first Pinot Noir was produced in 2001 and the first Chardonnay produced in 2008. Their focus is on crafting wines from grapes grown in vineyards in neighboring Sonoma County – but they also source from select vineyards in San Luis Obispo and Santa Barbara counties.
In 2018 TSG Consumer Partners purchased the former Starmont Winery and several adjoining acres (with a small vineyard block planted to a white variety). The Migration production is now located within this already existing winery.
Select Wines
The 2017 Migration Pinot Noir Sonoma Coast is light to medium ruby in color. This wine smells like a Pinot Noir should – and for that matter one can taste the inherent varietal characteristics as well. Opens with an elegant fruit driven bouquet with notes of raspberry and cherry along with just a hint of darker spice on the bouquet. Shows flavors of red cherry and currant. Offers higher toned red fruits with a noticeable brightness of acidity from start to finish. We especially noticed this acid after tasting through several other of their Pinot Noirs and then returning to this wine. Finishes clean, light and bright. A variety of shellfish would probably pair quite nicely with this bottling.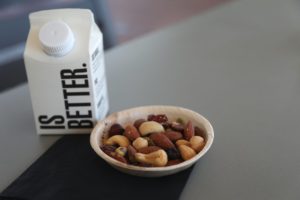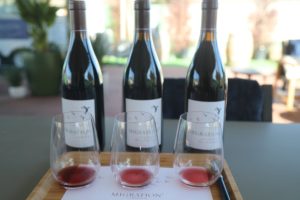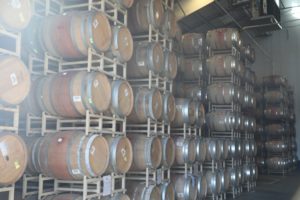 The 2017 Migration Running Creek Vineyard Pinot Noir (70 acres of this variety, dry farmed, is located in the Russian River of neighboring Sonoma County) is medium ruby in color. The wine shows a pleasing intensity of both fruit and spices on the bouquet including hints of tobacco leaf, rhubarb, green tea leaf along with cranberry and pomegranate aromas. Very balanced across the palate with no sharp edges but with more depth then the 2017 Sonoma Coast Pinot Noir. There is a noticeable intensity across the palate which is complemented nicely by its liveliness of acidity. A hint of darker desert spice and an earthy note lingers on the finish. A very light grip of tannins.
The 2017 Migration Pinot Noir Bien Nacido Vineyards (Santa Barbara County) is lighter ruby in color – shows a hint of an Asian spice initially but then dissipates as the wine breathes. Also, a tiny bit savory with some darker spices complemented by cherry. If we had to guess, we would say this wine saw a bit newer oak than the other two wines or maybe a different toast level. Features a raspberry/not overly ripe blackberry nuance on the palate. Shows some density with earthy darker tannins lingering with a light to medium grip – along with a hint of cardamom spice.
The 2019 Migration Sonoma Coast Rosé of Pinot Noir (also sourced from the Running Creek Vineyard) is light salmon in color – initially shows a dusty, minerality characteristic on the bouquet which as it opens reveals strawberry. Notes of red cherry, strawberry, and citrus show on the palate – with a bright finish that lingers with a bit of tartness and flavors of red cherry. Slightly rounded in texture. This is a very easy drinking balanced rosé.
Grüner Veltliner is the most planted wine grape variety in Austria but in California, plantings are very rare. In the Napa Valley we are aware of only two producers who have/or are making wine from Napa Valley grown Grüner Veltliner: Lava Vine through its ownership affiliation with winemaker Rudy von Strasser who originally planted a small block on Diamond Mountain bottling it under von Strasser for several years and the Hess Collection with a small amount growing on Mt. Veeder.
There are other vineyards in California, but one has to know where to look. The 2019 Migration Edna Valley Gruner Veltliner (incidentally nearby RD Winery also sources Grüner Veltliner from the Edna Valley) is medium golden in color with a bouquet showing notes of honeysuckle, hints of petrol and a sweet fruity floral note. Offers a subtle raciness on the palate (a characteristic we have noticed in a very small number of Chardonnay wines we taste from the Napa Valley). Shows some weight with complexity and a richness of flavor. Lingers with a lemon/lime zest on the finish. A beautiful wine. While tasting this, we realized this would be the perfect wine to enjoy as a palate cleanser between tasting heavy Napa Valley Cabernet Sauvignon wines.
Hospitality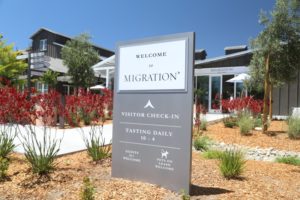 Tastings are held either semi-outdoors or inside the tasting room at several tables or in one of two smaller more intimate spaces. Blankets are provided for colder day outdoor tastings. While here one may see or hear private jets flying into and or out of the nearby private Napa County Airport. And see plenty of cars passing by on the nearby Napa River Bridge over the Napa River. One vintner we met several years ago told us he used to jog on this bridge when it was still under construction – at one point only halfway completed, he used to refer to it as "the bridge to nowhere".
Tastings are usually organized by reds or whites – although the staff has the flexibility to mix, and match based on guest preferences. And as the staff likes to say, the wines are poured "in the direction the birds migrate". Select wines from their other brands/wineries may be available for tasting or purchase.
Auberge, Stanly Ranch
Auberge, Stanly Ranch broke ground in September 2019. This luxury resort and residential community features 135 cottages on 96 acres. Located within an easy walk of the winery, this resort is opened in late 2021.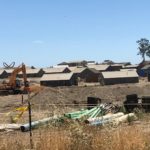 It was built due to a unique situation in that the city limits of Napa actually extend down the highway into this tiny portion of Carneros. Otherwise, this resort would never have been built to do the fact that the surrounding vineyard land is in the Napa Valley Agricultural Preserve. Due to its nearby location, Migration is perfectly poised to host guests from this resort. And the winery is only within a 15-minute drive or less from downtown Napa and a 20-minute drive from downtown Sonoma.
Winery tours including time among the nearby vineyards are not offered other than for wine club members who request it at the time of their visit. For more information, to schedule a tasting or to purchase wine, visit: www.migrationwines.com