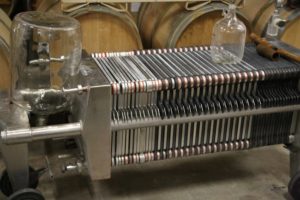 Midsummer Cellars is a small production winery specializing mostly in Napa Valley grown Cabernet Sauvignon (with several other often non Napa wines including a Malbec, Pinot Blanc, a Rhone White Blend and a Grenache rosé). The winery was founded by long time wine maker Rollie Heitz and as of the time of our latest update, produces around 2,500 cases of premium 100% Cabernet from select tiny vineyards; their estate 1.4 acre Cañon Creek Vineyard is located below the slopes of Howell Mountain in the community of Deer Park, the Tomasson Vineyard in St. Helena and several other Napa vineyards.
Coming from a well-known Napa winemaking family, Rollie has grown up in the industry. He is the youngest son of Joseph Heitz, the original patriarch of one of the older and most respected wineries in the valley – Heitz Cellars. Rollie gained invaluable wine making experience during the years working for his family's business; in addition he was the General Manager at Robert Keenan Winery. He's always had the "itch" to start up his own winery and finally did so in 2000. At that time he and his wife Sally planted Cabernet Sauvignon near their home (Cañon Creek Vineyard).
Because of the small size of his overall production Rollie personally micromanages all aspects of the wine making. He ferments most of his wine in one ton t-bins – does punch downs once a day on his red wines during fermentation. He tends to press off the wine while still slightly sweet – removing the skins and seeds a bit earlier then many winemakers. Then he lets the fermentation continue in the same t-bins until the wine ferments to dryness. He does this because he prefers to mitigate the impact of tannins – still creating wines that can be aged but also are approachable in their youth.
Midsummer Cellars has custom crushed their fruit at several wineries – their most recent location is a small winery off of Crystal Springs Road (accessible via the Silverado Trail). The winery is one of Napa's smaller wineries. It has a tiny crush pad and a few storage cellar sheds for the barrels.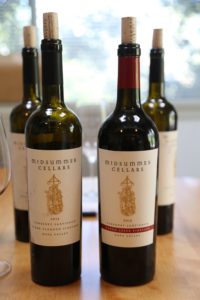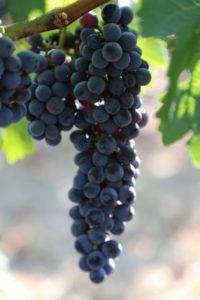 A visit is for small groups and weather permitting is held outside but a small room also serves as a tasting area. The tasting is always with Rollie as he is the grape grower, vineyard manager, and winemaker. This about as personal a tasting experience as you will find in Napa. In other words he exclusively runs this winery! You will start your tasting with a barrel sample which is an early glimpse of his future vintages and then you will try the "good stuff" which are his current vintages.
NOTE: the winery where Rollie was making wine sold in early 2017 and Rollie moved his operations to yet another winery in the Napa Valley. We will update this review once we have more details on this.
The 2004 Cañon Creek Vineyard Cabernet Sauvignon has a smooth velvety mouth feel with sweet tannins anchoring the pleasant long finish. This wine shows a diversity of flavors including blackberry and black cherry – especially on the mid palate. The bouquet is aromatic and complex. This is a premium Cabernet Sauvignon but is reasonably priced by Napa standards.
The 2013 Cañon Creek Vineyard Cabernet Sauvignon is dark ruby in the glass and shows bright aromatics, ripe cherry with hints of sage and a smoky note on the bouquet and desert spice aromatics as the wine breathes. A diversity of flavors including plum. Finishes intensely with firm and somewhat chewy tannins and persistent fruit. Very long lasting. Like other vintages, this wine is 100% varietal.
The 2013 Clark-Claudon Vineyard Cabernet Sauvignon is 100% varietal and is sourced from a vineyard on the backside of Howell Mountain. Rollie has enjoyed making wine from this vineyard for a number of years – it is one that is impeccably farmed. Tending towards a dark brick red in the glass reveals chocolate cherry aromas, a dusty nuance, notes of smoke and a subtle hint of mocha. Intense fruit anchored by long lasting somewhat drying tannins.
For more information, to join his mailing list or to schedule a visit: www.midsummercellars.com
NOTE: no longer producing in Napa Valley, production has been moved to Italy.