Michael-Scott Wines was founded by vintner Michael Quinn in 1996. He maintains a small, bonded winery on his property located in the western portion of the city of Napa in an area known as Browns Valley. While he keeps some wine on site to keep his bond active, he makes his wines at nearby Artesa Winery in Napa's Carneros region.
Michael was born and raised in the Napa Valley (3rd generation) – attending both high school and college in the area. During his childhood and then later in high school (Justin Sienna) he met several children of established Napa wine making families including Marc Mondavi. It was through these friendships that he took his first wine job in Napa Valley at Charles Krug Winery at age 18, working in the vineyards. He was the first in his family to get into the wine business.
He worked for five years at Charles Krug before another vineyard opportunity arose, a position managing the historic Stanly Ranch on the Napa side of Carneros. Michael remembers having to drive down to the San Francisco and interviewing for the job in a high-rise office building. Interviewing in his early 20s in front of businessmen in the financial district must have been a bit intimidating. Regardless, he made a good impression and was soon hired as the ranch's Vineyard Manager. At the time he was only 22 years old. Two notable wineries that were purchasing fruit at that time from the ranch included Beaulieu Vineyards and Domaine Chandon.
Anyone who has been to the Stanly Ranch (now Migration Wines) can't help but notice the sizable bridge on Highway 12 which crosses the Napa River. Unofficially it is called the southern crossing while officially it is known as SR 29/12/121 bridge. During his time living in Judge Stanley's old house on the ranch in the late 1970s and early 1980s, Michael recalls jogging on what he called the "bridge to nowhere" – this bridge, now taken for granted, was only half built at the time. Construction started in 1974 and finished in 1978 but was not in use for several years after its completion. The bridge rises to a height of 120 feet above the Napa River and is 2,230 feet long. The project engineer for this bridge was Steven Jones who was working for Guy F. Atkinson Co, a heavy contractor based in South San Francisco.
Michael spent five years managing the vineyards at the Stanly Ranch before making what is probably a fairly unusual move within the wine industry – from directly managing vineyards and doing vineyard work to doing sales and marketing for a northern California wine distributor. In the ensuing years he helped develop sales for a number of Northern California based boutique wineries.
And then in 1996 he added winemaker to his resume. The focus of Michael's wine making is on small production lots – primarily Cabernet Sauvignon and Zinfandel with grape sources from both Napa and Sonoma. His total production each year is around 1,600 cases.
And if you are wondering where the Scott came from in the name – it is not Michael's middle name but rather the first name of his original partner (Michael bought him out after a few years).
Select Wines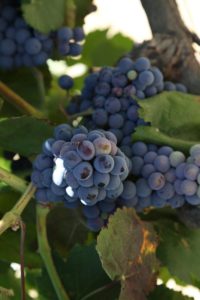 The 2013 Michael-Scott Zinfandel was created by sourcing Zinfandel grapes from both Napa and Sonoma Counties. This vintage was the first year that Michael used fruit from both counties – and it will continue to be made in subsequent years (he has access to the same vineyards). When one has been involved in the Napa wine industry since 1975, one makes numerous connections with growers and vintners. Such is the case with his Napa Zinfandel source – Michael has been friends with the owner since childhood – incidentally these vines come from within the city limits of Napa from 70+ year old vines. And in addition to Zinfandel there are some Petite Sirah, Carignane, and a bit of Mourvèdre in the blend. The fruit from Sonoma County is from older vines from Dry Creek Valley, just north and west of Healdsburg.
Michael decided to craft this blend on the spur of the moment when some winemaker friends were over his house. Liking what he tasted and getting the approval of his friends he decided to bottle this wine. It is 53% Napa fruit and 47% Sonoma fruit.
This wine shows bright fruit aromatics – lively they 'jump' out of the glass inviting one to try a sip with their pretty aromas. Blackberry and plum show with a subtle hint of cedar spice – the bouquet is about the varietal rather than the oak (Michael ferments the wine in neutral oak barrels). Juicy on the palate with excellent acidity and flavors of raspberry – this is a superbly balanced Zinfandel. Easy to keep drinking. The finish shows notes of plum with rounded well-integrated soft tannins. This wine is a great value to quality ratio and is highly worth seeking out.
The 2012 Michael-Scott Napa Valley Cabernet Sauvignon was sourced from a hillside vineyard just north of Calistoga along with Petit Verdot from an organically farmed vineyard in Yountville (92% Cabernet Sauvignon and 8% Petit Verdot). The bouquet is highly aromatic, with floral notes, blackberry, spicy plum and a hint of truffle. Shows a bit of earthiness and mocha as it continues to open. This is an approachable Cabernet Sauvignon with flavors of red currant, raspberry and blackberry. Very balanced. Noticeable tannins that linger, are somewhat dry – and are finer grained rather than coarse. The wine spent 24 months in French (70%) and American (30%) oak.
—
In addition to making Michael-Scott Wines, Michael has developed a diverse clientele for his private labeling business. Some of his clients include wine retailers, select restaurants and several international clients. He works closely with the client to determine the type of wine and then handles everything from sourcing the grapes, to barrels to bottling.
Over the years Michael has sold his wines through a variety of outlets. He used to share a tasting room with a winery in Sonoma as well as one in downtown Napa and at one point had some 250 placements based on his distributor contacts. He has since scaled this down considerably, still sells direct to consumer and is selectively available in Napa Valley including at Mustards Grill and close to where he lives, Browns Valley Market. For more information and to purchase wine, visit: https://michaelscottwines.net/