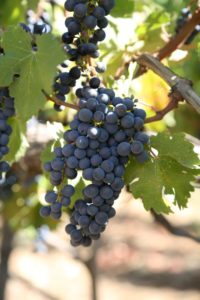 Michael Pozzan was founded by Michael and his wife Mary Ann with their first vintage from 1991. Growing up in the Berkeley Hills (San Francisco Bay Area) Michael's exposure to the world of wine was as a young child visiting his grandfather's ranch in the Dry Creek Valley near Healdsburg (neighboring Sonoma County). His grandfather was a bootlegger from the mid-west – worked in shipyards and eventually settled in Northern California. As a child, Michael recalls helping deliver 4-liter jugs of wine his grandfather made to various friends and relatives. While the property in Dry Creek Valley is no longer owned by the family – a road off of Dry Creek Road still carries their Pozzan family name.
Michael was a business major at Saint Mary's College of California in Moraga, (San Francisco Bay Area) and never enrolled in any wine making classes; rather his education came through the "school of learning by doing". His first stint in the wine world was as a sales rep for Guglielmo Winery in Morgan Hill, California. He recalls being interested in making wine and observing the process over a span of several harvests. But it wasn't until as he puts it, "I started knocking on doors in Napa" that he began learning the basics of wine making. He acquired his first wines by purchasing barrels of wine from various vintners and then creating the final blends himself (a négociant model). And even today, the early relationships that Michael forged when he was purchasing barrels of wine as a négociant are still valuable. Vintners often offer him various lots of wine they think would be a good fit for his program.
The first commercial wines he released were 200 cases of a coastal grown Cabernet Sauvignon, bottled under the label Deer Springs. He no longer is producing wine under this label; today Michael focuses on six diverse labels including Michael Pozzan which also includes the Michael Pozzan Gold Series, Matthew Joseph, Marianna, Annabella, Dante and Sailor's Grave. And what is truly remarkable, production has increased in some 25 years from 200 cases to approximately 125,000 cases today.
Michael's wine making philosophy has not wavered over the years; create wines that are affordable by many rather than a few and create wines that are food friendly in style. He continues to do this regardless of vineyard source. Michael Pozzan does not own any vineyards used in their wines – rather works with a number of growers in Napa, Sonoma and Lodi.
Michael calls his Chardonnays the most difficult wines to make – not necessarily referring to the actual wine making but more so to people's preferences. It is a wine that can be created in a number of styles, and he has found that it's a variety people often have differing opinions on regarding preferred styles. He makes several Chardonnays including one from the Russian River and one from Napa Valley.
Some of the Napa Valley grown and produced wines found under the Michael Pozzan and Annabella (named for his grandmother) labels are some of the more affordable Napa wines on the market today.
The Marianna is a Napa Valley red blend in honor of his wife Mary Ann and her Italian heritage. Her father was born in Italy and would always refer to his daughter in Italian as Marianna. This wine sometimes sees a blend of the 5 primary Bordeaux red varieties, but the blend percentage varies from vintage to vintage. The 2013 Marianna shows very pretty aromatics – a sweetness of fruit with notes of brown chocolate. Noted for its complexity and depth the palate shows dusty characteristics and darker fruits including a briary blackberry note. Very good acidity. Each bottle is hand dipped in wax and wrapped in a protective tissue.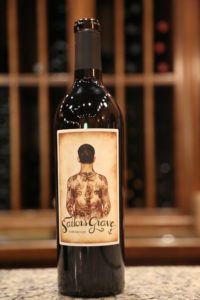 Sailor's Grave has been a sleeper hit in Michael's wine portfolio. And it was his son Dante who created the idea and branding for this wine. Dante's grandfather Byron (Michael's father) was a Merchant Marine – who spent a lot of time at sea, accumulating numerous tattoos over the years. As a child Dante used to be enthralled with some of his grandfather's stories of being at sea and in World War II including one story when his grandfather's ship was torpedoed, and the surviving sailors drifted in the Pacific for 5 days on a life raft before being rescued.
Connecting his grandfather's stories and tattoos with the wine world, Dante found some images taken in the 1930's of tattoos of that era. Using one of the tattoos from the book as a model, their graphic designer adapted it somewhat to their wine label. If you look closely at the label depicting a man's tattooed back, you will see the initials of both grandparents' names on the arms of the man.
The wine has been very popular among a certain age group (often 30–40-year-olds) and appeals to those have their own tattoos. The wine is not just about the stories or the label, but also about what is inside the bottle; it over delivers for the price point. The 2012 Napa Valley Sailor's Grave is a blend of 90% Cabernet Sauvignon (from Stag's Leap District) and 10% Zinfandel from Oakville. It was barrel aged for 20 months in French Oak. Inviting fruit driven aromas of blackberry and raspberry with a hint of sweet mocha begs one to take a sip. Fairly intense flavors include ripe blackberry are drawn out over a long finish framed by fairly robust tannins.
Their first vintage of this was in 2010 – subsequent years saw the blend become more Bordeaux like with additional Bordeaux red varieties added. The challenge in growing a wine like this in high demand is finding reasonably priced vineyard sources while holding on to an already existing popular blend with consumers.
An Oakville grown Zinfandel? Yes, you read that correctly. Michael is aware of only two producers in the Napa Valley currently making an Oakville grown Zinfandel – himself and Napa Wine Company for both their Napa Wine Co and Ghost Block labels – and to this we can add a third Oakville producer of this variety, Paradigm. Zinfandel used to be the most planted variety in the Napa Valley; today much of what remains in Napa County is in Calistoga and to a lesser extent on Howell Mountain. In Oakville the old Zinfandel vines have nearly all been replaced with Cabernet Sauvignon (the economics of the terroir dictate this).
The 2013 Pozzan Oakville Zinfandel (Back Barn) spent 15 months in oak – it is a food friendly Zinfandel with somewhat restrained alcohol. On the bouquet, notes of tobacco smoke, white pepper and a dusty nuance are supported by a diversity of bright fruit aromatics including raspberry. Rounded on the entry with mouthwatering acidity – a very lively wine in its youth with a broad palate appeal. A tiny bit of oak sweetness shows on the finish (aged in both American and French oak). As Michael says, "this is my affordable Tuesday night fish taco wine" – it is a rare wine (based on its source location) and a well-made Zinfandel that certainly won't drain your bank account.
—
Michael also owns a 5-acre Cabernet Sauvignon hillside vineyard on Franz Valley Road, a few minutes' drive from the center of Calistoga. This vineyard was originally planted to Zinfandel in the 1880s; its most recent replant was in 2010 to Cabernet Sauvignon. At least one other small Napa Valley based brand also sources from this vineyard.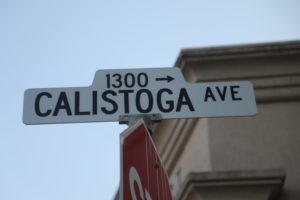 And Michael Pozzan opened a tasting room (by appointment) in downtown Napa in mid 2023, a few minutes' walk from 1st street at 1205 Randolph Street. We will visit this space as time permits and will update our notes and photography accordingly.
Distribution focuses on restaurant and retail outlets – his wines are in some of the larger wine stores around the country including at BevMo! on the West Coast. Distribution is throughout 43 states as well as selectively in Japan and China. Visitors to the Napa Valley can stop by the Tasting Room at Napa Wine Company where his wines are among a select few poured from various brands who make their wines on site.
Michael is also a 'foodie' and lists some of his accompanying recipes with some of his wines on the website. For more information visit: www.michaelpozzanwinery.com