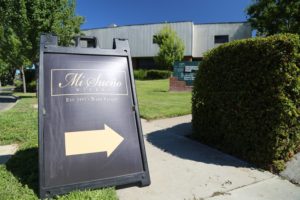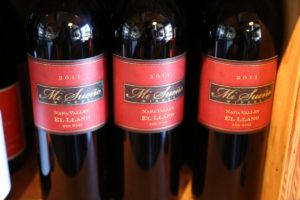 Mi Sueno Winery (means "my dream" in Spanish) and was founded and is owned by long time Napa winemaker Rolando Herrera. As Rolando says, it took him 20 years to realize this dream but just 20 seconds to come up with the name. The story that leads to the founding of this winery is quite remarkable. Rolando's family immigrated to the USA seeking a better life in 1975. His Napa Valley beginnings were very humble, starting as a dishwasher at Auberge du Soleil, then as line cook at Mustard's Grill…talk about starting at the bottom and working your way up. Rolando had often wondered what it would be like to work at a winery as he drove by wineries every day on his way to work. When a friend told him about a possible position at the iconic Stag's Leap Wine Cellars, Rolando quickly took advantage of the opportunity.
During his first day of work he headed straight for the cellar but quickly found out this "winery job" had absolutely nothing to with wine; rather it was constructing a stone wall around Warren Winiarski's home. However Winiarski soon noticed Rolando was interested in wine and offered him a job working that year's harvest. Over the years he worked additional harvests and gained invaluable experience in the cellar; at the young age of 21 he became cellar master for Stag's Leap Wine Cellars. Other winemaking positions included working for Chateau Potelle, Vine Cliff and with winemaker Paul Hobbs. With a resume like Rolando's it was only a matter of time before he made the decision to begin his own winery.
Mi Sueno sources all their fruit from select vineyards both in Napa and neighboring Sonoma County. Rolando's brother Richardo has been a much sought after vineyard manager and winemaker (with stints at Screaming Eagle, and Dominus) and today exclusively works with Mi Sueno. What is unique about this winery is that despite sourcing all fruit for their wine (they own no vineyards), in actuality they essentially "own" the vineyards, just not the land. This is because all vineyards they source from are locked up in very long term contracts allowing them to build consistency into their wines as well as have total control of farming all the vines.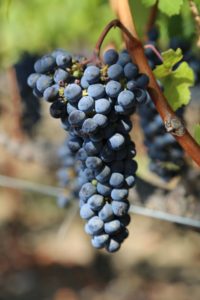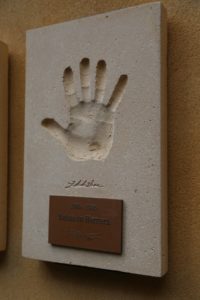 Their team micro manages these vineyards and in some cases actually planted the vines. If they take over a "new" vineyard and it does not meet their exacting specifications at the time (pruning, quality of fruit etc), they will retrain the vines to their specifications before they even use the fruit in their own wines. This is a very unique level of involvement not often found with a winery that "sources" fruit and does not actually own the land. Ease of work and shortcuts are always a temptation in any industry; Mi Sueno does not take these shortcuts – quality is of the utmost concern with everything this winery does.
Select Wines
The first vintage of Mi Sueno was in 1997, merely several hundred cases of Chardonnay. Today they make about 5000 cases and growing.
The 2013 Mi Sueno Los Carneros Pinot Noir shows nuances of soil, mushrooms and white pepper complemented by plenty of fruit including blackberry, red cherry and as the wine breathes the primary characteristics fall more into the background revealing a noticeable ripeness and sweetness of fruit. This continues onto the palate with flavors of raspberry and strawberry. A certain spice component lingers on the finish with notes of pepper and cedar box.
The 2014 Mi Sueno Syrah is dark crimson in the glass with a ripe dark cherry nuance throughout the bouquet along with ripe blackberry. This wine is more savory on the palate than on the bouquet. An inkiness or density shows on the palate; this is a wine rich in flavor and depth. Juicy and mouth watering, the palate offers a long finish filled with flavor, dark chocolate, vanilla, dark cherry and a dusty nuance.
The 2005 Mi Sueno Los Carneros Chardonnay is straw like in color; offers pretty golden hues in the glass with robust aromas of toasted almond and crème Brule. This wine undergoes 100% malolactic fermentation and like many of Rolando's wines, the fermentation is conducted with non-inoculated yeasts. A lot of depth is represented in this wine which is felt in the creamy and layered palate. The mouth feel is soft and silky with pleasing citrus driven fruit notes as well as hints of honey and subtle oak towards the finish. An older vintage of this wine was also served at a White House State dinner for the President of Mexico at the time, Vicente Fox.
The 2006 Mi Sueno Russian River Pinot Noir from the Ulises Vineyard in neighboring Sonoma County is not a light weight Pinot Noir. This is pretty obvious starting with the deep ruby color and a nose full of flower characteristics, rose petals and lavender with a undertone of darker spices. This is a full bodied Pinot Noir with a layered palate that packs a rich array of lively fruit including pomegranate and raspberry. The mouth feel is round and very well balanced. This was served at a Cinco de Mayo White House dinner in 2008.
The El Llano Red Blend (Cabernet Sauvignon & Syrah) is their most produced wine – the "workhorse" wine if you will. It is very versatile and in high demand among their customers. Invariably your first impression of this wine will be its dramatic dark color. Like Rolando's other wines it has an excellent mouth feel – plush, velvety and smooth. Darker fruit flavors are present including blackberry and black cherry – with almost a briary characteristic. Spices and an interesting earthy nuance round out the finish.
The Herrera label features wines that are available in only very limited quantities – typically fewer than 100 cases. These are only released when particular barrel of wine stands out; it must contain wine of exceptional quality or is from a standout vineyard block. As a result, these wines are typically sold out and unavailable for tasting at Vintner's Collective however, you can contact the winery directly for specific release dates and to join their mailing list. Should you be a well-known sports player, ask about their signed jersey for wine program!
—
Mi Sueno at The Village at Vista Collina
NOTE: This tasting space is permanently closed; we keep our notes here for historical reference.
In summer of 2018 a large parcel of land directly to the south and across the street from the Meritage Resort (southern Napa city limits) opened as Vista Collina Resort and the next door The Village at Vista Collina – featuring a large green space (with environmentally friendly turf) surrounded by four stories containing 145 Tuscan-styled guest rooms, 9 stand alone tasting rooms on the ground floor, a luxurious Vintner's Room (for special vintner member and other community and private events) and the Village Food & Wine Center where chefs teach a variety of culinary seminars and host other culinary related events. The Village at Vista Collina held its grand opening on August 4, 2018.
And the Fivetown Gourmet Grocery and Deli is an integral part of the The Village experience. Named after the five towns within the Napa Valley including Yountville, Rutherford, Oakville, St. Helena and Calistoga – this upscale market features a variety of farm-fresh local ingredients and home made products. Plenty of seating outside the grocery – one can also picnic on the lawn area.
The 'lawn' area is also ideal for hosting a variety of events including concerts. Umbrellas inserted into the ground can easily be moved and seating arrangements are highly flexible.
Mi Sueno was one of the 9 stand alone tasting rooms – like the others, their space was intimate, focusing on the wines and the personalized hospitality.
—
The winery will see visitors in its industrial park location, by appointment only. Their wines are also poured at the multi winery tasting room Vintner's Collective in downtown Napa (where appointments are not needed).
For more information or to join their wine club, visit: www.misuenowinery.com
NOTE: this review has been identified as needing a major update.