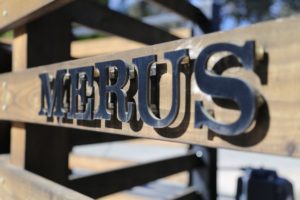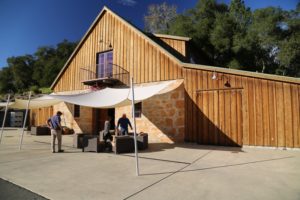 Merus Wines has risen from humble "garagiste' beginnings to their current decidedly more auspicious remodeled ghost winery home. This winery was started by Erika Gottl and Mark Herold in their garage in a suburban neighborhood in the town of Napa in the southern part of Napa Valley. Their wines have always been limited in production with quality being of the utmost importance. Today the winery is owned by Foley Family Estates (William Foley), which is a collection of mostly boutique wineries. Erika remained on board for some time to help with the transition.
The name Merus in Latin means undiluted, unmixed or complete as in referring to wine.
Time and time again on this project we've heard the wine making mantra uttered, "it all starts in the vineyards". Here at Merus this is a truism that is held close to the vest. While having never owned vineyards for their own wine, Merus works with 20-25 small growers each year whose micro vineyards range in size from merely a tenth of an acre to vineyards much larger. Merus has significant input into how they want these vineyards managed, from cover crops, to trellising, to harvest decisions. This attention to detail is carried over into the winery and as they say at Merus about their winemaking, it is "obsessive enology"!
Such is their demand for quality that typically only a percentage of barrels are selected each year for the final blends (usually less than 55%). While their source vineyards are small, they do not pick each vineyard in one pass rather they hand select the fruit down to the individual rows and vines thus ensuring they are picking fruit that has the flavor profile they desire. As a result, during harvest, they continuously manage many small lot fermentations.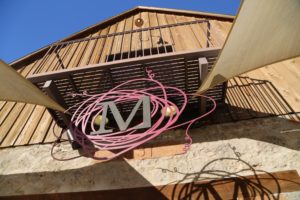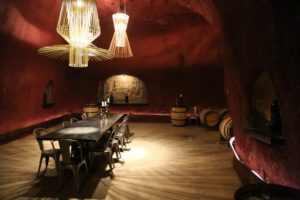 Their focus is on one wine each year – always a Cabernet Sauvignon from various vineyard locations (St. Helena, Stags Leap) including Napa's Coombsville region. Merus has sourced from Coombsville since their first vintages, before Coombsville was "hot". We've mentioned this before in regard to the Coombsville region. This is Napa's newest sub appellation (became a sub-AVA in late 2011) and has certainly received more coverage and is slowly coming onto the radar in relation to the rest of the valley. While generally accepted that this is a cooler growing region, Coombsville has many micro-climates especially on the east side of the region against the warmer summertime slopes of the Vaca Mountains. Wine from this region is surprisingly complex, soft and layered in flavor and typically not vegetal on the nose or on the palate.
Merus also makes another wine under the name Altvs (a more recent entry into their portfolio as the first vintage of this wine is from 2005) – and as they say at the winery, this is the wine to enjoy drinking while your Merus wines are aging. Their current production of Merus is 500 cases with the production of Altus at 1000 cases every year. Each wine is stylistically different from the other.
Select Wines
In 2013 Merus introduced a Chardonnay under the Altvs label – and no it is not sourced from Carneros. Rather surprisingly it is sourced from a cooler north facing slope on Pritchard Hill (a part of Napa known for show stopping big reds). Immediately intriguing on the bouquet, it shows aromas of honeysuckle and lemon meringue. Reveals a pleasing softness on the palate with with a noticeable intensity of flavors from the fruit. Somewhat creamy in feel – drinks very well by itself.
The 2006 Merus Cabernet Sauvignon is slightly blended with 3% Malbec and 2% Petit Verdot. It has good color in the glass with both red and purple characteristics. The bouquet shows a unique dustiness, with notes of shaded forest floor and cedar intermingled with dark fruit and red licorice. The palate leans decidedly towards blacker fruits including blackberry and dark plum. These flavors are broad, expansive and layered running the entire length of the palate.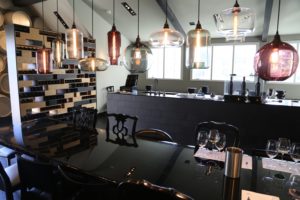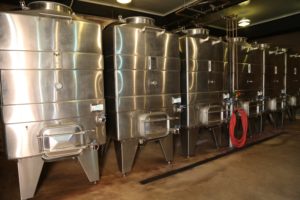 The finish is rounded and elegant and the softer styled yet structured tannins show where they should and are well integrated into the wines' structure. Balance can be a key word used by wine writers, winemakers and others when describing wine. This wine has got it and not just partially – it is balanced beautifully from start to finish. We have sampled hundreds of Cabernet Sauvignons on this project and it is always a joy to find a wine that fits our palate like a glove, like this wine. All of Merus wines are built to age; the winery estimates this wine will last at least 3 decades. Perhaps so, but it is hard to resist drinking it now.
The 2013 Merus Cabernet Sauvignon needs some time to open and reveal its layers of depth both on the bouquet and on the palate. Dark in the glass it shows a noticeable herbal or eucalyptus quality to the aroma – subtle but not intense. As it opens reveals darker fruit and dark chocolate along with earthy notes and cigar smoke. Also, somewhat meaty on the bouquet. Shows plenty of depth on the palate focusing mostly on darker fruit. Complemented by wood spice and good structure on the finish.
—
Former winemaker Camille Benitah is a native of Bordeaux France and has extensive viticulture and enology experience in a number of European locations. She studied at Chateau La Tour Blanche in Bommes (Sauternes region) and worked at a number of various wineries in the area before moving to California. Today David Ramey is their consulting winemaker.
Owner, William Foley has a background that reads like someone who has lived 2 lives – he is a graduate of West Point, has served in the Air Force and has both his MBA and law degrees. He has been Chairman of CKE (controls Carl's Junior) where he helped turned that franchise around in part by appealing to younger generations. Currently he serves as Chairman of two Fortune 500 companies including Fidelity National Information Services, a major title company that is one of the largest in the nation. Also of note is his golfing ability; he was voted among the Top 20 Executive Golfers in a recent Golfer's Digest Magazine!
Bill has enjoyed fine Cabernet Sauvignon for many years and his foray into the wine industry started in 1996 with the acquisition of Lincourt Vineyards in the Santa Ynez Valley (Santa Barbara County). He soon purchased several other wineries in the Central Coast region and over the years has branched out to other parts of California and the state of Washington.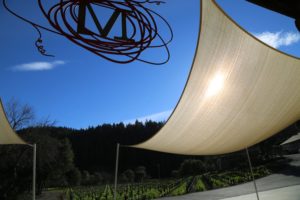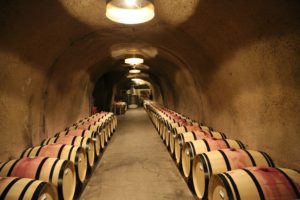 Merus wine is made in the old Rossini Ghost Winery on the Rossini Ranch at the base of Howell Mountain. This winery was originally founded in 1891 by an Italian-Swiss, Carlo Rossini; the winery has a long history. It was active until prohibition where like many of the other wineries in the valley was shut down. It remained shuttered down until it was sold to the Venge Family where they made wine for a number of years until they sold in mid 2008. One of Rossini's granddaughters lived near the winery for many years until she was in her 80s.
The property is planted to old Zinfandel vines. None of the fruit from these vines is used in the Merus wines – rather is sold to another Napa winery.
Other notable landmarks on the property are a petrified wood bridge which dates from 1903 and is the only known surviving petrified wood bridge in Napa County. Not to be outdone by the bridge, is the outdoor brick oven. This oven is in excellent condition, it dates from 1882 and may be the oldest oven of its kind in the county.
Tastings at the winery are held in their elegant tasting salon and are for allocation list customers, by invitation or for serious wine enthusiasts by referral. There are about 7000 square feet of caves which is more than ample for their current production. The tasting room is in a chic furnished large room in the cave and the eclectic chandeliers (made out of hanging metal) and unique lighting was all contributed by Erika who is an owner of the Amsterdam based UXUS design firm. Their "Altvs Alcove" interestingly enough contains a number of previous vintages all with formidable Robert Parker quotes (from each year) painted above the wine!
Merus Wines are found in fine restaurants in select locations nationwide including CA, FL, NV, NY and other states. You can find their wine locally at Cole's Chop House in the town of Napa. For more information and or to sign up for their mailing list visit: www.meruswines.com