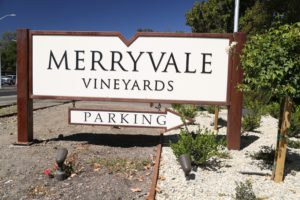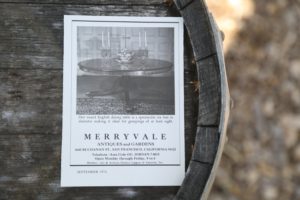 Merryvale Vineyards enjoys a highly visible location next to the train tracks and Highway 29 in the southern part of the St. Helena city limits. Its address is a prominent one (1000 Main Street). This winery has a storied history both in its early days and much later.
The winery was built in 1933 and was one of several Napa Valley wineries built immediately after Prohibition including the nearby Louis Martini Winery. It opened and operated as Sunnyhill Winery for a short time before the name was changed to Sunny St. Helena. Sunny St. Helena Winery was founded by Jack Riorda and partners; we first heard his name when we interviewed Peter Mondavi many years ago. Jack was a prominent individual in St. Helena in the 1930s. Peter and Robert Mondavi's father, Ceasare Mondavi became partners with Riorda in Sunny St. Helena in 1937 (prior to the Mondavi family taking ownership of Charles Krug Winery). It was here that both Robert and Peter helped make their first wines.
In the mid 1940s the winery was sold and became a cooperative for some time. By 1972 the winery was again sold, this time to Mont La Salle Vineyards (owned by the Christian Brothers) and the building was used for wine storage and wine aging. Enter modern day Merryvale. The first vintage of Merryvale was 1983, a Cabernet Sauvignon based blend. The modern Sunny St. Helena was founded by Bill Harlan and several real estate partners including Peter Stocker and John Montgomery. Founding winemaker Bob Levy would go on to form what would become one of the valley's most prominent long term winemaking relationships with Bill Harlan for Harlan Estate, BOND, Promontory and The Napa Reserve. Bob made the Sunny St. Helena wines for several years at Rombauer Winery (taking advantage of Rombauer's custom crush services at the time).
Bob Levy oversaw the construction of Rombauer Winery in 1982; the construction began in June of that year with plans to handle the harvest later that year (today that would never happen in the valley with permitting – everything moves slower). Remarkably they were able to process the first harvest at the winery although they did not yet have power and Bob told us they literally had to drag a large generator onto the property.
By 1986, Bill Harlan and his partners purchased the old Sunny St. Helena winery and grounds. After a two-year restoration project, the production was moved from Rombauer to the newly renovated winery in 1988. Several of the first Harlan Estate wines were produced at Merryvale. By 1991 the winery changed its name from Sunny St. Helena to Merryvale Vineyards. Names of wineries are often chosen based on the owners' last name – however, some namesakes are way more intriguing.
Merryvale Antiques/Memorabilia/Gaslight Building

Bill Harlan and his partner Peter Stocker founded Pacific Union Land Company in 1975 with an initial focus of selling condominiums and developing condominium projects in the San Francisco Bay Area. The company is still very much active, based in Danville and focuses on land, residential, self-storage and commercial development. From 1980 until 1998, their offices were located in the historic and prominent Gas Light Building, built in 1893 and located at 3636 Buchanan Street in San Francisco.
Merryvale Antiques moved into the Gas Light Building in 1958 and sold a variety of antiques in rooms throughout the building and was operated by Marie Sutcliffe, an avid gardener for a number of years. During their occupancy, the grounds were renovated and the neighboring greenhouse on the south end of the property was built, used for selling plants and other gardening related items. The partners of Pacific Union Land Company used to refer to their office building simply as the Merryvale.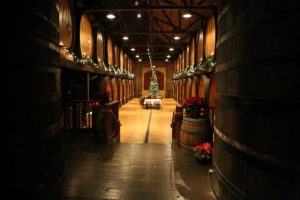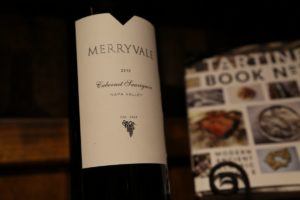 Current owners, the Schlatter family first became involved when Jack Schlatter, an international businessman who over the years has been involved with coffee, cotton, and real estate (including in Texas), among other ventures, became a partner in 1991 and built their export markets in Europe and Asia. Harlan eventually sold his interest as did the original investors and by 1996 Jack and his family became the sole proprietors (natives of Switzerland). Jack's son René grew up in Switzerland, studied in the U.S. and joined Merryvale in 1995; today he oversees the winery operations with his wife Laurence who is a 6th generation vintner and whose family owns Cave des Rois on the steep slopes of tiny Villeneuve not far from the shores of Lake Geneva. René and Laurence are not operating the winery from afar, rather they live and work in St. Helena.
For 10+ years, Merryvale did not own vineyards and would purchase grapes from area growers. But after the Schlatters took full control of the operations, they began to acquire key pieces of land which would become integral sources for their wines. Jack Schlatter recalls in 1996 he asked winemaker Bob Levy to recommend several of his most desired vineyards; one of the sites was a hillside vineyard in Conn Valley that Merryvale had already been producing wines from (today known as the Profile Vineyard). The Schlatters purchased this property from San Francisco Bay Area food and wine personality, Narsai David.
Finding an additional source of water on the property was very important because of the limited production of an existing well; they hired Laurie Wood (long time Napa farmer who died in 2011) who walked the property with his water dowsing forked stick. The first place he told them to drill resulted in a successful well. This is not the first time we have heard of Laurie's immediate success when visiting vineyard properties. Viticulturist, David Abreu oversaw the expansion and replanting of the vineyard and worked closely with their consulting winemaker at the time, Michel Rolland.
The Profile Vineyard is also home to 200 olive trees; Merryvale produces a very small amount of olive oil from these trees.
Today Merryvale owns four vineyard properties in Napa Valley including 25 planted vineyard acres in the Profile Vineyard divided into 17 different blocks, 40 acres in part of the Stanly Ranch on the Napa side of Carneros and 42 planted acres on Mt Veeder including what was the Lampyridae Vineyard plus an adjoining parcel and a separate smaller site purchased in 2022 at a lower elevtion. The Lampyridae Vineyard site is the second highest vineyard in all of Napa Valley with its uppermost reaches around 2,610 feet, only slightly lower than Napa Valley's highest vineyard, Blue Ridge Vineyard which is planted to Zinfandel. This Merryvale property is most likely the highest Cabernet Sauvignon vineyard in all of Napa Valley.
Lampyridae Vineyard

Profile Estate Vineyard
Photos coming soon
Stanly Ranch Vineyard

Great care is taken in their wine making – with fruit separated out into a number of small tanks. The reason they have a number of small tanks is that their vineyards are harvested numerous times and each picked block is fermented separately, even down to fermenting specific rows from a vineyard block.
Exterior

Interior

Cask Room

Production

Select Wines, Profile Collection & Merryvale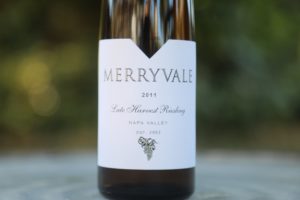 During a number of visits over the years, we have tried variety of wines; we highlight only a few here.
In 2021 Merryvale released a very unique offering for a Napa Valley based winery, a 2019 Merryvale Petite Arvine from Valais A.O.C. Switzerland through a partnership with a friend in Switzerland (this white wine is bottled under the Merryvale label). Petite Arvine originated in part of present day Italy but is most associated with Switzerland; today less than 400 acres are planted in that country. And Merryvale is growing slightly less than an acre of this variety at their estate in Carneros.
The 2019 Merryvale Petite Arvine is deep yellow in color with very pretty fruit forward aromatics including notes of honeysuckle, citrus blossom, pineapple, banana and papaya along with vanilla. Can we be as bold to say that this smells California and not Switzerland, despite its actual origins?! Lets see more of this in Napa Valley. The wine is slightly creamy across the palate with flavors of grapefruit, lime and a lively mouth watering finish. Superbly balanced. Our first thought after tasting this wine is to pair with oysters, Hog Island please.
The 2021 Merryvale Sauvignon Blanc Napa Valley was sourced from the LamBentz vineyard in Pope Valley; it was fermented in a combination of both oak barrel and stainless steel tanks and then aged for several months in neutral oak before bottling. This wine is pale yellow in color; the aromatics are more floral and tropical in nature while the palate tends to show primarily citrus influences. The bouquet is highly enjoyable with aromas of honeysuckle and jasmine. This wine offers flavors of lime, lemon, hints of ginger and gooseberry with a noticeable varietal brightness of acidity which continues to persist. This is a very balanced bottling.
Their flagship Chardonnay is bottled as Silhouette as part of the Profile collection of wines. The 2019 Merryvale Silhouette Chardonnay from Stanly Ranch was whole cluster pressed to stainless steel tanks and then after one day transferred to a French oak barrels where it was fermented by indigenous yeast. The wine spent 18 months aging in both new and neutral French oak barrels from a variety of coopers. It went through full malolactic fermentation. The lees were gently stirred during its aging. This wine offers distinctive aromatics including hazelnut, a hint of caramel and vanilla, red apple and citrus blossom. Let it breath, the bouquet will continue to evolve with additional layers of aromas. This wine shines because of its texture, acidity and flavor. The palate features a creaminess from start to finish with flavors of citrus and various stone fruits along with apple. Lingers with a richness of flavor which is complemented nicely by long and satisfying acidity. This wine is built to age; René told us, up to 10 years.
Merryvale has long produced a Chardonnay from the Hyde Vineyard in Carneros (the first vintage we tried of this vineyard from Merryvale was 2005). Larry Hyde is one of the most well-respected growers in Carneros and incidentally is a partner in Napa's HDV Vineyards with Aubert de Villaine, co-owner of the storied Domaine de la Romanee-Conti in Burgundy. This Chardonnay is whole cluster pressed (they often use triple sorting to ensure they are getting only the highest quality fruit). The 2014 Merryvale Hyde Vineyards Chardonnay shows citrus aromas on the bouquet including nuances of lemon/lime and hints of hazelnut. Rounded but not creamy on the palate, offers depth without being heavy. Features an intense flavor but with a crispness and noticeable liveliness especially on the finish. The wine went through approximately 30% malolactic fermentation and spent 12 months aging in neutral oak; it was racked once and then bottled.
Merryvale makes several bottlings of Cabernet Sauvignon; their top of the line Cabernet Sauvignon is called Profile. This was the first wine they ever produced. The 2012 Merryvale Profile (tasted 10 years post vintage date) is dark ruby in color; initially shows some meaty aromatics but soon opens to aromas of chocolate brownie, mocha and assorted baking spices with notes of ripe cherry. It is an elegant bouquet with still plenty of fruit showing. The palate offers flavors of plum and cherry anchored by a noticeable density of chewy and persistent tannins along with notes of dried tobacco leaf. There is a reason why Merryvale maintains a collection of library wines; their wines are built to age and this bottling is a perfect example. It tastes younger than its actual vintage date.
The 2003 Merryvale Profile (we tasted this around 2007) is a very dark, rich and unfiltered wine. It is a robust Napa Valley Cabernet Sauvignon with grippy long lasting tannins in its youth; this wine has all the hallmarks of being able to age for many years.
The 2014 Merryvale Cabernet Sauvignon Saint Helena (from their Profile Vineyard) is dark ruby in color; the bouquet is elegant with aromas of red fruits, violets, chocolate and hints of tobacco spice. This wine is juicy across the palate with flavors of plum, blackberry and hints of licorice. The tannins are darker and gravelly in their texture. This wine finishes very bright with lively acidity along with both red and darker fruit flavors and a hint of old cedar. This wine was aged for 22 months in 70% new French oak barrels from multiple coopers.
It is worth noting that Merryvale produces several delicious dessert wines including the affordable priced Antigua, Muscat de Frontignan which was originally bottled as a 500ml but now is bottled as 375ml. This is a very unique for Napa wine that has a significant historical and winemaking pedigree. This wine was originally created at Beaulieu Vineyards by winemaker André Tchelistcheff in the 1960s. The wine is always a non vintage, created using the solera process where the latest release is created from fractional blends from previous vintages and is finished with brandy. Merryvale started producing this wine in the late 1980s after purchasing barrels of wine that André personally made from vintages 1970 to 1983. Merryvale resumed making this wine from 1992 through 1997 and made enough of it that for many years they still had bottles available for sale either in the tasting room or on their website. They continue to offer this wine for sale in the tasting room.
The latest release of Antigua, California Muscat Dessert Wine (tasted in 2021) shows a medium brown color showing through the clear glass of the unique looking bottle. Offers layered aromatics which keep evolving as the wine breathes including caramel, rum soaked raisin, an orange peel zest, brown chocolate, brown sugar and chocolate cake. The bouquet is rich and one can get 'full' just by smelling it. Offers flavors of caramel, black walnut, and orange peel. Sweet and flavorful; these characteristics are balanced very nicely by its acidity. This is a wine definitely worth seeking out by dessert wine enthusiasts.
The 2011 Merryvale Late Harvest Riesling is from the Huichica Vineyard on the Napa side of Carneros. Deep amber in color, we tasted this wine 10 years post vintage date. Offers aromatics of honey, dried apricot, dried orange peel, citronella and brown sugar. This wine has aged remarkably well and its a pity we couldn't hold it another 10 or 20 years before tasting as this has a very long life ahead. It is very flavorful, yet shows a nice cadence across the palate without any sharp edges. The sugar is in balance with the bright acidity – carrying its liveliness through to the finish. Shows flavors of candied fruit, ripe citrus and baked pear. During harvest, some of the clusters were picked which were affected by botrytis (noble rot). The wine was aged for two years in barrel before being bottled, 15% of which was in new oak.
Hospitality/Experiences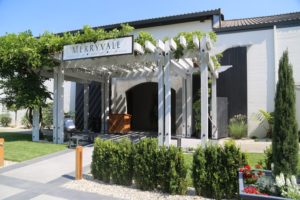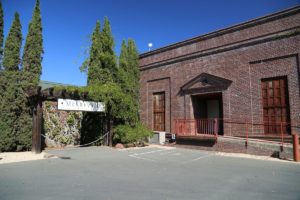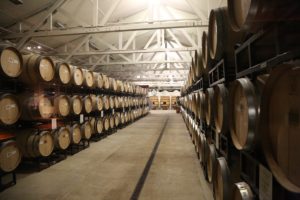 Visitors should look for an historical photograph taken in 1949 hanging near one of the entrances to the tasting room; it features Robert and Peter Mondavi as well as other pioneer Napa Valley winemakers. One may have a nostalgic feeling to see this photograph because these are the men that founded & promoted Napa Valley's wine industry after the severe setback of Prohibition – back when Napa was not well known and only a few wineries were in existence.
The winery and tasting room are housed in a very environmentally friendly building containing large solar panels on the roof and a recycling program for the winery wastes.
Aside from the history of the property and the wines, one of the highlights is the impressive Cask Room; this is open during normal business hours and is well worth visiting. It is the only one of its kind in Napa Valley. This room evokes a time perhaps back to the middle ages with its lighted candles, giant aging casks and the impressive table centered in the middle of the room. Two massive redwood tanks have been converted into intimate tasting spaces for guests; one is referred to as Silhouette and the other as Profile. The Cask Room is used for wedding receptions, corporate events and larger group private tastings.
The tasting room can be busy, especially on the weekends as this is a popular winery destination. But there have been plenty of times we have stopped by on a weekday morning and there are very few visitors. Refreshingly, the tasting room also stays open slightly later than most Napa wineries.
In 2018 Merryvale converted part of their grounds to an outside terrace tasting space. While seated here, watch people line up at Gott's Roadside across the street and or the wine train as it passes by on the tracks. And of course enjoy wines from Merryvale.
An introduction to the Merryvale wines is their Signature tasting. Reservations are not required but are recommended for this experience, especially on the weekends. This tasting of select current release wines is either at the bar, in the tasting room or outside on the terrace. Guest can also choose a Pinot Noir only tasting, a Reserve Tasting, focusing on single vineyard and limited production wines, the Profile Library Tasting showcasing some older vintages of the Profile wine, and an Artisanal Wine & Cheese Tasting, a seated tasting pairing Merryvale wines with locally sourced artisan cheeses.
Several tastings include local food experiences, taking advantage of two nearby restaurants. The Burger Butler experience allows guests to avoid the often very long lines at the iconic original Gott's Roadside across the highway while enjoying some of Gott's burgers outdoors at Merryvale following a tasting of select Merryvale wines. 48 hours advance reservation minimum is needed for this experience. The Pinot & Pizza experience features a seated tasting outdoors with a flight of single vineyard bottlings of Pinot Noir followed by a delivery of a pre-ordered pizza of your choice from Tra Vigne (across the driveway from Merryvale). From numerous visits to this restaurant over the years, we can highly recommend the Ducati pizza. The minimum group size for this experience is 8 people and 48 hours advance notice is required.
For those wanting an in-depth vineyard experience Merryvale offers a private tasting and visit to their Profile Estate Vineyard. This is the Profile Estate Picnic experience for 2-8 people featuring a flight of Profile Collections wines paired with a selection of lunch options. Once finished wining and dining, guests will take a guided vineyard tour.
Merryvale has a remarkable collection of library wines with available bottlings often up to 15 years old but with select wines from even older vintages. They currently have wines from every vintage produced dating back to 1983. And some older vintages are available for tasting in their tasting room.
Starmont Wines
Starmont is a completely separate label from Merryvale Winery although it is a part of the Merryvale Family of wines and is also owned by the Schlatter family. Select Starmont wines can also be tasted at Merryvale Winery. The names of the original founders of Merryvale are honored in the name of Starmont. This name was chosen by combining several letters in each of the founders last names – Peter Stocker, Bill Harlan and John Montgomery. For approximately 4 years the wines were available at the Starmont tasting room in Carneros in Stanly Ranch but after Merryvale sold that physical winery in 2019 (but not the Starmont label), the tasting room also closed.
The original Stanly Ranch was founded in 1856 by Edward Stanly – a lawyer from San Francisco. The original size of the ranch was over 2,200 acres. The land was passed on to successive generations. A winery operated on the property until prohibition in 1919; the family continued running the ranch until it started being parceled and sold to outside individuals in the 1930s and 1940s. In addition to being home for some of Napa's early grapevines the Stanly Ranch was also the site for both Pinot Noir and Chardonnay clonal trials – conducted by Louis Martini, the Wente Family and UC Davis in the 1950s.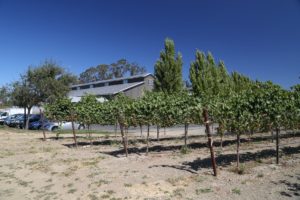 The original Starmont label was originally a Chardonnay label under the Merryvale wine portfolio. Presently, Starmont is primarily made from non Napa Valley grown grapes and includes a number of varieties: Chardonnay, Pinot Noir, Merlot and Cabernet Sauvignon.
In 2012 they started crafting small production wines from the surrounding Stanly Ranch vineyard which are generally in the range of 50 to 500 cases per wine. While the Merryvale wines focus more on Cabernet Sauvignon, the Starmont wines cover a wide range of varieties and are crafted to be food friendly approachable wines upon release. For the short tasting notes below, note that we wrote 'good acidity' for all these wines. Across the board these are wines that are versatile and will pair well with a variety of foods.
The 2012 Starmont Viognier shows aromas of melon. Delicate notes of pineapple and red apple show on the palate. This finish is clean and slightly spicy.
The 2012 Starmont Chardonnay initially shows aromas of grapefruit peel with tangerine blossom. Good citrus characteristics. This wine has nice acidity – especially mid to end of the palate. Notes of lemon, lime and red apple show on the palate. Clean and with a long finish.
The 2012 Starmont Pinot Noir Carneros shows some spicy notes aromatically with a white pepper characteristic. This aroma dissipates quickly revealing earthy notes with red and black fruit and finally just a hint of mocha. This spice from the bouquet continues onto palate. Nice fruit shows including raspberry, strawberry and cranberry. High toned fruit rather than darker fruit.
Slightly more than 200 cases were produced of the 2012 Starmont Pinot Noir, Stanly Ranch Estate. The bouquet is rich, ripe and lively; it mirrors the lively finish on the palate. Aromatically it shows expressive layered aromas of strawberry, cranberry intermingled with nuances of white pepper. That palate is rounded and of moderate build (more tannins than perhaps expected of a Pinot Noir). Their is a sweet note of fruit on the palate but tempered by a tartness on the finish.
The 2012 Starmont Syrah, Stanly Ranch Estate has to be among the smaller or the smallest production wines of any wines made by Merryvale or Starmont. It was only 50 cases. This wine is dark in glass and our favorite of the several wines we tried. The nose is very inviting with appealing aromas – dark fruit including blackberry. The nose shows bright and lively aromatics. The entry on the palate is plush, soft and rounded. There is good acidity – perhaps not always a characteristic associated with a plush mouth feel. Broad, balanced and fine grained wood and fruit tannins linger on the finish for a long time with nuances of a chalkiness. This is a very well balanced wine for being so young.
Typical production of Starmont wines each year is generally between 35,000 and 40,000 cases.
Cave des Rois
René's wife Laurences' family owns Cave des Rois in Switzerland. We will visit sometime later in 2022 or in 2023 during another trip to Europe focusing on Napa Valley winery heritage or ownership connections.
—
Merryvale has one of the more advanced and extensive winery websites that we have seen (we hope we aren't to biased in this regard as we provided server space for their website many years ago). Total production of the Merryvale wines is generally between 12,000 and 15,000 cases each year. For more information and to join one of their wine clubs (with numerous benefits including access to their club lounge), visit: www.merryvale.com