Mending Wall Winery is a partnership between three owners: Frank Dotzler (one of the co-founders of Outpost Winery), Mark Pulido and Donna Walker (owners of Pulido-Walker Wine) and well-regarded winemaker Thomas Rivers Brown.
Frank and his wife at the time, Kathy began to discuss the possibility of building another winery – looking specifically at the valley floor. Their intent was to produce premium wines from select vineyard sources in Napa Valley offered at affordable prices – and find a location that was easily reached and could host visitors. The winery is located in the far northeast corner of the St. Helena appellation along Silverado Trail just south of the edge of the Calistoga appellation.
They reached out to their long-time winemaker, Thomas Brown who then brought on Mark and Donna into the partnership. The winery is not only home to the Mending Wall wines but a number of other custom crush clients (all small producers).
Thomas is one of the busiest wine makers in the Napa Valley. Several producers have showed us lists of all the Napa brands that he consults for and or provides direct winemaking services; this is an extensive list. He is from South Carolina and developed an interest in wine while attending the University of Virginia where his major was not wine related (he studied English and Economics).
He moved to the Napa Valley in 1996 and took a job at All Seasons Bistro in Calistoga (known for their California cuisine, wine selection and long time in business, but permanently closed in 2020). While there, Thomas met winemaker Ehren Jordan who was working for Larry Turley at the time of Turley Wine Cellars. Thomas took a job with Ehren in the cellar at Turley in 1997 – spent several years there before beginning his own career and starting to consult for various clients (some of which were clients that Ehren was already working with).
And within only 10 years of making wine in the Napa Valley Thomas received two 100-point scores from Robert Parker – regardless of what your perception is of scores, creating several wines within a short period of time that receive 100 points from Parker was a watershed moment in Thomas's consulting career.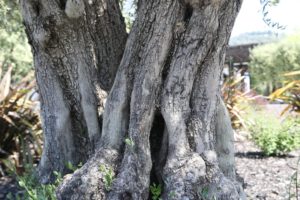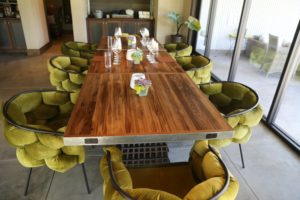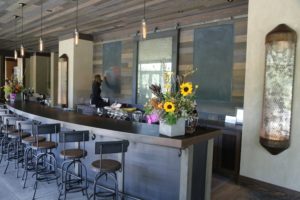 Today Thomas is highly sought after for his winemaking services, experience and access to premium area vineyards. And while he was once the student, over the years he has become the teacher. We have met with a number of winemakers who worked under Thomas – and consider him one of their mentors. These are winemakers who have gone on to establish their own brands or consult for other Napa based brands.
The winery was built at an impressive and accelerated pace. Ground was broken on April 16th of 2014, the first harvest on site was later that year in September and October and the hospitality center opened slightly more than a year later. The property is 20 acres of which only approximately an acre was planted to old vine Syrah (35–40-year-old vines) – these vines have since been removed and a small section of the property is currently planted to Cabernet Sauvignon and Sauvignon Blanc.
The name "Mending Wall" was taken from a Robert Frost poem of the same name. There is a line in the poem 'Good fences make good neighbors.' And that is part of the philosophy of this winery. They pull from vineyards all over the Napa Valley – usually from small family-owned producers and take the best of both valley floor and hillside fruit to craft small production premium wines.
Take for instance the name of their Sauvignon Blanc, 'Stone on Stone'. In the same theme as the name of the winery, this name refers to a collaborative effort – building a wall so to speak, stone by stone. The components of this wine were sourced from two small vineyards – the Sémillon in Calistoga from the historic Tofanelli Vineyard and the Sauvignon Blanc in Oakville from the well-regarded Tench Vineyard.
Select Wines
The 2013 Mending Wall Sauvignon Blanc is pale yellow in the glass and very aromatic. Bright fruit aromas show, melon initially and as the wine breathes a citrus component shows (orange blossom) with notes of lime. The wine is soft and rounded on the palate with weight but without too much viscosity. Good acidity. The finish shows notes of mineralities – hints of graphite. This is a clean, balanced and easy drinking wine.
The 2012 Mending Wall Napa Valley Cabernet Sauvignon was made with fruit from both valley floor and hillside locations within Napa. It is dark in the glass with a ripe but not an overripe bouquet that shows plum and black cherry aromas. There is a sweet core to the nose (think warm cherry pie) with some holiday spices showing, perhaps cinnamon and just a touch of mocha. Good acidity, higher toned fruits show on the palate including a lingering note of red currant. The tannins are well integrated and slightly dusty.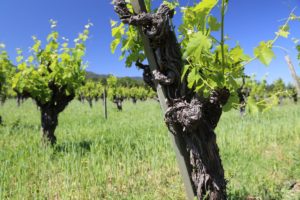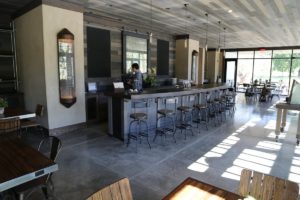 The 2013 Mending Wall Petite Sirah is sourced from the Carver Sutro Vineyard, a historical piece of land that was planted in the early 1900's. The vineyard is in a small side valley that branches off from the main northern part of the Napa Valley. It is in the shadow of the Palisades (rocky outcrops) and needless to say the soils in this vineyard have a generous helping of rocks (besides wine, one of the other components that the Napa Valley is famous for producing). This is one of the top Petite Sirah vineyard sites in all of the Napa Valley.
This is an intriguing wine both on the bouquet and the palate. It is very dark in color (inky squid black) in the glass. You can smell the vineyard source in the glass; there is a dusty earth-like component to the bouquet. It shows plenty of black fruit, ripe blackberry and dark chocolate on the nose.
The tannins are very appealing – they are big but not monstrous and they are very noticeable starting on the front of the palate through to the finish and last for a long period of time. They are not rough on the palate. They are fine tannins – chalky and chewy coating the entire palate. This is a big wine but a balanced one which is not always the case with robust wines – especially with wines made from this particular varietal.
—
Kathy spent significant time visiting a number of larger wineries up and down the Napa Valley prior to deciding how to create their own tasting experience and ambiance of the tasting room. It was her creativity behind the look and feel of this tasting room with the functionality created by Richard Von Saal of Vonsaal Design located in the city of Napa.
Much of the furniture and accessories inside the tasting room are made from recycled materials – some of the wood was taken from old wine barrels and refurbished into tables and chairs. Even old metal propane canisters can be found in the tasting room – one as a support for one of their tables.
Tastings are by appointment (same day is generally OK) and are held either inside the tasting room or if the weather permits, outdoor seating is also available. A small adjoining room is for wine club members. The tasting room is open, airy and framed by plenty of windows which bring in plenty of natural light.
And a local artist Anne Pentland comes about once a month to create from scratch two chalk drawings on chalkboards within the tasting room. Her chalk paintings tend to be wine country related but she has full control of the topic for each month's paintings.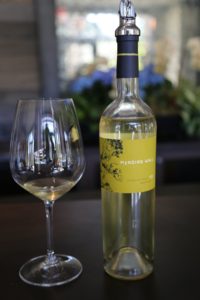 Experiences focus on education, including weather permitting, short walks in the vineyard. Their hospitality space is modern and setup so guests will feel relaxed and have fun at the same time. Tasting are personalized yet this is also an environment that is conducive to meeting other guests who are visiting.
Their wine is not distributed rather the focus is on the direct-to-consumer model – meeting most of their customers in person at the winery or selling through their website. At the time of this review, they currently produce about 2000 cases annually with plans to ramp up production to approximately 4,000 cases.
As has been the trend in the past few years at a number of Napa wineries, they maintain two electric charging stations in the parking lot. One is for Tesla only vehicles and the other is for other electric vehicles. For more information and to join their mailing list, visit: www.mendingwall.com
Grounds

Hospitality

Winery