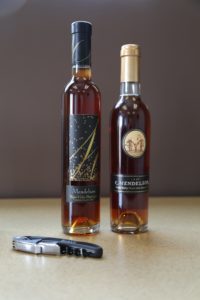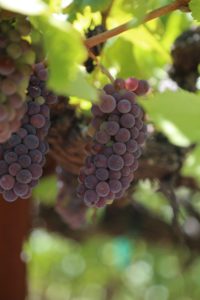 Mendelson Wines. Proprietor Richard Mendelson is a man of many talents – lawyer, real estate broker, wine maker, artist (metal sculptures), professor and author. He wrote Appellation Napa Valley – a historical and in depth look at the creation of several of Napa Valley's sub appellation (based on his legal with these sub-AVA's). Richard was introduced to fine wines while working for a Burgundy based wine shipper in the 1970's. Wine has become an integral part of his life since then – playing an important role in a number of his professional interests and personal passions.
Richard and his wife Marilyn first visited Napa Valley in 1979 and then moved here in 1986. Richard has practiced wine law for many years from his office in downtown Napa with Dickenson, Peatman & Fogarty – and counts a number of Napa's most well-respected wine organizations as clients including the Napa Valley Vintners Association and Winegrowers of Napa Valley.
Veteran Napa winemaker Charles Hendricks has made the Mendelson wines every year since their first vintage in 1994 – although today Charles' hands on work is reduced, rather providing more of a consulting role. Richard makes the wine at a winery not far from where his own vineyards are located in the southern part of the Napa Valley.
While the Mendelson wines have long focused on the Napa Valley – Richard also sources fruit from several other California wine regions including Mendocino County and Monterey County. His introduction to the Santa Lucia Highlands in Monterey County was somewhat by accident. A client approached him for legal advice concerning the Sleeping Hollow Vineyard – and ultimately the advice Richard gave him was a creative solution with Richard taking over a contract for the grapes. His Pinot Noir from the Santa Lucia Highlands has always been a vineyard designate. Today he works with the Doctor's Vineyard, a sizable well-respected vineyard mostly planted to Pinot Noir.
There are not many Napa vintners sourcing Pinot Noir from the Santa Lucia Highlands, and it is a rare opportunity when we get to try one. Aromatically the 2014 vintage shows bright aromatics with a dark cherry component, cherry cola with spices (toasted cedar, white pepper and perhaps a hint of nutmeg) and a minerality note to the bouquet. Rather than being a more delicate Pinot Noir, this wine is generous with flavor and richly layered on the palate. It displays a pleasing texture; the tannins are certainly felt on the finish but are not out of balance.
Richard's son Anthony has created several wines originally bottled under the Mendo label (now called Blendo). This is always a Napa Valley sourced red blend – with the varietal percentages changing every year. This wine maintains a consistency of quality each year, but the flavor and aromatic profiles change every vintage. In our opinion, it is also one of Napa's under the radar best value wines to quality. Anthony works at Google and also runs their wine club where he sells a good amount of this wine.
Select Wines
The 2013 Mendo Napa Valley Red Wine is dark in the glass with aromatics of dusty blackberry and blueberry. The aromas are sweet with some floral notes as the wine opens. Darker fruit on the bouquet. A lingering tartness shows on the finish and noticeable somewhat drying tannins linger for some time. Richard enjoys making this wine, especially the blending process as each year he works with different fruit sources.
Dessert wines are such a niche market as compared to the general wine drinking population – and in Napa at least out of the 1100+ Napa producers we have met with to date, we count one one hand those who focus on dessert wines or various styles of sweet wines including Port styled wines. Those fortunate enough to have the palate appreciation for premium dessert wines must put Mendelson on their radar. A typical dessert wine from Napa includes wine often made from Chardonnay, or Sauvignon Blanc or Sémillon. However, Mendelson focuses on two other varieties not often seen in Napa – a Pinot Gris and Muscat Canelli. These are rare wines indeed.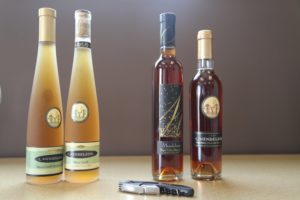 In 1989 Richard and his wife Marilyn took a trip to the Ukraine as delegate representatives of the U.S. as part of an international wine conference. The immediate impact of trying dessert wines in this region (from the Massandra Winery) made such an impression that they soon researched how to make these and some of the history behind these wines (learning more at the Magarach Institute for viticultural and vinicultural research and development within the old U.S.S.R.)
Truly inspired, they returned to Napa and planted Pinot Gris at their 'home' vineyard – encompassing a small slightly less then 2-acre piece of land. The first vintage from this variety/vineyard actually went to noted winemaker Zelma Long who produced a dry wine from this variety under the Long Vineyards brand. 1994 was the first vintage of the dessert wine under the Mendelson label – and as Richard recalls was the first and only year to date where the grapes were used after being infected with the botrytis rot.
Not only does Richard appreciate and enjoy drinking these types of wines – but they are also made as a nod to his own heritage. His grandfather was raised in Odessa (on the coast of the Black Sea) – a region where these wines were very well known.
Mendelson made vintage wines up until 2001 for both of these varieties but in more recent years has released a non-vintage wine – simply called the Reserve Lot One.
The beauty of using Pinot Gris in a dessert wine are the remarkable transformations that this wine shows as it ages. When it is young, Richard has noticed more stone fruit characteristics but as it ages it begins to take on additional characteristics, tertiary aromas including various dessert spices. This is a variety that has great depth of flavor and aromatics and continues to evolve in interesting ways. Compared to the Muscat Canelli, perhaps it has more character and depth and certainly the power for greater evolution in the bottle.
The Mendelson Reserve Lot One Pinot Gris contains wine spanning a number of vintages dating back to the original 1994 barrels. It initially shows a diversity of dessert like aromas including burnt caramel, toffee and as it breathes riper stone fruit aromatics come forth including apricot and peach. An orange rind characteristic shows on the bouquet but not on the palate. A delicious combination of layered flavors combined with sugar, alcohol and acidity make this a memorable wine. A creaminess, silkiness or velvet like quality is immediately noticeable across the palate. The wine is fresh on the finish with flavors that last for some time – it begs for another sip.
The 1998 Mendelson Pinot Gris shows layered and ripe aromatics apricot and peach along with additional aromas of butterscotch and caramel. Tantalizing on the bouquet, the wine also shows well on the palate – structurally it is soft with creamy notes – plenty of fruit shows with notes of various dessert spices leading to a long pleasing finish.
The 2002 Mendelson Mendocino County Muscat Canelli shows dark golden in the glass. Winemaker Charles Hendricks calls the aromas and flavor a "coconut cream". This vintage shows bright aromatics – it is very fragrant – with banana and coconut notes. Notes of fig on the bouquet as the wine evolves. Good balance between fruit and acidity. Flavors of apricot along with baking spices show on the finish.
The Mendelson Reserve Lot One Muscat Canelli was made from wine in barrels dating back to the first vintage in 1998. This wine shows a neat mix of butterscotch, caramel and brown sugar aromas on the bouquet along with tropical notes including banana and pineapple. It shows slightly more complexity on the palate then the 2002. A beautiful creaminess shows broadly across the palate. Well layered on the palate with again a clean and vibrant finish.
—
Sometimes Richard has noticed a bitterness on certain dessert wines made from Pinot Gris – there is none of that on these wines – the alcohol perhaps helps temper this.
A rather unique approach to making these wines is that during the height of fermentation, they will slowly dose in small amounts of spirits – with the thinking that this creates a more integrated/harmonious wine – especially early on in its life. This is in contrast to the normal addition of spirits after fermentation is complete.
Richard has found these wines pair well with a variety of salty dishes, spicy foods including Thai food – along with a number of nuts and cheeses including blue cheese. These are wines that have a wide range of ability to pair with various cuisine. And they are wines that age *extremely* well.
NOTE: We need to verify if Mendelson is still actively producing. If not, we will archive this review.
For more information, to join their mailing list, or to purchase wine, visit: www.mendelsonwines.com