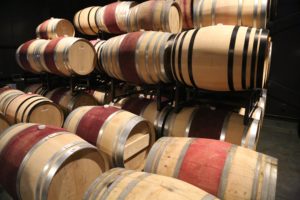 Melka Estates was founded in 1996 (their first vintage) by winemakers Philippe and Cherie Melka. Starting with all sourced fruit (rather than ownership of vineyards), they began Melka wines with two wines the CJ label named in honor of their two children Chloe and Jeremy and Métisse. They have since grown to four collections, CJ (a red blend very approachable in its youth sourced from premium vineyards throughout Napa Valley), Métisse (a word that refers to a 'blend of cultures' with wines from single vineyard sites within Napa Valley), Mekerra (from a mountain property they own in Sonoma County) and Majestique (single vineyard wines from outside of Napa Valley including in Paso Robles and Bordeaux). As a footnote, one quickly realizes the affinity the Melka's have for the letter 'M'.
After earning a degree in Microbiology at Northern Arizona University Cherie began working in the pharmaceuticals industry as a laboratory technician. Not really finding inspiration from this type of work she switched gears and states, moved to California and in 1989 took her first winery job for Paul Draper at Ridge Vineyards. For five years she ran the lab for Ridge Vineyards. It was here that she met Philippe. He was out exploring vineyards trying to find outcrops of limestone. Finding what he thought was a piece of limestone he walked into the lab where Cherie was working. She insisted it was not limestone and he insisted it was. Not sure who ended up being correct but this chance meeting at Ridge was where both met for the first time.
Philippe grew up in Bordeaux, earned his degree in Geology at the University of Bordeaux and later his master's degree in Agronomy and Enology. His first wine position was at Château Haut Brion in Bordeaux. His first introduction to Napa Valley came in 1991 as an intern with Christian Moueix, proprietor of Chateau Petrus in Bordeaux and Dominus in Napa Valley. Philippe came to Dominus to study soils and then spent a few years as a traveling winemaker and ultimately settled in Napa Valley in 1994.
In what would become the start of a long and successful wine making career, his first two wine making / consulting jobs were in 1995 at Seavey Vineyards and at Lail Vineyards (both of whom he is still involved with today). He also began Atelier Melka in 1995, a wine consulting company specializing in creating limited production premium wines for a variety of well-regarded brands – mostly based in Napa Valley. Atelier in French means an artist's studio or workroom (where specific skills are taught and passed down). But today he has plenty of help; Atelier Melka employs several talented, accomplished and highly respected winemakers.
100-point scores aside (of which Philippe has earned plenty) and along with numerous accolades, looking back on Philippe's contributions to the valley one will realize the prominent part he has played in elevating the role of the consulting winemaker. He will forever be known as a master wine maker of Napa Valley's most well-known variety, Cabernet Sauvignon, but he should also be recognized for his work championing and producing wines of the highest quality from varieties that he isn't always known for – such as Syrah and Sauvignon Blanc.

While continuously striving to learn more, arguably Philippe is currently at the height of his wine making influence in Napa Valley. His legacy will be known for raising the bar on wine making in the valley and therefore elevating the reputation of the region as a whole.
He is careful about who he works with, valuing both the relationships of the clients and premium vineyard sites. His father was a physician and Philippe remembers being impressed at a young age by the personal relationships his dad developed with his clients when making house calls. The relationships he maintains and the constant communication with clients is an extremely important part of his toolbox.
The list of Napa wineries that Philippe has worked with over the years reads like a who's who list of the valley – Alejandro Bulgheroni Estate, Brand, Bryant Family, Dana Estates, Lail, Hundred Acre and Tusk Estate (unlike all his other clients, he is a partner in Tusk) among many other well-regarded brands.
In 2001 the Melka's acquired 25 acres to the north of Napa Valley in Sonoma County (Knights Valley) in a vineyard neighborhood which also includes Peter Michael and Delectus. Their property is called La Mekerra in honor of Philippe's father and the name of the tiny river in Algeria where he was raised, located about 4 hours driving from Algiers. The property is rugged and steep ranging in elevation from 2300 to around 2,600 feet and certainly among the very highest vineyards in either Napa or Sonoma Counties. For reference, the highest vineyard in Napa Valley is the Harris Blue Ridge Vineyard located at just over 2,700 feet in the far eastern reaches of the county near the Solano County line.
In 2011 they located and purchased 11 acres on the outskirts of the town of St. Helena. Philippe was already familiar with the existing 2-acre vineyard on the property – the fruit was going to Hundred Acre at the time. This vineyard, now called the Métisse Montbleau Vineyard, is planted entirely to Cabernet Sauvignon. The vines were 30+ years old before they were completely destroyed in the Glass Fire in 2020. These were replanted again, entirely to Cabernet Sauvignon. A second very small block on the hill near the winery is all head trained.
A barn/garage was converted into a contemporary space – both for tastings upstairs as well as their wine library downstairs. Signum Architects led by lead architect Juan Carlos designed their small but very functional winery (with two separate spaces). After more than 20 years of making their wines at other wineries, the first vintage made on site was in 2017. Incidentally the sizable crush pad doubles as Philippe's skateboard zone during downtime.
The Melka's live on site and their 'commute' to the winery is a very short one. While it is Philippe who oversees the wine making it is Cherie who keeps the company running, managing the marketing and sales efforts, helping with wine making work and offering an important role in all blending decisions. Melka Estates is also a client of Atelier Melka so their team also has an integral role in the wine making efforts.
In addition to the two properties they own, they also work very closely with a number of other vineyards, ranging from Napa Valley to Paso Robles to Bordeaux.
Long time collectors of Melka wines probably still have bottles with their original colorful floral themed labels. In 2006 they changed labels to an image that certainly is one of the more eye-catching labels coming out of Napa – a mesmerizing image of Philippe's' eyes gazing out from every bottle of wine they produce. And beginning in 2017 they changed the label again to incorporate an image of both Cherie and Philippe's eyes.
Select Wines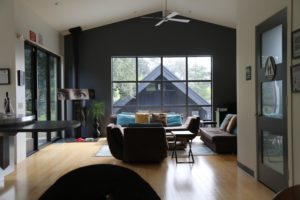 The 2017 Melka Mekerra Vineyard Knights Valley Sonoma is 100% varietal Sauvignon Blanc and was tasted 5 years post vintage date. This wine is medium to deep gold in color; the bouquet offers a generous diversity of aromas including of baked apple, pear, ripe apricot, ripe yellow mango, honeycomb and pineapple. But there is more, including a subtle hint of Graham cracker, along with vanilla and other sweeter baking spices found deeper in the aromatics. The palate offers balance and a simultaneous richness of flavor including of red apple, pear, quince and a light note of popcorn butter. The finish lingers bright with a light citrusy note including a lemon zest. Its textural creaminess is balanced perfectly with the liveliness of the acidity. This wine was aged 20 months in 65% new French oak barrels. There are a handful of exceptional Sauvignon Blancs produced by Napa Valley based wineries; this is certainly one of them.
The 2015 Melka Majestique Paderewski Vineyard Paso Robles is 100% varietal Syrah. Those used to Syrahs that aren't well made or are growing in the wrong terroir will often be surprised at the depth and richness of this particular wine. Dark in the glass, it shows almost purple on the edges, initially it offers a sweetness of fruit (briary, blackberry) with a kiss of dark chocolate and more of a meaty characteristic as it opens including bacon fat. One soon notices the pleasing texture on the palate; it is supple and seamless in its approach; the fruit lingers well after the influence of the integrated tannins.
The Melka Mekerra Vineyard Proprietary red is usually an almost equal blend of Cabernet Franc and Merlot from their Knights Valley vineyard. The vineyard site is above the fog – sees plenty of sunshine but tends to be a cool site influenced both by elevation and winds/proximity to the ocean to the west. The growing season is long and slow. This wine is an homage to Saint-Émilion and the right bank of Bordeaux where these two varieties are often blended together. The 2014 Mekerra La Mekerra Vineyard Proprietary Red is noticeably dark in the glass with aromas of blackberry, dry dust, mineralities, cigar smoke, chocolate and a hint of sage. Powerful on the palate but with finesse, it shows flavors of both blackberry and plum. There is a pleasing softness mid palate through to the finish with good acidity and moderate well-integrated tannins.
Drawn to a piece of land in St. Helena near Spottswoode Winery that features an abundance of alluvial river rounded cobble (somewhat reminded Philippe of Graves in Bordeaux) Melka produced their first wine from this vineyard in 2003. The 3.5-acre site was planted by David Abreu in 1999 to Cabernet Sauvignon, Petit Verdot and Merlot. The blend changes every year based on what the wine making team feels creates the best possible wine. This is a privately owned vineyard with some farm animals on site including goats – one of which was named Leo. Cherie noticed this goat would often jump and cleverly came up with the name Jumping Goat for this wine. One can almost smell the soil in the bouquet of this wine. The 2014 Metisse Jumping Goat Vineyard Napa Valley reveals a noticeable dust aroma with both dark fruit (blackberry) and a floral component. As it opens a hint of toasted oak shows on the bouquet. Packed with flavor, the wine finishes long with dusty and somewhat chewy tannins.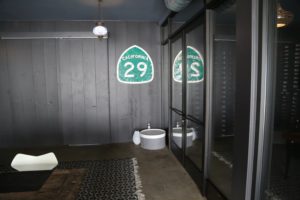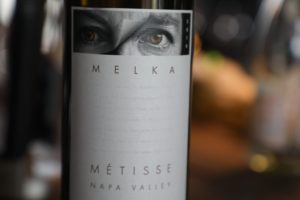 The 2014 Metisse Montbleau Vineyard Napa Valley is named in homage to Cherie's parents. This wine is 100% varietal; it shows dark layered dark fruit on the bouquet complemented by a noticeable element of dust or earth if you will – a component we noticed on several of the Melka red wines. It opens with aromas of blackberry, cassis and a hint of white pepper. Aromatically, this wine keeps changing in the glass as it breathes. The mouthfeel is generous with big fruit, complemented by excellent acidity. Robust but not grippy tannins anchor a long finish.
The 2015 Mekerra La Mekerra Vineyard Proprietary White is 100% varietal Sauvignon Blanc grown at an elevation of approximately 2300 feet from their Knights Valley property. This is either the highest or among the highest Sauvignon Blanc in all of Sonoma or Napa counties. Aged in cigar shaped new French oak barrels (the staves are boiled rather than steamed) for up to 22 months before being released. Based on so much time in oak, one might think the wine will be overtly dominated by oak influences, but this is not the case either on the bouquet or on the palate. Dark golden in the glass this wine immediately reveals intriguing and layered depth of aroma; it is floral, it is tropical, and there are citrus nuances including grapefruit. Vibrant and very refreshing on the palate the wine shows some weight mid palate with great acidity anchoring a mouthwatering finish.
This wine is usually showcased after their red wines because it has the flavor, weight and acidity to hold up to some of their more robust red offerings.
And in 2014 Melka produced a one-off late harvest Muscadelle from several rows in their Knights Valley Mekerra Vineyard (bottled as 375ml). These few rows were later removed.
Chardonnay is also planted at their Mekerra Vineyard; at an elevation of approximately 2,500 feet this among if not the highest Chardonnay sites in Napa/Sonoma. They haven't made wine from these vines every year due to frost issues in Spring, but they have since budded over these vines to a different clone of Chardonnay.
Environmental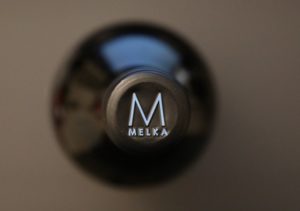 Melka continues to take action in regard to sustainability and protecting the environment. Along with several other Napa Valley wineries, Melka Estate is a member of 1% for the Planet. Members contribute at least 1% of their gross annual revenue to environmental organizations focusing on climate change, wildlife conservation and marine ecosystems. One of the several early Napa Valley wineries we first discovered were members were Paradigm and Spottswoode.
One of the strongest organizations in regard to sustainable practices is The Porto Protocol Foundation (of which Melka is a member), a Porto, Portugal based nonprofit founded in 2018 by Taylor, Fladgate & Yeatman, one of the largest port houses in Portugal and producer of Taylor's Port. One of their core focuses is on climate change and implementing related practices such as water conservation and reclamation, a close look at minimizing packaging including in particular bottling, soil health, solar energy, and vineyard designs incorporating more biodiversity. The organization offers a variety of related ideas and practical solutions and also hosts numerous valuable in-person and virtual events each year.
Their mission is: "To drive collaborative action by bringing together a network of change makers and workable climate solutions for and within the wine world". The organization is truly global, however while rooted in the wine industry with both small and larger international wineries as members (including some of Napa Valley's most respected wineries), additional members are from select other industries.
Melka uses solar panels to power their winery operations and uses lighter glass bottles to reduce their carbon footprint.
—
Visits are for members of their allocation list, serious wine enthusiasts and collectors. For more information, to schedule an appointment or to become a Melka member, visit: www.melkaestates.com