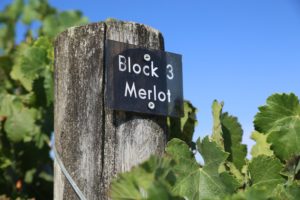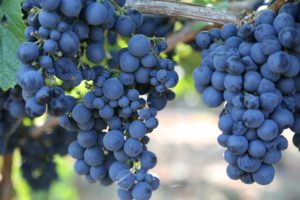 McKenzie Mueller Vineyards & Winery is located in the heart of the Carneros district. They are open by appointment only and are fairly flexible (even with last minute appointments). Founders Bob Mueller and Karen McKenzie used to live on site – today their daughter Samantha lives across from the winery and is Director of Operations (overseeing all aspects of the business from hospitality, to vineyard and wine work).
They purchased their Carneros property in 1987 – an old run down dairy barn was on site which they renovated (and is now the home of their tasting room). The winery was founded in 1989 (their first vintage was in 1990, 500 cases); both Bob and Karen grew up in the Napa Valley area. Karen grew up in the former tiny town of Monticello in eastern Napa County (now under many feet of water from Lake Berryessa). The site of the old community of Monticello is off shore closest to the dirt/gravel East Side Road about 9.5 miles in from the junction of Berryessa Knoxville Road. This road roughly parallels the shoreline on the eastern side of the lake for about 3/4 of the lake's distance before terminating. However at about mile marker 6 this dirt road is gated and locked and one can drive no further.
One can roughly look across the lake on the western shoreline at where Monticello used to be located from the Smittle Creek Trailhead. We will rent a boat or a jetski at some point to reach the over water location directly above where the town used to be located. When Lake Berreyssa was created, the town of Monticello was removed down to each buildings' foundation so underwater, nothing really remains of the town itself.
Bob gained much of his early wine making experience by working at Robert Mondavi Winery for 16 years before starting this winery. There have been a number of well-regarded wine makers who worked at Robert Mondavi Winery over the years who have either started their own wineries or successful brands. There is a reason Robert Mondavi has earned the phrase among local wine insiders, "the College of Mondavi".
Bob planted his vineyards here during a time when the Carneros region was just coming out of the shadow of being Napa's, "next door neighbor" and was gaining its own solid reputation. They own two vineyards – their primary ranch surrounding the winery and another 8 acre piece of land north of the city of Napa on Big Ranch Road in the Oak Knoll district (planted to Cabernet Sauvignon, Cabernet Franc and Sauvigon Blanc). Their carneros property is 50 acres and is planted to a diversity of varietals including Chardonnay, Pinot Noir, Merlot, Malbec, Petit Verdot and Cabernet Sauvignon (don't always see a lot of Cabernet Sauvignon in what is generally a cooler growing region).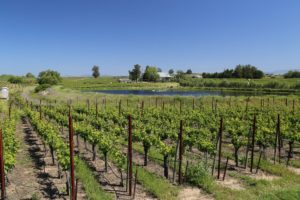 To enter the winery, drive down a short gravel driveway past rows of vines and olive trees (they do make olive oil from their olives but it is not available for tasting on site – although you can purchase bottles). Additional olive trees line the edge of their property along Las Amigas Road – often white in color (sprayed with some sort of organic compound that discourages olive flies from laying eggs on the olives which would hatch into larvae).
The actual tasting room is in the wooden "wine shed" behind the winery; it is cozy and intimate containing a small wine bar. Karen was formerly a high school art teacher (now retired) and is a painter – some of her works are on display hanging on the walls of the tasting room.
Visits may also include a tour of their production facility where you might meet the cellar master German Valdez (pronounced, Herman). German is originally from the state of Oaxaca in Mexico; as soon as you meet him, you can tell he loves what he is doing. He was doing construction and stucco work until the recession of 2008 – at which point the housing market slowed dramatically. Looking for another line of work and a complete career change he began his first winery job with McKenzie Mueller. He acknowledges Bob for for providing much of his vineyard and winery education. Today he is responsible for overseeing the cellar work and helps with the management of their vineyards. And if he is in the cellar when you stop by – he might just offer you a barrel sample.
Total production is currently around 2500 cases per year. They make excellent Pinot Grigio (first winery to plant this varietal in the Carneros region), and their flagship wine, the Cabernet Sauvignon. However they have developed a strong following over the years for their Cabernet Franc.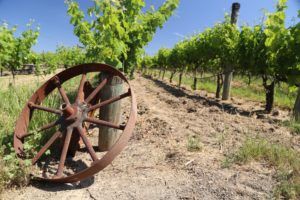 McKenzie Mueller also maintains a very limited selection of older wines in their wine library for sale. At the time of this update, they have wines up to 20+ years old – most Napa wineries do not have an inventory like this of older vintages for sale and it is a unique opportunity to taste and or purchase wines that have been cellared for so many years. Bob's philosophy is that wines often get better with age; select older vintages are included in the tasting (a rare opportunity to taste wines in Napa that have some age behind them). And their winemaking style is conducive to aging – the wines we have tried during several visits all have had great acidity.
From the vineyards to the winery McKenzie Mueller is very much a by hand operation – pruning and picking by hand and in the winery using small tanks or 1/2 ton open top fermentors. Their wines are unfiltered with minimal fining (do not worry about those tartrate crystals you might see floating in the bottom of some of their bottles – they are totally harmless). They used to bring in a mobile bottling line – but have since acquired a small bottling line on site (and a separate labeling machine).
Select Wines
We tried the 1998 McKenzie Mueller Merlot which was still drinking great after 10 years – a testament to the structure, fruit and acidity of this wine. A newer vintage (2009) also shows great acidity.
The 2009 McKenzie Mueller Pinot Noir reveals notes of mushrooms, an earthiness initially – the fruit takes some time to show with notes of plum and strawberry. Very well layered on the palate, this is a fairly robust wine of this varietal. Shows darker fruit on the palate with hints of mocha. Good structure with both fruit and oak tannins showing.
The 2008 McKenzie Mueller Cabernet Franc (tried 9 years after vintage) is certainly aging well on the bouquet. This wine is still very aromatic – with plenty of fruit showing along with other aromatic characteristics including an herbal note, dust, truffles and hints of smoke. The palate is lively with bright acidity and flavors of red cherry. The tannins are well integrated and slightly dusty in nature. It seems this wine still has plenty of life ahead of it.
NOTE: tasting notes for more current releases and more wines, coming by … say end of 2021.
—
The wines are mostly sold direct although they have limited distribution in Atlanta, Georgia and at the Blue Note in Tokyo (a high end Jazz club). This wine is labeled as Napa Jazz and features Samantha's colorful artwork on the label. For more information, to schedule an appointment or to join their wine club, visit: www.mckenziemueller.com