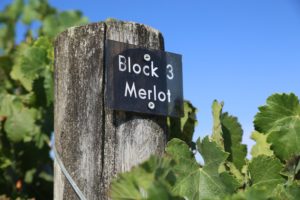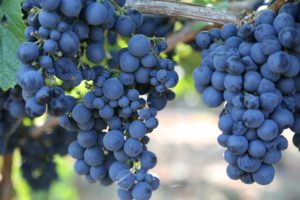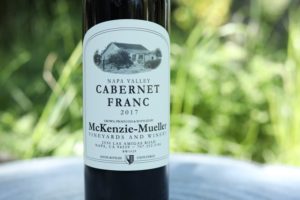 McKenzie-Mueller Vineyards & Winery is located in the heart of the Carneros district, about a 15 minute drive from either downtown Napa or Sonoma. The winery is open to visitors by appointment; their schedule is often fairly flexible, even with last minute appointments. Founders Bob Mueller (who we originally met with for a tasting and tour years ago) and Karen McKenzie used to live on site; currently their daughter Samantha lives across from the winery and is Director of Operations (overseeing all aspects of the business from hospitality to vineyard and wine work). Her husband Max oversees their wine club membership.
They purchased their Carneros property in 1987 which included an old run-down dairy barn; they renovated the interior, and it now houses their tasting room. The winery was founded in 1989 (their first vintage was in 1990, 500 cases); both Bob and Karen grew up in Napa Valley. Bob was raised in Rutherford where his family farmed wine grapes and Karen grew up in the former farming community of Monticello in eastern Napa County which is now buried under many feet of water from Lake Berryessa (coordinates: 38°34′40″N 122°12′26″W). Her father Robert moved to Monticello as an infant with his family; he later served in World War II and became a photojournalist for the Napa Register newspaper. The site of Monticello is offshore closest to the dirt/gravel East Side Road about 9.5 miles in from the junction of Berryessa Knoxville Road. This road roughly parallels the shoreline on the eastern side of the lake for about 3/4 of the lake's distance before terminating. However, at about mile marker 6 this dirt road is gated and locked and one can drive no further.
One can roughly look across the lake on the western shoreline at where Monticello used to be located from the Smittle Creek Trailhead. We will rent a boat or a jet ski at some point to reach the over water location directly above where the town used to be located. When Lake Berryessa was created, the town of Monticello was removed down to each buildings' foundation so underwater, nothing really remains of the town itself.
Early in Bob's winemaking career he worked at the old Napa Valley CoOp in St Helena (what is now Hall Winery); later he learned much of his wine making experience by working at Robert Mondavi Winery for 16 years before starting McKenzie-Mueller. There have been a number of well-regarded wine makers who worked at Robert Mondavi Winery over the years who have either started their own wineries or successful brands. There is a reason Robert Mondavi has earned the phrase among local wine insiders, "the College of Mondavi".
Bob planted his vineyards during a time when Carneros was just coming out of the shadow of being known as Napa Valley's, "next door neighbor". It was a time when Carneros began to build its reputation primarily on Chardonnay and Pinot Noir. McKenzie-Mueller owns two vineyards: the home ranch surrounding the winery and another 8-acre piece of land north of the city of Napa on Big Ranch Road in the Oak Knoll district which is planted to Cabernet Sauvignon, Cabernet Franc and Sauvignon Blanc. Their Oak Knoll parcel was originally planted in 1978. Their Carneros property is 50 acres and is planted to a diversity of varieties including Chardonnay, Pinot Noir, Merlot, Malbec, Petit Verdot and Cabernet Sauvignon. There is not a lot of Cabernet Sauvignon planted in Carneros – in what is generally a cooler growing region as compared to 'up valley'. While they use a portion of their grapes for their own wines, they also sell grapes to a variety of clients.
A small rain fed reservoir is on site for use to drip irrigate the vines; the soils are primarily clay like and retain water quite well during the summer months. And like others in Carneros (and Coombsville), McKenzie-Mueller has access to recycled water provided from the city of Napa if needed (Napa Sanitation District). Carneros is known for being a windy part of Napa Valley; they have noticed since the 2017 fires that the region has gotten even more windy than it used to be. Winds are certainly a factor in water usage as warmer winds will dry out the grape vines faster and strong winds at inopportune times of the year, i.e., young vine shoots and during flowering will also cause problems.
To enter the winery, drive down a short gravel driveway past rows of vines and olive trees. They produce olive oil from these olive trees, but it is not available for tasting on site – although visitors can purchase bottles. Additional olive trees line the edge of their property along Las Amigas Road and are often white in color because they are sprayed with a type of organic compound which discourages olive flies from laying eggs on the olives. Mckenzie-Mueller grows approximately 100 different olive trees spread among four different Spanish varieties.
The actual tasting room is in the wooden "wine shed" behind the winery; it is cozy and intimate and contains a small wine bar. Karen was formerly a high school art teacher (now retired) and is a painter and some of her works are on display hanging on the walls of the tasting room.
Visits are casual, unscripted, genuine and always educational.
Visits may also include a tour of their production facility where you might meet the cellar master German Valdez (pronounced, Herman). German is originally from the state of Oaxaca in Mexico; as soon as you meet him, you can tell he loves what he is doing. He was doing construction and stucco work until the recession of 2008 – at which point the housing market slowed dramatically. Looking for another line of work and a complete career change he began his first winery job with McKenzie-Mueller. He acknowledges Bob for providing much of his vineyard and winery education. Today he is responsible for overseeing the cellar work and helps with the management of their vineyards. And if he is in the cellar when visitors stop by – he might just offer up a barrel sample.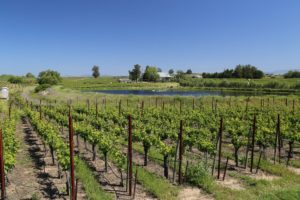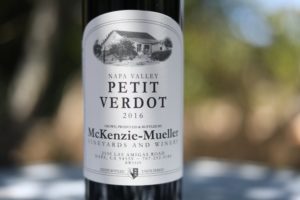 Total production is currently around 2500 cases per year. For many years they produced excellent Pinot Grigio (first winery to plant this varietal in the Carneros region), and their flagship wine, a Cabernet Sauvignon. However, they have developed a strong following over the years for their Cabernet Franc.
McKenzie-Mueller also maintains a very limited selection of older wines in their wine library for sale. At the time of this update, they have wines up to 20+ years old; most Napa Valley wineries do not have an inventory like this of older vintages for sale and it is a unique opportunity to taste and or purchase wines which have been cellared for so many years. Bob's philosophy is that wines often get better with age; select older vintages are included in the tasting (a rare opportunity to taste wines in Napa that have some age behind them). And their winemaking style is conducive to aging – the wines we have tried during several visits all have excellent hallmarks for aging including balance, acidity and a pleasing texture.
From the vineyards to the winery McKenzie Mueller is very much a by hand operation; their vineyards are pruned and harvested by hand. Only small tanks are housed in the winery along with 1/2 open top fermenters. Their wines are unfiltered with minimal fining; do not worry about any tartrate crystals you might see floating in the bottom of some of their bottles as these are totally harmless. They used to bring in a mobile bottling line but have since acquired a small bottling line on site, along with a separate labeling machine.
Select Wines
The 2017 McKenzie-Mueller Pinot Grigio is medium to deep gold in color; this wine is quite aromatic showing notes of peach, apricot, honeycomb, honeysuckle, dried straw and melon (cantaloupe). Offers a lovely texture across the palate which is supple with an almost saline or briny feel. We tried this wine 5 years post vintage date, and it continues to show quite well. On the palate, it offers layers of flavor including lemon, ripe pear and honeycomb with a rich and still bright fruit filled finish. Tasting this wine made us think of pairing it with seafood, perhaps scallops or halibut. With more limited demand for wines from this variety, the vines were grafted over to Chardonnay in 2018.
McKenzie-Mueller produced their first Pétillant Naturel (Pet Nat) in 2019. This sparkling wine was bottled before primary fermentation was completed, leaving a little bit of residual sugar that is noticeable on the palate (semi-sweet). The 2019 McKenzie-Mueller Chardonnay Pétillant Naturel is deep gold in color; the bouquet offers aromas of red apple and pear along with a very subtle hint of lemongrass. It is balanced across the palate with flavors of pear (even similar flavors to some pear ciders we have tried in the past), honeycomb and tangerine. This Pet Nat is light and easy drinking; it is best served chilled and even better on a warm summer day. We don't mind throwing in a single ice cube into our glass when drinking this.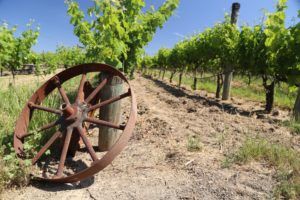 The 2017 Mckenzie-Mueller Cabernet Franc is medium ruby in color; the bouquet is diverse and shows aromas of sweaty leather, mushroom, a meaty character, old cedar box, Graham cracker, white pepper, blackberry and spicy Santa Rosa plum skin. Be patient and let it continue to evolve in the glass; the reward will be more fruit as the bouquet continues to open. This wine is beautifully balanced from start to finish with flavors of red cherry, red currants and strawberry. The tannins show a light to medium grip and are rounded, finer grained and are integrated nicely into the overall structure. Features a juicy finish with more red fruits than darker fruits and lingers with a note of dried tobacco leaf. This is a very food friendly bottling with lots of life ahead.
The 2008 McKenzie-Mueller Cabernet Franc (tried 9 years after vintage) has certainly aged well on the bouquet; it is still very aromatic with plenty of fruit showing along with other characteristics including an herbal note, dust, truffles and hints of smoke. The palate is lively with bright acidity and flavors of red cherry. The tannins are well integrated and slightly dusty in nature. It appears that this wine still has plenty of life ahead of it.
The 2017 McKenzie-Mueller Merlot (with 3% Cabernet Sauvignon) is dark ruby in color; the bouquet smells like saddle leather coming in after a ride on a hot day – there are some meaty nuances among the diversity of dark fruits along with some bramble, lightly crushed peppercorn, cherry and plum. It smells very lively and fresh 5 years post vintage date at the time of our tasting with more fruit showing as this wine has time to open. The palate features a brightness (medium plus acidity) and an overall balance. Offers flavors of red cherry, currant and cranberry. The finish lingers with a lighter but still a tightly woven grip of darker tannins and a hint of dried tobacco leaf. This is very much a food friendly wine with its balance, acidity and energy.
We have enjoyed several vintages of their Merlots over the years. The 1998 McKenzie-Mueller Merlot was still drinking great after 10 years – a clear testament to the structure, fruit and acidity of this wine. A newer vintage (2009) also shows great acidity. One characteristic we have noticed about their Merlot's is that they are built to age and do so very well.
The 2017 McKenzie-Mueller Petit Verdot is dark ruby in color with some purple tinges on the rim in the glass; the bouquet is initially meaty with notes of bacon fat, damp soils, aromas of mushroom and forest floor. The aromatics are dark and savory but still, there is plenty of fruit that shows including dark plum. The bouquet becomes more elegant, and fruit driven as it has time to evolve in the glass. This wine is generous in flavor but anchored by a structural feel that is soft and supple. It offers intense flavors of dark plum, blackberry and black currant. It finishes savory with bright acidity and a dark spice note.
The 2018 McKenzie-Mueller Malbec is 100% varietal; this wine is dark ruby in the glass with purple tinges on the rim. The focus of the bouquet is on fruit rather than on any oak influences. The bouquet is pretty with a mix of floral and fruit notes including violet and blackberry. Also shows some hints of dried herbs, forest floor and tobacco smoke. The wine features a finishing 'meatiness', well integrated earthy tannins and darker spices. This is a savory showing, especially on the finish. Very nicely done.
The 2006 McKenzie-Mueller Malbec was tasted and evaluated 16 years post its vintage date. In a blind tasting one would have a very difficult time identifying this wine as 16 years old. The color is medium to dark ruby, looking like a much younger wine. The bouquet offers aromas of wintergreen, mint, pine needle and old leather. The bouquet is in no way 'green' as its tertiary aromas are in union with the fruit and makes for very appealing aromatics. Offers flavors of red cherry, currant and leather; this wine is deftly balanced across the length of the palate with well-integrated light gravelly textured tannins anchoring the smooth finish along with some dried tobacco leaf notes. Remarkably this wine still has life ahead of it although it was drinking wonderfully at this age.
The 2009 McKenzie-Mueller Pinot Noir reveals notes of mushrooms, an earthiness initially – the fruit takes some time to show with notes of plum and strawberry. This wine is very well layered on the palate; this is a fairly robust wine of this variety. Shows darker fruit on the palate with hints of mocha. This wine offers noticeable but integrated tannin structure with both fruit and oak tannins showing.
—
The logo incorporates both sides of the family; the Scottish stag on the left represents Karen's Scottish heritage (McKenzie) and the three boars' heads represent Bob's German heritage (Mueller).
The wines are mostly sold direct although they maintain limited distribution in Atlanta, GA and at the Blue Note in Tokyo (a high-end jazz club). A specific bottling for this club is labeled as Napa Jazz and features Samantha's colorful artwork on the label. For more information, to schedule an appointment or to join their wine club, visit: www.mckenziemueller.com