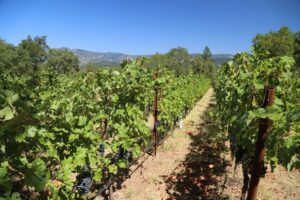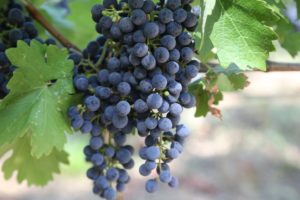 MC4 Wines. Proximity, friendship, premium terroir and the desire to produce an extremely limited production wine have converged in this special slice of the valley, just north of St. Helena. Friends and neighbors, Paul and Lesa Martin and Fred and Darcy Croshaw combined efforts to produce their first wine from the 2009 vintage, merely 8 cases. Their production has grown since then and is usually between 100 and 200 cases depending on the vintage.
Both couples have known each other for more than 30 years. Fred is a retired lawyer who purchased an existing vineyard just south of Yountville in the 1980s and sold the fruit to Domain Chandon. After he sold the vineyard, he founded a private wine client business – operating out of Louis Martini Winery at the time doing private label wines for a number of select clients including some local restaurants. He purchased his property north of St. Helena in 1985 and has been living here full time since 1989. When Fred originally purchased his St. Helena property, he had viticulturist walk the land and identify several acres that could potentially be planted. But he never planted his property to grapes.
Paul and Lesa are from the San Francisco Bay Area; Paul is retired anesthesiologist and Lesa used to be a ballerina (she also designed their label). In 2007 Paul and Fred jointly decided to convert an acre of east facing benchland soils to grapes on Paul & Lesa's property. Despite only an acre there are two different soil types – Boomer gravelly loam on the upper part of the vineyard and a volcanic base on the lower section. Either way, the soils here are very rocky – and every year the vineyard seemingly produces more rocks which they haul away in wheelbarrow loads.
Part of the property used to be planted to a Christmas tree farm. Paul & Lesa purchased it from the Harmon Family (long time Napa Valley residents) – when they purchased the land, June Harmon told them, "It's all yours, lock stock and barrel." She was certainly referring to the history of property and her decades living here and accumulation of various things. The feel of the property is old St. Helena, and it certainly is – the historic Bale Grist Mill is just to the north as is one of Napa's oldest original wineries, the nearby El Molino (est. 1871). AXR Winery and the home property for Turley are also close neighbors.
Both men do most of the vineyard work themselves from tucking, trellising, and weed control by hand using a shovel. The vineyard has been farmed organically since the initial vines were planted. The rows are 4×5 spacing with 2,100 vines in total. The vineyard is planted entirely to Cabernet Sauvignon with about 3/4 of the vines planted to clone 337 (often brings a softness to the wine) and the remainder to clone 8 (a clone originally taken from cuttings in 1893 from Chateau Margaux in Bordeaux). The one-acre site produces slightly over 3 tons in a good year.
They focus on a single wine each year – the best expression of their site and that vintage. As Paul says, "this is a project of friendship and to make the best wine nature gives us every year with respect to this particular site", and he adds, "without overly manipulating things" – referring to both their practices in the vineyard and in the winery. Both couples enjoy drinking wines that are approachable without being heavy but are crafted to also age well. They have been very judicious with using oak – to date, only using once and twice used barrels (no new oak).
Winemaker Victoria Coleman was hired in 2017 and moving forward she has implemented some new French oak in the aging – but the wines are still about showcasing the varietal purity and their site rather than showcasing oak influences. Fred met Victoria for the first time at a picnic in Yountville – one of their winemaker friends, Celia Welch spoke very highly of her winemaking skills. Victoria started working at Stag's Leap Wine Cellars as a temporary receptionist. Looking to get into the production side of the winery, she eventually became a production assistant to their winemaker at the time Michael Silacci, both in the vineyard and also in the winery.
While working at Stag's Leap Wine Cellars she continued to further her wine-making skills and simultaneously enrolled in classes at UC Davis; she graduated from their enology program in 2008. And like many younger winemakers today, she has international experience – working at Chateau Mouton Rothschild in Bordeaux, France and Jade Mountain Winery near Xian, China. Today she consults for several small producers and in our humble opinion, is one of Napa's most under rated winemakers.
Despite its diminutive size in relation to other vineyards she works with, Victoria keeps a close eye on the Martin & Croshaw vineyard, especially in the weeks leading up to harvest.
Select Wines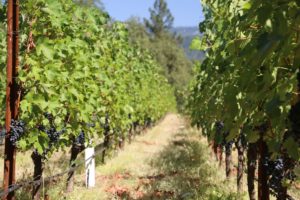 The 2017 MC4 Cabernet Sauvignon is deep ruby in color; the bouquet smells vibrant, youthful and is filled with fruit (we tasted this 6 years post vintage). Its aromatics include red plum, currant, cherry, blackberry, mocha, white truffles and a complementary scent of suede leather. The palate features a red-fruited energy supported by bright and lively acidity. It reveals flavors of red cherry, currant and plum accompanied by a light herbal note which brings a freshness to this wine especially noticeable on the finish. The tannins are felt as being lightly grainy and linger with a light note of tobacco spice. Overly extracted, overly ripe, high alcohol? Those are not the characteristics of any of their vintages produced from the property. 196 cases of this wine were made.
The 2015 MC4 Cabernet Sauvignon was fermented using non inoculated yeasts. This vintage was especially small for their vineyard – only 95 cases of this wine was produced. The wine shows a distinctive thread of red fruit throughout the bouquet which also carries onto the palate. Both Paul and Fred have noticed this every year – starting with the home wine Paul made years ago. Aromas of bright red cherry, raspberry, red licorice and a subtle hint of darker spices show on the bouquet. The palate shows a noticeable finesse and elegance from start to finish. The wine is medium bodied and superbly balanced between flavor, acidity and structure. A seamless quality if you will. Structurally the fine-grained tannins show more in the front of the palate then the finish. Very approachable in its youth and very food friendly.
—
The wines are selectively distributed in retail outlets in the Napa Valley including sometimes at Cal Wine in Calistoga, Wine Country Connection in Yountville, the Oakville Grocery, Backroom Wines and at the Oxbow Wine Merchant in the Oxbow Public Market, both in the city of Napa. And Golden Gate Wine Cellars in San Francisco has been selling MC4 wines since their first vintage. Next time you are in that city pay a visit to Frank's cozy confines containing a small but premium selection of exceptional wines.
For more information, to purchase wine and or to join their mailing list, visit: www.mc4wine.com