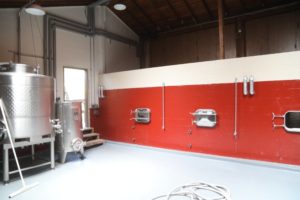 Mayacamas Vineyards is a historic winery located high in the Mayacamas mountains west of Napa Valley near Mt. Veeder. The winery sits on the edge of a crater of an extinct volcano. One can clearly see parts of the surrounding crater with its still standing prominent stone rock formations.
Approximately 55 acres of vineyards are planted on the 475-acre property, ranging in elevation from 1,800 at the winery to the highest slopes at 2,400 feet. The uppermost part of their vineyards, currently planted to Sauvignon Blanc, are among the highest in all of Napa Valley. Some of the oldest vines are more than 50 years old. All mature vineyards on the property are dry farmed – helped in part by the fact this part of Napa often receives twice the average rainfall of the valley floor. And the vineyards are certified organic (CCOF).
The vineyards are planted to a variety of clones and rootstocks on a diversity of slope angles and aspects. Known for their Chardonnay and Cabernet Sauvignon, the vineyards are also planted to Cabernet Franc, Merlot, Sauvignon Blanc and a very tiny block of Grenache. Both Chardonnay and the Grenache grow in the caldera below the winery. Parts of the vineyards are essentially 'rock piles'; remnants of old rock walls still stand next to select vineyard blocks.
Characteristics of the property include nutrient deficient soils, a significant amount of rock in the vineyards, a diversity of young and older vines, some of which are more than fifty years old, high elevation, numerous vineyard exposures and proximity to the San Pablo Bay and its cool breezes. Yields are extremely low – often around 1 ton per acre.
Several owners have overseen the property over the decades. The winery itself dates from 1889 and was built by German immigrant John Henry Fisher; it was known during his ownership as Fisher and Sons (Fisher Vineyards) named after John H Sr and his son, John H Jr. Fisher dug a very short cave into the hillside for wine aging purposes; this is still being used today, although most of the interior has been covered with shotcrete. This is among very few pre-1900 wine caves constructed in the Napa Valley including Beringer, Del Dotto Atlas Peak, Storybook in Calistoga, and Stags' Leap Winery.
Fisher would transport barrels of wine from the property via horse and wagon to the Napa River where they would then be ferried to San Francisco by boat to be bottled and sold. He also sold pickles by the barrel and owned Fisher Packing Company, a pickle and fruit packing factory located at 509 Commercial Street in San Francisco – current site a high-rise residential skyscraper. Previously John made money by engraving swords. He declared bankruptcy after the 1906 San Francisco earthquake and subsequent fire destroyed his pickle business.
By 1908 according to a short mention in the October 28th issue of the Napa Journal, Fisher was forced to sell his 250 acres for $5,358 to Alton Illinois based, Illinois Pacific Glass Co (at the time, one of the largest glass manufacturing companies in the U.S.) with three factories in San Francisco. We have found records indicating that Fisher was at odds over debt with Illinois Pacific Glass Co for some 20+ years from 1905 until at least 1936.
During part of Prohibition there is some evidence that bootlegging occurred in the old cellar by then owners Pietro (Peter) and Maria Marenco. The Brandlin family, a name synonymous with Mt. Veeder (Brandlin Vineyard) owned the property from 1921 through 1941. Remnants of old tunnels cut into the hillsides, presumably boot legging operations dating from the 1920s – the entrances now mostly overgrown by surrounding vegetation.
Jack and Mary Catherine Taylor first visited Mt. Veeder as a summer destination, staying in Lokoya Lodge 1936. This lodge was built in the 1800s and was known as Johannesburg until its named was changed in 1920; we have seen advertisements for it in numerous issues of the San Francisco Examiner from that era – it's conceivable that the Taylors saw one of those ads or perhaps a friend suggested they visit. Unfortunately, the lodge burned down in 1959 – probably very disappointing news to the Taylors who were living on Mt. Veeder at that time.
In 1941, Jack and Mary bought the property from Henry Brandlin – but this was during World War II and their plans for living on site and developing the ranch were interrupted. Jack was called away for work several times leaving Mary to oversee the property and manage their new vineyard (with vines planted in 1944 although deer ate a majority of the young plantings due to shortage of metal fencing supplies during World War II). Beginning in 1945, the couple along with their three children, including twins, moved into what was the old distillery on the property.
Jack, originally from the United Kingdom, was a chemist and executive with Shell Oil for eighteen years. Mary was a self-taught gourmet chef, photographer, musician and also an author of several books including Mushroom Magic and Rounds and Rounds. Her father was in the newspaper business; she had even worked with him on one of his newspapers for a short while. Mary founded the Mayacamas newsletter in 1949 which was sent out to customers on their mailing list. The Taylors were well connected in various circles; in 1965 they accompanied Richard Nixon to Finland and Russia on a business trip. Both Jack and Mary were prolific travelers.
They both soon began restoring the winery and named it Mayacamas Vineyards. They created the now iconic Mayacamas label featuring the stylized letter, 'M' with the double lions in homage to a Wappo word supposedly meaning 'howl of the mountain lions'. They also began listing fractional percentages of alcohol by volume on the label, a practice that continues today. And while at the time the law indicated that one could call a wine by its varietal name if only 51% of that variety was in the blend (today its 75%), the Taylors elected to typically use 95 to 100% of the variety in their varietal specific wines.
Although grapes had been growing on the property continuously since 1889, the Taylors were the first owners to plant Chardonnay and Cabernet Sauvignon. They farmed their vineyards organically. The bud wood for their original Chardonnay came from Wente Vineyards in Livermore. According to a Napa Weekly News article from October 22, 1947, the first vintage bottled under Mayacamas was from 1947 presumably from purchased grapes (the winery still has at least one bottle of this in the cellar).
According to wine historian Charles Sullivan in his book, Napa Wine, A History, the Taylors purchased wine and bottled and sold it under Lokoya label until 1951 when vines they had planted came into production. Sullivan and several other sources reference the 1951 being the first commercial vintage for Mayacamas Vineyards, a tiny production of Chardonnay. Lokoya was a second label for Mayacamas and eventually it became a winery in its own right, owned by Jackson Family Wines. According to a July 3, 1949, article from the Napa Journal, the first wines from grapes planted by the Taylors was produced in 1949.
We still need to further research this, but we suspect if Mayacamas has produced a vintage every year since 1947, this would put them in a list of the seven oldest active commercially continuously producing Napa Valley wineries. However, we have also come across references to no wines produced commercially for several vintages in the mid 1960s (as the Taylors had moved off of the property by the early 1960s).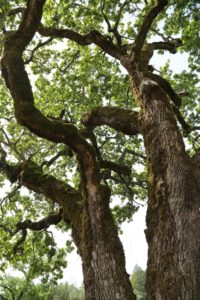 From a master list we have spent significant time curating wineries producing commercially continuously since at least 1979 or prior. If Mayacamas has produced commercially continuously since 1947 then only the following Napa Valley based wineries have produced a vintage continuously prior to Mayacamas: Charles Krug (1946, founded 1861), Louis Martini (1933), Inglenook (1933, founded 1879 – we are counting Rubicon Estate here, as in the 1980s, as a standalone brand Inglenook did not produce wine for at least one vintage) and Nichelini (1890), although they were bootlegging during Prohibition.
And Beaulieu Vineyard (1904, founded 1900) and Beringer (1876) kept producing during Prohibition by selling Sacramental wines.
And if there was continuous production every year, regardless of whether it was sold or not, (since 1889), this site may be home to the second oldest continuously operating production in all of Napa Valley behind Beringer Vineyards.
During the Taylor ownership, they employed several winemakers over the years including Frenchman Jean Piton, Walter Richert (president of the American Society of Enologists) and later Bob Ellsworth. Michael Robbins (founder of modern-day Spring Mountain Vineyard) was also an investor in the early 1960s and for a short time was their Vice President of Sales. Winemaker Philip Togni worked one harvest in 1959. As of 2021, perhaps Philip is the only Napa winemaker who can say he made wine in the 1950s in the Napa Valley who is still involved in making wine in 2021 (at his own winery on Spring Mountain – Togni Vineyards).
Philips journey to the Napa Valley began while working for a famous polo player, Don Alfonso Chadwick who owned a sizable piece of land in Chile's Alto Maipo Valley. However, he recalls his time there was a 'flop' and he was soon let go and according to Philip, "I wasn't marriageable material based on the little income I was making at the time". While in Chile he communicated with Dr. Maynard Amarine (who he had met by chance when Dr. Amarine was on sabbatical in Spain) who encouraged him to run a 'winemaking job wanted' ad in the Wine Institute Bulletin. The first and only response Philip received from his ad was from Jack Taylor, the proprietor at Mayacamas Vineyard.
Philip had never been to the United States before – he told us the closest he had been to the states prior was on a passenger ship which skirted Miami. He remembers arriving to the Napa Valley in January of 1959 and it was cold and raining. He did take the winemaking job at Mayacamas – and made their wines later that year, primarily Chardonnay but also Cabernet Sauvignon and fruit that was purchased including from Jerome Draper's place on Spring Mountain. He immediately hit it off with Jack; one of Jack's nieces was one of Philip's early girlfriends, Jack had worked for Shell Oil, was from the United Kingdom and had graduated from Cambridge with a degree in Chemistry.
Philip's plan was to 'try winemaking' in California for maybe 6 months and then return to Chile. That never happened. His only harvest at Mayacamas was the 1959 vintage.
A friend of our family with his friends from Stanford University were seriously considering purchasing this property in the late 1960's when it was for sale. However, that was not to be – investment banker for Lundborg & Co in San Francisco, Bob Travers (also a Stanford graduate) and his wife Elinor (Nonie), and six investment partners purchased the winery in 1968 for $360,000 from the Taylors who were not living on the property at the time. Travers was only 31 years old.
In 1958 the Taylors formed a corporation and sold stock in Mayacamas Vineyards to help raise additional capital; by the time of their sale to Bob Travers they owned 70% of the winery with the other 30% owned by various shareholders. This tiny winery was perhaps the most un-corporate, corporate operation in Napa Valley at the time. At one point, they maintained two 'corporate' branch offices, one in the Marina in San Francisco and one in Mendocino.
Incidentally 4 years after the Taylors sold the property, they co-founded Mayacamas Fine Foods, a partnership with Ross and Pauline Webber. By 1983 the company incorporated. Mary's culinary prowess was tied into her time spent at Mayacamas Vineyards during the early 1940s when she often found herself cooking for larger groups. She eventually wrote a cookbook called Mayacamas Sampler, detailing many of her recipes.
Mary created the the first line of seasonings for Mayacamas Fine Foods, including an herb mix, savory salt and a curry product. However, she had previously been selling some of her Mayacamas brand spices at Mayacamas Vineyards. Local gourmet grocer, Traversos in Santa Rosa (long since shuttered) was one of their early retail outlets.
Mayacamas Fine Foods is still in business and still family owned, headquartered in Santa Rosa. Their focus is on a variety of pasta and gourmet sauces, gravy mixes, dry soup mixes and other seasoning and food related products with sales both direct to consumer as well as through select stores in both northern and southern California. Note the 'M' in their brand is almost the same as the 'M' in Mayacamas Vineyards.
We originally met with Bob many years ago when we first visited the property. Bob started working in the Napa wine industry in his 20's after leaving his stockbroker job in San Francisco. Much of his initial knowledge came from working for one year in 1967 with the legendary Joe Heitz of Heitz Cellars. Bob's first vintage at Mayacamas in 1968 was from purchased fruit from grower Jerry Draper at the La Perla estate on Spring Mountain (although he inherited previous vintages after the sale).
During Bob's ownership, he employed several assistant winemakers who would go on to have long and successful careers of their own. Bruce Neyer for one – his wife Barbara who worked with Bruce at Mayacamas in the early 1970s told us about one particularly wet early 1970s vintage as one of the rainiest on record. Lore Olds (of Sky Vineyards) has recalled his time working at Mayacamas with us during several visits over the years.
In 2013 Travers sold the winery to new owners: Charles and Ali Banks, (former owners of Screaming Eagle) along with Jay Schottenstein and his son Joey; the Schottenstein retail business is overseen by their parent company, Schottenstein Stores based in the Columbus International Air Center business park next to the John Glenn Columbus International Airport in Columbus, Ohio. Schottenstein Stores owns parts of several prominent retail companies including Designer Shoe Warehouse (DSW), American Eagle Outfitters, Consolidated Stores (today known as Big Lots) and Cold Stone Creamery among other brands. And they own numerous shopping centers, grocery stores and several factories.
Charles Banks is no longer involved with Mayacamas Vineyards and the Schottenstein's took over full ownership in 2017. The last we heard, Bob moved down to Southern California and is retired. And after the transition in ownership, production spaces were carefully and thoughtfully restored – improving cleanliness while most importantly, respecting the historical layout and heritage of the cellar.
The Schottenstein's family ties and business holdings run extremely deep in Columbus. The roots of the Schottenstein business empire started small. Ephraim Schottenstein along with his wife Anna setup a business from their horse drawn carriage selling overstocked items including clothing. As that business become successful, they opened a department store at 1880 Parsons Ave in Columbus in 1912. Remarkably this old building is still standing, now home of Infinity General Merchandise – selling numerous discounted products around $1/item. They moved their operations across the street in 1930, and that historic Schottestein Department Store was torn down in 2006 and is now home to the John Maloney Health Center with a nearby public orchard (when in season, the fruit is available for residents and the general public).
Perhaps their most recognizable public contribution is the Schottenstein Center at Ohio State University named after Jerome (Jerry) Schottstein, one of Ephraim's sons who donated 12.8 million. Jerome was Jay's father and Ephraim, Jay's grandfather. Also known as The Schott, the center opened and hosted its first concert in 1998, a sold-out performance by iconic singer Neil Diamond. The center is home to Ohio State's Men's and Women's Basketball and Men's Ice Hockey teams and has hosted numerous live musical performances by prominent artists since its opening. The center averages around 1 million visitors each year.
And the Jay and Jeanie Schottenstein National Campus for the Archaeology of Israel is located in Jerusalem, Israel and houses some two million archaeological objects, including almost 25,000 Dead Sea Scroll fragments.
Columbus, Ohio

Original building, E.L. Schottenstein Department Store, 1880 Parsons Ave, opened 1912

Second Schottenstein Department Store site, 1887 Parsons Ave (1930-2005)

American Signature Distribution Center Columbus

Storefront, American Eagle Columbus

DSW Headquarters + Storefront, Columbus

Schottenstein Center, Ohio State

Schottenstein Stores Corporation, Headquarters Columbus

Value City Locations, Columbus

It is worth noting the role that the 1971 Mayacamas Vineyards Cabernet Sauvignon played in Steven Spurrier's now famous Paris Tasting of 1976 – helping promote Napa Valley wines on an international stage. This wine placed 7th among all the red wines represented. Stephen had initially approached Mayacamas requesting their 1970 vintage of Cabernet Sauvignon for the tasting but unfortunately that had already been soldout, so he settled for the still not ready 1971 vintage instead. Subsequent recreations of this particular tasting had the 1971 Mayacamas Cabernet Sauvignon placing higher – testament to the extra time needed for the Mayacamas wines to develop and improve in the bottle.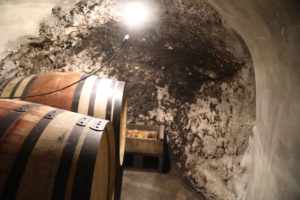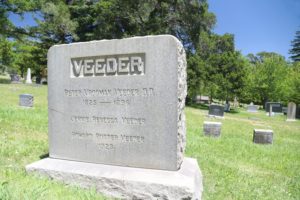 Many factors differentiate Mayacamas Vineyards from other Napa Valley wineries. Its unique location and history certainly are highlights. The cellar operations are gravity flow – the grapes are de-stemmed and then the juice flows down to neutral concrete wood covered fermentation tanks. Out of more than 1,100 Napa wineries and producers visited with to date, these are the only such types of fermentation tanks we have seen. These fermentation tanks do not detract from the varietal characteristics of the wine, which is precisely what the winemakers want to achieve during fermentation.
The wine is eventually transferred into large wooden casks called foudrés, some of which date back to the 1920s. Mayacamas is not a proponent of new oak in their wines as their philosophy is let the wine speak for itself. As a result, the wines are aged in primarily older oak barrels. During our first visit we immediately noticed their bottling line due to its age; it dated from the 1940s (perhaps since replaced under the current ownership?). The majority of the grapes used for their wines comes from on the property with a focus on Chardonnay and Cabernet Sauvignon. Some grapes are still purchased from select Mt. Veeder vineyard sites with a goal to eventually became an estate only producer.
These are not quick to release wines to the consumer. Mayacamas Vineyards typically holds the wines back up to 6 years (depending on the wine) from vintage date before release.
Hospitality
Mayacamas has a long history of hosting visitors to the property dating back to the days of the Taylors ownership. Today, visits are by appointment from Wednesday through Sunday and are generally most appropriate for small groups. Guests will see why this is when visiting. The winery is located at least 35 minutes from the valley floor on some of the windiest narrow roads in Napa Valley. The final push into this historic winery is on a gravel then dirt road ending at several small parking places. Due to the pedigree and history of the property, the provenance of the vineyards, the historic cellar and focused and consistent classically crafted wines, a visit here is among one of the more unique and memorable Napa Valley "out of the way" winery visits.
Views from the uppermost parts of the property are spectacular – especially on a clear day overlooking the San Pablo and San Francisco bays with prime looks over at Mt. Diablo in the distance, the city of San Francisco and Mt. Tamalpais. Weather permitting, visitors will enjoy an unscripted tour of the property, including riding in one of their all-wheel drive open-air vehicles and a stop at a wooden deck with expansive vistas in the southerly direction.
The hosts are trained sommeliers. Following a tour of the vineyard, guests will be led back to the hospitality house next to the winery for a tasting, including of older vintages. The cottage that previously was used for hosting guests, burned down in a wildfire in 2017 and a new building was completed by late 2021.
The film A Walk in the Clouds, from 1995, starring Keanu Reeves, was partially filmed on site.
Select Wines
Over the years we have tried several vintages of Chardonnay (our first was the beautiful 2001 vintage), none of which go through secondary fermentation. This variety is fermented in used barrels and stainless-steel tanks. After the primary fermentation completes to dryness, the wine is racked off into a variety of different sized barrels – the majority of which are used.
These are not quick to release, quick to drink California Chardonnays. Mayacamas recommends drinking their Chardonnays typically between 5 and 8 years when they reach their peak maturity and complexity. Although they are certainly enjoyed upon release. It is recommended to budget at very minimum two bottles of each wine: one for drinking now and one for aging.
The 2016 Mayacamas Chardonnay was fermented in both neutral oak and stainless-steel tanks and spent 9 months in bottle before release. Lively throughout from the bouquet to the palate – shows aromas of lemon and lime, grapefruit and honeysuckle. Crisp and refreshing the wine's lively acidity dances across the palate. Very flavorful with some minerality notes. Has a slight softness of texture but is not creamy, buttery, oily or oaky. When it comes to enjoying with food, this is a refreshing example of a non 'cocktail' style of how Chardonnay should be made.
The 2019 Mayacamas Chardonnay is medium gold in the glass; offers floral aromas including honeysuckle and jasmine. Also, some citrus influences. Balanced with a rounded mouth feel. The texture is noticeable but in a complimentary way rather than being overly viscous. Shows flavors of lemon, green apple and some kiwi notes. A bright burst of energy lingers on the finish. Very food friendly.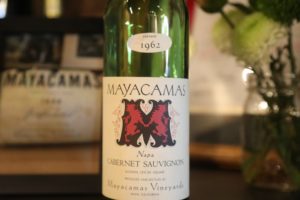 The 2014 Mayacamas Merlot (100% varietal) offers an elegant bouquet, somewhat floral with plenty of red fruit aromas including plum and currant and as the wine breathes further, a pretty nuance of mocha comes forward. Bright and lively across the palate, shows more red fruit tones then darker fruit. Finishes with a red fruit tartness – plum, currant and cranberry with a pleasing texture. Slightly dry tannins but are softer in nature rather than coarse. We suspect this is a wine that needs time to open, especially in its youth. Very food friendly.
The 2014 Mayacamas Cabernet Sauvignon (tasted 5 years post vintage date) shows notes of dry dust along with both red and darker fruits including raspberry and blackberry aromas on the bouquet. There is a noticeable freshness and brightness of fruit on the bouquet. Big but very well balanced with plenty of depth on the palate – offers mouthwatering acidity. The tannins are certainly noticeable, but are not overly gripping and in their youth, are still a bit tight. This wine has all the Veeder and Mayacamas hallmarks of being able to age for a long time.
The Mayacamas 2014 Cabernet Sauvignon, (tasted 7 years post vintage) shows a ripeness on the bouquet – a distinctiveness that stands out from other Mayacamas vintages. Offers blackberry jam, prune and chocolate but as the bouquet further opens, it shows less ripe notes. The riper aromatics do not translate to ripeness on the palate but perhaps there is a greater richness on the palate than some of the other Mayacamas Cabernet Sauvignon wines we have tried over the years. Regardless, the hallmark Mayacamas acidity shows through very well – with layers of flavor including red fruits. Earthy, dusty and darker tannins anchor a long finish.
The 2018 Mayacamas Merlot is 94% Merlot and 6% Cabernet Franc (with some of the Merlot purchased from other vineyards on Mt. Veeder). Despite only 6% Cabernet Franc in the wine, the varietal characteristics show through on the bouquet including dried herbs, a very subtle mint note, dust and dried tobacco leaf. There is an aromatic elegance to the bouquet as it opens further, revealing some floral notes including of violets. Perhaps the most approachable in its youth of the Mayacamas red wines we tried – offers a mouthwatering juiciness across the palate with well-integrated earthy, slightly chalky tannins displaying a lighter to medium grip.
In 2011 due to challenging harvest conditions, winemaker Andy Erickson correctly decided not to release a Cabernet Sauvignon from the property. Some 10 years later, this wine was finally released.
The 2011 Mayacamas Cabernet Sauvignon is dark ruby in the glass. Offers a distinctive bouquet – one can still smell the vintage 10 years later at the time of our tasting. Shows aromas of red cherry, rose stems, a hint of dried tobacco leaf, dried soil and a subtle note of leather. Immediately offers mouthwatering fruit across the palate. It is not necessarily as complex as other warmer vintages and surprisingly was still a bit tightly wound on the finish. Shows a medium but firm grip of tannins. Lingers with a brightness and a tartness of acidity including flavors of currant, cranberry and red cherry. Mouthwatering. Despite 10 years of age, this wine still looks, smells, tastes and feels like it just came out of the barrel. Its freshness is its character. Many more years ahead of this!
The 2006 Mayacamas Cabernet Sauvignon (tasted 15 years post vintage date) is medium to dark ruby in color. Offers red fruit aromatics including rhubarb, currant, hints of dried tobacco and leather. Also, a subtle iron nuance. Certainly, shows some bottle bouquet but still retains its vitality of fruit both on the bouquet and the on the palate. Juicy, mouthwatering with very well integrated tannins. The soils show on the palate, notes of dust and mineralities. Shows a lingering brightness. There is still plenty of life ahead of this wine.
It is rare to find a Napa producer in which their white wine is a higher alcohol then all their reds. During one of our visits, this was the case as all the red wines presented were in the low to mid 13 % alcohol. Over the years, all their wines we have tried have been balanced, food friendly and showcase bright acidity. Mayacamas releases library wines each year – some up to 15+ years old.
And during exceptional years, a single bottling of a single vineyard wine simply called, Special Bottling is produced. The first such red bottling was in 2014 from their Golden Hill Vineyard (a steep incredibly rocky part of the estate). The 2014 Mayacamas Special Bottling Golden Hill Cabernet Sauvignon is 100% varietal; this is the last vintage from what were 50-year-old vines (before they were replanted). Spent 6 years in both barrel and bottle before it was released. Dark ruby in color, the aromatics show fig, red cherry, cranberry and rhubarb stem. The bouquet becomes more elegant as it opens. Balanced across the palate with layers of complexity and the accompanying 'trademark' Mayacamas Vineyards acidity. The well-defined tannins are earthy and darker in nature – yet are nicely integrated into the finish. This wine is well worth making a special effort to find.
The Mayacamas philosophy of winemaking is one of patience; it is also one of consistency over the decades – craft long-lived wines to preserve their freshness in the bottle. One can open their red wines 10 years, or 20 years post vintage date or more, and know the wines will continue to retain that Mayacamas vitality and balance. And that is a very special attribute in contemporary Napa Valley.
Mayacamas Vineyards used to make a late harvest Zinfandel during certain years from Amador County grown grapes and later from their estate grapes. Chenin Blanc used to be planted on site. And the winery produced Pinot Noir from the estate for decades until the last vintage in 2013.
Mayacamas Vineyards is one of the few wineries in Napa Valley to produce kosher wines (non-mevushal); they maintain a separate kosher mailing list with kosher wines released to members twice a year. These wines are single vineyard and single varietal and produced in very small amounts with the winemaking handled entirely by rabbis. Kosher ingredients are used including yeast, fining agents, and acid. The first Mayacamas kosher wine produced was in 2013; they produce kosher wines every year including a rosé, Sauvignon Blanc, Chardonnay and Cabernet Sauvignon.
Mayacamas Downtown Napa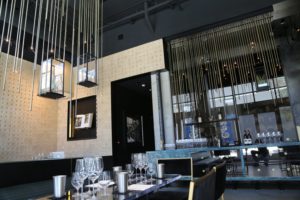 The tasting space at Mayacamas Vineyards burned down in the terrible fires of October 2017 and the winery rebuilt a new one which opened in late 2021. However, in February 2019, Mayacamas opened a tasting room in the same building as the Archer Hotel in downtown Napa. The tasting room does not connect to the hotel, guests enter on the side of the building passing through a courtyard. This location is certainly more convenient for guests to taste their wines – as opposed to making the long trek up Mt. Veeder on narrow and windy roads.
Reservations are generally recommended for this tasting room, especially during busy summer weekends. If it is not busy, walk-ins are welcome. Tastings are generally three current release wines – with an option to add on two library wines (often 12-15 years old). And guests may also choose to pair their wines with small bites. More intimate tastings are held in the private tasting salon and weather permitting, tastings are also held outdoors on their sidewalk patio.
The interior décor was created by Napa Valley based designer Erin Martin. Besides both current release and library vintages available for both tasting and purchase on site, the tasting room offers a diverse selection of bespoke retail products including leather goods, jewelry, cutlery, glassware and select piece of art.
Total annual case production is around 5,000 cases during a large yielding year. The wines are selectively distributed in the U.S. and also in Japan. Unlike most wineries in the Napa Valley, Mayacamas Vineyards maintained a library collection over the decades with select wines up to approximately 30 years old available for sale. And in 2021, the winery released their first very limited production olive oil from olive trees growing on the property.
For more information, to join the mailing list or the allocation list, with access to their twice per year releases (Spring and Fall), visit: www.mayacamas.com
Vineyards

Current Cellar

Travers Era: Winemaking/Cellar

Travers Era: Property/Grounds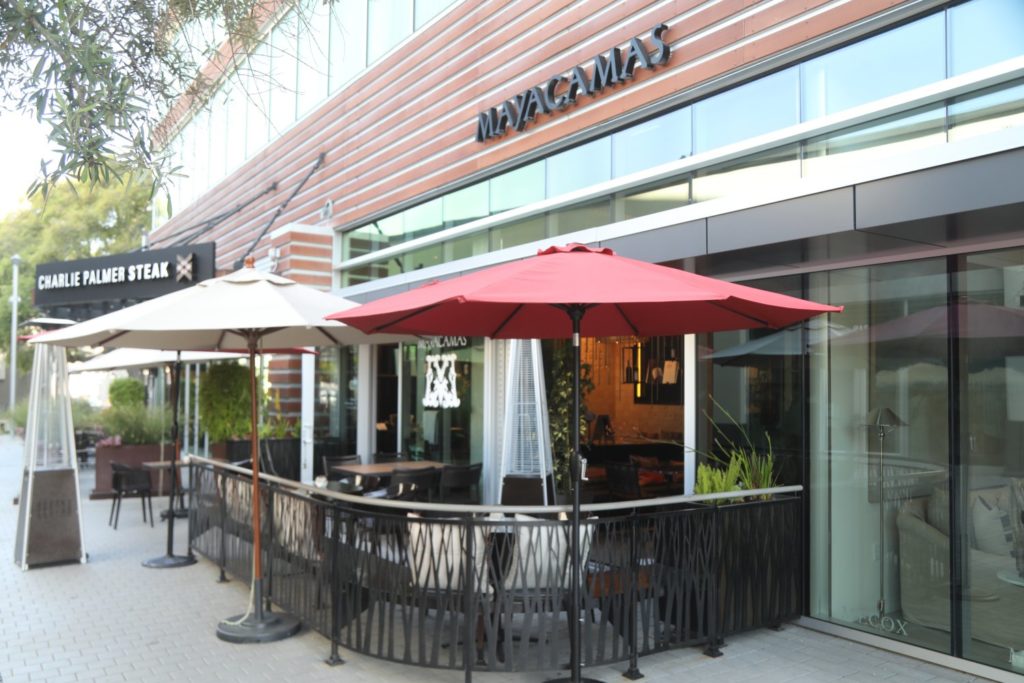 Carmel Winery, Israel
This winery was founded by Baron Edmon de Rothschild in 1882. Today the winery maintains several locations including about 45 minutes north of Tel Aviv and another abut 90 minutes from Tel Aviv. In 2013 a consortium including the Schottenstein's purchased Carmel Winery. This is the largest winery in Israel and currently produces more than 1 million cases each year.
We were in Isael again in 2023 on a Napa Valley focused exploration trip but did not have a chance to visit the two Carmel Winery physical locations. We will make a return trip to Israel to do so in the coming years.