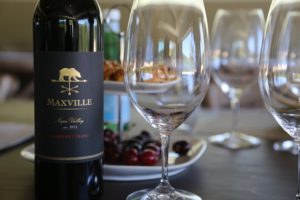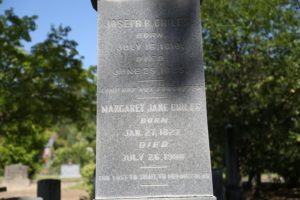 Maxville Winery. After visiting hundreds of wineries, producers and tastings rooms in the Napa Valley it is rare at this stage of our wine project when we are truly inspired by a 'new' property for the first time (our first visit was shortly after they opened for tastings). And while under newer ownership, this property has deep historical roots in the Napa Valley. It was originally part of a land grant given to pioneer Joseph Chiles in 1844 (part of 8,000 acres at the time).
In 1949 Charles Simmons (an author and speaker) purchased 1,000 acres in this part of Chiles Valley and began a summer camp for children. Later the property was acquired by Edward Keith who also owned a number of real estate properties both in Napa and beyond – including some 500 rental units in the city of Napa. Keith operated the popular Bar 49 Estate Summer Camp for children on this Chiles Valley property from the 1960s through the 1980s. Old timers still fondly remember their time on the property, riding horses, fishing and meeting other kids of similar age. And while some of their family is in Oregon there are still several Keiths in the Napa Valley – brothers Tim and Ryan Keith are both involved in the wine industry – Tim runs Leaf & Vine with a tasting room in downtown Napa.
The Keith family first planted grapes on site in 1974. In 1996 construction began on a winery called Catacula Lake, paying tribute to the lake on property as well as the name of the original land grant. Wine was made here for a number of years – before operations were closed. Some 8 years passed before the the winery was purchased in 2014 by China based Qinghai Huzhu Barley Wine Co, Ltd with the operations overseen by CEO Anthony Tsu (born in Taiwain and raised both there and in the San Francisco Bay Area). However, family from ownership of Qinghai Huzhu Barley Wine is also directly involved.
Today this extremely picturesque (and rural) slice of Napa encompasses nearly 1,100 acres in Chiles Valley (about a 20-minute drive east of the Silverado Trail). Nearly 100 acres of vines are planted (they continue to replant a number of their vineyard blocks) and a large portion of the property is in the Napa Valley Land Trust (no development to take place including new vineyards). While the property ranges in elevation from approximately 900 to 1200 feet – most of their vineyards are planted on the lower reaches of the property. And there are some grapevines still growing from the original planting in the 1970s.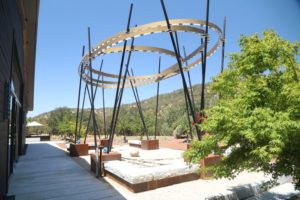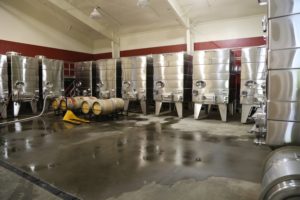 The winery has undergone a major transformation since the purchase in 2014. The footprint of the original winery was kept but has been significantly remodeled and renovated. Long time Napa veteran and the winery's Chief Operating Officer at the time of our first visit, David Donati oversaw this remarkable transformation (no longer involved at Maxville Winery). The project was started in early summer 2016 with the majority of the work completed within one year.
The winery itself features state of the art wine-making equipment – they have plenty of barrel storage; the cave is just over 20,000 square feet (incidentally one of the earlier caves dug in Napa by Nordby Wine Caves). Bordeaux born winemaker Camille Benitah (formerly of Merus) was their first winemaker. Associate Winemaker at the time of our visit, Greg Fitzgerald knew Camille prior, and he joined soon after and was an integral part of the founding winemaking team. And the space is used by other custom crush clients and as of our latest update to this review – including a number of brands overseen by winemaker Jean Hoefliger as part of his Unfiltered Collection.
The hospitality center has "good Feng Shui" as David puts it. It is modern, open, with a liberal use of glass windows. In a nod to the history of Chiles Valley a special room has been created in conjunction with the St. Helena Historical Society. This room originally contained a number of photographs, maps and other historical information about the region but has since been significantly downsized in regard to the historical displays and is now used as a private tasting room. Visitors are led through the building to the main tasting room that culminates with beautiful views of the hillsides and the 12-acre spring fed Maxville Lake below (which drains into Maxwell Creek). Tastings are offered both inside and outside on the patio.
With a property of this size and a diversity of terrain there are a number of experiences that are offered to guests (experiences that fall outside of a 'normal' Napa winery visit). Biking and hiking trails lead to exceptional views overlooking Chiles Valley and the pond offers excellent fishing, just to name a few. A floating dock experience (very unique for a Napa Valley based winery), a ride in a military Humvee are just some of the unique experiences guests can reserve. Visitors should be prepared to spend some time here for these more unique experiences; a visit to Maxville Winery is generally not a quick stop. And the property hosts an Air BnB that can be rented by guests.
A grand opening event was held in early July 2023, celebrating the opening of a sizable commercial kitchen and showcasing a variety of art curated throughout the hospitality space.
Chiles Valley is perhaps one of the lesser known sub appellations within Napa Valley – mostly because it is not directly connected to the Napa Valley floor, there are very few physical wineries here (certainly no big name Napa wineries), there are no restaurants, it feels remote and far removed from the main part of Napa Valley (despite being a rather short drive).
With an effort on replanting and improving the quality of their vineyards over the coming years and a top wine-making team – part of their focus is to help elevate the stature of Chiles Valley – to promote the wines from this region as well as promote some of the unique experiences for visitor's inherent to a property of this size.
Select Wines
In early 2017 Maxville Winery entered into a valuable partnership with Terlato Wines to help distribute and promote their wines. Maxville currently produces about 12,000 cases each year – with the intent to continue to increase production in subsequent years – perhaps to 20,000 cases. Much of the fruit used in their production comes from the estate, although they do source fruit from select vineyards within the greater Napa Valley as needed. The focus at the time of our latest update is on four wines, a Sauvignon Blanc, Cabernet Franc, Cabernet Sauvignon and a Petite Sirah. 2015 was the first release of a premium label – simply called Max. Their first wines date from the 2014 vintage and were crafted soon after the property was acquired.
The 2021 Maxville Winery Oranos Vineyard Sauvignon Blanc is light straw in color. This wine smells floral including of honeysuckle and takes some time to fully open. It initially shows aromas of green apple but evolves to scents of pineapple. The aromas become sweeter as it opens. This wine sports a creamy texture with flavors of white peach, lemon juice and pomelo. Its very balanced across the entire palate.
The 2015 Maxville Winery Sauvignon Blanc is one of the nicer wines of this variety that we have tried in Napa. They wine making team spends considerable time on this particular wine. They pick the grapes twice – during the first pick the grapes go straight to press (whole cluster), during the second pick the grapes are allowed to sit on their skins/macerate for 24 hours after being crushed to tank. Fermentation is conducted both in concrete, stainless steel and oak barrels with aging partly in Acacia barrels (quite unique for a Napa winery). The wine is aged sur lees for 8 months with frequent battonage weekly. The 2015 vintage shows pale straw yellow in the glass – it is highly aromatic with fruit aromas of pineapple along with a variety of dessert spices and more citrus aromatics as it continues to open in the glass. The mouth feel is rounded and complemented by a vibrant acidity. Incredibly balanced. Notes of citrus linger on the finish. Drinks very well by itself.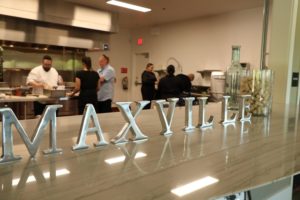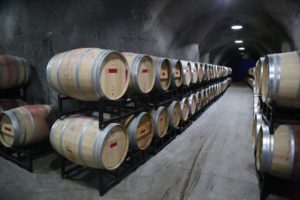 The 2021 Maxville Winery Old Vine Zinfandel is medium to deep ruby in color with purplish tinges on the rim in the glass. The bouquet offers aromas of lavender, sage, blueberries, red licorice and plum. A note of chocolate shows up deeper in the bouquet. It smells fruit but is note over ripe like some versions of California Zinfandel can be. The palate offers a "Zinfandel spice" – like a union of clove and cardamom with primarily red fruits including cherry nd currant. It lingers with a note of white pepper and lightly gravelly, dark but very well integrated tannins.
The 2019 Maxville Winery Oranos Cabernet Sauvignon is deep ruby. in color. The bouquet offers dark spices, herbal notes including of light green pepper, a spicy plum skin nuance and tobacco spice. A number of baking spices are found deeper in the bouquet as it evolves. And some of the herbal notes dissipates as the wine breathes, opening to aromas of cherry. This wine is balanced across the palate with a noticeable creamy texture. It offers flavors of red plum and a toasted oak note which lingers on the finish. The tannins are supple and rounded. A light dusty notes shows deep in the finish.
The 2014 Maxville Winery Cabernet Sauvignon reveals pretty aromatics showing bright, lively fruit – both red and darker cherry notes. An inherent sweetness of fruit is complemented by hints of mocha and toasted cedar. Shows great acidity on the palate with flavors of plum and blackberry. Fairly well integrated tannins.
The 2014 Maxville Winery Cabernet Franc shows a diversity of aroma on the bouquet including spices – white pepper and nutmeg with hints of chocolate and vanilla. Showcases the depth of flavor of this variety – it is a fairly big wine with coarse tannins anchoring a very long finish along with a red cherry tartness that lingers.
The 2014 Maxville Winery Petite Sirah shows purple pinkish tinges on the rim with a dark inky core. The nose is appealing and invites one to take a sip – ripe blackberry, blueberry and floral notes show (dried rose petal). Taking a sip is taking a mouthful of flavor – this wine is rich, layered and showcases an impressive depth of flavor. Opulent, it shows excellent acidity and earthy tannins that linger across the palate. Of the reds we tried, this one certainly stands out.
—
For more information and to schedule a visit, view their website here: www.maxvillelakewines.com
Hospitality

Art

Vineyards

Property

Bar 49 Ranch Postcards