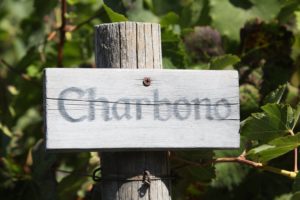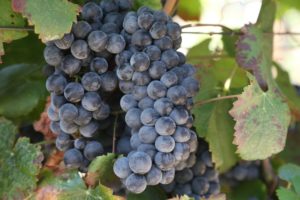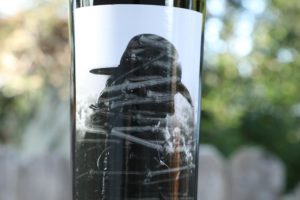 Matt Morris Wines. We first met Matt on Dunaweal Lane, one of Calistoga's most historic viticulture neighborhoods. The site was Tofanelli Vineyard, one of the properties providing the grapes for his Charbono. It was on this property that we first met proprietor Vince Tofanelli many years ago on the side of his vineyard next to the road where he poured us his latest wines out of the back of his truck. A wine tasting doesn't get more genuine than that.
We are always inspired by creative talents, their works tapping something deep inside which in turn inspires us to create. Matt is an accomplished and talented photographer who lives in Napa Valley. Wine enthusiasts have most likely seen his wine country photographs; they evoke a sense of place and at times a bit of nostalgia. In Napa they are often centered around people and places that are meaningful to him.
Matt was raised in North Carolina. He remembers being interested in film beginning in high school; this interest continued into college. And it was in college that he first started to become curious about wine. And those who know Matt realize curiosity is one of the characteristics which motivate him. A friend introduced him to the owner of Chapel Hill Wine Company, a retail space still in business with locations in Chapel Hill and Hillsborough, North Carolina. He became familiar with their excellent selection of grower Champagne. He found that investing just a little time into learning about wine when he knew so little at the time, had exponential returns in regard to expanding his own knowledge and developing his palate.
In 2004 he made an offer on WineBid on a particular bottle of wine. For some context this was around when Sofia Coppola's film, Lost in Translation was released and a few years after Roman Coppola released his debut directorial effort in CQ. Matt's bid was accepted on a 1982 vintage of a never commercially released "family wine", produced by Francis Ford Coppola of at the time, Niebaum-Coppola. It was a holiday wine with a label that read, "Mr. & Mrs. Francis Ford Coppola, Gian-Carlo, Roman & Sofia wish you a Merry Christmas", accompanied by a big green wreath. This wine was Charbono. Until then, Matt's experience with older Napa Valley bottlings was as he puts it, "meet me halfway", as in these old wines still had some fruit and some life but had not aged gracefully. But he was impressed with the overall character of the 1982 bottling, it still had freshness and plenty of fruit and the tannins were nicely integrated.
This led him to begin exploring the world of Charbono. He asked a retailer to start looking for Charbono; he tracked down one of winemaker Robert Foley's bottles. Fortunately, Charbono was an affordable wine for someone on a college students' budget as Matt was at the time. But then as he told us his wine exploration was becoming too nerdy and was taking far too much of his time. So, he stopped drinking wine and began to focus on his film career. After college he produced and or directed several award-winning short films including Pickin' & Trimmin' (an Emmy® nominated documentary short), Watermelon Man and Mr. Happy Man.
It was his work in film which re-introduced him to wine and also to Napa Valley. After doing some sound work at Skywalker Ranch in Marin County he connected with Herb and Jennifer Lamb of Herb Lamb Vineyards. Matt was already familiar with their wines including their E II Cabernet Sauvignon; Herb and Jennifer invited him to stay at their property below Howell Mountain. A winery heard about his film and photography work and asked him to return to Napa Valley to do a photo shoot. Additional clients contacted him; Matt has created a photo and film career centered primarily around Napa Valley winery clients. Some of the wineries he has worked with to date include Abreu Vineyards, Realm Cellars, Quintessa, Pahlmeyer, The Prisoner Wine Company and Frog's Leap Winery.
During his first photo shoot at Realm Cellars, he was introduced to Realm's winemaker Benoit Touquette. Matt started speaking about his interest in Charbono – Touquette had never heard of the variety before. Matt organized a tasting for him of several different Charbono bottlings. The following questions were discussed: Why are the prices so low? Why don't consumers know much about this variety? And what is being done in the vineyard and in the cellar to produce these particular wines? Matt began to wonder how far as he puts it, "the needle would move" on Charbono if it was treated with the same efforts given to world-class Napa Valley Cabernet Sauvignon.
While discussing this variety Benoit mentioned he knew winemaker Peter Heitz (no relation to Heitz Cellars), whose family has been farming in Calistoga since 1904 and who has some of the rare Charbono plantings in Napa Valley at their Shypoke Vineyard. In talking to Peter, Matt discovered that the 1982 Niebaum-Coppola family wine which got him excited about Charbono for the first time was in fact produced from grapes that Peter's grandparents grew. At the time Coppola was moving production away from Charbono in favor of Cabernet Sauvignon but was still in a long-term lease with the Heitz family.
The first vintage of Matt Morris was a bottling of Charbono from Shypoke Vineyard in 2014 and was made at the former Hartwell Winery (now Realm Cellars). Benoit crafted the first several vintages, but purposely withheld two of his primary tools for Cabernet Sauvignon and other red wines he makes: the use of new French oak barrels and grapes harvested at a higher ripeness. The Matt Morris Charbono wines see no new French oak and 24 brix is on the upper end of the ripeness when the grapes are harvested.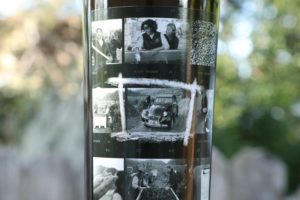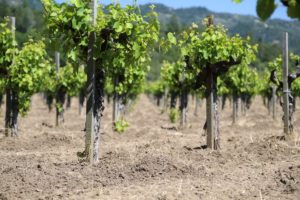 After discovering winery operations would need to be moved in 2017, Matt realized it might make sense to discontinue the brand. Fortunately, a fortuitous meeting with winemaker Francois Peschon to discuss photography changed the course of his thinking. He told her it was going to be very expensive to move winery locations and he couldn't afford a top winemaker. She listened and later called him and said something like, "I will find you a home and I will be your winemaker".
During Francoise's first pick of Charbono in 2017 at Shypoke Vineyard, while enjoying some whiskey with Peter Heitz in the early morning hours, she asked Peter how to make Charbono in three sentences or less. Whatever he told her worked in combination with her talented skills. Francois had never made wine from this variety before; few winemakers in Napa Valley have. She continued Benoit's cellar program of using no new French oak barrels and crafting and structuring the wines to be fresh and able to be consumed upon release. This style certainly differs from the Inglenook bottlings which often needed many years for the tannins to resolve and the characteristics of the wines to become fully integrated.
The first restaurant placement for Matt Morris wines was at the French Laundry. Their sommelier informed Matt that he was having a difficult time selling Charbono when he would directly introduce it. But then he learned to slowly ease into the conversation about Charbono, first asking diners to describe what matters the most to them in regard to wine purchases. He would often be told they wanted premium Napa Valley Cabernet Sauvignon, sometimes were interested in wines from specific winemakers and all wanted well-made wines. So, he would then introduce one of the Matt Morris Charbono's as a less expensive wine than a Cabernet Sauvignon, one they wouldn't be able to find in the market and suggested they try it. They often did.
The sommelier at Meadowood was also finding difficulties in selling Charbono time and time again to patrons who always indicated their desire for a Napa Valley Cabernet Sauvignon. Eventually he simply said in response to their queries, "I have an excellent Charbono for you" which stimulated curiosity and usually an agreement to try a bottle.
With a variety that has little market recognition or exposure Matt needed some external validation. That came from wine critic Jeb Dunnuck who tried an early vintage of the Tofanelli Charbono and awarded it 98 points. This set the score benchmark higher than ever before from any other critic for this variety. And Jeb later listed the 2018 bottling of Matt Morris Shypoke Charbono in one of his 2021 Top 100 Wines of the Year list.
As part of championing and preserving and potentially growing Charbono plantings, Matt had to decide on a premium price that would in part be worthwhile to Charbono growers to not have a reason to replant to Cabernet Sauvignon. His audience is as he puts it, "are bored Napa Valley Cabernet Sauvignon drinkers", or enthusiasts of premium Napa Valley red wines who want to enjoy an alternative. He prefers a grassroots approach to marketing with clients often finding out about his wines through a conversation somewhere.
What is Charbono and its historical significance in Napa Valley
The winery in Napa Valley that used to be closely associated with this variety was Inglenook. During the height of their production, they had tens of acres of this variety planted at their estate, were producing more than 4,000 cases a year and were also sourcing from other vineyards in Napa Valley. Their decision to no longer produce Charbono effected production decisions made by their growers, including Tofanelli and the Heitz family. Inglenook was known in part for their long-lasting Charbono's produced in the 1960s and 1970s; the very few of the 1970s bottlings we have tried (thank you Bern's Steakhouse in Tampa, Florida) have held up remarkably well.
This variety is originally from Savoie, in eastern France. Napa Valley based winemaker Rory Calder and grower of Charbono told us in his research he spotted records of Charbono planted in Amador County in California's Sierra Nevada foothills dating back to at least the 1870s. Charbono is also known as Bonarda, a popular variety in Argentina. However, it is not currently well-known in California; in fact, there are only approximately 70-80 acres of this variety planted in the state and according to the 2018 Napa County crop report, 44 bearing acres of Charbono grow in Napa Valley, a significant amount of that near Calistoga.
In addition to the two Charbono Vineyards that Matt Morris wines sources from (Tofanelli and Shypoke), other vineyards in Napa Valley with this grape include the dry-farmed Frediani Vineyard in Calistoga with close to 12 acres of this variety including their earliest two blocks dating from 1920 which are the oldest blocks on the property. They also have other Charbono blocks dating from 1980, 2001, 2011 and a half acre planted in 2023. Incidentally this is the vineyard that Tofanelli Vineyard took cuttings from the in late 1980s. Charbono is also grown at the Rossi Ranch in Rutherford, owned by Frog's Leap Winery and on a property known as the Summer's Vineyard (formerly Summers Winery).
This variety produces wines dark in color with lower acidity but higher pH, lower alcohol and no pyrazines (the compound resulting in a green character). It is also a highly tannic wine so careful tannin management both in the vineyard and in the cellar is required. Charbono can be a challenging variety to grow as bud break comes very early in the season, typically before the frost season is over and it can be extremely slow to ripen. It reaches its phenolic maturity often when the sugars are still much lower than other red varieties. It does well in Calistoga because of the diurnal temperature difference between day and night which is often 30-45 degrees on a summer day. It can also be blended, even in small percentages to coax out fruit characteristics of other varieties.
And in 2022 during an extended heat spell around Labor Day with temperatures reaching 118 degrees, while other varieties suffered in the valley, Charbono from the vineyards that Matt works with pulled through quite well.
Inglenook used to host an annual Charbono Society meeting, celebrating, promoting and networking in regard to all things relating to this variety. When they stopped producing wines, the society was disbanded. In 2014 Matt reorganized the society with annual meetings showcasing older Charbono bottlings from a years' worth of purchases on WineBid as well as member's own wines from this variety. He recalls about 30 people attended the first event.
Select Wines
The 2020 Matt Morris Heritage is a blend of primarily Tofanelli Vineyard free run Charbono, Petite Sirah from a front yard vineyard on Grant Street in Calistoga and Syrah from Bien Nacido in California's central coast. This wine has no problem obtaining color; it is deep ruby with an amaranthine rim and nearly opaque in the glass. The aromatics are dark and expressive and simultaneously straddle both a ripeness and a savory character with the Syrah certainly making its presence felt. The bouquet offers a light meaty and savory character, a sanguine nuance, dark and spicy plum, violets, ripe blackberry, mulberry preserve, black pepper, sage and old cedar wood. We immediately noted the softness of the entry and the richness of the lingering fruit on the finish. It offers flavors of blackberry, dark currant, black plums and cherry supported by a savory, bright, juicy and mouth watering finish. The rounded tannins are felt primarily on the front of the palate and persist for quite some time with a drying and dark spice character.
Due to the supply chain issues of securing bottles in 2020 and 2021, unlike normal vintages which are aged around 18 months, this wine was in barrel for 28 months before being bottled. The extra time in barrel certainly influenced this wine including its textural feel. Like the other Matt Morris bottlings, this wine was fermented in open top puncheons (each variety was fermented separately from the other) and then aged in neutral oak barrels. Matt calls the crafting of this wine a fun exercise in blending every year.
And unlike the labels for the Charbono bottlings which change every year, the image on the Heritage wine is always a double exposure of both grower Vince Tofanelli standing among his vines along with an image of dormant canes. The first vintage of Heritage was in 2017.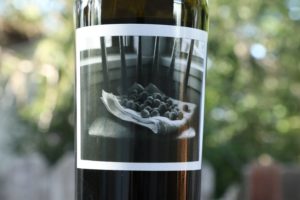 The 2019 Matt Morris Charbono Shypoke Vineyard is deep ruby and purple in color and opaque; the bouquet is an attractive union of both dark fruits and floral tones including of violets, dark plum, blackberry and dark cherry. The focus here is clearly on the fruit, but there are some other complementary scents present including of tobacco, pepper and a hint of mint. This wine is balanced nicely from the entry through to the finish and offers bright and rich fruit flavors including of dark plum, red cherry and currant. There is an appealing freshness to this wine. The tannins feel dense but also feel comfortable in their youth with rounded edges and linger with a dark spice filled and savory finish. The tannins outlast the fruit. We thought of pairing this wine with a warm Friday summer evening in Calistoga, a friends BBQ with a dry rub seasoned steak grilling and easy and smooth flowing conversation centered around wine.
And the Shypoke Charbono is always co-fermented with Malbec each year. In 2016 while doing a photo shoot of Argentina chef Francis Mallmann at Promontory Winery, the two men began talking about Charbono. Mallman suggested that Matt co-ferment his Charbono with Malbec. The suggestion came just 6 days before harvest and left Matt scrambling to find Malbec. He recalled one of his clients on Howell Mountain had some Malbec growing in a cooler part of a vineyard – a quick phone call resulted in a small amount of Malbec. The amount of Malbec co-fermented with the Shypoke Charbono used to be about 30% but over several years they discovered that 10-15% works very well; it fills out the mid-palate but does not change the aromatics of the Charbono.
In regards to labels, Matt was inspired by the first winemaker he ever met, Manfred Krankel, the founder of central California based Sine Qua Non. Krankel creates his own labels in his studio and changes the image of his wine labels every year to pay homage to vintage variation. The label for the Matt Morris Shypoke Charbono also changes every year; it is always a photograph that Matt takes with a polaroid camera relevant to each year's harvest.
2015 was the first bottling of Matt Morris Tofanelli Vineyard Charbono. Matt first met Vince through some photography work he was doing for The Prisoner Winery; some of the Prisoner's early bottlings included Vince's Charbono. And Matt was attracted to the Charbono from this vineyard as it offered a different profile than all other Charbono he has tasted.
The 2019 Matt Morris Charbono Tofanelli Vineyard is deep ruby and completely opaque in the glass; the nose is dark fruited and elegant and features a beautiful spice which Matt notices is consistently in every vintage from this vineyard. The bouquet offers aromas of blackberry pie, boysenberry, dark plum, sage and other dried herbs. Its aromatic profile is opulent and immediately engaging. Of the Matt Morris bottlings we tried, this is a wine that serious Napa Valley Cabernet Sauvignon enthusiasts may gravitate towards the most. Dare we say its a complicated wine, in the most positive sense of this word. Because complicated equates to interesting and also depth – and from this particular vineyard, history. This bottling is layered, fresh, dark, savory and mouthwatering. Its energetic palate is built upon a balance between fruit, acidity and texture. The tannins are still a bit unresolved in their youth with a dusty, dry, pixelated and gravelly textural feel. This wine is clearly built to age. Come back to it in 5, 10, 15 and 20+ years to see how it develops.
The Matt Morris wines are very much site driven bottlings. It is noteworthy to mention how different this wine is compared to the Shypoke bottling despite each vineyard site located less than a mile from each other. While the oldest vines at Tofanelli Vineyard date from 1929/1930, the Tofanelli Charbono vines date from the late 1980s. Vince told us it was winemaker André Tchelistcheff who after walking his property recommended he plant Charbono.
In creating the label for this wine, every year Matt shoots one roll of film the day of harvest with a Leica 35 mm camera. The image on the label is always a contact sheet with images from that year's harvest day. These photographs capture the vineyards, the excitement, the work, the fun and the people involved.
And due to reasons relating to the terrible fires in 2020, Matt sourced and bottled two Syrahs that year from California's Central Coast including from Bien Nacido Vineyard in the Santa Maria Valley and White Hawk Vineyard near the tiny community of Los Alamos (both in Santa Barbara County).
—
A significant amount of thought was put into how to present the wines in regard to packaging. In working with a fairly obscure variety, Matt felt the uniqueness of the bottle should be part of the presentation. His wines are bottled in a stouter and slightly shorter than normal 750ml Bordeaux bottle using 1/2 cut foil rather than a full foil. The shape of this bottle feels comfortable to hold but its shape in conjunction with the labeling invites curiosity and teases the question, "what is in it?"
The font of the variety name on each bottle is a modified version of the font used by Vanity Fair. In homage to Matt's career in film and photography, some of the text on the back label is listed in a visual format like credits at the end of a movie. And in the spirit of winegrowing being such a collaborate effort, the logo of the grower is always listed on the back label. In regard to label designs, Matt works with brand strategist and creative director Alex Chrisman of the company Alta Co.
The wines are primarily sold direct to consumer, with limited distribution at select restaurants in California, locally at the French Laundry, K. Laz and V Wine Cellar Yountville and sometimes at Charter Oak in St. Helena and at Wally's wine shops (both retail and online). For more information and to purchase select wines, visit: www.mattmorriswines.com