Mathew Bruno Wines. When it comes to wine, perhaps founder Mathew Bruno has an advantage of heritage. His Italian-born Grandfather and Great Grandfather used to grow grapes and make home wine in their root cellar. Food and wine played a large role in his family's daily life. His grandmother was an excellent cook and Mathew wistfully recalls visiting her with his parents on the weekends – relaxing times centered around food and wine. Even at a young age he noticed how food and wine brought his family together.
Mathew's father Matt Bruno founded Turlock Dairy and Refrigeration in 1972 by merging two existing companies together. Their an initial focus was on servicing the dairy industry and providing refrigeration equipment. As the dairy business evolved into larger scale productions, so did Turlock Dairy and Refrigeration – they now provide dairy design and construction services including installation of dairy equipment. And eventually the company changed its name – today it is TDR Inc. Today both Mathew and his brother Tony oversee the company's operations. We initially met with Mathew at their company headquarters in Turlock.
Mathew grew up in Modesto and attended college in San Luis Obispo at California Polytechnic State University. Driving back and forth to San Luis Obispo from the Central Valley he would often pass a number of vineyards, admiring their beauty but not quite yet ready to make wine. That came a number of years later in 2008 when he decided to make home wine – as he puts it, "to learn the process and see if it would be something I was interested in" – he was, and quickly caught the wine bug.
Sometimes things fall in place when you least expect them to do so. Such is the case when Mathew decided he wanted to take his interest in home wine making to the next level. While searching through grape brokerage listing – reviewing brokers that would connect him with specific vineyard sources he immediately recognized the photo of one of the brokers.
This was a picture of Stephens Moody, someone Mathew first met in Junior High School – they were in the same grade and both graduated from the same high school. It had been at least 15 years since they last communicated. Mathew soon called Stephens and voiced his interest in wanting to purchase grapes from the Napa Valley with the intent of making wine and starting a winery.
Stephen told him to call back in a few months (perhaps to truly gauge Mathew's interest). Mathew did so and asked Stephens if he could recommend some winemakers. Stephen's answer was something like "you know most of the winemakers are really busy, why don't I make your wine for you". Mathew had no idea that Stephens was a winemaker but was soon impressed after Stephens emailed him his resume.
Stephens has a family background in wine making – he 'grew up' on Petri Winery in Escalon, where his father, Ed, was a winemaker for Italian Swiss Colony. He worked for a barrel cooper for several years, was a winemaker at Bronco Wine Company, made wine in Argentina and also for Sonoma-Cutrer Vineyards (where unlike at Bronco which focused on quantity production, at Sonoma-Cutrer he was focused on much smaller production more terroir driven wines from the Russian River Valley).
And when Mathew was looking for a winemaker – Stephens' girlfriend at the time (now his wife) was Dr. Nichola Hall – who has significant experience with Fermentation Science. Stephens has made every vintage since their inaugural 2009 release – and Dr. Hall consults as needed during harvest and with fermentation.
Today their production is around 1,000 cases – with two 100% single varietal Rutherford sourced wines – a Sauvignon Blanc and a Cabernet Sauvignon. In addition they produce a Grenache based rosé – sourced from the Russian River Valley in Sonoma County.
Stephen helps find the vineyard sources for their wines – they have worked with one of Andy Beckstoffer's six heritage Vineyards (the top vineyards in his Napa portfolio) since the inaugural release – sourcing fruit from the George III Vineyard. This site was originally planted in 1895 and at one point was owned by Beaulieu Vineyards – called at the time, Beaulieu Vineyard Number 3. When your first vintage is made from fruit from a vineyard of this pedigree – you certainly set the bar high for yourself moving forward.
Select Wines
The 2016 Mathew Bruno Sauvignon Blanc was fermented in stainless steel tanks; it initially shows notes of lemon/lime on the bouquet – somewhat floral at times with citrus blossom and hints of cinnamon. AS it opens it becomes more tropical in its aromatic presentation. On the palate shows a good balance between weight, flavor and acidity. There are hints of honey with some mineral components; some of the citrus notes from the bouquet also show in the flavors. Sports a clean long lasting finish that is nicely balanced between citrus and tropical notes.
The 2012 Mathew Bruno Cabernet Sauvignon has an elegant bouquet framed by dark fruit aromas including blackberry. More subtle but still noticeable are cigar box aromas, notes of cedar and a spicy plum nuance. Superbly balanced for a fairly young wine. We love the texture of how this wine feels on the palate. The dusty tannins are noticeable but harmonious, finishing softly with a hint of mocha.
Mathew's philosophy is to make balanced and approachable wines – and they have certainly done so with the two wines we tried.
The wines are sold direct and are selectively distributed – they have good placement at a number of restaurants in the Modesto, Turlock and Escalon in the Central Valley. In addition, the wines are at Gary Danko in San Francisco. The various levels of their wine club are named after immediate family members. For more information visit: www.mathewbruno.com (above photos courtesy of Mathew Bruno Wines)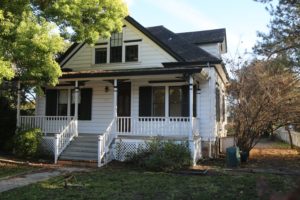 Note: Mathew Bruno has been approved to use a stand alone house on Rutherford Cross Road for a tasting room.
This old Queen Anne Victorian house is located across from the Beaulieu Vineyard parking lot and in between La Luna Market and the tasting room for the Elizabeth Spencer Winery.
NOTE: We will visit this space once the tasting room is open and will significantly update this review at that time including updating our tasting notes to reflect current releases. This space most likely will open in summer of 2022.
Beckstoffer Vineyards, Rutherford