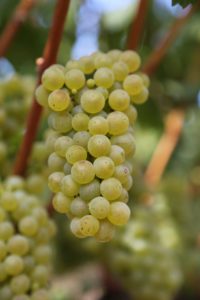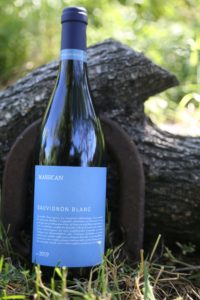 Massican was founded by owner and winemaker Dan Petroski in 2009. He sold Massican to E & J Gallo Winery in late August 2023. Dan grew up in Brooklyn in an American Italian family. Wine for him, as a commercial venture did not happen right away. Dan remembers being attracted to magazines from an early age. He recalls signing up for a subscription to Condé Naste Traveler when was merely 9 years of age (one of their earliest subscribers). He continued his interest in magazines by spending nine years working for Sports Illustrated and Time Magazine.
After deciding to return to school, Dan enrolled in business school through New York University. While there he met a friend whose family was living in rural Italy. To celebrate their graduation, they took a trip to Italy where Dan was wowed by the local community's welcoming attitude and hospitality. He was impressed with Italy's diversity of culture, food, wine and history. Dan told us that at the age of 23 he was thinking, "I could spend the rest of my life traveling through Italy and never be bored."
A number of years later he returned to Italy where he helped during harvest at Valle dell'Acate, a Sicilian winery and then spent six months exploring the countries' various wine regions. Returning to a sickly job market in New York he headed west where he interned for several Sonoma County wineries before moving to Larkmead Vineyards in Napa (where he oversaw their winemaking until 2021). And leaving Larkmead has been energizing for Massican, increasing production and allowing Dan to devote more time to other Massican related projects.
Massican brought together a number of Dan's talents and interests: his love for northeastern Italy, his business acumen and his newfound talents as a winemaker.
His timing for starting Massican was very good in that a rare Napa planting of Ribolla Gialla became available in 2009 and formed part of Massican's first vintage. This small planting was at George Vare's Vineyard off of Dry Creek Road near the city of Napa (Vare was one of the founders of Luna Vineyards – we first met with George years ago when he was operating his own wine label). Dan's plan was originally to create one wine each year – a blend of the blocks from his source vineyards. However, after fermenting each variety on its own (all his fermentation is done in barrel) he realized he had the components to produce several wines.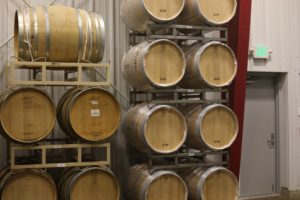 In a valley known for its red wines, the focus of Massican is *extremely unique* by Napa standards – Dan's entire production is white wines, producing from a number of varieties not often seen in Napa. While Dan does make a Sauvignon Blanc and a Chardonnay, his is also making wine from varieties such as Ribolla Gialla and Tocai Friulano.
Oak is merely one "ingredient" in his wines rather than, to borrow from a culinary dictionary, the entire "sauce". He uses both new and French oak, limits the amount of aging in oak and typically uses barrels with a lighter toast. Or simply uses stainless steel barrels. None of the wines go through malolactic fermentation. His wines are about the variety, the acidity, and lower alcohol. These are not the "stereotyped" Napa Valley oaky, oily, buttery, and more recently, high alcohol white wines.
A nice aspect about making white only wines in Napa Valley is that the weather is generally not a factor in harvest decisions. Dan picks these varieties at lower sugars – starting his harvest sometimes as early as mid-August continuing through the latter part of September.
In 2017 Dan was awarded the San Francisco Chronicle's winemaker of the year and his wines have been listed in Wine Enthusiast Magazine's top 100 wines on multiple occasions.
The name Massican was chosen to honor Dan's heritage in Italy. His great grandfather grew up in the foothills of the Monte Massico mountain range north of Naples in the Campania region. For Dan's flagship wine Annia, he chose another name that is a tribute to his heritage; it is the name for a DOC (appellation) in Fruili Italy as well the name of an old Roman family. Annia was also his mother's name.
Select Wines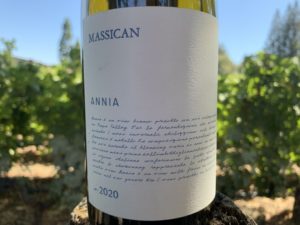 The 2020 Massican Annia is a blend of 61% Tocai Friulano, 27% Ribolla Gialla and from the Hyde Vineyard in Carneros, 12% Chardonnay. This is Massican's flagship wine, is sourced from several vineyard sites throughout Napa Valley and is certainly one of California's more intriguing white wines. This beautiful wine is deep straw in color; the bouquet offers aromas of honeysuckle, honeycomb, citrus blossom straight from an orange tree on a cool spring day, lemongrass and haystack. We usually associate the word savory with certain red wines but this bouquet has a slight savory and racy character to it. The palate is supple and saline in its texture and parallels with flavors of lemon zest, mineralities and a bright and refreshing finish. Over the years, we have noticed that Dan has backed off from the bracing acidity that were so prevalent in his earlier bottlings; this has made for more balanced wines. This wine is best paired with the soothing sounds of a slow Neil Diamond song while in the company of a beautiful woman. And fried shishito peppers and rock cod.
The 2019 Massican Sauvignon Blanc is 100% varietal sourced from two Napa Valley vineyards. This wine was fermented and aged in 75% stainless steel barrels. Smells lively and bright with aromatics of lime, lemon zest, slate, green apple, dried hay sitting out in hot sun, hints of wintergreen and lemongrass. As the wine breathes, more fruit shows including hints of white peach and apricot. The texture is surprisingly supple and even a bit creamy in feel and is complemented by a refreshing acidity that dances across the palate from start to finish. Its verve is carried by its acidity. Finishes clean with notes of lime and some mineral nuances.
The 2011 Massican Annia is a unique blend of Tocai Friulano, Ribolla Gialla and Chardonnay. The Tocai Friulano is from old head pruned vines that were planted in 1947. This wine is edgy on the palate, always reminding you of its fresh and lively acidity. The alcohol is low – 12.4% (the year prior it was barely 12%). The wine initially shows aromas of pencil shavings, and as it breathes it becomes more floral including notes of jasmine as well as citrus blossom and lemon peel. The finish is lively with an earthiness showing; Dan compares the palate as to tasting lemon lime on a dusty rock – the terroir characteristics if you will.
The 2011 Massican Gemina is 100% varietal Chardonnay from one of Napa Valley's most sought-after vineyards for this variety – the Hyde Vineyard in Carneros. Only 85 cases of this bottling were produced. This wine initially shows aromas of stone fruit but becomes more floral as it opens. On the palate it is lean and steely with mineralities – its texture is briny with expressive flavors of tart lemon lime lingering on a mouthwatering finish.
The 2011 Massican Sauvignon Blanc is sourced from a vineyard that produces only 3 tons per acre (low for this variety). The clusters are small as are the berries. The juice to skin ratio is low – stylistically this wine stylistically straddles the line between some of the grassy characteristics often found in wines from Marlborough in New Zealand and the much rich, riper California Sauvignon Blancs. Initially the pretty bouquet shows notes of stone fruit and melon. The initial entry is soft with a rounded and slightly viscous mouth feel. This wine has an intriguing savory component to the mid palate through to the finish with notes of thyme and other savory spices.
Other Adventures
In what is a very unusual product from a Napa Valley vintner, Dan also produces a dry white Vermouth and a sweet red Vermouth, both bottled under his Massican label (we are aware of only two other Napa producers making Vermouth).
Through several partnerships, Dan produces other products. Gaspare is a white wine collaboration (Tocai, Ribolla and Chardonnay blend) with Ronco del Gnemiz Winery (located in far eastern Italy near the Slovenian border). The first vintage of this wine was 2015. And Birra Bianca is a Belgian style beer made in conjunction with Dan's friend, Edward Westbrook at Westbrook Brewing Co. in Charleston, South Carolina (founded in 2011). Westbrook Brewing maintains a tap room open to the public. The beers produced for Massican are aged in former Massican white wine barrels.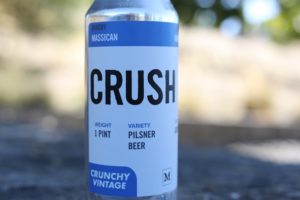 Dan told us he enjoys drinking the Massican beers in wine glasses and recommends pouring half a beer can into a wine glass, putting the rest of the can back in the refrigerator to keep it cold before finishing the other half. The rationale is this beer shows best when served very cold; Dan suggests a serving temperature of between 45-50 degrees Fahrenheit. The Birra Bianca is a Belgian styled beer that is highly refreshing to drink on a warm summer's evening (based on personal experience).
The Massican Crush 2022 German style Pilsner (Crunchy Vintage) is dark golden in color; drink on a hot day and serve extremely cold. This wine is light on the palate but very flavorful with almost no bitter character.
In 2020 Dan created Massican Magazine an online publication available on the Massican website. Each issue focuses on a specific topic ranging from art, photography, travel, fashion and design.
The Gallo Family, E & J Gallo Winery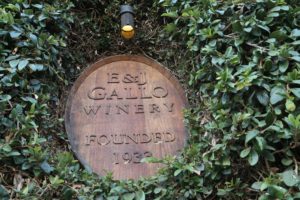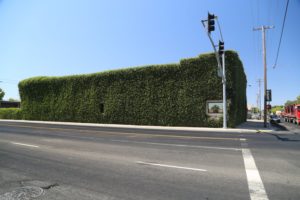 The original winery under Gallo family ownership was founded in 1933 in Modesto, California immediately following the repeal of Prohibition by two brothers, Ernest and Julio Gallo. The initial seed money of $5000 to start the company came from Ernest's mother-in-law, Teresa Franzia who had founded her family's winery, Franzia Wine Company in 1906. They made their first wine in 1933 at a rented warehouse built in 1928 at 401 11th Street (on the northwestern corner of the often very busy 11th and D Streets in Modesto (less then a mile from both downtown Modesto and Gallo Glass and E & J Gallo Winery). Remarkably this warehouse building is still standing; the exterior almost completely covered in some sort of aggressive vine growth. The site is owned by E & J Gallo Winery.
Interestingly this is the same year that Louis M Martini purchased his property in Napa Valley, and perhaps opening within weeks apart as both wineries began operations later in the year during the 1933 harvest. Ernest and Julio's parents immigrated to the USA from northern Italy and both brothers were born near Modesto. Tragically Julio was killed in a jeep accident in 1983 involving his wife and his two granddaughters including now winemaker Gina Gallo (the three women survived the accident).
A milestone in the company's rich history was the founding of Gallo Glass Company in 1958 which now the largest glass manufacturing plant in North America. A visit to the exterior of this site shows an impressive campus with trucks pulling in and out of several entrances (less than a mile from downtown Modesto) and next to the enormous bottling and shipping facility of E & J Gallo Winery. Along with two other production wineries located in the central valley, Fresno and Livingston (small community along the 99 freeway south of Modesto), these three winery facilities are the largest in the world. E & J Gallo Winery is among the top 100 highest grossing private companies in the United States.
Other milestones include the launching of the Carlo Rossi brand in 1975 and Bartles & Jaymes wine coolers in 1984. The purchase of Louis Martini Winery in 2002 was just the beginning of Gallo's acquisition of numerous brands, wineries and vineyard properties, accelerating around 2011 and continuing today.
And in 2007 the Gallo Arts Center opened in downtown Modesto, a state-of-the-art performing arts center hosting both local, national and internationally recognized talent in one of two theatres. Owned by Stanislaus County with its namesake chosen after the Gallo family donated $10 million to the original endowment fund.
Within Napa Valley, E & J Gallo Winery owns William Hill Estate Winery in the southern part of Napa Valley (purchased in 2007), The Ranch Winery (purchased 2015), Orin Swift Cellars (purchased in 2016), Franciscan Winery (purchased 2019), Pahlmeyer (purchased 2019), Rombauer Vineyards (purchased 2023), Massican (purchased 2023) the iconic Stagecoach Vineyards on Atlas Peak (purchased in 2017) and the California Brandy House in downtown Napa (opened in late 2020).
Much of their distribution is direct to consumer via their mailing list but they are selectively distributed in fine wine shops and restaurants in California, Florida, New York and Texas. For a number of years, total production was typically under 1,000 cases per year, although in recent years this has increased significantly and at the time of the sale to Gallo in 2023, Massican was producing 7,500 cases annually. Production will continue to increase. Locally one may sometimes find some of their wines at Backroom Wines, Bay Grape in the city of Napa or Oakville Grocery. For more information and to join the members list, visit: www.massican.com