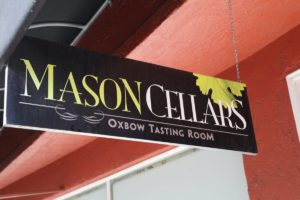 Mason Cellars is run by a husband wife team Randy and Megan Mason and their primary focus is on Sauvignon Blanc. Randy has a long history in the Napa wine industry working at wineries such as Chappellet and Napa Wine Co. He originally planned on being a Veterinarian and was one class from graduating with a degree in that field when he took his first viticulture class. Many winemakers after working for other wineries get the itch to branch out with their own labels; Randy and his wife started Mason in 1993. Today their wine is made at Napa Wine Co. There are not many wineries in the Napa area focusing on Sauvignon Blanc and this is one of the better ones. Their wines were tasted in Wine Collectives with other wineries for 14 years before they opened their own tasting room.
They opened this tasting room near the riverfront in the city of Napa in late 2006. This has fast become the new wine tasting hub for the city of Napa. In recent years several more tasting rooms opened up, Waterstone down the block, nearby Uncorked and the tasting room in the Oxbow year round public market. Many people pass up the town of Napa for the main wineries up valley, but it is small tasting rooms such as this one that makes it worth your while to spend a day just wine tasting in the actual town of Napa.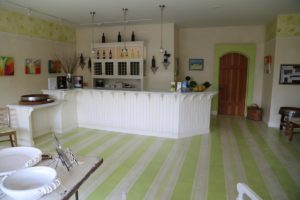 Their tasting room is cute, casual, airy and simple keeping the focus on the wines. Step up to the marble counter top and choose from several Sauvignon Blancs. We tried the 2006 Pomelo, grown in Lake County (a county north of Napa county). With a name like Pomelo it is rather easy to guess some of the characteristics in this wine! It was all tank fermented, nice herbaceous aromas followed by grapefruit and pomelo flavors. This is a great wine for a hot day. Their 2006 Sauvignon Blanc is the only wine that sees any oak during its aging. This is their flagship Sauvignon Blanc and is sourced from Napa Vineyards. It is a crisp wine with citrus flavors and some subtle notes of fig. Very clean finish.
The 2005 Reserve Sauvignon Blanc is sourced from vineyards in Sonoma. This wine was left on the lees and stirred for 4+ months; it is a very smooth wine with a long finish. Before having this tasting room Mason used to make Merlot and Cabernet Sauvignon (last vintage was 2001 – which they are now sold out of), however stay posted. They have renewed their red varietal program and a 2005 Cabernet Sauvignon will be the first "new" vintage. Visit: www.masoncellars.com
NOTE: In 2016 the Mason tasting room in the city of Napa closed and was replaced by another vintner. In late 2016, Mason Cellars was sold to the Trinchero Family to be continued as several labels within the Trinchero Family Portfolio. Archiving this review as this is now a label within another winery.
Wine with Tony