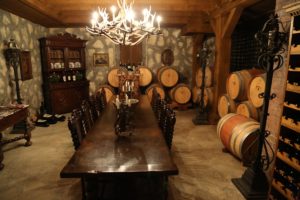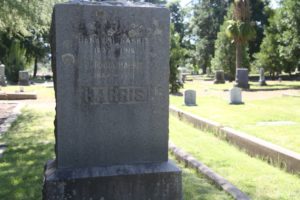 Martin Estate is a small winery located in the heart of the Rutherford district off of Conn Valley Road, just down the street from Frog's Leap Winery. The winery was originally established in 1887 as H. H. Harris Cellars by long time Napa Valley resident and Napa County sheriff at that time, Henry Harrison Harris (1837-1916). An article from a 1910 issue of the Napa Weekly Journal describes him as, "one of Napa's most prominent and substantial citizens". Harris was among the earlier western settlers of Napa Valley having accompanied his parents and brother from Missouri on a train of 15 ox-pulled wagons, arriving in Napa Valley in 1853 and settling near Yountville. Other than spending 2 years mining in Oregon, he lived the rest of his life in Napa Valley.
Prior to building his own winery he had been growing grapes for five years including selling to his neighbor Christian Adamson (site of what is now Frog's Leap Winery). One of the reasons for building his own cellar was that in 1887 Adamson was not able to commit to purchasing Harris's grapes (84 acres of vines).
An article from the October 14, 1887, issue of the Napa Register indicates the original stone building was two and a half stories sized at 60'x100′ with a storage capacity of about 200,000 gallons. This same article references Harris needing to purchase additional grapes for his first crush as his own vineyard on site was not large enough. And construction continued until late 1887 with the roof not yet installed during harvest.
This was not the only property that Harris owned; among various holdings in Napa Valley, he also had 316 hillside acres in the vicinity of St. Helena which he sold for $2,042 in 1886 and for a time owned 160 acres in Chiles Valley and 155 acres on Berryessa Road. In addition, he had some holdings in Santa Clara County.
Well-known Georges de Latour (a pioneer in Napa Valley who started Beaulieu Vineyards) leased H. H. Harris Cellars to make some of the earliest vintages of Beaulieu Vineyard wines for several years starting in 1907; a short paragraph in the December 6, 1907, issue of the Napa Journal mentions that de Latour produced 52,000 gallons of wine at H.H. Harris Cellars that year.
One of the old-time family names in the valley since the 1850s is Stice (reference Stice Lane located just south of St. Helena). Henry Stice was the winemaker for H.H. Harris Cellars but was also hired as the Beaulieu's winemaker in 1909. This was before Beaulieu Vineyard owned their own production facility.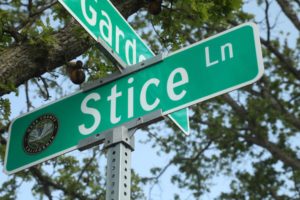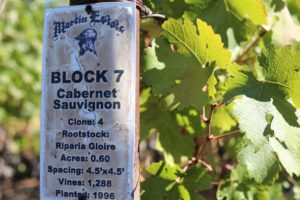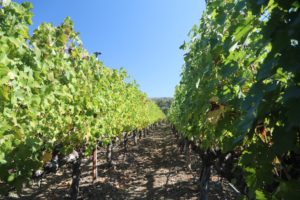 And also worth mentioning, Harris's wife for 56 years (she was 16 when she married Harris), Lurinda was part of the Stice family and one of nineteen children; her maiden name was Stice, and like Harris, her family was also from Missouri. She and her family crossed the plains from Missouri reaching California 1852. After Lurinda passed in 1931 her will stipulated that the property be deeded to Lurinda's nephew, Dr. Tyre Harrison (T.H.) Stice and Lurinda and Henry's only daughter, Minnie (Harris) Freyermuth. By the mid 1930s this property was referred to as the Harris-Stice Estate.
The property and old winery were purchased by the Cebrian family in 1940 who were seeking 'country living'. Katherine Cebrian (1893-1992) and her second husband, Douglas Pringle restored the property and original winery building and named the property, Puerta Dorada (translated from Spanish, means golden harbor). It was also referred to as the Cebrian Mansion. The parties on this property were well-known at the time and invited guests were the who's who of the San Francisco socialite scene, some of whom also owned property in Napa Valley. Katherine had three sons from her first husband Louis de Laveaga, one of whom died in France at age 25 from a motorcycle accident. She left the property to her youngest son Jose de Laveaga Cebrian in 1951 (a real estate broker). In 1958 he married his first wife Celia. A beautiful swimming pool spans almost the length of one side of the house; tragically one of Jose and Celia's sons Luis drowned in this pool at age 2 in 1964. Celia died three years later at only 35 years of age.
Incidentally Katherine and Douglas also owned Schramsberg Winery; the couple divorced in 1959 and then Katherine sold the winery to the Davies family in 1965.
Tragically during a 4th of July weekend party in 1970 a fire destroyed nearly all of the old stone building and its interior collection of prized art and antiques. The roof and the third story were entirely destroyed, while the second story was completely gutted, and the first floor sustained major damage. At the time it was estimated that the cost of the damage was half a million dollars. Jose and his guests at the time were able to escape the flaming building safely.
The mansion was completely rebuilt over a span of about 10 years.
In 1996, Greg & Petra Martin purchased the property, which by 1992 had been seized by the IRS for non-payment from Jose de Laveaga Cebrian. The Martin's acquired the property as a country retreat from city life and a place to raise their daughter Greta in a rural environment. Greta became Managing Partner in 2016. Greg was raised in the San Francisco Bay Area and Petra is from Germany. They are only the third family to have owned the property.
Greg has long been associated with auctions of rare and historically significant weaponry; from 1986 until 2002 he oversaw the Arms & Armor Department at Butterfield & Butterfield Auctioneers in San Francisco. In 2002 with several partners, he founded Greg Martin Auctions specializing in antique arms. His personal collection is certainly one of the finest in the country; he has lent select items to several museums.
And through an endowment from the Martins, a collection of antique Colt guns is displayed in the Greg Martin Colt Gallery at the Autry Museum of Western Heritage in Griffith Park in Los Angeles. The Greg Martin Colt Gallery (opened in 2011) is located inside a small room downstairs within a number of other western galleries. Highlights of a visit to this gallery including President Teddy Roosevelt's Single Action Army Model Revolver and the first modern revolver designed by Tiffany & Co. The Autry Museum features plenty of parking within a short walk of the main entrance.
Greg has also written several books focusing on historical items; his expert advice is highly sought after. He has been featured in numerous publications and interviewed many times on both radio and television.
Greg's original intent was not to start a winery even though he had prior experience with home winemaking and had lived in Bordeaux for two summers. However, after discovering and resurrecting an old gate lying in the fields on his property, the county got wind of this and said the gate was improper to use for a private residence because of its height. If this was a commercial operation, then the height of the gate would be acceptable.
The property is located close to a number of well-regarded vineyards including Caymus, Beckstoffer owned Georges III and Honig Winery. The soils are rich and alluvial in nature; not only do grapevines do well in these soils but other trees as evidenced by the abundance of fruit trees planted on the property. Realizing the quality of their terroir coupled with the fact they did not want to get rid of their gate, the Martins ultimately bonded this location as a commercial winery.
When the Martin's first visited the site Petra remembers both the grounds and the home needing major work. She recalls that thousands of bats were living in the main building. Greg was attracted to the smell of the building at the time – a mustiness, a smell of being old that buildings of this age show after years of neglect. It reminded him of the inside of ancient castles in Europe.
The Martin's renovated and retrofitted the chateau keeping most of it as residential quarters and converting part into a winery. In 1997 they planted grapes on site. In a nod to the properties' prior name, the vineyard was named Puerta Dorada. During the Cebrian ownership, a walnut orchard grew on the property; we have seen references in old articles that these walnuts were processed at the dehydrator located on the Lewelling family property in St. Helena (Lewelling Vineyards).
The first commercial vintage of Martin Estate (2001) was low tech before they purchased all the wine making equipment they have today. Greg and Petra helped their first wine maker and a team of 5 guys pick a ton of Merlot. They borrowed old wine making equipment from Caymus Vineyards (one of their nearby neighbors) including a small press and a hand crank crusher. As of the time of our update to this review, unfortunately they only have 3 bottles left of this rare vintage/wine.
At the time they produced their first wine it is interesting to note that a 90-year lapse had occurred between commercial vintages made in the winery.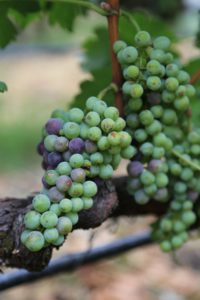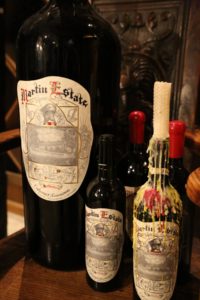 Of the 12 acres they own, approximately 8 acres are planted to 3 clones of Cabernet Sauvignon with small blocks of Merlot, Cabernet Franc and Petit Verdot. The focus of their production is on two wines: Bacchanal proprietary blend and Martin Estate Cabernet Sauvignon. Several other smaller production wines are made including a rosé of Cabernet Sauvignon and the only non-estate wine they make, a a 50/50 blend of Sémillon and Sauvignon Blanc dessert wine made from natural Botrytis (noble rot). Conditions need to be right in the vineyard at the appropriate time (well after the normal harvest is finished) in order for the natural mold to grow on the grapes. Martin Estate has only made this rare wine three vintages, 2002, 2007 and 2010.
The winery itself is tiny with a mix of both custom-made (in France) stainless steel tanks as well as concrete tanks. One unique tank is a variable capacity fermenter; the top can be raised or lowered in a vertical direction depending on volume. After fermentation they gently press the fruit separating the seeds and the skins from the wine. They use only French oak and typically only once. All of their older barrels are donated to charity – to the Boy Scouts and to the Barrels4Vets program, where veterans create furniture from the used barrels.
Select Wines
Great attention to detail is made during their wine making with Greg and Petra involved in all aspects of this process. The grapes are picked up to 10 different times during harvest – only selecting the fruit that is truly ripe. Each Cabernet Sauvignon clone is vinified separately. Prior to bottling, a barrel selection is made between the Bacchanal, the Martin Estate wine, the Four Barrel Cabernet Sauvignon (a good value wine and only available in 375ml format bottles) as well as the Martin Estate Reserve.
The 2014 Martin Estate Rosé was made from 100% varietal Cabernet Sauvignon. Immediately after harvesting the juice was left on the skins for longer than a typical rosé. This is clearly evident with the color of the wine – it is darker than normal, at times showing both pink and purple color. The aromas are fresh – showing watermelon – and as it opens more of a Jolly Rancher watermelon characteristic. It is soft on the palate with the entry but there is a richness of flavor atypical in a rosé of this style. The tannins are delicate but subtly perceptible on the finish. Notes of raspberry show mid palate. The finish is clean and doesn't drop off – the fruit continues to linger on the palate along with good acidity.
The 2012 Martin Estate Bacchanal shows an elegant nose with herbal hints and as the wine breathes more fruit shows along with a touch of brown chocolate and cedar notes. The wine shows a very lively mid palate with lingering somewhat delicate tannins that remain on the front of the palate rather than the back. For a young wine it is exceptionally balanced already.
The 2012 Martin Estate Cabernet Sauvignon is dark purple in the glass. It has a very appealing bouquet showcasing mostly darker fruits with aromas of black licorice and an inherent darker liqueur sweetness to the aroma. When the wine is opened for the first time a dustiness also shows until the wine has had more time to breathe; often you will hear wines referred to as having a Rutherford dust component – this wine certainly has that characteristic. As the bouquet opens this dustiness turns more into a tobacco smoky quality. On the palate it is layered yet balanced between fruit and tannins. The tannins soften wonderfully after the wine has had ample time to breathe. Shows an intensity of fruit that lingers for some time on the finish. Drinks very well young.
—
There was certainly a lot of history associated with this property when the Martin's acquired it including some notable valuables owned by both the prior families, the Harris's and the Cebrians. At one point the chateau housed a valuable stamp collection and a painting by El Greco. But Greg has added another historical dimension to its interior. He is a serious collector of antique armaments (guns, cannons, knives, other armor spanning over 800 years of history) as well as other historical paintings which are placed throughout the chateau. A visit upstairs is like walking through an antiquity's museum in Europe.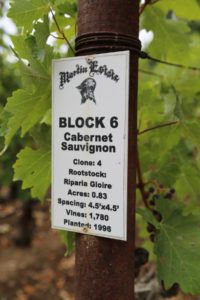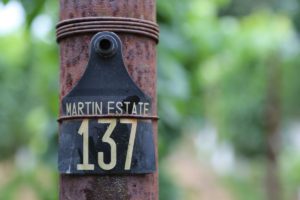 The "great hall" is the largest room in the estate and is very well decorated including a knights armor, miniature canons, spears, and old muskets. And the guns still work. An interesting book sits upstairs on one of the tables – titled "Chicks with Guns". The photographer traveled across the country taking pictures of women from all walks of life posing with their guns. Of all the photographs she took, the front cover is of Greg and Petra's daughter Greta.
Greg and Petra have been fortunate to have not needed to do a lot of marketing. Petra says, "every bottle is our salesperson" referring to how they get new clients. New customers come through word of mouth or by trying their wine in restaurants or with friends. Visits are on a very limited basis for the serious wine enthusiast. Tastings are private and are strictly by appointment. For more information and to join their mailing list, visit: www.martinestate.com