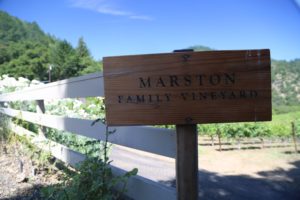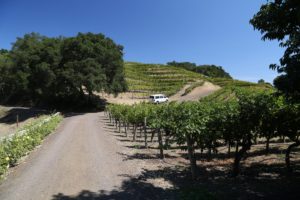 Marston Family Vineyard is located at the very end of White Sulphur Springs Road – west of the town of St. Helena. The drive into the winery property is fantastic; leaving St. Helena one is soon driving on a very narrow windy road which passes the historic White Sulphur Springs Resort. Remarkably, this has been a resort for 150+ years and was one of California's oldest (founded in 1853), but it is no longer open to the public. Visitors who drive by on warm days will be greeted with smells of sulfur for a few minutes (not as bad in the wintertime). The road passes a small creek and winds through some redwoods until reaching Marston's moss covered gate before ascending, steeply at times through the Mayacamas mountains up to the vineyard estate. This is the mountain range the divides Napa county from Sonoma county. The views are excellent of the rolling hills, planted vineyards and the valley floor far below.
History of grapes on the property dates back to the late 1890's when access to the vineyard was on an old Wells Fargo Stage Coach road which extended all the way to Santa Rosa. The early vineyard plantings were done with horse and plow by the Kramm family.
The well-known and accomplished actor, Clark Gable used to visit frequently. He was good friends and the best man at the wedding of the wineries' post World War II owner, Al Menasco – a Los Angeles born and raised aviation pioneer in his own right. After World War I Al founded Menasco Motors Company and later developed a revolutionary engine for planes – subsequently releasing a number of models known as "Menasco engines" (some of which are housed at the Smithsonian) and were collectively known as the ' inverted, in-line, air-cooled engine'. Al left the company by 1938 – and the operations were later sold to Colt Industries with the Menasco name living on in manufacturing in one way or the other until the 1990s.
Clark Gable actually spent one of his honeymoons (married to Kay Spreckels) in the main house on the property. And when Gable was in town, Menasco would sometimes bring him down to the old El Real Cafe in Rutherford for dinner (there weren't many culinary choices in the Napa Valley back then – the Miramonte Hotel and Restaurant in St. Helena was another mid-valley option).
Michael (an urban economist) and Alexandra Marston purchased this property in 1969 from Al (who by this time was in his early 70's although would live until 91 when he passed in 1988) with several other investors including John Wright who was instrumental in launching Domain Chandon and who later owned Kittyhawk Vineyards on Mt. Veeder with his brother. Remarkably, some grapes were still growing at that time dating back to the original plantings in the 1890s (Grenache, Alicante Bouschet & more recent plantings of Pinot Blanc among others). Initially the Marstons were planning on a short term investment – but by 1976 the Marston's had purchased the interests of the other partners and were the sole owners. Along with Fritz Maytag of York Creek Vineyards, Michael was an early supporter of creating the Spring Mountain District (AVA), created in 1993.
An existing winery had been built in the early 1970s as part of the original ownership including the Marstons; the site was known as Lyncrest Vineyard (named for managing partner Dick Lynn). They produced small lots of wine from estate grown fruit but also purchased grapes from select other vineyards. John Henderson was the winemaker for at least the 1974 vintage – he was also one of Conn Creek Vineyard's early winemakers. Ultimately Lyncrest closed down in 1974 (the last year of production) with their remaining wines liquidated at auction due to bankruptcy. It was at this auction that Conn Creek Vineyards purchased both winemaking equipment and a lot of wines created at Lyncrest Vineyard but were never bottled. Two such lots were a 1973 Steltzner Vineyard Cabernet Sauvignon and a 1974 Cabernet Sauvignon from the iconic Eisele Vineyard in Calistoga. Conn Creek bottled these as their first and second ever releases before their own young vineyards were yet mature.
Until the late 1990s, Marston sold their grapes to other wineries including Beringer who currently manages their estate vineyards. Long time and very talented Napa winemaker Philip Togni helped craft wine from the estate from their first vintage in 1982 through 1986 – as did winemaker and soils expert André Tchelistcheff. No wines were made from 1987 through 1997 – beginning in 1998 Marston Family Vineyard has produced a vintage every year.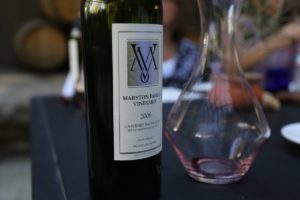 The Marston's daughter Elizabeth and her husband James currently oversee the winery and vineyard operations. Both have made valuable contributions to Napa's wine industry – Elizabeth co-founded NG: The Next Generation in Wine in 2006, with a goal to collaborate and promote wines through tastings and events for Napa Valley based wineries overseen by the 'next generation'. And James has served as president of the Spring Mountain Appellation Association.
The Marstons have only 10% of the entire 400 acre estate planted to vine, with much of the surrounding hillsides covered with native vegetation. In 1984/1985 they donated 220 acres of their property to the Napa Land Trust to remain undeveloped as it is (no vineyards, no buildings). The property ranges in elevation from around 800 to 1300 feet.
Marston is known for their hand crafted and balanced Cabernet Sauvignon and there is a reason for this. Combine world class hillside terroir, an exacting attention to detail in the vineyard (we've heard their vineyard manager speak of what goes on in the "fields" and it is extensive), and top winemaking skills and one has a valuable wine recipe for success.
Select Wines
The total annual production of the Marston Estate wine is generally between 500 and 1000 cases; their flagship wines is a 100% Cabernet Sauvignon. The 2004 Marston Family Vineyard Cabernet Sauvignon is a very dark inky wine. The aromas are initially almost gravelly and as it opens up reveals additional mineralites and fruit including blackberry. The mouth feel is soft, well balanced and tantalizingly smooth with a structured yet delicate tannins on the finish. It is extremely drinkable now yet has that bright fruit, lively acidity and structure to ensure that this wine will age successfully for a number of years.
The 2005 Marston Vineyard Cabernet Sauvignon is even smoother than the 2004 although it is still very full bodied. The nose offers floral characteristics with nuances of berry fruit, cocoa and chocolate appearing as the bouquet opens. Rich ripe fruit dominates the palate, this wine pairs extremely well with food. In 2005 the wine-making program was changed so that the wine was aged in 400-liter puncheons (larger sized then normal wine barrels) custom made in France. These are rotated each day during the fermentation, rather than doing the standard punch-downs. The thinking behind this is the turning of the barrel allows the wine to receive less agitation than punch-downs. Once fermentation is complete, the wine is removed, pressed and then put back into the same puncheons for its aging. Marston's philosophy is to ensure the fermentation goes smoothly but with minimal intervention. It is always a challenge to tame mountain grown tannins and the 2005 vintage is a clear reflection of how successfully they were able to do this.
Two other more recent additions to the family portfolio are Albion – a Sauvignon Blanc sourced from Yountville and Elizabethjohn, a non-vintage Cabernet Sauvignon styled to be approachable on release and consumed young (named in after Elizabeth and her brother John).
—
For a number of years their wine maker was Philippe Melka, a consulting winemaker who works with premium mostly Napa hillside sites and small brands. Philippe was honored as American Winemaker of the year by Robert Parker in Food & Wine Magazine. Marston was fortunate to acquire his services fairly early in his career as currently his time is much sought after. Philippe has a Geology degree (he knows his Napa terroir very well) and loves working with Napa hillside vineyards. As he mentioned to us during one of our earlier visit to Marston Estate, "hillside vineyards are more of a challenge"!
It is always a fine line to craft wines with that special elegance and softness ready to be consumed now, while at the same time ensuring the wine has the acidity, fruit and structure to be aged and not be flat in say 10 years. This is a line that Philippe walks well – Marston's older vintages if you can find them, are drinking very well now.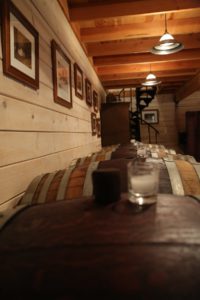 Today their winemaker is Marbue Marke – Marbue is a talented winemaker and is one of the few African American winemakers in Napa Valley. He was born in Sierra Leone, West Africa. During one of our visits with Marbue, he told us the abbreviated story of how he became a winemaker; while studying to get into medical school he soon realized that he tends to faint at the sight of blood. He then pivoted his studies and graduated from the University of California Davis with a degree in Viticulture and Enology.
Marston's wines are available through their mailing list, select restaurants and retail stores. One year, their wine was voted the top ranked Cabernet Sauvignon by Wine News Magazine. You can also sometimes find their wines at Gary's in St. Helena.
Visits are for mailing list members or serious wine enthusiasts and collectors. Tastings are with proprietor Elizabeth Marston or her husband James and usually last at least 90 minutes. For more information or to join their mailing list, please visit: www.marstonfamilyvineyard.com
Vineyards

Original Winery