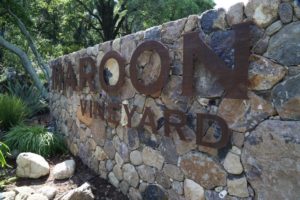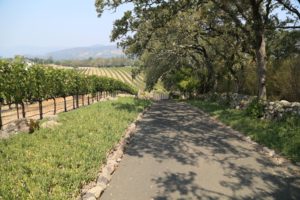 Maroon Wines was founded by Paul Maroon (unfortunately passed away in late 2019) with his inaugural vintage dating from 2008. His wife Renée continues to operate the business. The story of the wine goes back a bit further than this. Paul grew up in Pennsylvania (Lebanese heritage) where he helped his father with their family's produce business. His first introduction to wine was helping his uncle make wine in Pennsylvania. After earning a college degree on the east coast, he came to California for his MBA. After graduating he started selling medical supplies including pacemakers. He worked very closely with hospitals and doctors and ultimately started his own company – specializing in new types of medical devices.
This was a successful business; looking to return to his agricultural roots he moved up from the San Jose Bay Area to the Napa Valley. Simultaneously he purchased property just north of the city of Napa in what is now the Coombsville appellation and three hundred acres on the backside of Howell Mountain in Pope Valley (since sold to the Michael Mondavi Family so Paul could focus on his estate vineyard). Paul became friends with Chris Corley, winemaker at Monticello Winery and also Crauford Family wines.
The seeds of the Maroon label actually began with Crauford Wine Company – a women only owned winery that produced their first vintage in 2000. Paul sold them grapes from his property and ultimately, he bought them out when they wanted to retire. Chris made all vintages under the Crauford label and continues making the Maroon Wines (having made every vintage of the Maroon wines).
For ten years Paul had a lucrative contract with Joseph Phelps to sell them the Cabernet Sauvignon from his Coombsville vineyard. These grapes were used in their Insignia blend. Before the contract ended, Paul made under two barrels of wine for himself and realized the quality of fruit his vineyard could achieve as a single varietal, single vineyard wine. The contract was not renewed and as a result, his first commercial vintage of Maroon Wines came two years later in 2008. While Maroon uses fruit from their estate vineyard, they also selectively sell grapes to other producers. Once such producer is fairly unique in that it is not a winery, but rather is Napastak, a retail store in downtown Napa. One of their wines was from the Maroon Vineyard.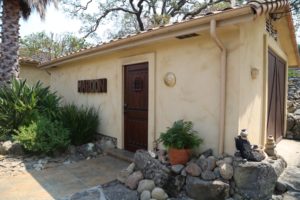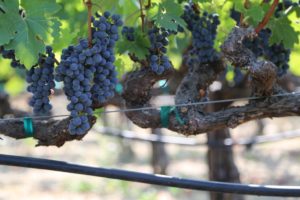 The focus of Maroon is usually on single varietal, single vineyard wines. Chris's philosophy is to introduce as little wine making manipulation as possible from the vineyard to the bottle. Along with their "estate" vineyard Maroon sources from a variety of premium vineyards in the valley including from Monticello.
Our first visit to the property was the day after Coombsville became the most recent sub appellation within Napa Valley; it was nice to no longer have to say the "soon to be Coombsville appellation". Paul was one of the most personable and down to earth vintners we met with and was always happy to sit down and have a glass of wine with who ever came to his property and share conversation about food, wine and travel among other topics. He is sorely missed by those who had the privilege to get to know him.
The views from the estate are fairly unique to Napa Valley; from their hillside location there is a visual straight line of site all the way up the valley to Mt. St. Helena anchoring the northern end. While not directly affected by the terrible fires in October of 2017, Paul remembers looking east and seeing all the flames burning the hillsides of Atlas Peak and below – all the way down to the Silverado Country Club.
The Maroon property is 35 acres of which approximately 20 acres are planted to vine – entirely to Cabernet Sauvignon. The area boasts good terroir for vines – nearby neighbors include Robert Craig (long time and well-known Cabernet Sauvignon producer in the Napa Valley) and Sodaro Estate. There is a reason vines will never be planted on one side of their property; one of their neighbors is the Napa Country Club.
Select Wines
The 2009 Maroon Chardonnay is from the Oak Knoll district in Napa (150 cases). Only 30% of this wine went through malolactic fermentation – "everything we love about Chardonnay," Maroon's General Manager at the time, Kelly Darter told us – not over oaked and not too buttery either. The bouquet is somewhat tropical along with aromas of citrus blossom. The wine has a lean entry but gains layers of flavor quickly by mid palate through to the finish. It is a lively wine with a long complete finish that shows just a whisper of vanilla.
The 2009 Maroon Vineyard 100% Cabernet Sauvignon reveals an elegant bouquet with an inviting smokiness, black licorice, blackberry, toasted oak – which becomes a bit more floral as it opens. It is obvious right away that this wine has great mouthwatering acidity (all natural in this case). This wine is already really balanced for being so young.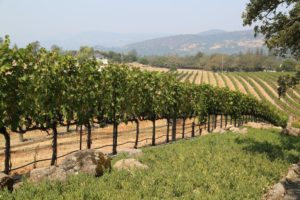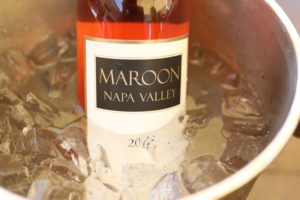 Maroon hand crafts a number of very small production wines from vineyard sources that may change from year to year. While the vineyard sources may change, their wine making philosophy does not – focusing on creating 100% varietal wines (no blending). These wines are often only made available to their wine club.
Case in point is a their unique by Napa standard wine – the 2007 100% varietal Petit Verdot. Very few producers in the valley make a 100% Petit Verdot from this varietal – preferring instead to use it as a blending grape. This wine was originally going to be used in a blend, but it showed so well by itself it was bottled as a standalone varietal. It should also be mentioned that Petit Verdot is always among the highest priced grapes by tonnage sold in the Napa Valley.
The 2007 Maroon Petit Verdot is a dark inky black wine in the glass. It shows a "pretty" aromatic bouquet with ripe plum, blackberry and truffle. The palate offers a richness of fruit that is often so characteristic of this varietal. Layers of chewy ripe black fruit ripple through the palate from start to the end. The firm structured tannins are slightly course and anchor a deliciously long finish.
The 2013 Maroon Malbec is very ripe on the bouquet, but this ripeness does not necessarily carry through to the palate. This wine is fairly balanced for being so young at the time of our tasting. 2013 was also the year they introduced a Merlot for the first time.
—
In 2023 Maroon Wines entered a philanthropic partnership with the non profit Wine to Water. Their inaugural bottling the Maroon Wines 2019 Wine to Water Merlot raises $15 from the sale of each bottle to support access to clean drinking water in communities in Nepal, the Amazon region, East Africa and Dominican Republic.
Maroon Wines is a member of the Coombsville Vintners and Growers association. This organization hosts a once a year consumer tasting for wines from its members every May. While Maroon Wines is not open to the public, this event is a great way to taste some of their current release wines. It is typically held at the Napa Valley Country Club off of Hagen Road in Coombsville or at the Copia in downtown Napa.
Their total current production hovers around 10,000 cases per year. While they are selectively distributed in Texas, Georgia and New York as well as restaurants in San Francisco, Maroon also sells direct. They offer a wine club which features a variety of wines – usually with a production of under several hundred cases. These special select wines are only available to their wine club.
For more information, to purchase wine and or to join one of three levels of membership in their wine club, visit: www.maroonwines.com