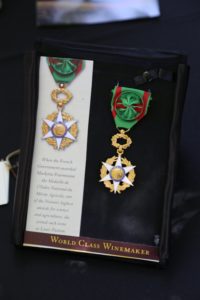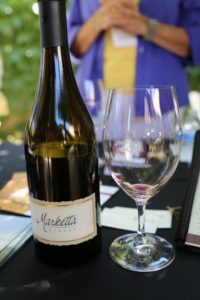 Marketta Winery produces small quantity premium Napa Valley wines handcrafted by long time French and American winemaker Marketta Fourmeaux. Marketta was born in Finland and initially visited California as an exchange student in 1968 and 1969. She returned to California in 1980, four years after the famous Paris tasting of 1976. At the time, Marketta was a wine taster for the Appellation d'origine contrôlée, AOC (in Bordeaux). AOC sent her to California to visit wineries and sample wines; six months into her trip after tasting several thousand wines, she filed a report back to AOC indicating their findings. Her report indicated California was developing into a serious wine producer and held significant potential.
After her research was completed, Marketta decided not to return to France. She fell in love with Napa Valley and with her husband at the time, Jean-Noel, settled in the San Francisco Bay Area. She and Jean-Noel decided to enter the wine business and work with grape contractors rather than owning their own vineyards. Their business eventually failed. Then the couple purchased their first vineyard in Napa Valley, a small parcel off of the Silverado Trail in Calistoga. Soon after their purchase, they sold this site and in 1988 purchased the 202 acre property that would eventually become home to Chateau Potelle Winery. In the early years, Marketta crafted the Chateau Potelle wines at Hess Collection.
With the success of Chateau Potelle she and Jean-Noel purchased land in Paso Robles (at one point owning nearly 300 acres) and produced wines under a separate brand called Gravity Hills. They sold the Chateau Potelle property in 2007 to Kendall Jackson who has long since torn down the old tasting room/winery.
And after the sale, Jean-Noel has continued to produce wines on his own, slightly rebranding the wines as VGS Chateau Potelle Winery. He also operates a tasting room along Highway 29 south of St. Helena.
After selling Chateau Potelle Marketta began researching custom crush facilities for making her own wines but quickly realized it made most sense from a wine making perspective to have full control of her wine making operations. She already owned a home near downtown Napa (an old Victorian that dates from 1887) and below the first floor was a 3.5 foot tall 'crawl space'. Needing to be near her wine (and having a perspective of how small wineries operate in Burgundy) led her to excavate under her house entirely by hand – shovel by shovel with dirt and rock carted away in wheel barrels. The excavation was a year long project – ultimately she secured a bond to produce wine commercially 'under the house' in this residential neighborhood.
We have visited a number of "garagiste" wineries in the Napa Valley and Marketta's winery is one of the top three that we've seen, a list that also includes Portfolio Winery and Sabina Vineyards.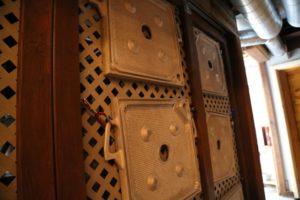 She designed it from scratch to be a fully working winery (on a micro scale). While small, the winery functions well; there is space for barrels, several stainless steel tanks, a press and even an area to hand label each bottle. Her 'crush pad' is on the ground floor outside the winery with a 'trap door' that opens into the winery where her grapes can then be processed. Despite being a fairly 'new' winery – walking into this cellar feels like walking back in time – with old medals and awards hanging on the walls, the use of old recycled wood and even old metal frames dating from the 1940's of an old plate and frame wine filter.
This is the third winery Marketta has developed in her wine-making career; the first was Les Jamelles in Languedoc, southern France followed by Chateau Potelle in Napa's Mt. Veeder appellation. At each winery her production has decreased; at Les Jamelles in Languedoc as co-owner and winemaker she made about 100,000 cases annually, at Chateau Potelle over 25,000 cases and now she is focusing on only several wines including a Sauvignon Blanc, Chardonnay and a red blend from a vineyard on Mt. Veeder. Her first vintage dates from 2007 and total production as of our latest update is only 200 cases.
NOTE: as of our latest update to this review in 2022, we have heard that Marketta will be moving from her current house and winery to a new location near Oxbow Public Market in downtown Napa and has plans to move production/build a new 'garagiste' winery in her new location. We will update this review and add newer tasting notes once we have more details about this.
Minimalistic winemaking is key to Marketta's winemaking style. As she says, "the less you manipulate the grape, the more you bring out the site specific characteristics" – terroir if you will. And natural fermentation using indigenous yeasts is an important characteristic of her winemaking. This type of winemaking certainly takes more "babysitting" as she says – it is more time intensive and detail oriented. However with more than 30 harvests under her belt she has long since overcome the challenges created by natural fermentation.
Rather than the common 7-12 days of fermentation that occurs after inoculating with commercial yeast, Marketta's wines sometimes take up to 2 months to finish their primary fermentations. Marketta has noticed that fermenting her wines with true natural yeast result in different flavors and characteristics – flavors that have long been sought out by her consumers. And this is especially true with each barrel – it is its own entity with its own unique flavors and characteristics.
She was trained in a classic style of wine making in France and has developed "her" style of wines over the years. Marketta is not in wine making to follow fads, trends or gimmicks – she follows her own style. There are a number of vintners in the valley fermenting using indigenous yeasts; Marketta says true natural fermentation is fairly difficult. The most important aspect of natural fermentation is that a winery needs to be in a "neutral" location – meaning it is not subjected to additional yeasts from commercial fermentations or is nearby other wineries. New barrels are needed (for both fermentation and aging) and cleanliness is critical in the winery.
Similar to styles of cooking – length of time makes a difference and allows the flavors to integrate and develop additional complexities and nuances. Nothing is done quick here. Once the wine is in the bottle it is aged for significant more time before it is released; take for instance her Sauvignon Blanc – most winery current releases are typically several years younger then Marketta current vintages. Most of her current releases are 6 and 7 years past the vintage date including her Chardonnay (which is built to age longer than many quick to market wines of this variety).
Select Wines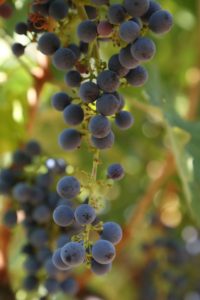 During a recent visit we sampled two vintages of her Sauvignon Blanc; both wines were sourced from Pope Valley in eastern Napa County. She planted the source vineyard for this wine and has overseen its management and development; she has worked with its fruit for a number of years prior to making wine under the Handmade by Marketta label.
The 2007 Marketta Sauvignon Blanc has benefited, from additional aging, like all of Marketta's wines. The bouquet is elegant and initially shows notes of tangerine, citrus blossom and as the wine opens an enticing honeycomb aroma emerges as well as fainter notes of pineapple. This wine is rounded, yet retains a nice crispness. Additional aging has helped the wine develop complexities and nuances in both the bouquet and the palate. This is a very balanced wine.
Of the two wines, the 2009 vintage is a good choice for pairing with food (Marketta recommends clam pasta). This vintage is of course younger but it also has a higher acidity. The bouquet is clearly different from the older vintage; notes of Meyer lemon, orange peel and citrus blossom show along with a flinty characteristic. The mouth feel is clean and crisp with a smooth finish.
—
Marketta's efforts over the years speak through her wines but it is always nice to be internationally recognized as well. In 2008 she was awarded the Medaille de L'Ordre du Merite Agricole by the French President and Government (a past recipient was Louis Pasteur). Her wines are available direct through her website and mailing list as well as select restaurants in Napa Valley. Her production is so small that she focuses her very limited distribution locally.
Visits are by invitation only and are available for groups of 2 to 10 people. For more information and to join her mailing list visit: www.markettawinery.com