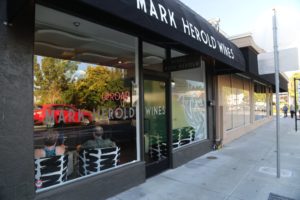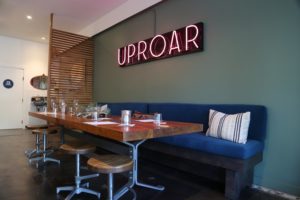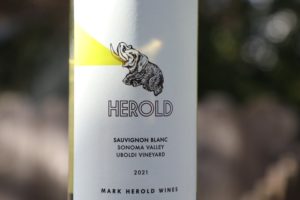 Mark Herold Wines operates a tasting room within a short walk of the Oxbow Public Market near the Napa River. A few years ago, there were no tasting rooms in this part of the city of Napa; today there a number within a block or two of each other. Visit one, visit several, they are all within easy walking distance of each other.
This is a unique tasting experience (by Napa standards) as nearly all of their wines are from non-Napa sources (although they are made in the city of Napa). It is almost expected that when you walk into a Napa based tasting room you will find the obligatory Chardonnay and Cabernet Sauvignon. For several years after they opened, one would visit this tasting room and not be able to taste a Napa Valley Cabernet Sauvignon; that has changed and now Mark Herold offers several Cabernet Sauvignons for tasting. A number of their wines are made with varieties you typically will be hard pressed to find in Napa Valley. And the tasting room often has some select older vintages available for trying as well as purchasing.
Mark has scoured California's diverse wine regions sourcing the best possible grapes he can find. Over the years he has sourced from Mendocino and Lake Counties in the north to Lodi further south and east. Some of these grapes include the Spanish varieties Albariño and Graciano and additional varieties such as Carignan and Grenache. Today his focus is more on Napa Valley including from Oakville, Coombsville and Atlas Peak.
Mark spent his formative years in Panama and then moved to California where he went to school in Orange County (Southern California). He moved north for college to UC Davis. Mark was studying biochemistry and aquaculture at UC Davis and learning how to as he puts it, "raise fish" when a professor convinced him to make a few barrels of wine. His initial professional foray in the wine industry was at Joseph Phelps where he studied phenolic profiles of grapes from all over Napa Valley but kept returning to grapes from the Coombsville region. This somewhat cooler growing region is located just east of the town of Napa (but with its own number of unique micro-climates). Mark has been working with grapes from this region since the mid 1990s and has identified some of this appellation's top vineyards.
After working at Phelps, Mark started his own label with Erika Gottl in their garage and named it Merus, which in Latin means "undiluted, unmixed or complete" in regards to the wine. This name was an appropriate description of their wines right from the outset. Their first vintage in 1998 earned remarkable scores from wine writers and acclaim both domestically and internationally.
After selling Merus in late 2007 Mark needed his own "projects" to work on. He started a consulting business and now consults for a number of premium mostly Napa based producers. With the success of Merus, Mark also started his own wine label which today includes Acha, Flux and Collide. These labels give him the "fun" of having a wide "latitude of terroir" to source from, by selecting regions in the north part of the state to work with varieties that grow best in their respective locations. Mark helped usher in a new wave of Napa Valley vintners (mostly young) who live in Napa Valley but source a diversity of grape varieties from outside of Napa Valley. With that said, Mark has long been a proponent of and worked with fruit from Coombsville which is still Napa's most recent sub appellation, having been founded in 2011. One of his Napa Valley Cabernet Sauvignon's is sourced from Coombsville.
In May 2023, Mark sold his Mark Herold brand to Brion Wise, the proprietor of Napa Valley based BRION and Sonoma Valley based B. Wise Vineyards and Amapola Creek. Mark has known Brion for many years having consulted for both BRION and B. Wise. Mark will continue to oversee winemaking for Mark Herold Wines.
And the prominent elephant which is on his wine label reflects both Mark's outgoing and larger than life personality as well as his stature. Well regarded graphics designer, Michael McDermott created this after consultation with Mark.
Select Wines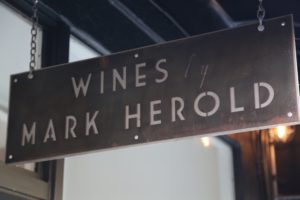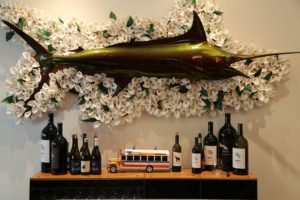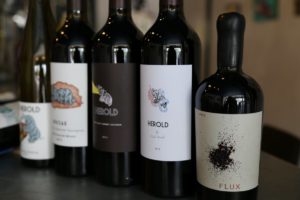 The 2021 Herold Sauvignon Blanc Sonoma Valley, Uboldi Vineyard (near the town of Kenwood) is 100% varietal. It was whole cluster pressed and then fermented in egg-shaped concrete vessels, followed by 6 months of aging in concrete before bottling. Whenever we pop a Sauvignon Blanc from a Napa Valley producer (and its very often) we always pay special attention to the aromatics as often the scents will immediately categorize the wine as being more green and grassy or riper and tropical. This wine is somewhere in between. It is medium gold in color; the bouquet offers attractive aromas of white peach, honeysuckle, jasmine, honeycomb, red apple and light notes of pomelo and grapefruit. Give this wine extra time to breath – the aromatics show more of a sweetly fruited note including of mango and pineapple. This wine is superbly balanced including a bright but not bracing acidity. Its texture is rounded and lightly creamy supported by energetic fruit flavors of apple, lemon/lime and some mineralities. Bring this bottling to a summer pool party and you will surely make new friends.
The 2014 Herold Sauvignon Blanc was sourced from the Blau Vineyard in neighboring Sonoma County. The bouquet is inviting revealing tropical aromas with an underlying flinty or mineral note. The mouth feel is pleasing – it is creamy and rounded. One might think this wine is going to show a riper profile on the palate based on the aromatics but in actuality it has bright acidity showing citrus notes. It was fermented in a concrete egg.
The fun 2011 Flux Blanc was also fermented and aged in concrete vessels. This wine is made from Grenache Blanc and Roussanne sourced from vineyards in both Lodi and Lake County. The Roussanne in part adds a pleasing mouth feel including weight and softness. The aromatics are both floral and slightly tropical with notes of citrus blossom. The delicate finish lingers with flavors of Meyer lemon and hints of honey.
Another intriguing wine is the 2011 Flux Rosé made from Carignan and Grenache. Some of the vines are 80+ year old and head pruned from a vineyard in Mendocino County. The juice sees just a kiss of the skins before pressing giving it its delicate pink color. This wine was fermented in neutral oak; aromatically it shows both raspberry and strawberry -this is a clean, light and balanced rosé.
Acha is Spanish for "hatchet" and all the wines made under this label show two crossed hatchets on the bottle. The 2008 Acha is a unique Tempranillo based blend; it is dark in the glass and reveals an interesting mix of aromas including dark cherry, ripe blackberry and cassis. It offers a ripe and expressive nose. The palate reveals flavors of blackberry and mirroring the bouquet, cherry. The finish has good length with well-structured tannins accompanied by notes of lingering toasted.
The 2009 Collide is aptly named – a collision of varieties one normally don't see blended together including Petite Sirah, Tempranillo, Graciano, and a small amount of Cabernet Sauvignon. This wine has a very unique and interesting bouquet which is somewhat musty, earthy with dark fruit aromas. It's the softest of the red wines we tried up front but quickly showcases a noticeable structure present in all of Mark's red wines.
The 2013 Uproar is a blend of three vineyard sources in Napa (Atlas Peak, Coombsville and Oakville). A darker fruit aroma shows on the bouquet, including of plum along with a pleasant smokiness and ripe blueberry. The wine shows a satisfying texture on the palate both density of texture as well as of flavor. The tannins are dusty and fairly well integrated lingering with notes of toasted oak on the finish. While not as robust as some of the other Cabernets produced, this wine over delivers in quality based on the price.
The 2013 Herold White Label Cabernet Sauvignon is from vineyard sources in both Oakville and Coombsville. Like the other Cabernet Sauvignons we tasted, this wine is very dark – showing a deep ruby color in the glass. On the nose it is highly aromatic with aromas of wet rock, a dustiness, tar and brooding deeper darker fruit notes including ripe plum. This is a robust wine both in flavor and structure and higher alcohol. This wine needs to breathe and as it does, it continues to show additional fruit layers on the palate as it opens with vanilla and mocha notes showing on the mid to the end of palate. Mouth filling robust tannins anchor a long finish.
And there is even another wine for serious hedonists to look for, a wine so rare that Mark only chooses one or two barrels of his best Cabernet Sauvignon lots from all his vineyard sources. He then exclusively bottles this wine in Magnums called the Mastodon.
—
This tasting space was originally furnished with an eclectic feel and continues to offer one of downtown Napa's more enjoyable tasting room experiences. A giant Marlin that Mark purchased on eBay hangs on the wall (the paint job alone on this giant fish cost thousands). A complete renovation of the tasting room was completed in 2018 providing a cleaner and contemporary feel.
For a short while, Mark Herold operated two tasting rooms in downtown Napa – this one and the Reserve Room by Mark Herold. The Reserve Room has since closed. Mark Herold Wines are distributed nationally in select states including Texas, which has been one of their most popular markets. You can also purchase direct. For more information, to purchase wine or to join their wine club, visit: www.markheroldwines.com