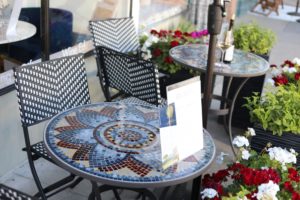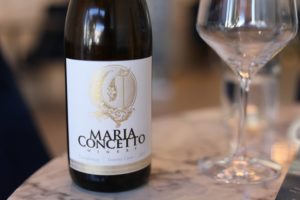 Maria Concetto Winery. Founder, Maria Reznikova was born in the former Soviet Union; she eventually moved to the U.S. before later spending five years living in Garmisch-Partenkirchen (an alpine town in the Bavarian alps in southern Germany near the border of Switzerland) with her family. The former Soviet Union does not have a culture of wine (vodka is generally the preferred drink of choice) so it was through her time living in Europe that she was introduced to fine wines. She explored both Germany but also France and Italy – falling particularly in love with the Italian lifestyle and wines. She chose concetto for the name of her wine brand, meaning "concept" in Italian.
The inception of Mario Concetto came about in April 2020. She had worked in Information Technology for years including at Macy's and Charles Schwab; in mid 2020 she found herself without a job. After spending about a month confined to her home in San Ramon (San Francisco Bay Area) she flew to Germany with a friend, spending some time exploring in and around Heidelberg. One day while driving through vineyards she spotted a small winery, a 'hole in the wall' as she calls it. She stopped her car, wondering if the owners would be available to host them for a tasting. They were and after a few glasses of wine she said to herself, "I should be doing something like this in California".
Upon returning to California, she and her friend took a trip up to Napa Valley, stopping at V Sattui and Castello di Amorosa and then continuing up to Mendocino County. While in the Yorkville Highlands they met a winery owner who was selling his winery. It was through him that she was eventually introduced to her founding winemaker, Gregory Graziano. These first connections in Mendocino County are the reason why the early Maria Concetto wines are primarily from Mendocino County. Wanting a retail presence to showcase her wines, she initially considered Walnut Creek (near her hometown of San Ramon) but with a lack of wine focused tourism, she looked to Napa Valley. As luck would have it, a friend introduced her to T'Anne Smith who was operating the WH Smith tasting room in Calistoga. T'Anne was in the process of moving to Hawaii and the timing was ideal.
Maria took over the former W.H. Smith tasting room and made a complete interior redesign – opening to the public in early June 2022. Wine brands often take years to launch based on the model of growing grapes, making the wine, aging the wine and then releasing it. Her ability to launch Maria Concetto in such a short amount of time is rather remarkable. Maria Concetto does not own vineyards. Based on her winemaker connections she was able to source wines made before she started Maria Concetto and subsequently bottle them under her own label.
Only about two years was needed from her idea of starting a wine brand while in Germany in April 2020 to all the work of building a new wine business and overseeing all of its details including launching the tasting room.
One can hear the excitement in her voice when she describes her new career choice as being something that brings immediate joy to people. And compared to her work in Information Technology, the wine business has also been more personally gratifying.
Maria embraces diversity of both wines and winemakers. At the time of our visit three different winemakers produce her wines including in Mendocino and in Napa Valley. She is actively involved in all blending decisions with her winemakers. Additional wines will be produced from Napa Valley including an Oakville vineyard designate Cabernet Sauvignon and a Malbec.
Select Wines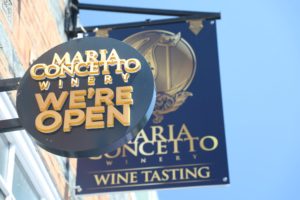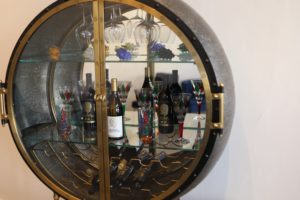 Maria Concetto produces two very different styles of Chardonnay. The 2019 Maria Concetto Chardonnay Sonoma Coast spent 12 months aging in neutral American oak barrels. This wine went through 25% malolactic fermentation. It is medium gold in color; the bouquet offers aromas of honeycomb and honeysuckle, pineapple, coconut and a hint of vanilla. There are also some floral influences including of citrus blossom. It offers flavors of guava, pear and red apple supported by a creamy texture. It lingers bright, with a hint of anise seed on the finish. This wine is 15.2% alcohol.
The 2018 Maria Concetto Chardonnay Santa Rita Hills (Santa Barbara County) was aged for 12 months in new French oak barrels. Due to the influence of oak and 50% malolactic fermentation, this is a dramatically different wine from the Sonoma Coast bottling. It is deep gold in color; one can immediately notice the oak influence on the bouquet with secondary aromas of honeycomb, crème Brule, brown sugar, vanilla, warm butter and caramel. The bouquet also shows layered fruit aromatics including of peach, melon, mango and nectarine. It offers a noticeable creamy almost oily viscosity across the length of the palate and lingers with a pleasing brightness of acidity.
The 2018 Maria Concetto Pinot Noir, Mendocino County was aged for 30 months in 95% neutral oak barrels. This wine is pale ruby in color; at the time of our tasting the bouquet needed some time to be coaxed out; it offers aromas of raspberry and strawberry with a hint of leather, dried herbs and the tip of a matchstick (which soon dissipates). This wine offers plenty of flavor including of cherry and red plums and lingers with lighter but noticeable tannins. It is a bigger but balanced showing of this variety.
The 2017 Maria Concetto Zinfandel is medium ruby in color; it offers initial aromas of milk chocolate, licorice, rhubarb and baking spices including clove. This wine tastes like the variety with flavors of raspberry and red licorice and some darker spice notes. The finish is somewhat savory, showing long lasting earthy tannins of a medium grip. The finish also lingers with notes of dried tobacco leaf. This wine was aged in both French and American oak barrels for 36 months.
The 2018 Maria Concetto Napa Valley Cabernet Sauvignon Reserve is 75% Cabernet Sauvignon and 25% Petite Sirah (both varieties from Oakville). This wine is dark ruby in color and almost opaque. The bouquet is elegant with aromas of violets, a hint of old leather, bittersweet dark chocolate, dark plum and old cedar box. Give it time to open – and it will, showing a further sweetness of fruit aromatics. It offers flavors of red cherry, red plum and licorice – primarily showing higher toned fruits. The tannins are dusty, slightly drying and long lasting. This is more of an elegant showing than the more robust 2019 Broken Rock Vineyard Cabernet Sauvignon.
The 2019 Maria Concetto Broken Rock Vineyard Cabernet Sauvignon is 95% varietal with the remainder 5% of Petite Sirah, Malbec and Merlot. This hillside vineyard is located on the very rocky lower slopes of Atlas Peak (a short drive from downtown Napa). This is immediately a savory showing, both on the bouquet and palate. This wine is dark ruby in color with brooding aromatics including of old cedar, dark spices (clove), some meaty nuances and notes of pepper. The wine is dark across the palate with flavors of dark plum. The tannins are earthy, gravelly in texture and chewy. These persist for quite some time along with a brightness of acidity and notes of dried tobacco. This wine was a very limited production; only 720 bottles were produced with each bottle numbered. We immediately thought of pairing this wine with BBQ ribs or a ribeye steak.
When drinking sweet wines, Maria enjoys a style of wine with good acidity but is only slightly sweet. The 2020 Maria Concetto Moscato Mendocino County is pale straw in color; the bouquet is immediate – showing very floral including aromas of star jasmine along with notes of apricot and white peach. Deeper in the bouquet is a hint of wintergreen and crushed pine needle. The palate offers a diversity of flavors including pear, red apple, tropical fruit notes, citrus including lemon/lime and a lingering flavor of nectarine. This wine is semi-sweet which is balanced very nicely by its lively and bright finish. It is ideal for drinking on a warm summer evening by the pool. Sip away.
The Maria Concetto tasting room is located in downtown Calistoga, within easy walking distance of other neighboring tasting rooms and numerous restaurants. It offers a spacious interior with both indoor seating and several tables located outside in front of the tasting room. Visits are by walk in or reservations which are especially welcome on busier summer or fall weekends. While they do not have a commercial kitchen on site, they do bring in cheese and charcuterie to pair with the wines. And instead of their regular tasting, guests can request a red or white wine only tasting.
In 2023, Maria added a unique item to her tasting room, the RobinoVino robot which serves guests glasses of wine.
Sometimes the tasting room hosts special events including live music. For more information, to purchase wine or to sign up for one of their wine club memberships (Platinum, Gold or Diamond), visit: www.mariaconcettowinery.com