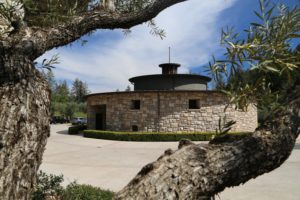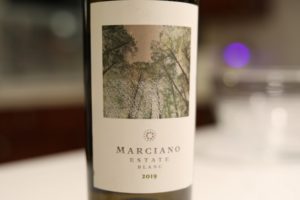 Marciano Estate. There are a certain number of properties within Napa Valley that are uniquely special based on the site, history or vineyard pedigree. What is now Marciano Estate is one of these properties. It is 60 acres located in the rolling lower elevation hills of the Mayacamas mountains southwest of the town of St. Helena. Some of its historical vineyard neighbors include Hayne Vineyard, Lewelling Vineyards and a couple of nearby Beckstoffer owned properties.
The property was under ownership of the Bourn Family, a prominent family in St. Helena. They called this property the Madroño estate. This is the same family that owned the Empire Gold Mine in Grass Valley, California (one of the most notable gold mines in the state and now a State Historic Park). This family (William Bourn II) is also connected with the construction of the impressive Greystone Cellars Winery in St. Helena (now occupied by the Culinary Institute of America). There is still even a Bourn Vineyard just west of the town of St. Helena, a portion of which is owned by prominent grower Andy Beckstoffer. The Bourn's owned their Madroño property from 1872 until the late 1950's.
The Bourn Family eventually sold this estate to the Christian Brothers who in turned used it as a Catholic retreat center. After they sold it, a family purchased and planted 20 acres of grapes on site with the fruit going into the portfolio of several local wineries. In 2006 long time collector (especially of older Bordeaux wines) Maurice Marciano purchased the property and over the subsequent years invested his creativity along with many others into building what has become a remarkable estate.
Maurice was born and raised in Marseille, France and is most well-known for being a co-founder of Guess Inc., along with his three brothers, Paul, Armand (reference Family Chateaux) and Georges, the owner of LHotel Montreal in old town Montreal. Maurice is also a prolific art collector and opened a contemporary art museum (Marciano Art Foundation) in Los Angeles (one of the great museum cities in the country) at the end of May 2017 but this museum permanently closed at the end of December 2019.
An estate like this with its historical pedigree should be focused on its own vineyards and estate wines. And it is – Maurice purchases no grapes from other vineyards. The property has changed dramatically since his purchase in 2006. He hired prominent architect Howard Backen of St. Helena based Backen, Gillam, & Kroeger Architects to design the winery and David Abreu to manage the vineyards.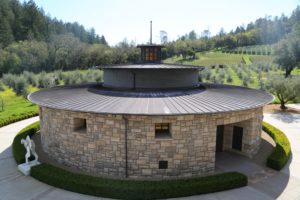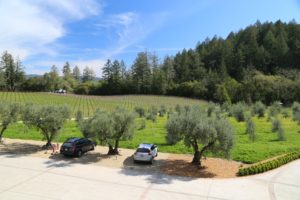 After David Abreu provided his initial vineyard evaluation, the joint decision was made to cut the vineyard acreage in half from twenty acres to ten – focusing on the most premium sites on the property. Today four of the five major Bordeaux red varietals are planted – the exception being Malbec. Five of the other ten acres were then planted to olive trees – and now there are nearly 1000 olive trees on site planted to both Italian and Spanish cultivars. They produce a premium olive oil each year – most recently taking top recognition at the annual Los Angeles International Extra Virgin Olive Oil Competition.
Ultimately the winery design took on the contours of the rounded shapes and curvatures of the various features on the property. The stand-alone barrel room is the signature building on site – one that your eye immediately is attracted to upon pulling up to the winery. This contains two vintages of wine. The winery itself is state-of-the-art featuring small tanks that correspond to each block within the vineyard.
Former Marciano Estate winemaker Morgan Maureze was an early member of the winemaking team – soon after Maurice purchased the property. He has played an integral role in both making the wine and helping oversee the vineyards; today they have their own in-house viticulture and vineyard management team.
Morgan was born in France to a wine-making family (where he only spent several years of his childhood). He moved with his family to Napa Valley in 1985 where his father became the General Manager of Dominus Winery in Yountville. Growing up immersed in both the French and the American wine world perhaps it was natural that he followed his family's wine pursuits.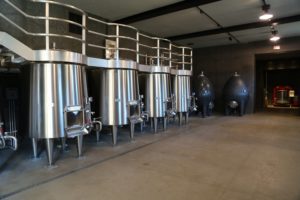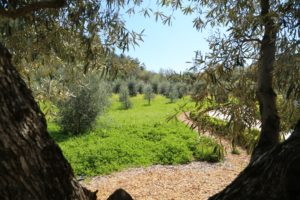 He earned his degree in Viticulture and Enology from UC Davis and then moved to France to continue his education through the University of Bordeaux working at famed wineries such as Petrus and ultimately completing his Master's Thesis at the storied Domaine Romanée Conti. Returning to Napa Valley he joined winemaker Andy Erickson's team – assisting him make wine at a number of Napa's most premium properties including Screaming Eagle and Dalla Valle among others.
There is something to be said for working on a property since its inception – especially the vineyards. Morgan was able to fine tune details both in the vineyard and in the winery based on the maturity of the vines, differing vintages and the specific terroir on this estate.
His attention to detail is highly focused inside the winery – using technology to complement and perhaps backup his own observations both in the vineyard and in the winery. While the technology is nice to have (and this winery certainly uses it), Morgan was quick to tell us that human observation of the vineyards is critical. During his time at Marciano Estate he walked the vines often looking for things out of the ordinary; in the winery they use automatic pump overs, each tank is equipped with its own pump (which saves time and prevents possible contamination or blending issues) but he finds he needs to taste the wine more often – checking for flavor development, tannins levels and other important attributes during the actual wine making.
Marciano Estate produces five wines; their total production is around 1200 cases annually (they tend to hold a sizable percentage of wines back for their Library). We tried the following wines:
Select Wines
Their Sauvignon Blanc vineyard is separate from the rest of the vineyard. This block sees a lot of shade and Morgan often has it picked several times during harvest to ensure he is only picking the grapes when they are ready. They ferment this varietal in part in concrete eggs (also used in their red wine program). These 'eggs' are state of the art with the heating and cooling system built directly into the 'shell' or in the concrete rather than being an external device.
The 2019 Marciano Estate Blanc is produced from a single acre on the estate; it does not go through malolactic fermentation and was aged in French oak barrels and concrete. This wine is medium yellow in color; the bouquet offers aromas of lemon zest, lemon verbena, lemongrass, kaffir lime leaves, dried haystack and other citrus notes. Additional light aromas include melon, white peach and some floral hints as the wine evolves in the glass including citrus blossom and hints of jasmine. The palate offers a rounded and supple texture with flavors of lemon juice, grapefruit, green apple and guava. This wine shows its inherent varietal characteristics but is not overly green nor grassy. The finish is bright, long lasting and persists with some mineralities. This is one of Napa Valley's most premiere Sauvignon Blancs.
The 2015 Marciano Estate Massiglia Sauvignon Blanc was made to preserve the freshness and liveliness of this particular varietal. The wine was not stirred on the lees post fermentation – was aged in both new French oak, 25% stainless steel barrels and 50% neutral oak. This wine is bright golden in color; it reveals a delicious bouquet bursting with aromatics including green apple, more subtle notes of pineapple and as it opens a diversity of citrus aromas show including lime. It is balanced with lingering sweetness and tartness along with very subtle notes of toasted caramel.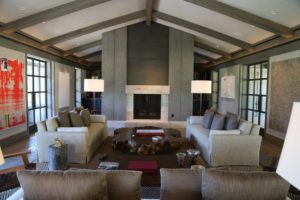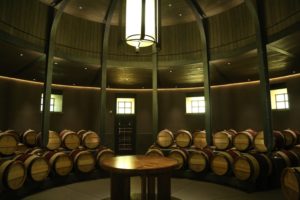 The 2013 Marciano Estate Massiglia Red Wine is dark ruby in the glass revealing a voluptuous nose with an elegant core of fruit woven throughout the bouquet. Black currant, cassis and more – this wine is well layered aromatically. Darker fruit shows – black currant, black cherry with flavors of cassis anchored by earthy tannins – with nuances of smoke on the finish. Ample structure with plenty of flavor.
The 2013 Marciano Estate Cabernet Sauvignon – their flagship wine is from the best blocks on the property. This vintage/wine is also blended with 7% Cabernet Franc and 3% Petit Verdot. It is 'generous' as Morgan puts it – generous in aroma and flavor. It is quite dark in the glass with sweet aromatics showing blackberry, elegant cedar notes and mocha. The tannins are dusty, earthy in nature – they do not necessarily have a course feel on the palate but provide plenty of structure to the long finish. Balanced but big, yet still retains some elegance.
A very unique offering from a Napa based winery is Kosher wine. We know of only two other true kosher producers making wine in the Napa Valley (Hagafen & Padis Estate, which is made at Hagafen). Morgan oversaw the entire winemaking for this wine but did not physically touch anything related to making this wine (tanks, barrels, the wine itself). Rabbis make the trek up from Berkeley to do the hands-on work as needed. Demand has been high for this premium rare wine (Cabernet Sauvignon and Cabernet Franc) and production has increased accordingly.
—
Also of note, Maurice and his brother Paul and until mid 2023, Christian Navarro, a noted wine expert own one of Los Angeles's iconic retail wine brands, Wally's Wine & Spirits. The flagship Wally's is in Beverly Hills; a second store location is in Santa Monica and in late summer 2021, a third location opened in Las Vegas. In mid 2023 Navarro left Wally's to work with the Oak View Group, a global sports and entertainment company.
Wally's Beverly Hills
In 2013 Maurice, his brother Paul and Christian Navarro (a noted wine expert), purchased one of Los Angeles's iconic wine shops, Wally's Wine & Spirits from its founder Steve Wallace. The original and flagship store which operated since 1968 at 2107 Westwood Boulevard permanently closed in late 2018. The current flagship Wally's is located at 447 N. Canon Drive in Beverly Hills. This location is within a short walk to Rodeo Drive and a public underground parking garage is located directly next door.
We have been to this location numerous times for both various wine related events and casual shopping. A highlight of a visit is a visit to the climate-controlled vault room located towards the back of the store. This room contains numerous bottlings of First Growth producers including older vintages along with other exceptional and rare wines. And the rest of the store is lined floor to ceiling with bottles catalogued by wine regions. A sommelier on staff can help narrow down specific wine choices. And like the other Wally's locations, this store is also a restaurant with both indoor and curbside seating. Its wine list as expected is a formidable one and features more than 120 wines by the glass and plenty of artisan cocktails to.
Wally's is also a recipient of The Wine Spectator's Grand Award (in 2017) – the most coveted award given by this magazine. As of our latest update to this review, there are less than 100 active awards recipients who have been awarded the Grand Award since they began this in 1981. One also visits this store for its selection of spirits, caviar, specialty meats and artisanal chocolates.
And this space in particular, is always a magnet for handsome and well-heeled people and is a place to see and be seen.
Wally's Santa Monica
This Wally's is conveniently located at 214 Wilshire Boulevard, a couple of blocks from the Santa Monica Beach and a few minutes' walk to 3rd Street Promenade (a collection of restaurants and shops located along a pedestrian only street). And after lunch or dinner one can hoof it down to the nearby iconic Santa Monica Pier – about a 15-minute walk.
Like at the other Wally's locations the selection of both domestic and international wines is excellent.
And not to be missed is their wonderful culinary scene; we highly recommend the delicious lobster salad, Wally's Hero (sandwich) and the Truffle Bolognese. Pair all of the above with a fresh Sancerre Sauvignon Blanc recommended by the Wally's in-house sommelier. Seating is either available at the counter or at a number of both low and high-top tables as well as outside, curbside.
Wally's Las Vegas
This is the most recent retail space for Wally's, having opened in late summer 2021. It is located on the north end of the Las Vegas Strip inside The District at Resorts World, Resorts World Las Vegas Casino. The District contains 70,000 square feet of retail space and houses a number of boutique shops.
The look and feel of this Wally's is very similar to both of the Wally's in Los Angeles. The big difference here is that this Wally's is housed entirely indoors and its entrance is located near numerous slot machines. Unlike some casinos which do not charge for parking, Resorts World charges for parking in a multi-level parking garage located within about a 10-minute walk of the entrance to Wally's. Visitors who don't have a car, i.e. those who use the Las Vegas Monorail would typically enter The District from Las Vegas Boulevard. The closest monorail stop to Wally's is the Las Vegas Convention Center (about a 15-20 minute walk away).
The high end 'collectors' wine room (synonymous with Wally's) is in a fairly small space compared to the other stores. A semi private room is used for hosting industry and private events. Along with breakfast, lunch and dinner, a daily brunch is served.
The wines are available through their mailing list and also at select restaurants in both Napa Valley and Los Angeles including Meadowood and The French Laundry and at Spago and Cut in Beverly Hills. And of course, at Wally's.
For more information about the estate, their wines and olive oil please visit: www.marcianoestate.com