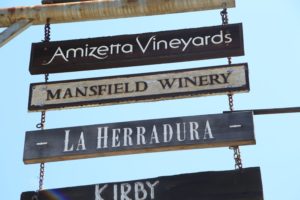 Mansfield Winery is located mere minutes from the Napa Valley floor but off of a narrow winding road that makes it feel like you are totally in the country. This winery is run by Richard & Leslie Mansfield, both very accomplished in their respective fields. Richard has been a winemaker since 1979 having earned viticulture & enology degrees from the University of Geisenheim in Germany as well as a degree in Chemistry from the University of Oregon.
He founded Callahan Ridge winery which grew to be one of Oregon's larger wineries. Leslie graduated from the prestigious Ecole Ritz Escoffier at the Hotel Ritz in Paris and has written a number of well-received cookbooks. She also spent a number of years in Korea and designed 50% of Nike's Olympic apparel for the 1988 Olympics in Seoul. Food is her passion, and their wines are in fact very food friendly.
Richard is a true believer in terroir driven wines and like other Napa wineries we have visited, will source fruit from areas outside of Napa Valley depending on the varietal and specific terroir. Case in point is their amazing Riesling which is sourced from the Umpqua Valley in Oregon. You will be hard pressed to find Riesling Vineyards in the Napa Valley (yes there are a few acres still planted), but the Umpqua valley is a perfect growing climate for this varietal. Their 2006 vintage is similar to a German Kabinet with low pH, some residual sugar and delicious flavors including lime, lemon and some citrus. It is a very well balanced wine which goes well with spicy Asian food.
They also produce a nice Chardonnay from the Russian River in neighboring Sonoma County as well as a Dry Creek Zinfandel. We tried their 2004 Coombsville grown Cabernet Sauvignon. This is from a cooler growing region with slower ripening and this wine doesn't contain the higher alcohols that you will find in some of Napa's other warmer Cabernet growing regions. There are great flavors in this dark purple wine includign cherries, blackberries, black pepper and hints of tobacco which linger on the long finish.
All of Mansfield's wines are made in limited production. Richard micromanages the winemaking starting from the vineyards, harvesting specific blocks only when ripe and keeping the lots small & separate from each other during fermentation and barrel aging until the final blending occurs. As of press time, they own one of the last un-restored ghost wineries in Napa County. We had the privilege of touring this, our first non restored Napa ghost winery! It is a huge building built by Italians and Chinese and for a number of years served as a processing plant for a nearby Perlite mine. We can't wait to see how this turns out once renovation and restoration are completed.
They currently make their wine at a custom crush facility – the plan was to eventually move their winemaking operations to the ghost winery on site (once it was restored) but that would have been a major undertaking so they have decided to sell the property including the ghost winery (dates from 1876), one of Napa's last ghost wineries that hasn't yet been restored.
Whoever does restore this old winery should note that it will be well over 100 years between vintages were produced here. This ghost winery even has its own ghost story, as Leslie told us – involving exploding flashlights. Grapes used to be planted on site as evidenced by the old grapes stakes and future plans may include estate grown varietals. The Mansfield's host select winemaker dinners. You can find their wines locally at Whole Foods in Napa directly via their website.
NOTE: no longer be producing wine commercially. We will update or archive this review once more details become available.