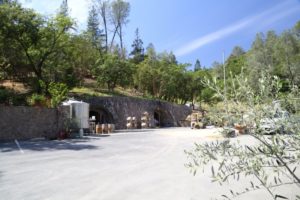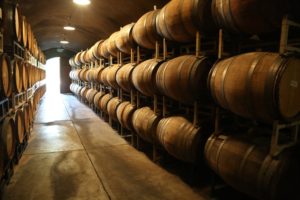 Maldonado Vineyards is a family owned and operated winery located in the far northern reaches of Napa Valley. We spend much of our time in the southern part of Napa Valley as based on numbers, this is where most of the producers are located. However, there are really very few physical wineries in and around Calistoga. As a result, it is a treat when we discover a new winery in this appellation.
Maldonado's Napa story begins when Lupe Maldonado came to Napa Valley in 1962 at the age of 19 from the small farming community of Atacheo, in Michoacán, Mexico. From our personal research, only 9 Napa Valley wineries who were producing wine commercially in 1962 are still in production today. There certainly was a much smaller pool of wineries who were hiring then versus today. Sterling Vineyards wasn't even in existence yet, but it was at Sterling and Newton Vineyard where Lupe would spend 30 years of his wine career. When founder Peter Newton sold Sterling and decided to start Newton Vineyards it was Lupe who came with him and was instrumental in developing all their new vineyards. Son Hugo, a UC Davis graduate with a degree in Enology & Viticulture succeeded him in 1999 as Newton's Vineyard Manager.
Land for either vineyards or winery use in Napa Valley is at a premium and certainly not inexpensive. After locating and purchasing a 12-acre piece of property (came with an existing winery permit) just outside of Calistoga, off of Old Lawley Toll Road, Hugo submitted his request to build a cave to several drilling companies. After seeing the rather pricey bids that came back, he took matters into his own hands and decided to drill it out himself!
He spoke with a number of drilling company employees to find out more about the process and after securing all the necessary permits started digging. They hooked up a drilling wheel to a backhoe and started work. After a few days of making quick progress, they thought it was going to be a surprisingly easy job. Not so, they ran into solid bedrock, and it took 2-3 weeks just to excavate 1 foot deeper. The entire cave drilling/excavation took about 2 years, and the final cave is about 3,600 square feet. A fairly unique feature for a Napa wine cave, is their remarkably tall ceiling.
Today Maldonado Family operates their own vineyard management company – overseeing their own vineyards as well as select premium vineyards (primarily in Napa but some vineyards in Sonoma as well).
This is one of the few wineries in Napa Valley (that we know of) where you cannot actually see any vineyards, rather, from the winery entrance one looks out over the gorgeous, rugged, remote looking landscape including the rocky outcrops that form the steep Palisades. The property is mainly hillside (ideal location for their cave) but they do have about a 1/2 acre planted to hillside Cabernet Sauvignon. Their first vintage of this wine was in 2012; it is worth seeking this wine out if you can find it as they typically only make less than 100 cases of their estate Cabernet Sauvignon.
While their wine is made in one of the furthest points north in Napa Valley, their vineyards are some of the most southern. They are located in the Jamieson canyon region (southeast of the city of Napa). Carneros is Napa's well-known "cool" region, but Jamieson canyon is as cool if not cooler. Their 10-acre Los Olivos vineyard is planted to Chardonnay and Syrah.
Maldonado's first vintage was from 2002; after making their wine at several other local wineries they were finally able to harvest their first crush in 2010 at their own winery. Hugo is the primary winemaker. His wines are food friendly; each bottling showcases great natural acidity. Their flagship wine is a Chardonnay; today they produce two Chardonnay's – one of which is their most produced wine.
Select Wines
The 2020 Maldonado Vineyards Los Olivos Chardonnay is deep gold in color; the bouquet offers a wide diversity of aromas including of baked apple, pear, fresh honeycomb which reminds of of the aromas of when we used to harvest honeycomb from our beehives in Calistoga, yellow peach, apricot, mango, orange blossom, crème Brule, melting butter and vanilla bean. This wines texture is silky smooth and glides across the palate like satin. It shows rich and intense flavors of both fruit and barrel spice influences including of apricot, red apple, lemon and a lingering finish of toasted oak, hazelnut, butter and other baking spices. Shows a light lime/lemony nuance on the finish. This wine was fermented and aged in barrel, and it also went through full malolactic fermentation.
The 2008 Maldonado Vineyards Los Olivos Chardonnay was fermented using natural yeast, 100% barrel fermented and aged in mostly neutral French oak on the lees. This is a bigger styled Chardonnay but with good acid balance. Elegant citrus blossom shows on the bouquet – it is very clean aromatically. The palate has good viscosity and a rounded mouth feel with rich flavors. A lingering hint of citrus based flavors show towards the finish. Maldonado's second Chardonnay (their most produced wine) is from a vineyard they manage in neighboring Sonoma County. It is made in a similar style to their Napa Valley Chardonnay.
The 2018 Maldonado Vineyards Proprietary Red Blend is deep ruby in color; the aromatics are generous and offer scents of ripe blackberry, boysenberry, prune and dark fig. Also nestled in the bouquet are notes of chocolate brownie, a wood spice and light notes of Tonka beans. The palate features primarily darker fruits including plum and blackberry but also with darker spices including crushed peppercorn, especially felt on the finish. The tannins are dark and gravelly in texture and continue to persist for quite some time on the savory finish with their moderately grippy character and dryness. This wine is a blend of 70% Cabernet Sauvignon, 20% Merlot and 10% Syrah and was aged for 20 months in 75% new and 25% neutral French oak barrels. Tasting this bottling made us want to pair with rare and juicy steak coated with a spicy dry rub.
The 2007 Maldonado Vineyards Napa Valley Cabernet Sauvignon is sourced from several premium regions in the valley including on Soda Canyon and Spring Mountain (Newton). Hugo said the Soda Canyon fruit helps tame the bigger tannins from the Spring Mountain fruit. The fruit is hand sorted several times and fermentation occurs in barrel. The nose is somewhat floral, and the palate features higher toned fruits, great acidity, and lingering dusty tannins.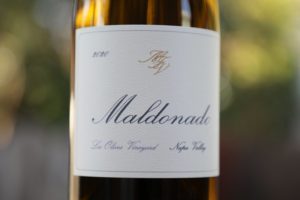 The 2006 Maldonado Vineyards Syrah as Hugo told us, is his favorite wine. This is a cool weather Sryah from their vineyard in south Napa. This wine really shines and shows well after it has been exposed to some air and has had time to open up. It is dark and inky with a pleasing bouquet showing ripe black fruit including blackberry, plum and black cherry as well as dark chocolate. While the aromas are certainly fruit driven and ripe, it's cool climate location perhaps has tempered the ripeness and given the bouquet an elegant component. Dark fruit shows on a supple palate with textured medium structured tannins. The finish is lively, long and shows just a bit of black pepper with lingering notes of toasted oak. This wine should age very well, with its great acidity and reasonable structure.
The 2008 Maldonado Vineyards Late Harvest White Wine is a 50/50 Sauternes style blend of Sémillon and Sauvignon Blanc. The fruit was picked in late November and Botrytis was naturally allowed to form on the grapes before they were harvested. This is a beautiful expression of this type of wine. The nose has sweet aromatics yet is elegant at the same time; it has notes of orange peel, kumquat, and pineapple. The palate is rounded and silky smooth with highlights of apricot and honey. We are always sensitive to the coarseness and or often lingering toasty oak characteristics which are often present in these types of wines on the finish; it is refreshingly absent in this wine.
—
One year, a number of Mexican Napa vintners were invited down to Morelia, Mexico for a wine tasting (including Maldonado) and the absence of a Mexican American Vintner association was discussed. Upon returning stateside a number of mostly Napa Valley owned vintners formed the Napa Valley Mexican American Vintners Association. Maldonado Vineyards is one of the charter members.
And in an extremely unique situation, Maldonado Family Vineyards crafts several wines (a Vin Noir, Vin Blanc and a Vin Rosé) for Chateau de Noir, an international company (primarily with investments in Colombia). Chateau Noir Holdings, Inc is a lifestyle and real estate company with global investments including restaurants and spas. Cafe Noir in Medellín offers Californian Cuisine and Cafe Noir branded Colombian Coffee. And Spa Noir is located in Medellín, Bogotá and Cartagena. The company also offers architectural and remodeling services and a variety of real estate properties for sale or lease.
Tasting Room
Maldonado Vineyards used to offer tastings to the public in their downtown Calistoga tasting room at 1307A Lincoln Avenue. In 2022 they vacated this space (the new tenant is Somnium Wines). And now Maldonado Vineyards offers tastings by appointment at their small tasting room in a business park located a short drive south of downtown Napa. Business parks are popular places in Napa Valley for both wineries and tasting rooms; one could spend several weeks wine tasting at only business park wineries and still not be able to visit them all.
Maldonado Vineyards is located next door to several other tasting rooms and wineries and across the street from others. Parking is curbside; there is usually plenty of parking within a very short walk of their tasting room. And during lunchtime, a Mexican food truck often parks across the street from their tasting room.
Their tasting space is homey and nicely decorated. If you visit during the winter holidays you might even spot an extremely unique holiday tree – one built out of barrel staves, roughly mimicking the conical shape of a fir tree. And be sure to check out the framed menu of a dinner at the White House on December 12, 2004, hosted by President and Mrs. Bush in which the 2002 vintage of the Maldonado Vineyards Los Olivos Chardonnay was served with the first course. Not bad for the first ever bottling of a Maldonado Vineyards wine!
We keep these photographs here of their old tasting room for historical reference.

Visits to the winery or tasting room are for wine enthusiasts and are usually held with one of the family or close friends. For more information, to schedule a tasting or to join one of the Maldonado Wine Club offerings, visit: www.maldonadovineyards.com