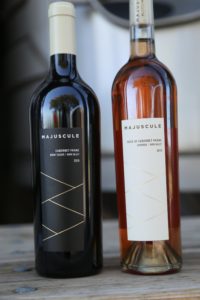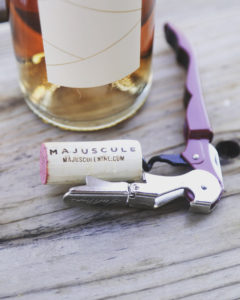 Majuscule Wine. A blind date. Two couples. And then an ensuing friendship led to creating a Napa Valley wine brand. First vintage 2018. Greg (the winemaker) and his now husband Jeff had recently moved to St. Helena when one of Jeff's friends suggested they go out on a blind date with someone he knew also living in St. Helena. The site was Martini House (now Goose and Gander). The blind date, Juanita showed up wearing a rose so that they would easily recognize her. They did. Little did they know that this first dinner would lead to both a strong friendship and a business partnership formed over their mutual love of wine. Greg and Geoff (who used to own a wine shop in Scottsdale) divide their time between the Napa Valley and Arizona while Alex and Juanita live full time in Napa Valley.
Besides operating his Arizona based structural engineering firm BDA design, Greg handles all the wine making and vineyard sourcing for Majuscule. His journey to become a winemaker did not start at a young age. While in France for a year on a Christian mission he and friends visited several wineries on bicycles. Their first stop was at Domain Taittinger in Reims where after taking the memorable tour of their historic caves, the group resurfaced for the tasting. Greg was 19 at the time but due to his mission was forbidden to drink. While he did not taste any wine while in France, he remembered being intrigued by winemaking during his several visits to wineries. Unlike those who grow up in the wine industry, wine did not come until later – he did not drink any alcohol until he was 24.
He first visited the Napa Valley in 1985 – sticking to Highway 29 because the number of wineries back then was far less then today, with the larger wineries focused along the western part of the valley. He remembers his first visit was to Charles Krug – too early to perhaps realize that he might one day live in the Napa Valley. Fast forward to 2007; while needing a break from his job in Arizona he simultaneously noticed that the economy was slowing down. He pivoted and moved to Northern California and began taking wine making classes at UC Davis.
He immediately began working in the industry, taking an intern position at Patz & Hall because he had always enjoyed their wines – followed by working at Villa Mt. Eden, helping make wine from 2008 through 2010. During his time working for others in the industry he developed valuable personal contacts as well as vineyard sources which would prove useful for when he became involved with Majuscule. He counts two people in the industry as personal mentors, long time winemaker at Conn Creek who has since retired, Mike McGrath and Duckhorn co-founder, Nancy Duckhorn.
Alex is a concierge doctor – offering a boutique type of healthcare to clients who pay a premium to have direct access to his services. And Juanita operates Sweet Blossom Company, a small business that originated as a hobby. She hand makes soaps, candles and scrubs among other products. These select items can be found at several locations within the Napa Valley including at Oakville Grocery and the Napa General Store or online. Note that Alex and Juanita are no longer part of the ownership of Majuscule and the brand is entirely owned by Greg and Jeff.
Majuscule focuses on creating wines from single vineyard sites. Both wines we tried are very balanced. As Greg mentioned, he strives for elegance in all wines that he produces – giving the varietal and the vineyard their voice. For him, winemaking ties in art, creativity and science.
Select Wines & Winemaking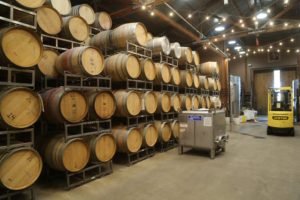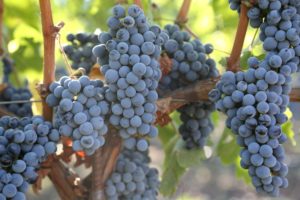 The 2019 Majuscule Cabernet Franc Rosé was sourced from a well-known vineyard on the Napa side of Carneros. The grapes spent 4 days cold soaking in a tank before being pressed off in a bladder press with very gentle pressing and then went straight to fermentation. The ferment to dryness was cold and slow, lasting about 18 days. It experienced no oak and was stirred on its lees during its aging. The wine is 100% varietal. Noticeably darker salmon in color. Sports an elegant bouquet with hints of strawberry, peach, citrus blossom and rhubarb. Glides across the palate with an ethereal lightness – displays a gentle textural grip, creamy with a slight viscosity. The wine is seamless from start to finish – and very flavorful. An impressive inaugural release.
Lisa Chu owns the Wildcat Vineyard at about 1800 feet in elevation on Mt. Veeder. This gorgeous property features rolling hills, picturesque views and borders the historic Mayacamas Winery. Greg made small amounts of wine from her vineyard beginning in 2009 and during several other vintages (never released). As a result, he became intimately familiar with this vineyard prior to making the first Cabernet Franc for Majuscule.
The 2018 Majuscule Cabernet Franc is 100% varietal – medium to dark ruby in the glass; it offers dark fruit aromatics with an elegant ripeness. Initially notes of blackberry, cigar smoke and old cedar – the cedar notes are not overt but more subtle and refined. Additional notes of chocolate and red licorice. As the wine aromatically opens further, more fruit is exposed overtaking some of the secondary characteristics. The darker fruit on the bouquet continues onto the palate with flavors of black cherry. It lingers with earthy tannins of medium grip; they are noticeable, but are not course in their feel, along with some subtle pepper spice notes.
—
Their inaugural release was very small with (less than 70 cases produced for each of the wines). Production will be growing in the coming years with plans to add a barrel select premium wine to the portfolio along with a Sauvignon Blanc. And Greg eventually would like to produce one wine from each of the western hillside appellations: Mt. Veeder, Spring Mountain and Diamond Mountain. During their aging, Greg will select several of the best barrel lots from these hillside sites – holding them back 3.5 years before their release.
Wildcat Vineyard, Mt. Veeder

The name majuscule, one would think would be the opposite of minuscule, but in reality, this word does not exist in the English vocabulary. It is a French word that means capital letter – and in Latin, something big but not to massive. This ties into Greg's time in France and also into their winemaking philosophy – creating noticeable wines with depth – yet retaining their gracefulness.
Mia Carta Napa Valley
Majuscule is part of a small collective of boutique Napa Valley based wineries represented at Mia Carta Wine Lounge in downtown Napa. This space is located at 1209 1st Street next to Rebel Vintners near the intersection of 1st and Coombs Streets. It had a soft opening to the public on May 22, 2021, and officially opened on June 17, 2021.
In addition to Majuscule, this space houses several premium boutique Napa Valley producers including Arthouse Wines, Earthshine, Essere Franco, Ilsley Vineyards, Pellet Estate, Rarecat and Redmon Wines. Sharon Harris, proprietor of Rarecat learned about the space early on, and then invited several of her friends to join including Redmon Wines and Ilsley Vineyards.
A significant amount of thought and effort went into the renovation of this space. A couple of items inside quickly catch one's eye including the Italian Piaggio "Ape del Vino" or in English, referred to as the Wine Bee. It was purchased in Italy, restored and then shipped over, however unfortunately it was stuck for quite some time at the port of Galveston in Texas before it cleared customs and reached Napa Valley. It is fully functional and is operated by a two-stroke Vespa engine. The back opens up to reveal wine kegs with spigots on the side of the vehicle – making this ideal to take to various wine tasting events. And the 145 piece 'puzzle' of walnut wood built against the back wall is in the three-dimensional shape of a street grid of downtown Napa – complete with an outline of Napa River and a red marking to indicate Mia Carta's location on the map.
Recycled cork from cork manufacturer, Amorim Cork America lines the east wall of the space. If one casually glances at this wall, one will think it's one entire piece of cork but each piece is a quarter offset, so the lines are hard to see between each of the pieces. With Norm's background as President & Co-founder of Calgary based ZeroSound Systems, his knowledge and expertise were used during the renovation of the interior space. Acoustic tiles are placed on top of the tin stamped metal ceilings – if one looks carefully one can almost see the tiny holes punched in each of these tin squares, which are part of the design to help mitigate noise. The bar and some of the tabletops are constructed from Richlite, a recycled paper/resin composite.
Visitors taste either inside or outside weather permitting (heat lamps are built into the outdoor overhang), choosing flights from any of the vintners or by the glass or by the bottle. This part of the building used to be recessed – set back more from First Street but during the renovation it was expanded, providing more interior space. And a private tasting room is located in the rear of the space.
For those into wine, it is easy to spend an afternoon in this part of downtown Napa – numerous tasting rooms are within several blocks of Mia Carta. For more details about this beautiful space and or to make a reservation, please visit: www.miacartanapa.com
Feast it Forward
For a very short period starting in 2020, Majuscule was one of up to sixteen vintners featured in The Studio by Feast it Forward (opened in June 2018). NOTE: Majuscule is no longer at Feast it Forward, but we keep our notes here for historical reference. This showroom is located directly across from the Oxbow Public Market and packs in numerous experiences in a small space. This two-story building houses an "experiential showroom" as founder Katie Hamilton Shaffer calls it with a focus on wine, food and music.
Each vintner represented offers several wines – several of the showroom's sponsors have prominent placement including the Gibson Guitar Lounge. A Chocolate tasting is also offered and there is a vinyl station for playing a variety of old records. Upstairs features a demo kitchen – when shows are being filmed here, televisions downstairs will broadcast the live feed. This kitchen can also be used for guest chefs to offer culinary classes.
And visitor's will want to stop by their bathroom to read the latest in all the graffiti and words of wisdom that visitors mark on the walls. The site can be used for a number of events – they have plenty of space in the back of the building. The Ultimate Airstream Film Lounge trailer is often be parked in the back – they use this trailer when they are on the road hosting unique lifestyle events. One such event at the showroom might be the "Terrible Tuesdays" in which bad films with cult like followings will be shown.
The second floor has a sizable surround building deck – and features swinging 'beds'. This is an ideal perch to watch passerbys going to Oxbow Public Market or those enjoying the park next to the Napa River. These are also some of the best seats in the area to watch live performances at the nearby green.
—
The wines are sold directly with distribution focusing on Napa Valley and Scottsdale, Arizona markets. Through their network of friends, they often host winemaker dinners at people's homes but will also host private tastings in either the Napa Valley or in Phoenix. For more information, to sign up for their wine club or to order wine, visit: www.majusculewine.com