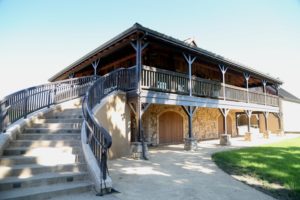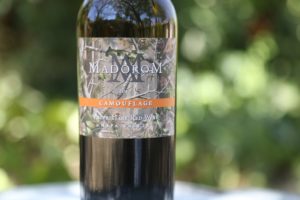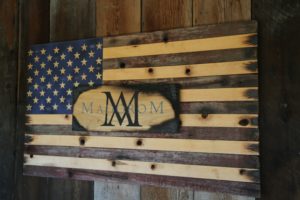 MadoroM Vineyards was founded by Napa native, Andy Amador, his wife Marissa and their winemaker Mike Blom with their first vintage produced in 2000. When one meets Andy, one soon realizes he has a passion for people and the outdoors. He grew up in Napa Valley hunting and fishing and spending plenty of time in and around vineyards. His father, Gus Amador was a well-respected butcher in the valley (long since retired).
Andy owns three vineyards in Napa Valley; what he calls the "Pope Valley Ranch" is 188 acres and planted to a diversity of grapes, mostly red varieties. He purchased this at age 26 – helped in part by the prior owner, Jack Peterson who carried the bank note. He partnered with Oscar Renteria to plant the property to vines – today about 75 acres of grapes grow on the site.
And in addition to the winery estate property (10 acres) Andy also owns a small vineyard at the base of Mt. Veeder off of Partrick Lane which is only about an acre. Along with using estate fruit for their wines, sometimes they purchase grapes from select growers.
The winery is located on the southern part of the Silverado Trail, mere minutes from the city of Napa. But there is plenty of space here. The property is surrounded by some good neighbors – Judd's Hill immediately to the south along with the Duckhorn's Corkscrew Vineyard which borders their property. The MadoroM property is 10 acres – when Andy and Marissa purchased the site it came with a coveted winery permit.
They renovated the existing building on site creating two-barrel rooms connected by a cave-like tunnel between the two rooms. The crush pad is sizable – the stainless steel 'cabinets' used for storage in the back of the winery are highly unique and could only have been envisioned by someone who has a perspective of traffic engineering. The doors for these cabinets served a prior life as traffic control boxes. And this makes sense considering Andy's other business – he is one of the owners of San Leandro based St. Francis Electric, a company founded in 1946 which has been involved in numerous transportation and other infrastructure projects including more recently, major work on the reconstruction of the Oroville Dam.
The rest of the property is gorgeous reflecting touches of the Amador's personality. A small horse arena used to be located near the winery – they left the original gate at the entrance to one of the grape rows as a tribute to this heritage. And an old barn has been carefully restored.
Wines/Winemaking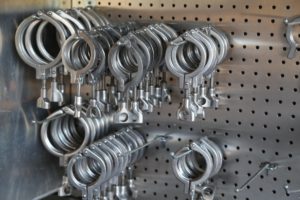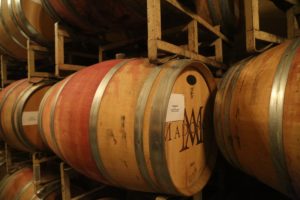 Winemaker Mike Blom has produced every vintage of MadoroM since their inaugural wine in 2000. He has a long history of making wine in the Napa Valley having worked for Mike Grgich at Grgich Hills and at Peju Winery. No longer making wine for others – his only winemaking job is with MadoroM. However, he is involved in a number of other aspects of the wine industry including as partner at Top It Off Bottling, a huge warehouse south of the city of Napa offering a variety of winemaking services.
Andy first met Mike decades ago when he was doing some underground power work for Golden State Vintners (Mike was their General Manager at the time). One day, Andy asked Mike to meet him for pizza – Mike brought a bottle of wine, a shiner from home wine he had made in college. Andy remembers this being the best bottle of wine he had ever tried. After moving on to Scotch later in the evening, Andy announced that if he ever owned a winery, Mike would be his winemaker. A promise he certainly kept – and in 2020 they celebrated 20 years of producing MadoroM wines together.
Two labels are produced under MadoroM – Camouflage and what Andy refers to as the 'Black label'. The camouflage label honors his families' interest in hunting and fishing and an outdoor lifestyle. The front label contains camouflage colors, and the back label features an image of MadoroM enthusiasts (with their names) along with fish caught or animals they have hunted. The black label are exclusively red wines; these tend to receive more time in oak – often up to three years. An in spirit of Andy's entrepreneurial fortitude over the years and work ethic, a single quote from Richard Nixon is on the back label, "The American dream does not come to those who fall asleep".
The 2018 MadoroM Sauvignon Blanc shows aromas which are both floral and fruit driven – including notes of honeysuckle and citrus blossom, apple, white nectarine and a pineapple note that is greener rather than fully ripe. Becomes more tropical in its aromatics as the wine opens further. Nicely balanced across the palate with a crispness but not a sharpness that a greener showing of this varietal sometimes displays. Flavors of apple, honeydew melon and some mineral notes. Plenty of flavor across the palate. Finishes with a lengthy feel of fruit.
The 2017 MadoroM Camouflage proprietary red wine is noticeably deep purple in the glass – very dark in color. The attractive bouquet shows a pleasing fusion of fruit and dessert spices including clove, cardamom and black licorice. The aromatics are sweet. Also, ripe blackberry. The finish especially shows darker fruit and darker spices including cracked pepper. Lingers with grainy earthy fairly well integrated tannins. Slightly chewy in their texture. This is an easy wine to keep drinking.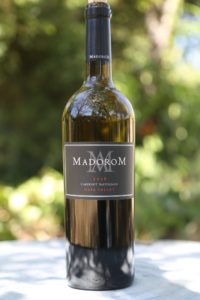 The 2016 MadoroM Merlot is dark ruby in the glass; offers ripe but not jammy aromatics. Straddles a fine line in this regard. Boysenberry, blackberry, plum and more subtle notes of Graham cracker and mocha. These are dark fruit aromatics with a touch of darker spices. Opulent and expressive across the palate with a richness of flavor. Lingers with a cigar smokiness, white pepper and flavors of plum. The finish is complemented by finer grained earthy tannins. Drinks very well by itself.
The 2016 MadoroM Cabernet Sauvignon is deep purple in color with dark fruit aromatics including plum and blackberry. A slightly savory aromatic thread runs through the bouquet including notes of dried herbs, a tiny hint of jalapeno pepper, black olive and a kiss of dried tobacco leaf. Shows plenty of depth of flavor and character across the palate. Darker fruit focused. Juicy. Long finish with notes of pepper, toasted cedar and a grip of tannins which lingers for some time. A style of Cabernet Sauvignon that will especially appeal to our Texas steak and Napa Valley Cabernet Sauvignon enthusiasts.
These are all very well-made wines in a style that showcases a richness and ripeness of fruit.
—
The name Madorom is a creative combination of letters – using most of their last name and adding an M in tribute of Mike. The M and the A crossed behind the name represent Andy and Marissa. And Andy and Marissa have been strong supporters of the MadoroM Foundation over the years. The inception of this began when a family friend's daughter died from cancer – and this friend created an organization called Small Miracles.
The Amador's began to help raise money for this. Another family friend, an accountant, Steve Starbuck looked at what the Amador's were doing and the significant funds they were raising – told them they needed to start their own foundation. Today the MadoroM Foundation typically raises several hundred thousand dollars a year – with proceeds donated to supporting military families, unwed mothers and children. And over the years they have held some memorable events – Andy showed us a bottle of Camouflage signed by the Navy Seals who were in the film, Acts of Valor.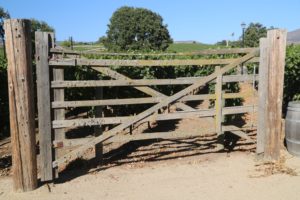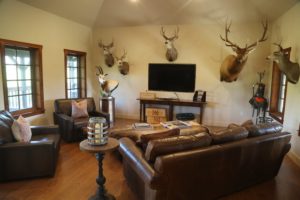 Total production is around 4,000 cases per year. The wines are sold direct to consumer but are also selectively distributed; some of their better markets are Bakersfield, parts of Washington state, Texas, Tennessee and the Carolina's – through a Nascar connection (race cars are another one of Andy's passions). And through a family friend, the wines are sold at the Balios Country Club in South Korea.
Visits are for serious wine enthusiasts; those who enjoy limited production hand-crafted wines, the outdoors, hunting and fishing – will especially find good company here.
For more information, to join their mailing list, wine club and or to purchase wines, visit: www.madorom.com
St. Francis Electric, San Leandro