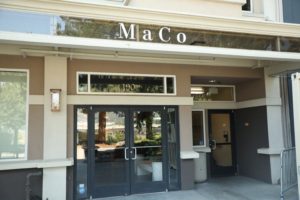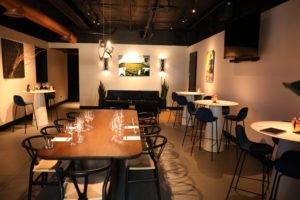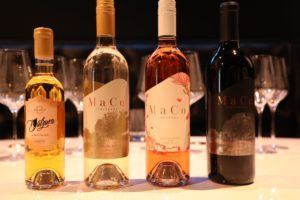 MaCo Vineyards is a partnership between Jesus Maciel and Roberto Corona. Both were raised in Guadalajara, the capital city of state of Jalisco and were childhood friends. The name MaCo comes from combining the first two letters of each of their last names. Jesus still lives in Mexico and Roberto moved to Napa Valley in 1980. In 2009 both men formed a partnership and purchased 49 acres in the heart of the Oak Knoll District with part of the property bordering Silverado Trail and the Napa River. A long reservoir is located roughly in the middle of their property. This site is a few minutes drive north of the city of Napa and in the southern and hence, cooler part of Napa Valley. Nearby winery neighbors including Bread & Butter Wines, Reynolds Winery and Seven Apart.
At the time of their purchase, the property was already planted to grapes including Zinfandel; these were removed and the site replanted to Bordeaux varieties including Cabernet Sauvignon, Cabernet Franc, Malbec, Petit Verdot, Merlot, Sauvignon Blanc and Sémillon. They later acquired a 40 acre parcel on Atlas Peak; the first vintage harvested from this property for Maco Wines was in 2022. Roberto Corona Jr (Tito) operates Corona Vineyard Management Company; one of his most prominent projects was helping develop Quintessa's vineyards on a site that had never before been planted to wine grapes. He farms both their Oak Knoll and Atlas Peak properties; the majority of their grapes continue to be sold to other wineries.
MaCo Wines was launched in 2021 but the family had previously made wine for friends and family including in 2013, a late harvest Sauvignon Blanc and several red wines in subsequent years. Some of these wines have since been bottled as commercial MaCo Vineyard wines. Their winemaker is Eric Lyman, who oversees winemaking at Judd's Hill Winery and is where the MaCo wines are produced. This is highly convenient as this is only a several minute drive from their estate property.
The focus of their winemaking is to showcase both their farming and the variety. In this regard, other than their Sauvignon Blanc, their wines are all 100% varietal. And in the cellar, they implement a lighter handed approach when it comes to barrel aging, preferring the oak be a complementary character rather than a strongly supporting one.
Select Wines
The 2020 Maco Vineyards Sauvignon Blanc is blended with about 1% of Semillon. This wine is pale straw in color; the aromatics are immediately engaging and floral with scents of jasmine and citrus along with a light scent of young spruce tip which reminded us pinching the fresh tips of such trees in late spring. As this wine evolves in the glass it opens to a variety of ripe fruits including white nectarine and pineapple guava. The word we immediately noted to describe its aromatic character is elegant. The palate offers a rounded and creamy texture with flavors of honeydew melon, grapefruit, pomelo and guava and a sweetness of fruit which continues to persist on the finish. Its freshness is still very much evident at the time of our tasting 3 years post vintage. This is a balanced and beautiful wine which still has some years ahead of it with proper aging.
The 2020 Maco Vineyards Rosé of Malbec is medium copper/salmon in the glass; it offers delicate aromas of raspberry, wild strawberry, watermelon and rose petals. Its delicacy on the bouquet is also mirrored on the palate with flavors of raspberry and light citrus including mandarin. What is most noteworthy about this wine is its textural weight, offering a creamy, almost briny viscosity across the palate. It's acidity is bright but not bracing. Easy drinking.
The 2019 MaCo Vineyards Malbec is deep ruby in color; the bouquet is initially like a shy child hiding behind a parent who in time becomes more comfortable in a social setting. The bouquet on this wine needs time to fully express itself. It offers delicate aromas of dark raspberry, cherry, strawberry and pomegranate. And given more time a layer of caramel and toffee is revealed. The palate offers a pleasing expression of red fruits including cherry, raspberry and strawberry, a freshness of acidity and a very gentle touch of tannins which are felt more on the front of the plate than the back. This wine is highly approachable in its youth.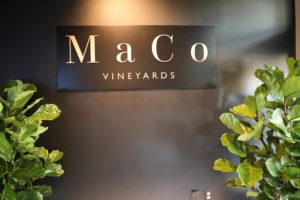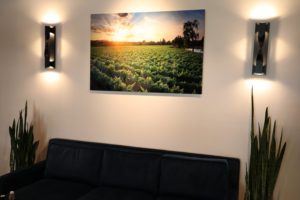 The 2019 MaCo Vineyards Cabernet Sauvignon (crafted from multiple clones of this variety) is deep ruby; the bouquet is filled with aromas of blackberry, dark cherry, chocolate and as it evolves in the glass a note of mocha. These scents are complemented nicely by a dark but sweet baking spice – perhaps cardamom. The palate is darkly fruited with flavors of plum, blackberry and cherry. Darker spices linger along with gravely and grainy textured broadly distributed tannins. A lingering note of light pepper and the tannins outpaces the fruit on the finish. Its savory character is supported by its darker spices, tannins and bright acidity.
The 2018 MaCo Vineyards Cabernet Sauvignon is deep ruby in color; the attractive aromatics offer notes of raspberry, red licorice and cherry and opens to a note of chocolate as it further breathes. The palate offers primarily red fruited flavors including of cherry, plum and black raspberry. The finish is red-fruited and is anchored by grainy tannins along with dark and long lasting baking spices including cloves. Like the 2019 vintage, we noted a persistent savory character. This medium bodied wine is just as balanced as the 2019 vintage, and perhaps even more so. It drinks well now but we would love to revisit in 7-10 years.
The 2018 MaCo Petite Verdot is deep ruby in color; the bouquet offers sweetly fruited aromatics and is a beautiful expression of the varietal character rather than any overt influences from it's barrel aging. It offers scents of blackberry, ripe Santa Rosa plum and fresh rose petals. The finish lingers with notes of red cherry, raspberry, a subtle dark spice and dust, this latter characteristic showing more on the front of the palate than on the back. Petite Verdot is often blended in to Cabernet Sauvignon to add some mid palate structure. The tannins in this bottling are remarkably rounded, resolved and integrated. This is a bright, balanced and flavorful showing which drinks well now but is also clearly built to be age worthy with the proper cellaring.
The 2013 MaCo Vineyards Dulcero (meaning sweet in Spanish) is primarily Sauvignon Blanc with a very small percentages of Semillon in the blend. This wine was originally made for friends and family and then later bottled commercially. It has 8.4% residual sugar. It is golden in color; unlike other wines of this style which usually produce a well-endowed expression of ripe fruit on the bouquet, this wine tends to be a bit more reserved. It offers scents of honeycomb, pear and a nuttiness including of walnut and toasted almond. The palate offers a diversity of flavors including apricot, yellow peach, hazelnut, filbert and toasted pine nuts. The nutty characteristics on the finish continue to parallels the fruit character for quite some time. The mouth feel is rounded and complemented nicely with a bright acidity.
Tasting Room
In mid summer 2023 MaCo moved into a space overlooking the Opera House Plaza and Napa Creek. The previous occupant was Gabrielle Collection who used this barrel filled room as as an event space and for private tastings. Its look has completely changed since then. The space was a cumulative effort between Napa based interior designer Erika Cazares, 3 Stage Lighting, Inc., (the same company that designed the Maco Vineyards label) and tasting room manager Alvaro Camacho and his wife Gabriella. They created a welcoming, modern and intimate venue for hosting visitors. Vivid vineyard photographs taken of the MaCo Oak Knoll Estate by local photography Andrew Lincoln are displayed inside. A neon sign brightly shines the words, "Una copa mas" or in English, one more drink!
A small room in the rear of the space is used for hosting private tasting or club members. Weather permitting tastings are also hosted at tables in front of their space. Plans call for local musicians to perform along food provided by a nearby food truck. Visits are available by walk-in or reservations and wines are available by the glass or from several flights including Classic, Estate, and Reds only. An open-air parking lot on the other side of Napa Creek is located a short walk away from their tasting room.
Total production annually is currently around 1,000 cases with about 50% of their production shipped to Mexico where it is sold by the Maciel family through their own distributor to premium restaurants in Mexico City, Guadalajara and Monterrey. The wines are sold primarily direct to consumer through their website and visits to the tasting room with some limited local distribution including at Wine Country Connection and La Calendra in Yountville and Lovina Restaurant in Calistoga. MaCo holds back about 10 cases of each wine every year for their library.
MaCo Vineyards is part of the Mexican American Vintners Association (MAVA), an organization supporting the efforts of Latino vintners. They host a once a year tasting of their members' wines open to the public. For more information, to choose one of three wine club memberships with shipments sent twice a year (Tres Sabores-3 bottles, Viñedo-6 bottles or Rancho-12 bottles) or to purchase wine, visit: www.macovineyards.com
MaCo Oak Knoll Vineyard