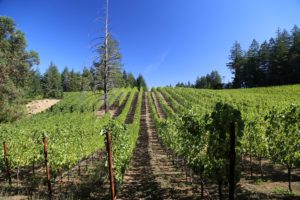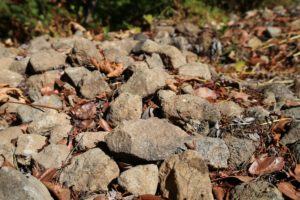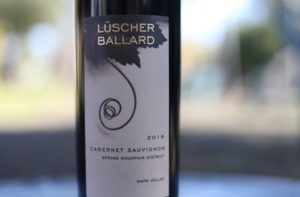 Lüscher-Ballard Wine. There are those who come to the wine industry much later in life often in a capacity somewhat removed from the daily operations of what is needed to run a winery and manage a vineyard. Not so with Christina Lüscher-Ballard; after a life in film, she started learning about the wine industry in her early 60s and rather than taking a hands-off approach to the business (at an age people often think about retirement), now personally manages a 20-acre vineyard.
She and her husband Carroll Ballard (prolific film director who directed Black Stallion, Never Cry Wolf and Wind along with other films) lived along the Silverado Trail when they were informed that part of the highway was scheduled to be widened near their home. At that point they decided to look for a more secluded property away from the traffic on the valley floor.
Christina and Carroll met long time Napa vintner John Kongsgaard and his wife Maggy many years ago when their children attended the same school. The Kongsgaard's were living on Spring Mountain at the time and told Christina and Carroll about an old walnut orchard for sale near their own property.
Christina remembers visiting the property for the first time in February 1990 after a storm had left the ground entirely white with snow. They fell in love with the location and soon purchased 70+ acres. An old garage was on site – rather than move in there the family settled into a cozy tent while they built their home. One might think this quite rustic, but the family was used to living in a variety of accommodation during various film shoots around the world.
The prior owner was a Seventh Day Adventist and had planted a number of acres to a struggling walnut orchard. Seeing these trees were not doing well, the Ballard's pulled them out and left the ground fallow for six years.
The property is classic Spring Mountain with its rugged hillsides, a variety of exposures in the vineyard and much of property still forested (they donated a large part of their property to the Napa Land Trust). The vineyards sit at an elevation of about 2,200 feet; at this elevation they are generally above the fog.
Some of Napa's most pristine and inspirational views are from Spring Mountain hillsides such as these especially when there is a thick layer of fog blanketing the valley floor while the sun shines brightly on the mountain.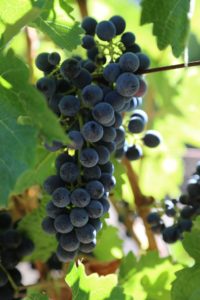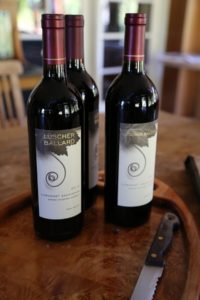 There are a number of vintner old timers on Spring Mountain – Philip Togni is one of them. When he saw their property he told them, "It is sinful to leave a piece of land like this idle." He encouraged Christina to learn more about viticulture and so she did. She attended Napa Valley College and then soon applied what she learned in her classes to their vineyard.
One day while walking their vineyards winemaker John Kongsgaard told Christina something like "you deserve to know how all your hard work will taste when it is bottled". John then offered to make their wine; he made all vintages from 2007 at Kongsgaard Winery on Atlas Peak (their inaugural vintage) through 2016 at which point winemaker Aaron Pott took over. Winemaker Greg La Follette also crafted their wines for a short while as has more recently, Jean Hoefliger (Alpha Omega's founding winemaker and winemaker and co-owner of AXR Wines).
Christina told us about the similarities between her life in film and her life as a vintner. Often, she would find herself on film shoots lasting several years. Now she manages the vines for one season but does not see the finished product for several years afterwards. Most of the 15 acres of vines are planted to Cabernet Sauvignon with several small blocks to Merlot and Petit Verdot.
In 2017 and in 2020 Lüscher-Ballard did not produce a wine (due to the potential smoke effects from the fires in the area). In 2020 with the help of friends we were delivering water to properties in the northern part of Napa Valley. We remember driving into the Lüscher-Ballard driveway during the week of fires with still burning embers and flames from trees on the side of their driveway. Remarkably their home did not burn in these devastating fires.
Select Wines
The 2018 Lüscher-Ballard Cabernet Sauvignon (100% varietal) is dark ruby in color; the bouquet offers a pleasing union between fruit and secondary oak barrel spice characteristics. It offers notes of blackberry, boysenberry, mulberry, mocha, espresso, pipe tobacco and chocolate along with a light touch of toasted oak. The fruit definitely becomes more pronounced as this wine evolves in the glass. Initially, it smells like perhaps the palate would be a much riper and more opulent contemporary Napa Cabernet Sauvignon. But that is not the case. The bright acidity and freshness are immediately noticeable, showing flavors of red cherry, red plums, currant and cranberry. The tannins are lightly textured; we wrote silt-like to describe their textural feel. They linger with a dryness/dusty note and dried tobacco leaf all of which continue to persist for some time along with its mouthwatering acidity. One would not be wrong in describing its palate as being savory.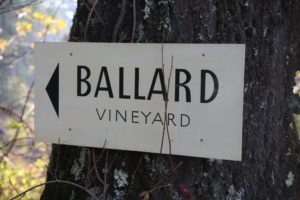 The 2016 Lüscher-Ballard Cabernet Sauvignon is medium to dark ruby in color; simply stated, the bouquet smells wonderful with a mix of primarily red fruits and dessert spices. It offers notes of red licorice, milk chocolate, mocha, ripe raspberry, dried berries, dried rose petals, white pepper and a pleasing light wood spice reminiscent of an old cedar box. This wine reveals flavors of red plums, darker spices, red cherry and dried cranberries. Texturally this wine is light across the palate, lingering with finely rounded and dispersed tannins seamlessly integrated into the supple finish.
The 2012 Lüscher-Ballard Cabernet Sauvignon shows lively, fresh and appealing fruit aromatics – tending to show more red than dark fruit including raspberry and red currant and notes of a juicy Santa Rosa plum. As the wine opens a sweetness of fruit is revealed – red cherry tinged by brown sugar and chocolate. The wine is rounded on the palate but quickly gains in complexity mid palate through the finish. These mountain tannins are still young at the time of our tasting – yet to be tamed by age.
The 2011 Lüscher-Ballard Cabernet Sauvignon is 100% varietal. This vintage in general was panned by a number of critics with lower scores than the "Napa normal" being assigned to wines from 2011. That however hurt those whose vineyards were in certain 'elevated' parts of the valley not nearly as affected by the colder growing season as well as by weather immediately following late and early rains. This is one of the nicer 2011 Napa Cabernet Sauvignons we have tried. It is dark in the glass – this wine has 'stuffing' (well layered) on the palate and aromatic depth on the bouquet. It shows dark fruit on the bouquet with a dry dusty nuance. The tannins are firm and robust and last for some time on the finish along with a noticeable chalkiness. This wine is complex and layered and with good fruit, acidity and tannins – it should age well for years to come.
The 2009 Lüscher-Ballard Cabernet Sauvignon (contains a small percentage of Petit Verdot) drinks very well at the time of this review (6 years after harvest) and is quite approachable. The bouquet is slightly sweet showing higher toned fruits including red cherry liqueur and a raspberry component complemented by a slight earthiness. Wait for this wine to open – good things continue to come forth. As Christina says, "it needs to come out of its shell". For 30+ years I vacationed in the same cabin at Lake Tahoe every summer with family. I remember the interior smell of this cabin well; it was made of old pine and cedar. While smelling this wine fond memories of these summer vacations come back triggered by hints of a similar pine/cedar aroma (from the oak aging) on the bouquet. The wine is balanced nicely – the tannins are well integrated and slightly dusty with a nuance of pepper spice towards the finish.
—
Total production each year is of the single wine with 200 cases comprising a 'big' year; production is often under 100 cases/year. The wine is distributed very selectively in both northern and southern California. Locally you can sometimes find select vintages at Backroom Wines in downtown Napa and several restaurants in the valley. Christina was born in Switzerland and their wine is also selectively distributed there.
For more information, to purchase wine and to join their mailing list, visit: www.luscher-ballard.com