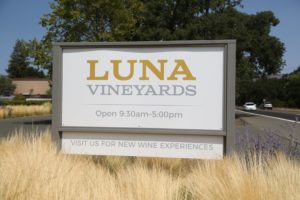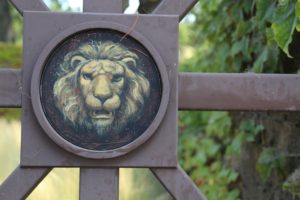 Luna Vineyards is located just off the southern part of the Silverado Trail minutes from the northern part of the town of Napa. They are the first winery on the left hand side of Silverado as you drive north from Napa. Look for the building with the tower (by the way good views of the nearby vineyards from the top of this tower) and tiled roof; the winery is set back inside a walled courtyard which is where you park under either the nearby oak or olive trees. Visitors can taste inside at their bar or weather permitting, outside on the surrounding terrace. Luna is only one of several Napa wineries that open before 10am daily (930am).
Luna was founded by Napa wine veterans George Vare (since deceased and who we originally met with years ago), Michael Moone (at one point president of Beringer Winery) and lawyer Dick Lemon. They began operations on site of the old St. Andrew's Winery which was founded in 1980 (known for their Chardonnay) and at one point was owned by a subsidiary of Clos du Val Winery. John Kongsgaard was their founding winemaker, hired in 1996. Abe Schoener, founder of the Scholium Project (was making wines in neighboring Solano County but has moved operations to Los Angeles) also helped make wine here for a short while.
In a refreshing twist from the Napa Valley's strong Bordeaux and Burgundian-centric production, Luna focuses on producing hand-crafted Italian varieties. Their wines tend to be very food friendly. Their first vintage was in 1996; they are best known for two varieties which are relatively uncommon in the Napa Valley, Pinot Grigio and Sangiovese. In fact, they are one of the largest producers of Pinot Grigio in the Napa Valley and after purchasing this property, the existing Chardonnay and Merlot at the time were pulled out and the land was replanted to primarily Pinot Grigio. As of our latest update to this review, of the 50,000 total cases produced annually, 40,000 cases are Pinot Grigio. Besides their estate vineyard, Luna sources fruit from several other vineyards in select parts of Napa as well as California.
In 2008 they completely remodeled their main tasting room and created a special Reserve Room behind the main room. One of the most common comments people say when they see the Reserve Room is "this is how I want my house decorated"! Both rooms are very elegant; note the shadow boxes in the main room – at the time of our latest visit, these contain various items for sale including Limoges porcelain dinnerware designed by famed chef, Thomas Keller of the French Laundry. The walk-in tasting is held at the square counter in this cozy room which is well heated by a roaring fire on winter days. For warm summer days relax on their porch just outside the tasting room.
Select Wines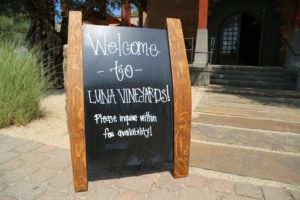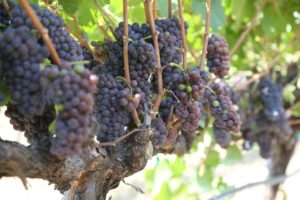 They offer two tastings, General and Reserve. Luna makes a number of fairly high alcohol wines that do not taste "hot" including the amazing 2005 Luna Vineyards Reserve Sangiovese. It is a dark ruby color and is rich in fruit both in the bouquet and on the palate. The aromas open with pleasant mineralities and red berry fruit with a rich concentrated palate integrated with black cherry and spices. The mouth feel is luscious and soft with firm rounded tannins and a finish of unbelievable length.
Fortunately the majority of fruit for this wine come from the same vineyard for every vintage since 1999 – helping build consistency into this wine. Another wine worth noting is their 2004 Howell Mountain Cabernet Sauvignon Reserve which is slightly blended with Cabernet Franc and Merlot. The nose is fruit driven (blackberry) with just a touch of chocolate to accompany followed by a palate that is rich yet smooth on the entry. The wine gains in complexity and intensity and ends with a finish that has very good structure with firm strong tannins.
There are other wines you should not miss (may or may not be available for tasting depending on availability); one is their very reasonably priced estate Pinot Grigio. A touch of Chardonnay is usually blended in and typically native yeasts are used during fermentation. This wine is barrel aged and the vintage we tried showed nice apricot and pear flavors characteristic of a fruit forward Pinot Grigio. For those who want try a unique blend Luna makes Freakout, a mix of 4 white varieties including the Ribolla Gialla, a little used variety in the Napa area which is originally from northeastern Italy.
A beautiful wine that we have to mention despite its only one time production is their Vin Santo. This means "holy wine" in Italian and is truly that if you are lucky enough to get a taste of this. This wine was only made in 2001 and was aged in sealed off barrels for 5 years. One of the barrels actually exploded due to the pressure that built up over time. In any case this wine is brownish, almost amber in color and has a nose almost like a fine sherry with a rich complex palate including nuances of apricot, cinnamon, and toasted almond.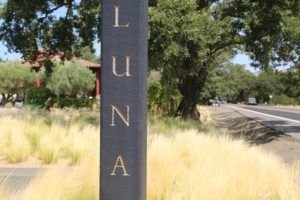 Their Pinot Grigio Luna Mille Baci Late Harvest Dessert Wine is produced only in years where natural botrytis occurs. It is extremely rare to find a late harvest wine of this variety in Napa and Luna does an good job. The 2005 has great natural acidity and phenolic grip or weight in the mouth. Dry straw, honey and toasted almond are characteristics of the bouquet with more honey and toasted nuttiness following through to the palate.
The well-known professional golfer Arnold Palmer (died in 2016) was an investor in Luna and his private label wines are made here. The majority of his wines are sold to country clubs, restaurants and various wine-club members.
Luna at The Village at Vista Collina
In summer of 2018 a large parcel of land directly to the south and across the street from the Meritage Resort (southern Napa city limits) opened as Vista Collina Resort and the next door The Village at Vista Collina – featuring a large green space (with environmentally friendly turf) surrounded by four stories containing 145 Tuscan-styled guest rooms, 9 stand alone tasting rooms on the ground floor, a luxurious Vintner's Room (for special vintner member and other community and private events) and the Village Food & Wine Center where chefs teach a variety of culinary seminars and host other culinary related events. The Village at Vista Collina held its grand opening on August 4, 2018.
And the Fivetown Gourmet Grocery and Deli is an integral part of the The Village experience. Named after the five towns within the Napa Valley including Yountville, Rutherford, Oakville, St. Helena and Calistoga – this upscale market features a variety of farm-fresh local ingredients and home made products. Plenty of seating outside the grocery – one can also picnic on the lawn area.
The 'lawn' area is also ideal for hosting a variety of events including concerts. Umbrellas inserted into the ground can easily be moved and seating arrangements are highly flexible.
Luna is one of the 9 stand alone tasting rooms – like the others, their space is intimate – focusing on the wines and the personalized hospitality.
Luna also offers a Reserve Wine Pairing (by advance reservation only) in which they pair their limited production red wines with cheese, truffles and other delicacies. For more information or to join their wine club, visit: www.lunavineyards.com
Vineyards, Winery, & Tasting Room