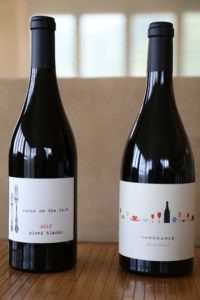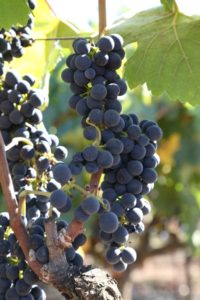 Longtable Vineyards was founded by husband-wife, Jeff Strauss & Mindy Schultheis – both of whom have enjoyed long and successful careers in Hollywood (writing and producing). After a number of years of looking for property in the Napa Valley they located and purchased 18 acres of hillside land in 2003 on Mt. Veeder.
The elevation of their property ranges from 900 to 1,100 feet and 10 acres is mostly planted to a number of Rhône varietals including Syrah, Mouvedre, Grenache and Counoise (the first time we have seen this varietal in Napa).
The name Longtable represents their appreciation of family, friends, food and wine. It is named after the long table needed to accommodate their often sizable dinner gatherings. And Jeff loves to cook. It was at one of these 'longtable' dinners that Jeff and Mindy met long time vintners, Charles Thomas and his wife Lili. This was an appropriate introduction as Thomas made his earliest wines in the Napa Valley from this vineyard site (previously called the "Kitty Hawk Vineyards" as an ode to the Wright Brothers who owned the property, sharing the same last name as Orville and Wilbur, but no relation). One of the brothers, John Wright oversaw the development of Domain Chandon.
Charles remembers the incredible Zinfandel that used to grow here – going as far to say that "this vineyard produced one of the top mountain Zinfandels in all of California".
Thomas and Lili would ultimately become business partners in Longtable and Charles is their winemaker. Charles has been involved in both Napa and Sonoma wine business for years. His first wine related job was at Robert Mondavi Winery in his early 20's. He helped craft the Robert Mondavi Reserve wines in the 1980's through to 1994 and the first twelve vintages of Opus One. He left his imprint on Cardinale and launched Lokoya and Verite. He produced wines at Rudd Winery and Edge Hill and today consults for Quintessa.
Longtable focuses on three wines each year, two proprietary mixed reds and a Viognier. Their total production is around 400 cases annually.
The name, 'Forks on the Left' is a gentle reminder for Mindy referring to her inability to remember where to place utensils on place-mats. The 2013 Forks on the Left Mixed Blacks is a blend of 42% Grenache, 31% Syrah, 10% Mourvedre, 8% Petit Sirah, 7% Counoise and 2% Viognier. Charles tends to co-ferment the varietals especially those that ripen at similar times. He likes the site for Mourvedre as this varietal needs quite a bit of heat to ripen properly. This wine is very dark in the glass, this wine shows a diversity of aromatically generous aromas including plum, raspberry, cranberry and a hint of cedar spice. Fairly supple on the palate but with a noticeable intensity of flavor. Clean finish. Drinks very well by itself.
The Gathering features a fun label, a mix of multi colored stemware and assorted glasses. The 2012 The Gathering is a blend of 61% Syrah, 32% Grenache, 4% Counoise and 3% Mourvedre. Reveals both fruit and desert spices initially on the bouquet. As this wine breathes the bouquet evolves into aromas of mocha, coffee, Asian spices and even a subtle hint of white pepper. Juicy with good acidity, this wine is balanced, showing a bit of the mountain tannins that Mt. Veeder can produce – but these are not out of balance. Like the other two wines, this wine was fermented using indigenous yeast.
Their wines are selectively distributed in Los Angeles. For more information and to join their mailing list or wine club and or to check in on the "longtable life" (winery updates and recipes), visit: www.longtablewine.com