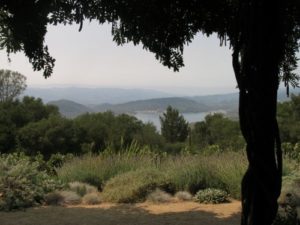 Long Vineyards is located in what is probably the best terroir in Napa Valley not to have a sub appellation designation. This is in what the locals call, Pritchard Hill located in the eastern hills above the Napa Valley. The Long Family along with Chappelet winery were the first two "modern day" wine families to take root in this area. High end winery neighbors also include Bryant and Colgin. The winery dates from 1977. Today there are a number of small wineries and producing vineyards in the area. Once more people started finding out about Pritchard Hill and the benefits of growing vineyards on this specific terroir – coupled with the dot com boom in the late 1990's, other vintners rushed in to plant. However, vines have been planted in this vicinity since the late 1880's by Italian American Vintners.
When the Longs moved here in the mid 1960's they found old stills and other wine making evidence buried in piles of debris. From talking to old timers, they found out that during prohibition, customers from the Bay Area used to drive up here to buy black market brandy and wine which was being produced illegally. Their vineyards are situated around 1000 feet in elevation; this would be a much warmer growing climate if it wasn't for Lake Hennessey situated at the base of their long driveway. This lake provides a moderating cooling affect in the summer with afternoon cooler breezes blowing over the lake and up into the nearby hills.
A tasting here is is for the serious wine enthusiast; the tastings are always held at the Long home as the actual wine is made at Hall Winery St. Helena on the valley floor. Your tasting will be with Bob. Weather permitting the tasting is held outdoors under their vine covered trellis with great views overlooking the hills and Lake Hennessey in the distance. The Longs specialize in 100% varietals and have made a number of wines throughout their history. In 1978 they produced one of Napa's first barrel fermented chardonnays and until several years ago they made a wonderful 'botrytis' Riesling. After producing in the range of 3000 to 4000 cases annually, the Longs have downsized and now produce merely several hundred cases each year.
Today they focus on two varietals, Chardonnay and Cabernet Sauvignon. The Chardonnay exhibits amazing floral characteristics and is very well balanced with a lot of flavor due to the concentrated grapes from their mountain vineyard. The palate has notes of melon and lime flavors with even a steely minerality characteristic. The Cabernet Sauvignon is soft in tannins, has a high natural acidity and as a result should age well for many years. Cassis, anis, black cherry and blackberry flavors are layered on the palate. For serious wine enthusiasts this is a great opportunity to meet with a vintner and taste wine from someone who has a long rich history in the Napa area. Be sure to sign their guestbook before you leave.
Visit: www.longvineyards.com
NOTE: This review has been archived.
REASON: Stopped producing wine commercially