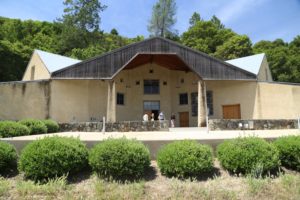 Long Meadow Ranch Winery or LMR for short, is nestled in Napa's western Mayacamas mountains – a relatively short drive from the floor of Napa Valley yet with a feel to the property that seems worlds away from the often congested Highway 29. Parts of the property were originally developed for agriculture in the 1870s. Ted and Laddie Hall acquired the property in 1989 (no relation to the owners of Napa Valley based Hall Winery) in 1989. The namesake comes from a long meadow on site.
Ted (grew up among Western Pennsylvania farmland) has been passionate about wine for a long time, having produced home wine for 17 consecutive years starting in graduate school while attending Stanford. In a prior career, he was an executive for McKinsey, spending nearly 30 years with them, in part helping to expand their global reach. Later he was Chairman of Robert Mondavi Winery and played a crucial role overseeing the sale of Robert Mondavi Winery to Constellation Brands Inc., in 2004.
Long Meadow Ranch is a family owned and operated winery; Ted and Laddie's son Christopher is also actively involved and serves as their Chief Operating Officer. Long Meadow Ranch is an extremely diversified winery; besides their wines, they are well known for cattle, poultry, horses, olive oil, fresh produce & a variety of tours and tastings. And the Halls are a family with a sizable vision – always planning their next moves in the valley and beyond and continuing to expand their products and business – centered around food, wine and hospitality.
Today they own approximately 2,000 acres spread between three properties in the Napa Valley: St. Helena (see our separate review of this property posted on this website) which includes a tasting room, gardens and Farmstead Restaurant, their Rutherford Estate which includes a farmstand, a 650-acre property nestled in the Mayacamas mountains & home of their physical winery (Mayacamas Estate Winery), a ranch on site of an old dairy farm in Marin County home of their beef producing cattle (they hold a cattle auction each May) and vineyards to the north in Anderson Valley, Mendocino County where they also operate a tasting room in The Madrones next to Highway 128.
There is no signage to their Mayacamas Estate Winery either on Highway 29 or on Whitehall Lane. In fact, along the way there are actually several signs that highly discourage visitors, such as "no trespassing", "do not enter", "private road" etc. Those who make an appointment for a tasting here, rather than driving to the winery will meet either at the Long Meadow Ranch hospitality center next Farmstead Restaurant in St. Helena (about a 10-12 minute drive from the winery) or at a pre-determined location closer to the winery. Guests will then follow their host up to the winery.
The primary winery building is mostly constructed of clay taken from the property mixed with approximately 2% concrete. This rammed earth construction features extremely thick walls which effectively moderates the temperature year-round. This building was designed by William Turnbull who also designed Napa's Cakebread Cellars. It was built in 1995 and at the time was one of the largest rammed earth buildings in the state of California. We are only aware of several other rammed earth buildings associated with vintners in the Napa Valley – including Wing Canyon (which unfortunately was destroyed in the 2017 fires) and the home on site of Dyer Vineyard on Diamond Mountain.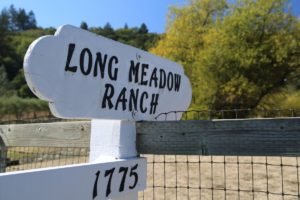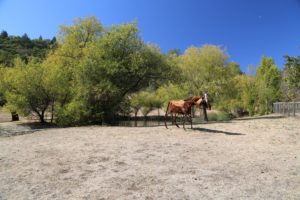 Long Meadow Ranch used to offer a tour of the estate in an open-air 4whd Pinzgauer vehicle – today visits to the winery include a tasting, a visit to their small olive mill and a quick tour of the cave. This 650-acre property was first deeded to EJ Church, a Civil War veteran by Ulysses S Grant. Church settled this land in 1872 and the Hall's flagship wine, the Cabernet Sauvignon E.J. Church is created in homage to him. Today the property is home to a number of long-haired cattle, a building which has served for many TV photo shoots, hillside vineyards and an olive orchard.
All their vineyards are certified organic as are their other crops. The first modern day vineyards were planted on site in 1990 – 10 acres overseen by one of Napa's long-time viticulturists, Laurie Wood (died in 2011). Today only approximately 16 acres of vines are planted on the property including Cabernet Sauvignon, Cabernet Franc, Merlot and the Italian variety, Sangiovese. While the valley floor is planted to a monoculture crop, Long Meadow Ranch has always embraced a holistic farming philosophy in which multiple crops contribute to the health of the entire farm. They also recycle anything organic that is created or produced on the property.
After the Halls purchased their Mayacamas estate property they discovered an old olive grove dating back to the early 1880s containing approximately 350 olive trees which had been nearly taken over by the surrounding natural vegetation. They spent several years restoring this old grove – sent bud wood to UC Davis for identification – but ultimately there was no record of these particular types of trees. As a result, the Halls came up with their own proprietary name – Pratu Lungo which translates in Italian to Long Meadow Ranch. Later they planted a number of known Italian and Spanish varietals and today farm about 15 acres of olives.
Long Meadow Ranch is one of only two wineries in Napa Valley to own their own olive mill and production facilities (the other being Round Pond). The olive mill was made in Italy and features two large Italian granite stones, each of which weighs 2 tons – both sitting on a sizable 4-ton stone block. Visits to the property will include a quick tour of the mill followed by shots of olive oil – using special olive oil tasting glasses.
Long Meadow Ranch has donated over 380 acres of land as conservation easements to the Napa Land Trust meaning these acres will never be developed and will remain in their natural state. A map of all the land within the Napa Land Trust hangs on one of the winery walls.
Select Wines
The first vintage from Long Meadow Ranch was in 1994; Cathy Corison was their winemaker at that time. Long Meadow Ranch's wines tend to be very food friendly in their presentation showing excellent acidity while being approachable young. The wines we have enjoyed during a number of visits over the years to both their St. Helena and Mayacamas properties are generally lighter to medium in body. Their wines are produced in small-lot productions – typically between 80 and 500 cases. A number of these wines are only available for tasting through visits to the winery. And unlike most area wineries, Long Meadow Ranch holds back older vintages and offers library wines for sale (we have seen vintages up to 14 years old for sale).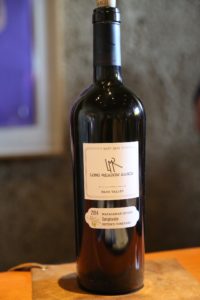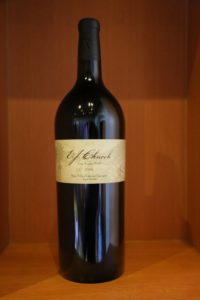 The Sauvignon Blanc Rutherford Estate 2015 was fermented in stainless steel drums (barrels). Shows straw colored yellow in the glass with mineral notes on the bouquet (graphite). Clean, balanced and rounded with good acidity, it reveals flavors of lemon and lime.
Sangiovese is one of Ted Halls favorite varieties so it is planted alongside their Bordeaux red varieties on the property. The Long Meadow Ranch Sangiovese Mayacamas Estate 2014 offers crushed black pepper and other darker spices framed by mostly red fruit aromas including red cherry. As it continues to breath, it reveals hints of mocha. This bottling features excellent acidity along with mostly red fruited flavors including cranberry. Mouthwatering. Well-integrated tannins linger smoothly for some time.
The 2014 Long Meadow Ranch Cabernet Franc Mayacamas Estate shows herbal notes on the bouquet including juniper, a smokiness, darker spices including cloves and a 5-star spice along with hints of anise and dried rose petal. It opens to show mostly fruit and less secondary spice characteristics after this wine has had time to breath. Regardless, there is plenty of aromatic depth on the bouquet. It is light to medium bodied in structure, features excellent acidity and a rounded and supple textured finish.
The 2014 Long Meadow Ranch Cabernet Sauvignon, E.J. Church is crafted from a barrel selection. Only the best barrels of wine that their wine making team determines as being of exceptional quality are chosen for this bottling. Is noticeably dark in the glass – a ruby red almost purplish color. The bouquet reveals a variety of aromatics including blackberry, darker spices and nuances of cedar and anise. We were immediately attracted to the wine's texture; it is balanced with a lovely suppleness across the palate. Shows flavor of blackberry and blueberry with just a hint of tobacco leaf. It lingers with fairly fine-grained tannins and hints of mocha.
An unusual wine is their Pinot Noir Blanc made from their Anderson Valley property; this wine sees no skin contact during fermentation, therefore as a result does not show any color. One would be very hard pressed to determine this wine is made from Pinot Noir in a blind tasting.
Long Meadow Ranch, St. Helena Property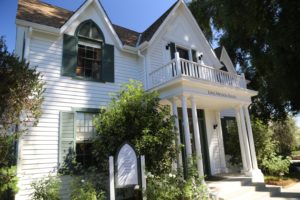 is located along Highway 29 in the southern part of St. Helena next to the former location of Whiting Nursery. This location includes the Farmstead Restaurant featuring dishes prepared with locally grown ingredients (on the property) and always popular with both wine industry folks as well as tourists, a wine and olive oil tasting room, a small café with limited outdoor seating (great place to relax outdoors weather permitting) and gardens with a variety of produce sold at their seasonal outdoor farmer's marketplace (located next to the gardens).
Farmstead at Long Meadow Ranch is one of the central features on the property and is located within a contemporary 'barn' with indoor and outdoor seating. And because this property is located within the city limits of St. Helena (rather than in the county limits), they have a coveted permit to hold weddings on site. Their parking lot is somewhat limited and often quickly fills up – visitors then need to find parking curbside along the adjacent Charter Oak Ave.
Long Meadow Ranch, Rutherford Estate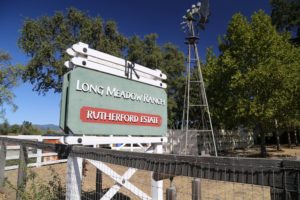 is located next to Highway 29 in Rutherford – about a 4-mile drive south of their St. Helena tasting room. In addition to wine, they are known for their grass-fed beef, poultry and fresh heirloom produce. No, Napa Valley is not entirely planted to wine grapes! This property supplies fruit and seasonally organically grown vegetables to the farm stand located on site. A number of top local restaurants also source from their gardens including Auberge du Soleil and La Toque.
This land has been producing fruit and vegetables since the 1930s and surprisingly, historically has never been planted to wine grapes, especially considering the property is literally surrounded by vineyards. Home grown produce is available for sale from Wednesday through Saturday – check for the latest hours.
The property is also planted to 74 acre of vines including Sauvignon Blanc, Cabernet Sauvignon, Merlot and Petit Verdot. Some 500 chickens provide plenty of eggs which the family refers to as the "poultry palace". A number of beehives are also on the property.
Long Meadow Ranch, Anderson Valley Tasting Room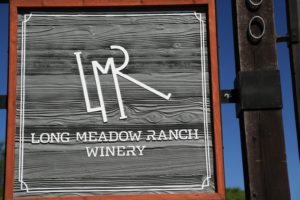 This tiny tasting room opened in early summer 2018 in the heart of Mendocino County's Anderson Valley. The tasting room is about a 2-hour drive from The Farmstead in St. Helena and is located in The Madrones, an Italian styled inviting complex of small tasting rooms just outside of the tiny town of Philo. In addition to the tasting rooms, The Madrones features bucolic gardens, a restaurant and four beautifully furnished private guest rooms.
The Long Meadow Ranch tasting room features one large communal table where visitors can choose from one of three tastings – including an introductory taste of Anderson Valley, a Tanbark Mill Vineyard tasting and a Napa Valley Tasting. The Tanbark Mill Vineyard is about 145 acres of which nearly 70 are planted to vine. Located northwest of the tasting room – the vineyard is set along the banks of the Navarro River and is primarily planted to Pinot Noir with smaller plantings of Chardonnay and two tiny blocks of Pinot Gris. The vineyard features three soil types – and it nice to compare the differences in two wines of the same varietal from the same vineyard both growing on different soils. Case in point is the Pinole Pinot Noir and the Perrygulch Pinot Noir.
The 2015 Long Meadow Ranch Pinot Noir, Pinole Anderson Valley Estate provides notes of wintergreen, dust, hints of cedar and a floral note to the bouquet. As the bouquet breathes more, noticeable aromas of ripe cranberry show. Supple and balanced across the palate with flavors of red cherry and raspberry. A hint of spice and mocha show on the clean finish. Good acidity but not tart – very food friendly.
The 2015 Long Meadow Ranch Pinot Noir Perrygulch, Anderson Valley Estate is darker in the glass then the Pinole of the same vintage. Hints of white chocolate and cedar box. The red fruit aromas on the bouquet lead to red fruit flavors on the palate with both plum and raspberry. A nice roundness is revealed – entry through to the mid palate with noticeably more structure and a bit more opulence than the Pinole Pinot Noir. The tannins are dusty but still well integrated into the long finish.
The 2015 Long Meadow Ranch Chardonnay Feliz, Anderson Valley Estate is a beautiful expression of this varietal – not overly manipulated like is so often associated with this type of wine. Spices, lemon lime zest, kumquat and mineral nuances show in the complex bouquet. The minerality element continues onto the palate. Rounded, almost oily in feel the characteristic of the new French oak used during aging complements rather than imposes its character on the palate. Very long-lasting finish rich in flavor including flavors of mandarin orange.
In addition to the tastings, the tasting room also sells a variety of provisions including beef jerky made from their cattle, cured olives from their Rutherford hillside estate property, BBQ sauce, salts and olive oil among other items. And like up at their Rutherford Mayacamas Estate Winery, guests can also opt to do an olive oil tasting. A number of expresso drinks can be made to order. Wines can also be ordered by the glass – if the weather is nice, one can enjoy a bottle of wine just outside of the tasting room entrance – seated at one of the tables on site.
—
And continuing to expand, construction is supposed to begin at some point on a new 'green' winery at their Rutherford property as well as a proposed 60-room resort. We will visit the new winery and or resort once it has been completed and update our notes here or add a separate review to this website at that time.
Eventually a winery may be built at their vineyard in Anderson Valley but until then the fruit is trucked down to a winery near the town of Sonoma in Sonoma County for processing (rather than taking the fruit to their Napa Valley winery).
For more information, to schedule an appointment or to join one of their wine clubs – membership provides cool perks including access to member only events, member only accessible wines and a stay at the Chef's Cabin on their Rutherford property, visit: www.longmeadowranch.com
Winery/Caves

Winery Property

Olive Mill

Rutherford Estate & Gardens

Anderson Valley Tasting Room