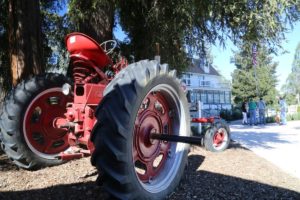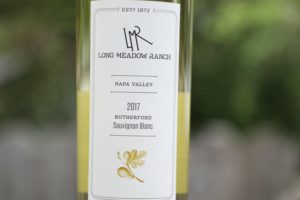 Long Meadow Ranch Tasting Room & Farmstead is located in the southern part of St. Helena just off of Highway 29 (Main Street) across the highway and within a very short walk of the iconic Gott's Roadside gourmet hamburger stand. If you are on foot, there is a cross walk across the highway which can be highly useful considering traffic is often backed up solid in both directions in this part of St. Helena. And if you are driving, often the Long Meadow Ranch parking lot fills up completely especially on busy summer and fall weekends. If this is the case, simply drive down the adjoining street (Charter Oak Ave) and park curbside.
Long Meadow Ranch is one of the most diversified wineries in Napa Valley. Founders and owners Ted, Laddie and their son, Chris Hall maintain a 650-acre working ranch southwest of this location in the hills of the Mayacamas mountain range (the namesake property for their wines). Chris also runs the Napa based Hunt & Harvest wine label focusing on limited production varietal wines, from mostly Napa Valley vineyards; these wines are available at very reasonable prices. One of their bottlings is the extremely rare variety in Napa Valley, Picpoul. And some of their wines are bottled in cans.
With reservations, guests can visit the actual winery facility and take a several hour tour of their working ranch. Guests for the tours often meet in the parking lot here and follow a Long Meadow Ranch employee up to the winery. See our notes filed under Long Meadow Ranch Winery for additional details.
Farmstead Restaurant
Their St. Helena property features several components including the very popular Farmstead Restaurant focusing on farm to table cuisine. This is one of Napa Valleys most popular restaurants offering a diversity of cuisine, an open kitchen, a bustling bar and both indoor and outdoor seating. From numerous meals personally eaten here, we recommend their tasty charcuterie board selection, grilled artichoke and deviled eggs. Weather permitting outdoor seating is available next to the creatively trellised apple trees (espalier trellising in which the trees are trained along wires, Chris's idea). For indoor seating, our go to table is in the southwest corner of the restaurant.
The bar is also a good place to spot area winemakers – especially on the weekends. The corkage fee at the restaurant is a minimal fee with all proceeds from this donated to local charities. And as expected, they maintain an exciting wine list with wines from more recognized Napa Valley wineries as well as smaller producers. Their own wines are represented including wines from Stony Hill (which used to be owned for a very short period by the Halls).
A small but diverse garden wraps around the western side of the property next to Highway 29. This is only but a portion of the property that is planted to fruits and vegetables (about 11 acres in total). A tiny Farmer's Market wooden building is seasonally open and offers fresh produce from the garden for sale.
Farmstead Café
And continuing a bit further one finds the tucked away cute little Farmstead Café – offering a quiet outdoor space to enjoy a variety of drinks, warm paninis and salads. Several wooden tables are located next to the café under the tall blue spruce tree and on this property, this is our go to place for discretely meeting winemakers in the early morning.
Tasting Salon
The farmhouse tasting salon is located in the restored historic Logan-Ives House. This beautiful house was built in the mid 1870s and prior to Long Meadow Ranch's use was a storehouse for Whiting Nursery. The house takes its name from the first owner, James Logan (an undertaker and furniture maker and incidentally a pioneer in the art of embalming bodies) and a subsequent owner Augustus Ives. No appointment is necessary for a taste here.
As of our latest update to this review, Long Meadow Ranch currently offers several flights for tastings. Reservations are recommended, but walk-ins are welcome especially if its not busy. As of our latest update to this review, tasting experiences include an option to taste wines exclusively from their Rutherford property, exclusively from their Anderson Valley property or a food and wine pairing.
The salon is modern, elegant and intimate. A private room on the side is available for reserve or appointment only tastings.
Visitors should also take a few moments to explore the outdoor parts of the property on their own including the sensory garden, a small vineyard, a chicken coop and a small seasonal farm stand next to the gardens.
Select Wines
Long Meadow Ranch continues to stay true to their winemaking philosophy focusing on 100% varietal wines from estate owned vineyards. These are fresh, savory and lower alcohol bottlings than wines from many contemporary Napa Valley producers. A higher alcohol Long Meadow Ranch wine would be 13.5%. For comparison we regularly see Napa Valley red wines listed at 15% and higher. Their wines pair well with food and as a result, are popular with sommeliers and chefs. Unlike many wineries who are quick to release bottlings, Long Meadow Ranch holds their wines back several years behind a 'normal' release schedule. And they often have a library wines available for tastings.
The 2022 Long Meadow Ranch Rutherford Sauvignon Blanc was entirely fermented in stainless steel tanks and was aged for only a few months prior to bottling. This wine is pale to medium yellow in the glass; it smells youthful, bright and fresh with alluring aromas of citrus blossom, jasmine, lemon and lime juice, green apple and passionfruit. The aromatics are citrus driven reflecting the varietal characteristics. There are no over ripe or tropical characteristics in this bottling either on the the bouquet or on the palate; some of its aromatics are mirrored as flavors. It features bright citrus flavors across the palate showcasing its varietal vibrancy without being too green or grassy. It offers honeydew melon, lemon juice and green and red apple. This clean and lean showing will wake you while tasting it mid afternoon after an invariably lunch induced stupor as a result of eating the satisfying Green Chile Cheeseburger at the nearby original Gott's Roadside.
The 2017 Long Meadow Ranch Sauvignon Blanc, Rutherford is medium golden in color; the bouquet offers aromas of freshly cut lawn, beautiful white florals including citrus blossom and jasmine, lemon meringue, lemon grass, pomelo and an almost a saline quality. As the wine evolves in the glass it reveals some light notes of pineapple. The palate offers a brightness that is immediately noticeable on the entry and continues through to the lively finish. A lightly rounded textural feel helps balance the acidity. This wine reveals flavors of green apple, passion fruit, kiwi, honeydew melon and grapefruit. We tasted this bottling 6 years post vintage date; it still shows freshness and brightness. This wine is 13% alcohol. When we think of white wines from Rutherford, we always think of Sauvignon Blanc. We wish there was more planted in this sub appellation but due to similar costs of farming this variety and lower prices per ton for Sauvignon Blanc, there's no question why red varieties dominate in Rutherford.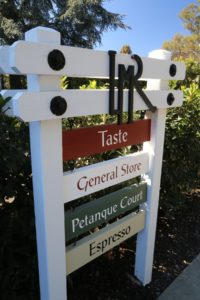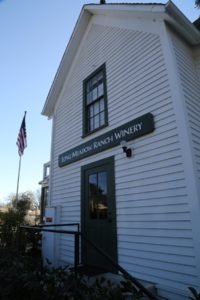 The 2019 Long Meadow Ranch Pinot Gris Anderson Valley was aged for 9 months in 80% neutral French oak barrels and 20% new barrels. This wine is pale straw in color; it offers a diversity of aromatics including dried straw, a hint of beeswax, some minerally influences, lemongrass, freshly cut grass, a lemon zest and some lighter white stone fruit characteristics. Its texture is creamy, rounded and complements the brightness from the acidity quite nicely. The flavors somewhat mirror the aromatics including green apple, lime and lemon juice. This is a youthful and energetic bottling, showcasing a balanced acidity. We recommend taking a bottle down to Hog Island Oyster in the Oxbow Public Market in the city of Napa, paying the corkage fee and enjoying it with any of a number of freshly shucked oysters at their bar.
The 2017 Long Meadow Ranch Late Harvest Chardonnay (tasted from a 375ml bottling) is grown on a low section of their vineyard in Anderson Valley. Grapes on this particular section of the block are purposefully not thinned and left densely packed. The combination of this, sourced from a lower/cooler part of their vineyard, accumulation of moisture due to fog and waiting at least a month after harvesting their other Chardonnay results in some botrytis and a desiccating of the grape clusters. This results in high concentrated sugar and flavor in the remaining grapes. This bottling was 364 g/L of sugar at harvest and when fermentation was stopped, was 110 g/L of residual sugar. This wine is medium to deep golden in color; the bouquet offers aromas of dried haystack, apricot, beeswax, a full-on honeyed note, ripe yellow nectarine, yellow peach and pineapple. The palate offers just as intense flavors as on the bouquet. It shows notes of honey, peach, pear and ripe apricot. Its not cloying, as refreshingly the acidity helps temper the sweetness. People either love or are not interested in dessert wines like this, but for those who do favor a rich combination of sugar, flavor and acidity will be attracted to this wine like bees to a hive. This bottling really shines when paired with Daisy Cheddar made by the Vella Cheese Company and is drizzled with a few drops of Long Meadow Ranch produced honey.
The 2018 Long Meadow Ranch Two Vineyards Merlot is sourced from both their hillside property in the Mayacamas mountains and their valley floor vineyard in Rutherford, located several miles south of their tasting room and Farmstead Restaurant. Since their focus is on 100% varietal wines, they do not blend any Cabernet Sauvignon in this bottling to give it some additional structure (Merlot is often known for producing soft textured wines). Rather they blend in their hillside Merlot for some added structure and depth. And it works very well. This wine is deep ruby in color; the bouquet offers aromas of plum, and cherry, a light note of cedar more in the background and a darker spice. The palate is bright and red fruited including flavors of red cherry and currant along with a light note of pepper on the finish. The tannins are grainy with a light astringency on the finish but are well integrated. There is also a lingering herbal note (but not a greenness). This beautiful Merlot showcases both flavor, textural depth and vibrant acidity.
The 2017 Long Meadow Ranch Cabernet Sauvignon (tasted 6 years post vintage) is a combination of both fruit from their hillside winery property in the Mayacamas mountains and their Rutherford valley floor vineyard. This wine is medium to deep ruby in color with some purple tinges on the rim; the bouquet offers distinctive aromatics and we would like to think we could blindly pick this out of a lineup of contemporary Napa Valley Cabernet Sauvignon bottlings (especially those which are riper expressions of this variety). The bouquet offers aromas of rose petal, red plum, tobacco spice and an herbal note which is not overtly green but showing a light aroma of spicy jalapeno. After tasting ripe Napa Valley Cabernet Sauvignon wines every week it is refreshing when we can enjoy a more restrained style. The acidity is balanced across the palate; this wine offers flavors of red cherry, reminded us of harvesting cherries early in the season at one of the U-Pick farms in Brentwood (about an hour away from Napa) before they are fully ripe, currant and cranberry. This wine features layers of fruit but its really built on it's acidity. The tannins are still somewhat tightly bound, are grainy and pixelated and linger with a persistent dryness on the savory finish.
Olive Oil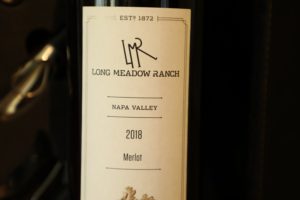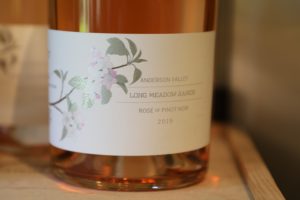 There are only two wineries in all of Napa Valley who own the facilities to produce olive oil (the other being Round Pond). Long Meadow Ranch makes several types of olive oil at their ranch using imported Italian equipment. Tasting some of these hand produced oils is an eye opener especially when comparing the flavors and aromas to many of the mass produced often bland tasting olive oils one finds in the supermarkets. Some of their trees on the ranch are among the oldest olive oil trees in the county and are still producing (dating to the 1870s).
There is a way to taste olive oil just as there is a way to taste wine. The tasting glasses are tiny; before you taste you need to warm up the oil, simply place your hand under the glass and your other hand over the glass to keep the aromas inside.
Prato Lungo (meaning Long Meadow in Italian) is a delicate light smooth olive oil. There is just a hint of spice and white pepper on the finish. Their NV Select Extra Virgin Olive Oil is more of a traditional type of oil with a bigger body and lots of pepper on the finish. If you are using this in salad dressings, there is no need to add additional pepper.
Farm Stand
LMR Rutherford Gardens Farm Stand is located next to Highway 29 in Rutherford – about a 4-mile drive south of their St. Helena tasting room. In addition to wine, they are known for their grass-fed beef, poultry and fresh heirloom produce. No, Napa Valley is not entirely planted to wine grapes! This 8.5 acre property supplies fruit and seasonally organically grown vegetables to the farm stand located on site. It also home to several greenhouses.
A number of top local restaurants also source from their gardens including Auberge du Soleil and La Toque. Select produce from this farm is sold at the seasonal St. Helena Farmers' Market (founded 1986), held from May through October on Fridays from 730 until 12pm at Crane Park in St. Helena (a great place to always bump into local vintners).
They have frequented this market for 30+ years and Laddie is the one usually on site overseeing their produce sales.
And the Long Meadow Farm Stand tents do not have far to travel during the winter seasonal Farmstead Community Farmer's Market which is held every Friday morning from 8am until 12pm, in the northwest corner of the Long Meadow Ranch parking lot from approximately November through April. In addition to Long Meadow Ranch's farm 'tent', several other vendors attend this market.
An electric vehicle charging station is located in their parking lot. Total production each year is around 30,000 cases with around half of their production the Sauvignon Blanc. Their wines are distributed at a number of restaurants within Napa Valley. For more information and or to join their Corral Wine Club, visit: www.longmeadowranch.com
Grounds/Garden

St. Helena Farmers' Market