Localism Wines was founded in 2010 by two winemakers Ryan Knoth and Landon Donely. Landon is no longer involved and today Ryan and his wife Nicole oversee the operations of their tiny brand. Localism is tribute to a lifestyle centered around the connections and the network that Ryan and Nicole have made locally in Napa Valley ranging from vineyard sites, wine suppliers and friends within the industry.
Raised in Alameda (San Francisco Bay Area), Ryan is a graduate of California Polytechnic University-San Luis Obispo with a degree in Biological Sciences. Prior to winemaking, Ryan worked in biotech at a startup in San Diego. While wine tasting in Paso Robles, Ryan had a moment of clarity – and asked himself, "why can't I enjoy this lifestyle". He went back to school and finished a Post bachelor's degree in Enology at California State University-Fresno.
After graduating, he took a harvest intern job in the Barossa Valley in Australia at Elderton Wines in 2010 – while there he was already planning his move to the Napa Valley. He moved to Napa and never left; after returning stateside he worked at St. Clement Vineyards, Staglin Family Vineyard, Gandona, and is currently winemaker at Sinegal Estate Winery.
Over the course of his winemaking career, Ryan has learned from top winemakers including Danielle Cyrot, Philippe Melka and Anthony Biagi. His own style of winemaking focuses on creating balanced food friendly wines – harvesting perhaps a bit earlier than today's norm – ensuring good acidity, yet also flavor. In summary, harvesting for maturity but not for over ripeness. And during the winemaking as Ryan puts it, "not hiding behind the oak" – carefully adding oak to complement rather than overpowering the wines.
Through a friend who bought used wine barrels from several of the wineries that Ryan worked at over the years, he was introduced to a rare California planting of Kerner, a white variety growing at Mokelumne Glen Vineyards in Lodi. This is not the only unique variety planted here – remarkably, the Koth family grows more then 40 different grapes found in the vineyards of Austria and Germany. Kerner was created in 1929 by crossing the red variety Trollinger with Riesling and in 1969 began to be cultivated for commercial use. Today it grows in various parts of Germany including the Mosel wine region. According to the California Department of Food and Agriculture Statistics review from 2014-2015 (the latest report we could find that still shows the specific amounts of lesser planted varieties) there are only 7.6 acres of Kerner planted in the entire state.
Select Wines

The 2018 Localism Kerner is fermented very cold – at 50 degrees Fahrenheit; it is aged in stainless steel barrels for 6-7 months with little stirring of the lees. Straw colored offers very pretty aromatics, sweet, tropical and floral with aromas of honeysuckle, apricot and ripe peach. One might presume from the bouquet that this wine is going to be a dessert wine – not so. On the palate, clean but with complexity – balanced and flavorful with flavors of stone fruits and a lingering note of tangerine. Just a very subtle hint of residual sugar to nicely complement the bright acidity. We love Rieslings for their versatility with foods – Kerner has just been added to our list of favorite white varieties. This is a unique wine highly worth seeking out.
The 2017 Localism Napa Valley Sauvignon Blanc is 100% varietal of which 50% is Musqué clones. Ryan stirs the lees during its aging keeping a close eye on the aromatic development over time. The wine ages 8-10 months in a combination of once-used oak barrels and stainless-steel barrels. Offers aromas of citrus, dried straw, honeysuckle, and dessert spices. Shows a rounded texture across the palate – not heavy. This is not a green or grassy style Sauvignon Blanc – offers plenty of flavor along with decent acidity.
The focus of their tiny production Cabernet Sauvignon is from the Schwartz Family Vineyard in Coombsville. This slightly less than an acre vineyard is planted entirely to clone 7 Cabernet Sauvignon – the vines date from 1997. Perhaps more than some of Napa's other sub appellations, Coombsville is known for its 'backyard' vineyards – or in this case, a front yard vineyard. Ryan discovered the property in 2009; the vineyard was being inadequately managed at that time. He took over the management of the vines and improved their overall health and vigor. He maintains a long-term lease on this vineyard.
Vineyard owner Ira Schwartz (from New York) was looking for a home in Napa Valley – as he puts it, at the time, he considered having "a vineyard a negative" – a perspective that certainly has since changed over the years. After taking a number of wine related courses at Napa Valley College he joined the Napa Valley College Foundation and serves on their board of directors and is an integral part of exciting developments happening at the school's wine program (the largest of its kind in the country – approximately 450 students). A three-phase plan has been formed for the Wine Education Center including construction a 6,000 square foot sensory classroom, converting the existing Trefethen classroom into a state-of-the-art laboratory and rebuild and renovate the current tasting room into a Wine Sales Training Facility.
Incidentally the vineyard that produces some of the Napa Valley's highest priced wines is located just down the street.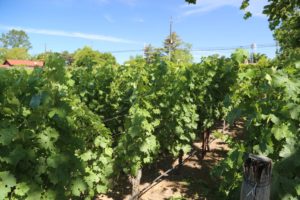 The 2016 Localism Cabernet Sauvignon is blended with a bit of Petit Verdot and Cabernet Franc from a warmer vineyard site in Calistoga. Ryan likes the complexities these other varietals add to the wine along with their added texture. This wine was aged in 25% new French oak with the remainder in once used barrels. It is dark garnet in color with layered aromatics including plum, violets, chocolate, dust, tobacco leaf, dried herbs and subtle darker spices. Very well balanced on the palate offers flavors of blueberry and blackberry anchored by finely shaped tannins, great acidity and a tobacco darker spice nuance on the finish.
—
Each wine label is a unique piece of art created by Santa Rosa based artist, Mary Vaughn who maintains a studio in the South A Street Art District or SOFA for short, a tiny arts community sandwiched between the 101 freeway and Santa Rosa Avenue spanning about two blocks along S. A Street. Ryan and Nicole own the original paintings used on their labels. Their discovery of Mary's work was fortuitous – Mary's mother used to tell her that her works would look good on wine labels – Localism Wine is the first brand that has used her work on wine labels.
The wines are made at a small winery where Ryan has full control of the winemaking. Production remains very small – usually 300 to 400 cases per year with distribution mostly in Northern California at select restaurants and retail wine shops. Locally the Kerner has been on the wine list at the French Laundry and other wines are available at Backroom Wines in the city of Napa for years as well as ACME Fine Wines in St. Helena. For more information and to join their mailing list, visit: www.localismwines.com