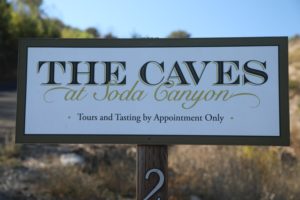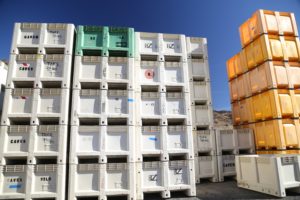 Lobo Wines are the creation of the husband wife team, Randy and Krys Wulff. Randy and Krys grew up together in Stockton – and Randy has operated a successful law firm for many years. His legal career has spanned more than 20 years, settling over 3000 cases. His hallmark case took the couple to New York for 2.5 years where he was the mediator and arbitrator of the World Trade Center property damage claims.
The Wulffs began their foray into the Napa wine industry on a serious basis by acquiring a vineyard in what is now the Oak Knoll appellation in the late 1990's. Until their first vintage was released in 2007, they exclusively sold fruit to wineries such as Lewis, Pine Ridge and Mumm. Today they own their original vineyard in the Oak Knoll district, lease another and within the past few years planted 4 acres in Atlas Peak. They championed close row planting from the beginning and even the vines in their rocky Atlas Peak vineyard are planted with tight spacing. No tractors are used and coupled with the steepness of several of their blocks – everything is very much hand farmed. It is a labor-intensive process.
After debating about whether to build a home on the valley floor close to their original vineyard a beautiful property came up for sale in the hills. Their home vineyard is a unique piece of property in Atlas Peak. There is a bird's eye view looking straight out at San Pablo Bay. Their property is geographically located such that it's among the first hillside properties in this part of Napa to gain full exposure to the bay. What this means is this can be an extremely windy part of Atlas Peak. There are no other hills blocking their view of the bay. Their vineyards are at about 1350 feet which still keeps them well within the fog line on most days.
There are certainly some very rocky vineyards in Atlas Peak, but this is among the rockiest we've seen in this appellation. To reach their vineyard you have to drive through an entire volcanic lava cap which doesn't seem to support much more than some grass – their vineyard is on the side of this lava cap but the fairly large rocks running down the steep vineyard slopes ensure these vines will struggle for everything they are worth.
Krys remembers coming to the Napa Valley in the 1960's when as college students she and friends could easily pick from just a number of Napa wineries producing in the valley. There were just a handful of wineries with tasting rooms – all without tasting fees and as "starving" college students they could easily sample many wines in any of the larger wineries at the time – i.e., she recalls visiting Louis Martini Winery a number of times.
The Wulff's have long enjoyed wine, and often find themselves visiting various wine regions as well seeking out new producers – especially in Napa. As a result, they have met numerous people in the wine industry, formulated the types of wines they enjoy, varietals and wine styles. It is extremely rare for a smaller producer to have more than one primary winemaker. Lobo has three! They have segmented their winemaking and vineyard operations team into specialists.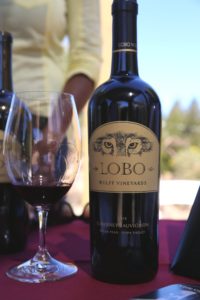 Currently they produce three different wines – a Pinot Noir, Chardonnay and a Cabernet Sauvignon – and each of these wines initially had their own winemaker. The Wulff's decided to do this to focus a winemaker on the particular varietal he/she knows best, has the most experience with and or is the varietal the winemaker truly enjoys working with. Randy & Debbie Lewis make their Chardonnay (both well-known for their style of Chardonnay), Ken Vigoda (was long time winemaker at Raymond Vineyards) originally made the Pinot Noir and Victoria Coleman makes their Cabernet Sauvignon and has since taken over the wine making for their Pinot Noir. (Victoria has an interesting story about how she ultimately became a winemaker – her original introduction to wine was as a temporary receptionist at Stag's Leap Wine Cellars).
Lobo's total production hovers around 500 cases each year – their vineyards certainly have additional capacity to increase production, but they sell the majority of their fruit. Most of their wine sales are direct – online. Krys has jumped into the social media aspects of brand awareness and the business side of the operations while Randy focuses his efforts on their vineyards.
All their wines are estate grown either from their vineyards in Oak Knoll or their home property on Atlas Peak. Their wines are typically in the high 13 to low 14 alcohol range and the percentage listed on the label is the true level of alcohol – rather than legally listing a lower percentage than what was measured. Their son is a graphic designer and designed the label. Lobo means wolf in Spanish – a play on their last name. During their research for the label, they discovered that newborn wolf pups have blue eyes, and this is the color they chose to represent on their Pinot Noir. The Chardonnay label shows yellow eyes and the Cabernet Sauvignon a darker color.
Select Wines
The 2010 Lobo Chardonnay was recently released at the time of our tasting. This is a beautiful wine that drinks well by itself. It undergoes full malolactic fermentation and is aged sur lie in barrel (75% new French oak) for 11 months. This is a big mouth filling rich Chardonnay; stylistically it is the type of Chardonnay that the Wulff's enjoy drinking. It is very golden in the glass and the big aromas perhaps reveal the depth that is awaiting on the palate. Tropical fruit aromas, apple spice and a touch of citrus show on the bouquet. The palate is rounded showing tropical flavors, crème brule, mineralities and apple. A hint of vanilla rounds out the long finish.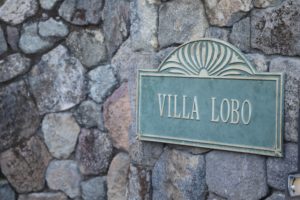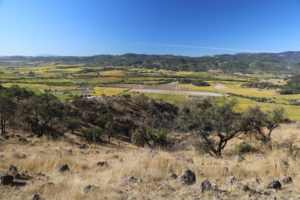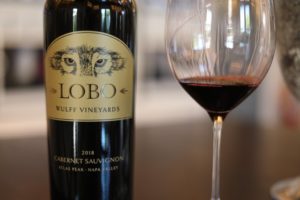 The southern part of Napa Valley and Carneros is unquestionably Napa's hotbed for Pinot Noir. While selling their Pinot Noir to Mumm Napa Valley for their sparkling wine the Wulff's were never able to taste their fruit in a still wine. There are not a lot of Napa wineries producing Pinot within Napa outside of the Carneros and Jamieson Canyon regions to the south. The Wulff's released their first Oak Knoll Pinot Noir in 2007; this was their first commercially released wine. Stylistically there are many delicate Pinots from both Carneros and even more so from the Sonoma Coast and the Russian River appellations in neighboring Sonoma County. Lobo Vineyards wanted to create a Pinot that had good body, character and structure.
The 2009 Lobo Pinot Noir quickly reveals a sweet aromatic core including predominately strawberry with lesser notes of raspberry and chocolate. The palate is focused and rich in flavor; it displays concentrated fruit – with notes of raspberry and blackberry. Randy describes picking Pinot noir during its "window" as being very critical; the harvest time when sugars are balanced with acid.
With Victoria's urging, Lobo produced a proprietary red wine for the first time in 2014, simply called "Howl". The 2014 Lobo Howl is 64% Syrah, 26% Cabernet Sauvignon and 10% Merlot. This easy to consume wine when it's young has already been a favorite among their fans. Only 75 cases were produced but production will be increasing in the ensuing years.
It is always refreshing to try a Napa Cabernet Sauvignon that is not just about entirely about the boldness of fruit. The 2008 Lobo Oak Knoll Cabernet Sauvignon shows an herbal note on the bouquet, a neat cigar like smokiness and as it opens a bit of mocha. The fruit is certainly there, more red than dark and carries over to the palate revealing flavors of blackberry and black cherry. This medium bodied wine is certainly approachable while it is young and should develop nicely in the bottle for a number of more years.
Their first vintage of their Atlas Peak Cabernet Sauvignon was from 2009. The 2018 Lobo Cabernet Sauvignon Atlas Peak is dark ruby in color; the nose offers dark fruit including plum and blackberry. Give this bouquet time to breath to let it fully express itself; it evolves and reveals additional aromas including of dried herbs, a hint of mocha and dried tobacco leaf. This wine offers flavors of dark plum, boysenberry and cherry framed by dense, slightly chalky and persistent tannins. It is juicy and mouthwatering across the palate showcasing plenty of hillside power on the long-lasting finish. This wine shows well in its youth, but it also has plenty of life ahead of it.
—
The Caves at Soda Canyon
The Caves at Soda Canyon is a premium underground winery that offers both production and hospitality space for a limited number of small wineries. This winery offers a luxurious and well lighted interior alcove for tastings as well as a beautiful space on an outdoor terrace overlooking much of the central to southern part of the valley. Select Lobo Wines are included with a visit and tasting at the property.
The wine is selectively distributed in Northern California including a few restaurants in Oakland (where Randy maintains his law practice), and throughout Napa including Celadon and Allegria – as well as wine shops – the Napa General Store. Their mailing list customers are part of the "pack" which is an appropriate name. There is no cost to join, and members receive certain percentages off on the wine. For more information and to purchase visit: www.lobowines.com