LJ Crafted Wines was founded in 2015 by Lowell Jooste and his wife Anne; both are originally from South Africa. Lowell is fourth generation wine family – his relatives have been involved in the South African wine business for decades. His father Duggie purchased Klein Constantia in 1980, one of South Africa's most historical vineyard properties. Dating back to 1685 the property was originally part of Constantia, the first wine farm in South Africa – in 1712 split into three separate properties. Besides its rich and long history, the winery has been mentioned in several historical publications including in Sense and Sensibility by author Jane Austen and in The Mystery of Edwin Drood, Charles Dickens' final novel. Even Napoleon was a customer. So, to were Louis XVI and Marie-Antoinette (with a Versailles cellar well-stocked with wines from Klein Constantia).
The Jooste family revitalized the old winery including the cellar and tasting room and released the properties' first commercial wine in over 100 years in 1986. By 1989 Lowell began to take over the management of the property. By the time his family sold the winery in 2011 it had become associated with some of South Africa's most premium wines.
In 1997 Lowell purchased Anwilka Vineyard and later added two winemaker partners from Bordeaux. Their first vintage was in 2005 – one of the partners was able to get a bottle in front of Robert Parker. As Lowell told us, "The four lines Robert Parker wrote about this wine allowed us to quickly sell out of our first two vintages." One of the lines Parker wrote was simply, "this is the finest red wine I have ever had from South Africa." Pretty significant. Lowell and his partners eventually sold Anwilka Vineyard – today it is a part of Klein Constantia.
In 2012 Lowell and Anne along with their four children decided to move to La Jolla (San Diego County). Their move was not a random one – San Diego is home to one of the largest populations of South African expats in the world. And they had a personal connection that spanned decades. While studying at the University of Minnesota prior to World War I, Lowell's grandfather befriended an American. While a visiting student at UC Davis during the 1986/1987 school year Lowell connected with the grandson (Tom Jackson) of his grandfather's friend. Tom's family is from La Jolla.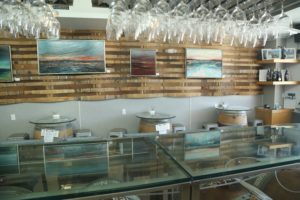 While working at Robert Mondavi Winery in 1987 Lowell met Philip Freese who spent 14 years working at Robert Mondavi, is married to noted winemaker Zelma Long and is now a viticultural consultant. They remained in contact over the years and when Lowell mentioned he was thinking of starting a wine brand – Zelma introduced him to winemaker Alison Doran.
Alison was born and raised in the Los Angeles area and began her career in winemaking in 1973 as a harvest intern working at Simi Winery which her father had purchased in 1969. André Tchelistcheff was hired as a consultant for Simi Winery; Alison spent time working with and learning from him. She has a degree in winemaking from UC Davis and later worked in Alsace, France and at several wineries in California's Central Coast. She has been a winemaker for more than 35 years and has been making the wines for LJ Crafted Wines since their inaugural vintage in 2015. LJ has access to premium grapes through her extensive network of relationships in both the Napa Valley and Sonoma County.
Some of Alison's hallmark winemaking characteristics (that we have observed in wines we have tasted for her other clients) include superb balance, excellent acidity and pleasing texture. And her wines are all distinctive – for LJ Crafted Wines, focusing on 100% single varietal wines.
The Concept
While their wines are primarily produced in the Napa Valley their tasting room is located in La Jolla, merely several blocks from the Pacific Ocean. In creating both the tasting room and how they deliver their wines to consumers, Lowell and Anne have formulated a concept that is well outside the norm in the wine industry. Their focus is as Lowell says, "selling wine, not selling packaging".
Lowell began experimenting at their home in La Jolla with a liquid delivery system straight from a wine barrel – creating a stainless-steel device, initially using water during his trials. Finally, he created a device that he later patented in both the United States, Italy, Spain, France, and Germany. It is called the Wine Steward®. The Wine Steward® mounts on the inside lip of the wine barrel inside the bung hole, maintaining an airtight delivery system. The way it attaches to the barrel is more secure than other similar devices and cannot easily be knocked over.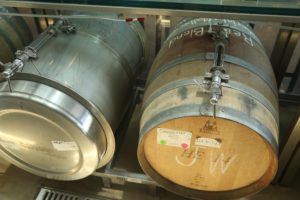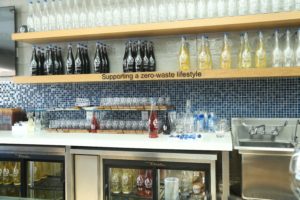 Once the wines have finished fermentation and aging, as needed, the wines are shipped in barrel from the Napa Valley to their tasting room overnight on a refrigerated truck. The barrels are then securely mounted in their tasting room and a Wine Steward® is installed in each barrel. This system eliminates the need for a bottling line or a bottling truck – rather the wine is delivered into reusable glassware, a growler (1 liter glass bottles with a hinged plastic gasket cap) straight from the wine barrel. Once the growler has been filled – a small static cling label is adhered to the glass.
Mini growlers, called Growlettes are also kept in the tasting room (12oz growler equivalents). And even more importantly, by forgoing bottling, the process eliminates thousands of glass bottles used in conventional bottling – or in their case nearly 22,000 glass bottles based on their production of around 1,800 cases. The tasting room features a pictorial display to visually emphasize these savings; during a three-year period, they avoided using 55,000 single-use 750 ml glass bottles – if these bottles were lined up standing upright – they would form a continuous chain that would stretch out nearly three miles in one direction from the entrance to their tasting room.
The costs associated by not conventionally packaging and bottling their wines are passed on to the consumer with lower prices.
But LJ Crafted Wines started out conventionally enough – bottling their 2015 inaugural vintage in 750ml bottles. These bottles should already become collector items – only 150 cases were bottled, and they no longer bottle any wine this way.
This very localized concept has been embraced by the immediate community. Lowell estimates that 95% of his club members and clients live within about a 1.5-mile radius of the tasting room. Those who join their wine club – must commit to one growler refill each month and membership also includes 20% off on additional purchases as well as one complimentary tasting per member each month.
Any wine growlers returned are completely sanitized using their industrial-grade cleaning system. Returned empty growlers are replaced with clean ones.
Tasting Room/Wine Bar
The tasting room is located in Bird Rock – a small community within La Jolla – on the main street near several restaurants and boutique shops. Wines can be ordered by glass or by the flight including a Featured Wine Tasting (both red and white wines), White Wine Tasting and a Red Wine Tasting. The wines are served in small glass carafes.
Seating is at a glass bar (overlooking the wine barrels), or more intimate seating is available at individual wine barrels. A limited amount of outdoor seating is located next to the entrance along with a wiry looking Cabernet Sauvignon vine growing in a pot. Small bites can be ordered to be paired with the wines including a cheese and a charcuterie board, some Mediterranean appetizers and through an arrangement with a nearby restaurant, ceviche (according to Lowell pairs very well with their Albariño).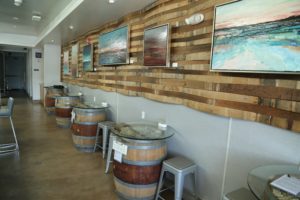 Local artists display and sell various works – during our visit, oil paintings by the talented artist Krista Schumacher were on display.
In August 2014 a 6.1 earthquake centered south of the city of Napa caused significant damage in downtown Napa as well as at nearby wineries. LJ Crafted Wines lost about 30 wine barrels – either damaged or destroyed. Creatively they salvaged a number of the staves which now line part of the walls in the tasting room. And some of the barrel hoops from those barrels are used as decoration – encircling some of the ceiling mounted light fixtures.
The Growler Express
Lowell purchased a mini electric truck (battery powered) with the intent of making local wine deliveries. After some explaining to the California Department of Alcoholic Beverage Control (ABC) about his intentions, he was approved. Similar to the days of milk men delivery service – the Growler Express typically delivers within a maximum of several miles of the tasting room. Cute and eye catching there is even a surfboard on top.
Select Wines
The 2017 LJ Crafted Wines Petite Verdot is from the Romeo Vineyard in Calistoga. Dark dark inky red with noticeable purple tinges. The bouquet is all about the fruit with sweet blackberry jam, plum and blueberry along with a dried herb and sage nuance. Also floral with aromas of violets. Loaded with flavor and intensity but without heavy structure. Balanced from start to finish with a thread of mouthwatering acidity. Lingers with darker spices including cinnamon, toasted oak and earthy fairly well-integrated tannins.
The 2017 LJ Crafted Wines Merlot (Beau Terre Vineyard in Oak Knoll) offers a diversity of aromas including brown chocolate, mocha, toasted cedar and a sweetness of plum and blackberry. Also hints of cigar smoke and black licorice. Both dark and red fruits on the palate with flavors of cherry and plum. Anchored on the palate by dusty fine grain tannins with a firm and long-lasting grip. Appealing texture.
The 2016 LJ Crafted Wines (Omlin Vineyard) Cabernet Sauvignon shows aromas of blackberry, espresso, dried herbs including sage and tobacco smoke. Very balanced across the palate, finishes with a dry grip of tannins, flavors of currant and darker spices.
The 2017 LJ Crafted Wines Albariño is sourced from the lowest vineyard in all of the Napa Valley (Stewart Vineyard)- a site that is just south of the city of Napa on the east side of Highway 29 – ranging in elevation from about 6 to 12 feet above sea level. Pale straw color – offers a floral bouquet with citrus blossom, kumquat, pine scents and peach. Pretty aromatics. Very balanced across the palate with bright acidity and flavors of green apple and lime which linger on the finish.
And for those who have a sweet tooth – guests can try small samples of South African wine – the Vin de Constance from Klein Constantia.
The name LJ refers to Lowell's initials and also coincidentally are the initials for La Jolla. Their label is creatively designed depicting a pelican (the symbol of Bird Rock) and includes an oak and olive branch symbolizing their own achievements and heritage in the world of wine. For more information visit: www.ljcraftedwines.com
Winemaking, Laird Estate