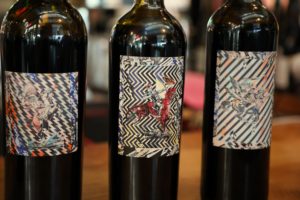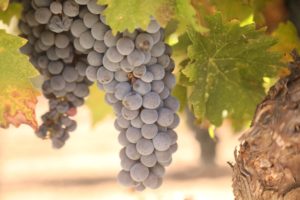 Lish Wines is part of the Napa Valley based Brian David Wines portfolio (founded by Brian David Kulich) which also includes the brands: Brian David, Cana and Wise Decision. Brian David Wines sources grapes from a diversity of regions within California including Napa Valley, Russian River Valley, Central Coast and Santa Barbara. Lish is rooted in a previous brand, Big Cat (first vintage 2018) and is named in honor of Brian's wife Alisha (he simply dropped both a's from her first name.
Brian entered the hospitality business at an early age. He began working for Mountain Winery in Saratoga (San Francisco Bay Area) at age 16 through his father's friend who owned the food and beverage licensing for this winery. He remembers serving at weddings during the day on weekends followed by concerts in the evenings. Mountain Winery is known for their popular live music events each year. After graduating with a degree in English from San Jose State he worked in restaurants in San Diego.
Eventually he moved back to northern California and worked at a number of restaurants in San Francisco including Grand Café, Aqua and Boulevard. He helped open OSO in Sonoma and was Senior Captain at the Restaurant at Meadowood. He assisted a number of premium restaurants design their wine lists including Kenzo in downtown Napa and the Omakase Restaurant group.
And after moving to Napa Valley, he became an Advanced Sommelier (Level 3) from the Court of Master Sommeliers.
Select Wines
With such a strong relationship between restaurants and wineries he has worked at in Napa Valley, and friendships cultivated based on time working in both spaces, Brian has access to under the radar availability of limited production wines already in barrel or in shiners from winemakers he personally knows. While not the winemaker, he participates in blending decisions. He bottles wines that are food friendly but are also crowd friendly. And in the case of Big Cat, he told us he is, "bottling serious wines with a fun sounding name".
And while working at Bouchon in Yountville, he was introduced to Neal Family Wines. He was impressed with proprietor, Mark Neal's philosophy to bottle excellent wines at comfortable prices and Mark's decision to hold his wine pricing steady as much as possible. This can be especially important when building a new brand as well as retaining customers through downturns in the economy.
Lish
The first Lish wines will be released in Spring 2024. We will taste these and add the resulting tasting notes here at that time.
Big Cat
The 2018 Big Cat Cabernet Franc Oakville (100% varietal) was sourced from a premium and historical vineyard at the base of the Mayacamas mountains in western Oakville. Only 125 cases were produced. Its color is deep ruby; the bouquet offers a diversity of aromatics including licorice, pipe tobacco, coffee grinds, mocha, espresso and a meaty characteristic. The palate is expressive of the varietal characteristics without any greenness that sometimes this variety is known for, especially from cooler sites (Oakville not being a cooler site). It offers a brightness and freshness across the palate with flavors of plum and red cherry. We tasted this wine 5 years post vintage. It lingers lively with rounded and integrated tannins and a light note of dust. We noted the words, even keel in our tasting notes to describe its overall character. This wine was aged in 50% new French oak barrels.
Brian sourced Cabernet Sauvignon and Cabernet Franc from a 1/2 acre 'front yard' vineyard off of Big Ranch Road just south of Biale Vineyards for his Big Cat Red Blend. The owners of this property were originally interested in making wine and met several times with Brian. He walked them through the business end of starting and maintaining a small wine brand. After hearing all the details, they told Brian they were not interested in pursuing this but would rather enjoy tasting wine he made from their vineyard. Smart people. While we *never* discourage someone from starting a wine brand, we have a unique perspective having archived more than 300 reviews of Napa Valley based wine producers we met with since 2006 who are no longer producing wines – plus well over another 200 we removed from our master list who we never had a chance to meet and are also no longer producing. The numbers of Napa Valley based brands who stop producing for whatever reason is truly remarkable.
The 2020 Big Cat Red Blend is composed of 44% Cabernet Franc, 44% Cabernet Sauvignon and 12% of what Brian refers to as the 'kitchen sink', a Napa Valley barrel blend that includes Zinfandel, Petite Sirah, Petit Verdot and Merlot. Brian recalls during blending trials in his kitchen adding varying percentages of the 'kitchen sink' to the Cabernet Franc and Cabernet Sauvignon but realizing the best wine was with the 100%-barrel blend. This vintage is deep ruby and nearly opaque in the glass; its aromatics are initially sweetly fruited with dark berries and ripe plum; they reminded us of the smell of Santa Rosa plums on a warm summer day after picking them from the ground after they have fallen from the tree a day or two prior. But the bouquet is also expressive of other scents including stewed tomato, grilled meats and dried herbs. This wine is bright across the palate offering flavors of cherry and red plum. Its texture is lightly creamy especially noticeable on the mid palate with a light grainy textured tannins lingering on the lively and slightly tart red fruited finish.
The 2020 Big Cat Cabernet Sauvignon is 100% varietal. This wine was made when one of Brian's winemaker friends planned to make wine for a private client. The wine was already in barrels when the client decided to cancel the order. The 2020 Big Cat Cabernet Sauvignon is two barrels of wine, one from Oak Knoll and the other from Yountville. This wine is deep ruby with a light purplish color on the rim; its aromas are sweet including both fruit (plum) and floral (violets). The aromatics become more expressive with time in the glass. The palate features primarily red fruit flavors including cherry and currant. One would not be incorrect in calling the finish savory; it lingers with a mouthwatering juiciness, chewy, gripping and long lasting (still somewhat tight) tannins along with dark pepper and pipe tobacco spices.
The last vintage of Big Cat was in 2020 and this brand has since transitioned into Lish wines. The name Big Cat is a term of endearment; Brian originally used it to refer to one of his good friends.
—
The artwork previously used on the Big Cat labels is also used on the Lish wines. Brian met Brooklyn based artist Jacob Thomas through one of his wife's friends. Thomas has worked with numerous prominent clients throughout his career including projects in the fashion industry. His creations are in part inspired by street art, pop art and contemporary culture.
During part of his restaurant career, Brian worked with Thomas to create labels for several restaurant house wines. For those wines, he provided more exacting instructions on the type of label design he wanted. For Big Cat Wines he let Thomas have full creative liberty. Thomas then created a series of several standout labels featuring individuals riding the body of a horse but with the head of a big cat.
Total production of Brian David wines varies each year with most bottlings just a barrel or two of wine. The Lish Wines will be around 500 cases a year. Locally, sometimes select bottlings are available at the Oxbow Wine Merchant in the Oxbow Public market in the city of Napa. For more information or to order wines, visit: www.briandavidwines.com