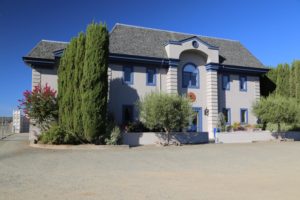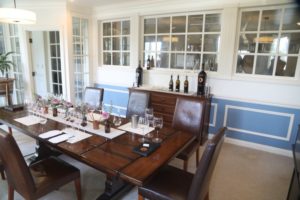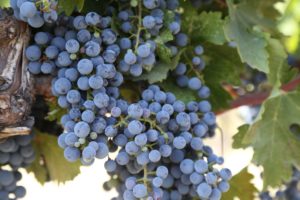 Lewis Cellars was established in 1992 by Randy and Debbie Lewis (unfortunately Debbie passed far too young in 2017 from cancer). Randy grew up in Atlanta, Georgia; his previous career was in professional car racing. He competed in a variety of races including Formula Three in Europe, Formula 5000 and five Indianapolis 500's. He is not the only former professional racer to own a winery or have a connection to wine making in Napa Valley. Mario Andretti still produces wines and incidentally used to lease a winery space a short distance north of Lewis Cellars, Randy Lynch at Bennett Lane, Gil Nickel (deceased), and Jeff Gordon – all raced in some capacity. It was through racing and his time in Europe that Randy developed a love for wine. And while attending San Jose State he would take advantage of Napa Valley's proximity to Silicon Valley to drive to 'wine country' on the weekends.
Randy moved to California in the 1960s and became a professional auto racer by 1972. However, his second career wasn't solidified until he tore into a wall at 220 mph during a qualifying trial at the Indianapolis 500 in 1991. Fortunately, and remarkably, he walked away from this crash with minimal injury. The "impact" of this crash was a realization to seriously pursue his passion for wine. And pursue it he did; self-teaching himself about wine making – reading numerous related books and working with other winemakers including Robbie Meyer and also several prominent consultants (Helen Turley and Paul Hobbs). Joe Cafaro was the first winemaker for Lewis Cellars. Joe used to produce wines under his own label, Cafaro Cellars.
Debbie was strongly involved in Randy's racing days – helping as part of his racing team and organizing events. And later she was an integral part of building the Lewis Cellars brand. In 2022, the SommFoundation created the Debbie Lewis Women in Wine Scholarship, to financially assist with professional wine studies.
Oracle was one of Randy's vehicle sponsors and through this sponsorship, he met Bob Miner (co-founder of Oracle) – who coincidentally was starting a winery in the Napa Valley – Oakville Ranch. Interestingly enough, the first few vintages of Lewis Cellars, the "Lewis Select" was made under the Oakville Ranch Label where Randy and Debbie were early investors. The first Cabernet Sauvignon produced under Lewis Cellars was in 1992 and their first Chardonnay was produced in 1993.
Over the years their wines have earned critical acclaim from various wine publications, sparkling scores and have been served at the White House. In late 2016 Wine Spectator Magazine named the Lewis Cellars 2013 Cabernet Sauvignon as their number one wine of the year.
While Randy has a wine-making team in place, he still oversees the wine-making program and he and Debbie's son Dennis are actively involved in a number of decisions including blending. And in contrast to a number of wineries who ferment their grapes slow and cool, Lewis Cellars tends to ferment warm and quickly, although they do leave the grapes on the skins for several days during a cold soak (pre fermentation).
While they do not own their own vineyards, they source from premium sites in the Napa Valley including Calistoga, St. Helena, Rutherford and Oak Knoll. And like a number of premium Napa Valley producers, they source some of their Chardonnay from neighboring Sonoma County in the Russian River Valley, a region that experiences cool temperatures, breezes and often morning fog, ideal conditions for growing Chardonnay and Pinot Noir. Despite not owning vineyards, Lewis Cellars has significant control over their vineyard sources – ranging from choosing the varieties, clones and rootstocks to canopy management decisions and when to harvest. Essentially the owners of the vineyard sites plant the vines for Lewis Cellars who then dictate all management and farming decisions.
Lewis Cellars tends to harvest later in the season and are often among the last wineries to pick. Their wine style is rich, opulent and full-flavored – showcasing plenty of fruit along with riper tannins.
Select Wines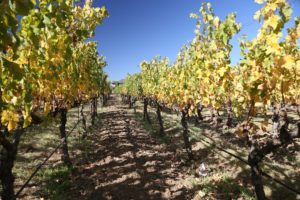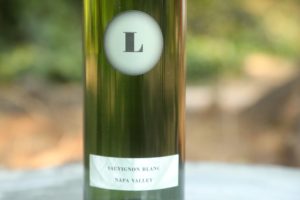 The 2019 Lewis Cellars Reserve Chardonnay was barrel fermented using indigenous yeast in 65% new Burgundian oak barrels (the majority being François Frères) and the remainder in once used barrels. The wine went through full secondary fermentation, spent 15 months on the lees and was bottled unfiltered. It is medium yellow in color and offers notes of butter and melon on the bouquet along with aromas of honeysuckle and caramel. Not overly oaky on the bouquet. Shows plenty of flavor and richness across the palate including notes of Golden Delicious apple and lingering mineralities on the finish. Offers a creamy texture from start to finish. Drinks very nicely by itself.
The 2020 Lewis Cellars Sauvignon Blanc is pale to medium yellow in color; we immediately wrote 'citrusy' to describe the bouquet with initial aromatics of lime and pomelo but there are more to the aromatics as it breathes. Offers further aromas of pineapple, nectarine, mango, vanilla, dried straw and a steely minerality. Rounded and creamy across the palate, this is a rich offering, packed with flavor including flavors of orange peel zest, mandarin, various stone fruits, and green apple. Lingers with a brightness of acidity and rich long-lasting flavors of lemon meringue and notes of lime.
The 2013 Lewis Cellars Vin Gris Syrah is their "grape to glass" wine – their quickest to production wine. The fruit is put in the tank and then allowed to sit with the skins for usually no more than 4 hours before the juice is bled off and fermented in neutral French oak barrels. This is an impressive rosé with both character and depth of flavor; it is not a "thin" rosé. Aromatically it shows watermelon, strawberry and attributes of candied fruit. It is broad in the palate with just a hint of oak spice towards the finish. Remarkably, the finish lingers for quite some time – perhaps a surprise to someone used to drinking 'thinner' wines of this style.
Lewis sources fruit from both Napa and Sonoma County. The Barcaglia Lane Chardonnay is from a specific block planted for their needs in the well-regarded Dutton Ranch (Russian River Valley). The 2012 Lewis Cellars Barcaglia Chardonnay shows appealing aromatics which are somewhat tropical – guava along with floral notes and as it opens further, citrus blossom and notes of butterscotch. This wine was fermented primarily in new French oak barrels and aged on the lees. There is some weight on the palate – which carries a wonderful complexity of flavors complemented with just a touch of oak. The mouth feel is somewhat silky lingering with a very clean finish.
While Cabernet Sauvignon and Chardonnay are the focus varieties of their wine production, Lewis Cellars does produce other wines and sometimes just one-off 'named' bottlings such as the 2019 Alec's Blend Napa Valley. This wine is a blend of 56% Syrah, 30% Merlot, 11% Cabernet Sauvignon and 3% Cabernet Franc. It is dark ruby in color with aromas of dark licorice and five-star spices with a hint of dark pepper also showing. As the wine continues to evolve in the glass offers notes of brown chocolate, sweeter desert spices and ripe blackberry and boysenberry. Ripe but not jammy on the nose. This wine is juicy, opulent and mouthwatering across the palate, certainly a crowd pleasure.
The 2019 Lewis Cellars Napa Valley Syrah is like going into the eye of a storm, its dark, its inky, pitch black in color, purplish with dark aromatics including ripe cherry and plum, along with a violet floral note – complemented by brown chocolate and mocha. Also, noticeably savory between the way the fruit and the toasted cedar intermingle. Gamey, dark, savory, fleshy and opulent all wrapped into one impressive showing. This wine is well layered across the palate with flavors of blackberry, dark chocolate, old cedar box and dusty, dense and chalk-like tannins complementing the rich yet rounded finish. The savory notes on the bouquet continue onto the finish. Warm summer evening paired with a BBQ rack of lamb anyone?
The Lewis Cellars 2018 Cabernet Sauvignon is dark ruby in color; the bouquet sports aromatics of black licorice, and dark fruit tones including ripe plum with some desert spice notes including mocha (as the wine evolves in the glass) and a subtle hint of dried tobacco leaf. Features layers of darker fruits on the palate including black currant and blackberry, complemented by dark, dry, dusty and persistent tannins along with notes of toasted cedar. During their tasting trials for this wine, 26 different components were chosen for the final blend.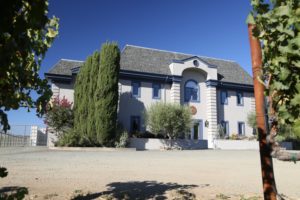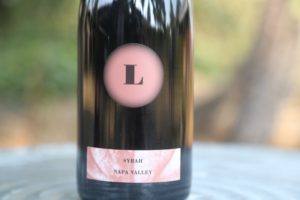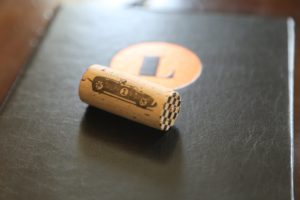 The Lewis Cellars 2018 Reserve Cabernet Sauvignon is dark inky in the glass offering dark aromatics on the bouquet including blackberry, plum, tar and earth notes. Is noticeably less fruit forward on the nose than the Lewis Cellars Cabernet Sauvignon of this same vintage. The texture is a hallmark of this wine with dense, persistent but not course tannins. Packed with flavor, lingers with a mouth-watering finish. Plenty of showiness here in its youth but has the hallmarks of being able to age as well. Two choice blocks from the Olney Vineyard on the western side of the Oak Knoll District often form the majority of this wine.
The 2011 Lewis Cellars Cabernet Sauvignon, Napa Valley shows a plethora of fruit on the bouquet. Initial notes offer smoke and an underlying herbal quality, representative of this particular vintage. As the wine opens both red and dark fruit aromas are revealed including red currant and red cherry, eventually subtle notes of chocolate show. This was a challenging year with rain during harvest and generally cooler conditions. This is a year where there were certainly a number of vintage similarities across Napa Valley – more challenging for a single vineyard on the valley floor perhaps than multiple vineyard sources, especially those on the hillsides which fared better during this cooler year.
The 2011 Lewis Cellars Reserve Napa Valley Cabernet Sauvignon is much more restrained aromatically. This is a wine that is built to age, with good acidity, fruit and is well structured. The finish shows robust and expansive tannins and last for some time. This wine is still a baby – bottle age will add additional complexities, 10 years, 15, more?!
And starting in 2018 Lewis Cellars began producing a Sauvignon Blanc each year in honor of Debbie, called Debbie's Cuvee offered in a 3-bottle box.
—
Lewis currently makes 10+ wines – of which several are typically tasted in their cozy tasting salon adjacent to the winery facility. One can see the barrels in the winery through the window in the tasting room. Select seated tastings are held twice daily by prior appointment. Lewis Cellars leases this winery from the Corley Family (owners of nearby Monticello Cellars). And a piece of Napa Valley trivia: Tony Soter, founding winemaker at Etude made several vintages of the early Etude wines at this winery.
Transition in winery locations
In late 2022, the Wonderful Company purchased Robert Sinskey Winery, tasting room and surrounding property (42 acres) in the Stags Leap District. It is interesting to note the Wonderful Headquarters are located within about a 10 minute drive from either of the Sinskey eye clinics. The Sinksey's did not sell their wine business and leased their winery and tasting room from the Wonderful Company until the end of June 2023 when they closed their hospitality operations here.
Plans call for moving Lewis Cellars production and hospitality to the old Sinskey Winery property. Renovations will be done and tentatively the plan is to open Lewis Cellars in this new location by the summer of 2024. We will visit and update this review once Lewis Cellars has fully moved into the space.
Total production was typically between 9,000 and 10,000 cases annually but since the transition in ownership has grown to more than 20,000 cases. For more information, to schedule an appointment or to join their mailing list, visit: www.lewiscellars.com
NOTE: due to all the locations of the Wonderful places and spaces (many of which we have not yet visited), this review will continue to undergo a MAJOR update.
We will visit the following places and spaces between 2023-2026: POM Wonderful Del Rey, Wonderful College Prep Academy Lost Hills, Wonderful Orchards Shafter, Wonderful Lane & Nursery Visalia and Resnick Sustainability Institute, Caltech and Lynda and the Stewart Resnick Center for Agricultural Innovation, UC Davis. .
THE WONDERFUL COMPANY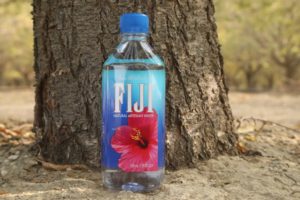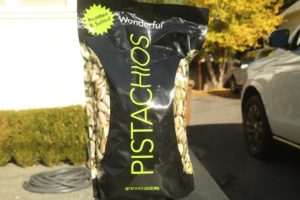 In late summer 2021, Lewis Cellars was sold to Paso Robles based, JUSTIN Vineyards & Winery. JUSTIN Vineyard's parent company is The Wonderful Company (formerly Roll Global Company with the name change occurring in mid 2015) owned by husband and wife, Stewart and Lynda Resnick of Beverly Hills. Within this company are a number of prominent brands including Fiji Water, POM, Telaflora (florists) along with several nut and citrus brands. Closer to the Napa Valley, they also own Landmark Vineyards (with two locations) in neighboring Sonoma County.
The Wonderful Company 'empire' has offices in five states and in 13 countries spread over several continents with corporate headquarters in West Los Angeles. This privately held company employs 10,000 people and earns approximately 5 billion dollars in revenue/year with a focus on primarily agriculture-based products. The Resnicks are also significant philanthropists with numerous contributions to various museums, hospitals and and education, mainly in Los Angeles and California's Central Valley including Lost Hills, Delano and Wasco. Under their ownership, they farm nearly 200,000 thousand acres of agricultural land in California; several of their most prominent businesses are located in the communities of Delano, Lost Hills, Shafter & Wasco. See our notes below for more details.
Those interested in learning more about the Resnick's marketing savvy can read Rubies in the Orchard: The POM Queen's Secrets to Marketing Just About Anything, a book written by Lynda Resnick with Francis Wilkinson. This is a must read for anyone interested in strategies relating to marketing and branding. Lynda approaches ideas and creativity from 'inside the box' rather than thinking outside the box. The book is sprinkled with highlighted and valuable "lyndaisms" based on her firsthand experience.
This book takes readers on a journey throughout her successful business career – on one hand its fascinating to read about the development of these successful and iconic businesses, and on the other, the book contains useful how to's relating to marketing and branding. And readers will discover that Lynda has a powerful sense of taste and smell even down to identifying the type of wine and its vintage when blindfolded.
WINERIES UNDER WONDERFUL COMPANY OWNERSHIP
6320 Silverado Trail
In late 2022, the Wonderful Company purchased Robert Sinskey's physical winery, tasting room and surrounding property (42 acres). The Sinksey's did not sell their wine business and are currently leasing their winery and tasting room from the Wonderful Company for the foreseeable future. We will update our notes here as we gain clarity about what this winery and property will be used for under the Wonderful Company ownership, once Robert Sinksey Winery vacates the premises.
Landmark Vineyards, Sonoma Valley
Landmark Vineyards was founded by Bill Mabry (died in 2015) in 1974. Prior to founding Landmark Vineyards, Bill planted grapes on properties he owned in both Sonoma and in Alexander Valley. The winery evolved over the years; the original winery was located in Windsor (a small town slightly north of Santa Rosa). Eventually Bill sold his ownership in the winery to one of his original investors, Damaris Deere Ethridge. Damari is the great-great-granddaughter of John Deer (tractors). During her ownership, the winery and hospitality center was built in the early 1990s in Kenwood (Sonoma Valley) directly off of Highway 12 with access on Adobe Canyon Road (which incidentally is a short drive from Landmark Vineyards up to Sugarloaf Ridge State Park).
Damaris's son Michael and his wife Mary helped run the operations for more than 15 years before selling to Lynda and Stewart Resnick in 2011. Landmark Vineyards is known for their Chardonnay and Pinot Noir. One of their most acclaimed wines is the Overlook Chardonnay having appeared on the Wine Spectator's Top 100 Wine List a number of times. The property, including the winery, is 11 acres along with surrounding vines. As of our latest update to this review, grapes from the vineyard on site are not being used for the Landmark wines. Landmark Vineyards continues to source grapes from local growers.
Weather permitting, tastings are held outside in a beautiful courtyard like setting with views overlooking the nearby Mayacamas mountains. Tastings focus exclusively on Chardonnay and Pinot Noir wines. Two tastings are offered: Legends and Legacy. Several bites can be purchased to accompany the tastings including an artisan cheese plate, a charcuterie platter or house popcorn. A bocce ball court is also located on the property and tastings can be arranged to accompany bocce games. Reservations are generally required on busier weekends and are preferred but generally not required for slower weekday visits.
Landmark Vineyards has been extremely supportive of the local community; the Landmark Community Grants program was founded in 2014. To date they have funded over 100 educational related projects (schools and teachers).
Landmark Vineyards, at Hop Kiln Estate
This winery is located at 6050 Westside Road. In 2016 Landmark Vineyards acquired the old Hop Kiln winery; this is their second Sonoma County location (along with their primary winery on Highway 12 in Sonoma Valley. The estate property is 240 acres; grapes have been grown on site since the late 1800s. The tasting room is located in the old hop kiln building, built in 1905 and operated until 1940. The Italian stone mason Massimo Galeazzi, who led a team in building the old hop kiln building also worked on a number of other buildings in Santa Rosa surrounding or near Depot Park in the Old Railroad Square District including La Rose Hotel and the Railway Express building which currently houses A'Roma Roasters. A photograph of he and his wife hangs on the wall inside Landmark's tasting room near the bar area.
The space was used for dying hops for beer making. The building is registered California Historical Landmark #893. The property has had several owners before the Resnicks including Dr. Martin Griffin who purchased the site in 1960, restored the old kilns and later operated it as a winery before selling in 2003. Several of his original bottles are on display.
Today the winery is known for its Chardonnay and Pinot Noir; over 90 acres of vines currently grow on site including Pinot Noir, Chardonnay and Pinot Gris. Indoor and outdoor tasting experiences are offered including the use of picnic tables for guests. The property is gorgeous and rich in history. Food can also be a part of an experience – choose a local cheese and charcuterie plate and or their build your own picnic options from their limited selection of items in the tasting room. Landmark Vineyards, at Hop Kiln is located next door to the well-known J Rochioli Vineyards & Winery.
Scenes from several films were shot on site including The Magic of Lassie in 1978, staring James Stewart and Mickey Rooney.
Landmark Vineyards Tasting Room, Paso Robles
In late 2021 Landmark Vineyards opened a tasting room space on the lower level of the handsome three-story Acorn building on the corner of 12th and Park Streets directly across from the downtown city park/square. This tasting room is located just around the corner from the JUSTIN tasting room (which is in a different building). The entrance to this space is on Park Street; visitors can either take the elevator or stairs down to the tasting space.
The Acorn Building was originally constructed in 1892 with the clock tower built in the shape of an acorn. Tragically, the original building collapsed (including the tower) in the 2003 6.5 earthquake, in the process killing two people. The current edition of the Acorn building dates from 2006.
The Landmark tasting room features a tasting bar with a wide lineup of the Landmark wines and an adjoining space with several tables and other seating options. And the commercial kitchen used by the JUSTIN tasting room is also located near this tasting space. This may be a temporary popup space depending on its success. We will update our notes once we have more information.
JUSTIN Vineyards & Winery
Investment banker from Los Angeles, Justin Baldwin (sounds like the perfect stage name) acquired 160 acres on Chimney Rock Road in 1981, west of the 101 and Paso Robles at a time when there were only a handful of wineries in Paso Robles. How times have changed over such a short period with more than 200 wineries operating today. He planted his first grapes in 1982 including Cabernet Sauvignon, Cabernet Franc and Merlot. Remarkably the Cabernet Sauvignon that was planted that year is still in production. The first vintage of JUSTIN was in 1987. Today JUSTIN is arguably one of the most well-known wineries in Paso Robles.
All of their blended wines have proprietary names including the JUSTIN flagship wine Isosceles. This wine was originally called the Justin Cabernet Sauvignon Reserve when it hit the market in 1987. The 1989 vintage was the first year it was called Isosceles. Other blended propriety wines in the portfolio are Justification, Right Angle, Savant and Trilateral. JUSTIN has earned numerous accolades for their wines including the number 6 spot among Wine Spectator's Top 100 wines of 2000 for Isosceles and the 2015 American Winery of the Year by Wine Enthusiast Magazine. Production of all their wines is sizable and varies each year but is over 150,000 cases annually.
In 2010 Justin sold his winery to Stewart and Lynda Resnick. The Resnick's have since significantly expanded their real estate holdings and now own more than 1,000 acres in Paso Robles. While JUSTIN makes wines from grapes grown on their own properties, they also continue to source fruit from various growers.
Note that the physical winery is not located next to the hospitality center, but rather through a second gate just west of the hospitality entrance. The winery includes a barrel chai and production facilities. The road that leads to the winery continues and does connect to the hospitality center.
Visits are by appointment (although if not too busy, they may be able to accommodate walk-ins) with seated tastings at tables held outdoors on a terrace overlooking nearby vineyards with some of the tables under an overhang. A long bar inside can host stand up tastings. As expected, guests are given a bottle of Fiji water to start their tasting. Tastings are relaxed and are paced according to each party and include a number of wines which are not distributed. A tasting can also be combined with lunch.
Every year since 2013, JUSTIN Vineyards offers the Justin Community Grants Program – supporting San Luis Obispo schools including in-classroom needs and non-profits based in the north part of the county. The grants generally range from $1,000 to $50,000.
The 2018 Isosceles is dark ruby in color; the aromatics are dark including both fruit and darker baking spices. Offers aromas of blackberry, dark cherry, black raspberry and licorice. Features ripeness but no over ripe notes. One definitely notices the fruit on both the bouquet and the palate more than any barrel influence. The tannins are broadly distributed with a medium grip along with a noticeable density of texture. The finish is savory, mouthwatering and juicy. Shows plenty of lingering fruit including blackberry and plum.
Not as well-known and produced in much smaller quantities than Isosceles, is the JUSTIN produced Isosceles Reserve. Rather than a barrel selection of Isosceles, this wine is produced separately and also always contains several other varieties including Malbec and Petit Verdot. This wine ratchets up the intensity considerably over the Isosceles.
The 2017 JUSTIN Platinum Reserve Cabernet Sauvignon is dark ruby in color. The bouquet offers aromas of ripe blackberry, cardamom, clove, mocha and vanilla bean. Also, some toasted cedar nuances. This wine has a nice cadence across the palate, big but without any sharp edges. The texture is one of its hallmark characteristics – with firm but rounded tannins showing a medium grip which lingers for quite some time on the finish. Also finishes with notes of dried tobacco leaf. The barrel influence is more prominent (but not dominant), on both the bouquet and the palate as compared to other JUSTIN red wines. If budget permits, this is a wine one would want to keep for a decade plus and see how it continues to develop.
The Restaurant at JUSTIN
The restaurant is located in the same space as the hospitality center with a feel that is both simultaneously farmhouse married with modern elegance. The indoor dining space is intimate and seats only a handful of tables. An adjoining outdoor space is also available with heat lamps as needed. The focus is on small but very rich plates featuring both local ingredients from local suppliers (including from the 26-acre JUSTIN Farmstead with orchards, vegetable gardens and edible flower fields) as well as ingredients sourced from further afield. The menu is highly seasonal.
The wine list is formidable and focuses on JUSTIN wines including vintages of Isosceles dating back to the early 1990s. And some rare winery only wines including an extremely limited production, JUSTIN Chardonnay. The four-course menu is prix-fixe, but several other dishes can be added on along with recommended paired wines. Service is exceptional.
In 2022 for the first time, JUSTIN received a coveted MICHELIN Star. And they simultaneously received a MICHELIN Green Star for their sustainability efforts.
A JUSTIN van offers shuttle service from Paso Robles to the restaurant (by appointment only).
JUSTIN Downtown Tasting Room, Paso Robles
This sizable and beautiful tasting room opened in 2018 and is located in a three-story building on the corner of Oak and 12th Streets in downtown Paso Robles, directly across from the Downtown City Park and next to the historic Acorn Building. Parking is curbside on surrounding streets. Tastings are inside or outside in a small parklet. Tasting hours are subject to change, but as of our latest update, the space is open daily from 12-6pm.
With a commercial kitchen located on a lower level in the adjoining building, visitors can opt to have lunch and or other small bites from the a la carte dining menu with their wines. A section of refrigerated grab-and-go snacks, including beverages is also available. Or those with a sweet tooth may enjoy their house made truffles. Wines are also available by the glass (rather than flights). And sometimes wines not being poured at the estate are available for tastings here.
A cellar is located on the floor below the tasting room. From the small alcove next to the main entrance once can look down on a glass section of the floor to see this cellar.
Just Inn & Other Accommodations
Just Inn is located next to the hospitality center (a very short walk to the tasting room and restaurant). Three suites share proprietary names with the JUSTIN wines including Isosceles, Savant and Justification. Stays here include a bottle of JUSTIN wine, breakfast and a complimentary tasting. Located about 1/4 mile from the tasting room is a 1,400 square foot French country style house called the Vintner's Villa. It includes a dining room and a kitchen.
And for larger groups wanting to really splurge, the nearby 12,000 square foot JUSTIN Chateau is located on a hill overlooking the production facility. It sleeps 10 and features four luxurious rooms, each with private bathrooms, a chef's kitchen, a dining room and a grand living room and library.
*Visit and photos of the JUSTIN accommodation offerings coming by end of 2025. *
WONDERFUL COMPANY BUSINESSES
Wonderful Nurseries, Wasco CA
Wonderful Nurseries is located on the outskirts of Wasco. This is the largest grape vine nursery in North America and one of the top five largest on the planet, offering both wine and table grapes. When the Resnick's acquired this nursery in 2013 it was called Vintage Nurseries, but they changed the name to Wonderful Nurseries in 2017. This nursery farms more than 1,600 acres and maintains 400,000 square feet of greenhouses. We have visited a number of grape nurseries over the years; this is a distinctly impressive operation. Driving along its perimeter, one sees thousands and thousands of grape cuttings growing in fields as far as the eye can see.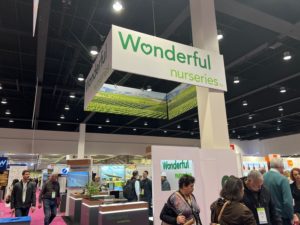 Wonderful Nurseries offers a variety of live products including numerous varieties and clones of dormant bench grafts and rooting's, potted bench grafts and various cuttings. Ready for the wire grapevines are also available as the varieties are grafted onto extra-long rootstock cuttings. In addition to offering grapevine products, the nursery also offers small almond and pistachio trees to select grower partners, and small grape vine or tree protection sleeves. And Wonderful Nurseries is ENTAV-INRA certified to sell selected French grape varieties and clones and also maintains their own ENTAV-INRA mother block on a 40-acre site separate from their other vineyards.
Their commitment to clean and virus free rootstock and varieties is impressive even to the point they are growing some rootstock on trellising (raising the canopy so there is no contact with the soil).
Wonderful Laboratories is a part of Wonderful Nurseries with both a Plant Pathology and an Agricultural Chemistry division. The Plant Pathology Division focuses on testing and identifying plant diseases (with a focus on grapevines), using state of the art technologies. The Agricultural Chemistry Division offers a variety of plant and orchard testing services both on site and off site. And two separate labs are maintained for different reasons; one to test virus, fungi and bacteria and the other for testing soil, water and plant fertility.
And they participate in select tradeshows including the annual Unified Wine & Grape Symposium held in Sacramento every January.
Wonderful Pistachios & Almonds, Lost Hills
This is a massive operation that takes up a sizeable footprint in this part of the southern San Joaquin Valley. Wonderful Pistachios & Almonds is the world's largest grower and processor of almonds and pistachios. Along with their grower partners, they farm some 310,000 acres in California. More than 50% of California's pistachio farmers work with Wonderful. Wonderful's own consumer brand of pistachios are simply sold under the name Wonderful Pistachios.
Lost Hills is location to their primary processing plant for pistachios and their only almond processing facility, however Wonderful also maintains two other plants, also located in the San Joaquin Valley with a total combined 4 million square feet of production space. To better put this into perspective, during the height of the harvest, Wonderful processes up to 1,500 truckloads of pistachios per day. The majority of energy needed to power the Lost Hills operation comes from a 104-acre solar field installation. All of their processing plants are Kosher, and Halal certified, gluten-free and allergen-controlled.
Wonderful Citrus, Delano
When one drives by Delano on the 99 freeway one cannot help but miss seeing the giant Halos advertisement located just east of the freeway outside the Wonderful Citrus operations. Wonderful Citrus is now the largest fresh citrus grower in the western United States (approximately 60,000 acres) and also operates the largest citrus shipping platform in North America. Their operations take up most of S. Lexington Street south of the Delano Municipal Airport, paralleling the 99 freeway.
At the time of our latest update, Wonderful Citrus owns and operates 11 different brands including their two consumer offerings – Halos and Scarletts. Wonderful Citrus processes a variety of citrus year-round and ships both domestically and internationally. Their citrus comes from orchards owned and maintained by Wonderful located in parts of California's San Joaquin Valley, Ventura County and the desert area in the far southeastern reaches of the state. In addition, they own citrus groves in Texas's Rio Grande Valley (headquarters of Wonderful Citrus Texas) and in Tabasco, San Luis Potosi, and Tamaulipas, Mexico.
WONDERFUL COMPANY SPONSORSHIP
Wonderful Park, Lost Hills
The Wonderful Company helped redevelop this green space including building two community centers on site (host to a variety of events throughout the year), two soccer fields, a volleyball court, a basketball court, and a playground. An all-weather oval track is also located on site as is the Wonderful Barbeque. The park is located directly next to Highway 46 on the north side – a major east/west artery connecting Paso Robles (the 101 freeway) to the 99 freeway.
The Wonderful Company also supported the building of the nearby Almond Village, a set of affordably priced homes and town homes for those working in agriculture.
Wonderful College Prep Academy, Delano
This state-of-the-art K-12 school is located on the northeastern fringes of Delano. Support offered to attending students is impressive. Classes are offered entirely free to students, including free transportation for area residents. This is one of the most highly rated schools in Kern County. Students in grades K-8 focus on music and arts and small class sizes with one-on-one instruction. Students in grades 9-12 can choose between Liberal Arts or Ag Business and even earn college credit for select classes. Tutoring is also available to students enrolled in the college equivalent classes.
Eating well is an important part of any student's 'curriculum' here. Students learn to grow and harvest a variety of fruits, vegetables and herbs in the Learning Gardens of which these ingredients are in part of served in the Harvest Hall. Three free meals are provided daily to students; those eating here can watch chefs prepare food in the on-premises kitchen. What is absolutely refreshing, is this school is a junk free food and soda free zone.
And in line with eating well, is exercise. Wonderful College Prep Academy offers 24 sports teams available to grade 6-12 students and encourages students to use the open track during their lunchtimes.
Every high school student is simultaneously a student at nearby Bakersfield College, located about 45 minutes to the south. The academy offers trips to visit colleges up and down the state. Ample scholarships are awarded to students with an above 3.0 GPA each year for those attending four-year universities. And graduating students are direct proof of the school's efforts – with students earning high proficiency in arts and math and a very high enrollment in various colleges post grade 12 graduation.
Lynda and Stewart Resnick Student Union, Fresno State University
This student union building is 84,000 square feet and opened in the Fall of 2022. Its construction was helped made possible with a generous 10-million-dollar donation from Lynda and Stewart Resnick. It contains a ballroom, a café and three other food options, a third floor with a sizable workspace for students and 24/7 access student study rooms and a rooftop lounge.
The building is certified LEED Gold and is powered by solar energy. We will revisit once the space is fully functional and add interior and updated exterior photographs to our notes here.
Resnick Pavilion, LACMA Los Angeles
This visually iconic looking building houses temporary art exhibitions and is 45,000 square feet and was generously funded by a 45-million-dollar gift from Lynda and Stewart Resnick along with pieces from the couples' personal art collection. It is located above the underground parking garage. Access from the garage levels is via elevator to the ground floor – which is a very short walk to the ticket booth and the Resnick Pavilion. Nearby attractions at the museum worth visiting are Levitated Mass, a 340-ton rock suspended above a recessed walkway and the always popular and Instagram ready, Chris Burden designed Urban Light poles.
Stewart and Lynda Resnick Neuropsychiatric Hospital, UCLA
Resnick Sustainability Institute, Caltech
Construction began on this building in early 2022 and is scheduled to be completed sometime in 2024. We will visit once this building is complete and update our notes and photographs here. Caltech was the recipient of the Resnick's largest university donation to date, 750 million.
Lynda and Stewart Resnick Center for Agricultural Innovation, UC Davis
In late 2022 the Resnicks donated 50 million to the University of California Davis to be used in part to build the Lynda and Stewart Resnick Center for Agricultural Innovation on campus, focusing on agriculture and environmental sustainability. A portion of their donation will be used to fund annual research grants directed from the Resnick Agricultural Innovation Research Fund. Design on the 40,000 square foot center began in late 2022 with construction happening over the next few years, due to be completed by 2026. The LEED certified center will house classrooms and research and laboratories. Once completed, we will visit the center and update our photography and notes here.