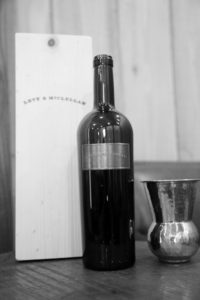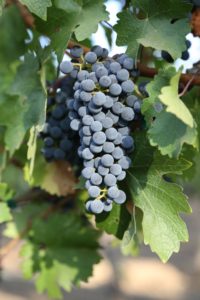 LEVY & MCCLELLAN was founded in 2004 by long time Napa winemakers and husband and wife, Bob Levy and Martha McClellan. Bob is a 4th generation Californian who grew up in Culver City (Los Angeles County). He remembers the first time he was introduced to wine – at age 17 by a brother-in-law – bottles became something he could collect, and he started doing so. His first wines weren't the best wines as he admits, but invariably when you are new to the world of wine, they often become your most memorable wines.
After applying to a number of colleges he chose UC Davis not initially for wine studies but rather as a pre-med student. By the time of his junior year, he had an epiphany, he could see himself practicing medicine for some time but then perhaps wanting to do something else – but with wine, he knew his interest already was such that it was a passion he could dedicate the rest of his life to. And he knew he did not want to live in an urban environment (which would probably be the case if he went into medicine). Despite growing up in a very urban environment he realized he preferred being outdoors in the natural world.
He changed career paths and began to study winemaking. It was a good time to be at UC Davis with a number of his classmates at the time eventually having long and storied careers in Napa including Mike Martini, Tim Mondavi, Randy Dunn, and Tom Rinaldi.
While at UC Davis Bob joined a number of tasting groups – both in Davis and in Napa including one hosted by Alex and Gayle Dierkhising (one of the valley's long-time restaurateurs and current owners of the All Seasons Bistro & Wine Shop in Calistoga – which unfortunately permanently closed in 2020).
After graduating UC Davis, he moved back to Los Angeles and worked in a hospital for a short stint. With Napa 'calling' he moved back to the valley in the mid 1970's and took his first winery job at Cuvaison where he recalls he earned $4.50 an hour rather than the normal $4 because of his degree in winemaking. It was at Cuvaison that he worked closely with winemaker Philip Togni for 5 years.
During his time at Cuvaison he met Koerner Rombauer who was just beginning Rombauer Vineyards (his winery was not yet built). Bob was the founding winemaker at Rombauer Vineyards; after the first two vintages he oversaw the construction of the winery in 1982 – the construction began in June of that year with the plan for the winery to handle the harvest later that year (today that would never happen in the valley with permitting – everything moves slower). Remarkably they were able to process the first harvest at the winery although they did not yet have power; Bob recalls they had to literally drag a large generator onto the property.
Rombauer became well known in the industry for offering custom crush services – one of their clients was Merryvale Vineyards (founded in 1983 by vintner Bill Harlan and his selected real estate partners). It was through Rombauer that Levy was introduced to Harlan – setting the stage for what would become one of the valley's most prominent long term winemaking relationships. Bob became Merryvale's founding winemaker in 1983 and oversaw the transition and renovation of the old Sunny St. Helena property where Merryvale moved their wine introduction to in 1989. After Harlan purchased his first 40 acres in 1984 Levy began to work with him in the subsequent years (making the 1987-1989 Harlan Estate wines at Merrvyale – vintages that were never released) and then later overseeing winemaking at BOND and The Napa Valley Reserve.
Bob and Martha originally met at an American Society for Enology and Viticulture conference in Portland. Martha earned a degree in Oenology and Viticulture from the University of Geisenheim in Germany (the only American in her graduating class). Prior to moving to the Napa Valley full time, she worked at wineries in Germany and Australia.
She became an assistant winemaker at Merryvale in 1995 helping make several of the Harlan Estate wines (several vintages at Merryvale and later at Harlan Estate once the winery was completed). Later she became winemaker at the acclaimed Sloan Estate and Blankiet and is currently winemaker at Checkerboard Vineyards and consulting winemaker at Vineyard 7 & 8.
The Vineyard
In their search for Napa vineyard land, Bob and Martha were extremely focused and specific in what they were looking for. Both had worked with premium hillside vineyards for years and narrowed their search to hillside locations surrounding the valley. Furthermore, they limited their search to hillsides on the western sides of the valley – not at the base of the mountains and not at the top either. The western side of the valley suits their wine style in that (depending on exposure) most often sees a cooler microclimate compared to the west facing slopes on the eastern side of the valley. Hillsides here are exposed to early morning sun (when there is no fog) and but also less sun exposure in the late afternoons.
The vineyard site is located off of Franz Valley School Road a few miles northwest of Calistoga in the Calistoga AVA and not far from Diamond Mountain appellation. It is located at about 500 feet in elevation, near the Sonoma County line and is planted to six acres – primarily to Cabernet Sauvignon but also to Cabernet Franc and small blocks of Merlot and Petit Verdot. The vineyard was planted in 1999 not with a varietal blend in mind but rather based on soil types. Despite a small property the soil types vary – the Cabernet Sauvignon grows on a topsoil of Aiken Loam on top of compressed tufa, the Cabernet Franc is planted directly on top of compressed tufa, and a small portion of the soil is sedimentary – somewhat clay like and the Merlot grows here. The soils are low vigor resulting in yields that are remarkably low – in a good year vine yield might average out to around 2 tons per acre – but a number of years yields have only been around 1 ton per acre.
Row orientation was carefully planned – following the contour of the slopes on their property. The vines run north to south – chosen to balance the amount of sunshine in the morning with the afternoon. And the vineyard is planted high density – opting for 3 fett by 5 feet spacing (uncommon at that time), with the idea to further limit the yield of production per vine. And after the vine's first several years of growth, ultimately, they try to dry farm the vineyard (which they are mostly able to do each year other than several of the most stressed sites). This initially requires careful water management to force the young vines to send their roots down as deep and as quickly as possible to seek out moisture within the soil. And Bob has noticed that this type of compressed volcanic ash has a fairly high-water retention even late into the year.
The vineyard is farmed organically to ensure the soil micro flora is as healthy as possible. They plant cover crops but do not till these into the soil in the spring and summer (rather will mow) and do not use any herbicides. And tractors are not used (which can compact the soil).
David Abreu initially helped manage the vineyard – through David's contacts, Bob & Martha now employee a full-time vineyard manager.
Winemaking

Early in their careers, both Bob and Martha realized the important of tannin presentation including their structure and mouth feel. Bob recalls some of the great Napa wines from the 1970's were certainly age worthy – but featured rustic, drying or even green tannins. He credits noted Bordeaux-based consulting winemaker Michel Rolland for in part changing his own perception of winemaking – from one of making clean wines but perhaps uninteresting wines to producing wines that have charisma, depth and express their source terroir.
Looking to further improve and enhance the quality of tannins Bob & Martha began researching other ways to gently coax out the extraction of desired tannin qualities. What is an extremely labor and time intensive process (not to mention costly, based on the amount of and high-quality oak being used – Taransaud and Djarnajou barrels), Bob and Martha ferment their entire production each year in new French oak barrels. The heads of each barrel are removed by hand, the grapes gently placed inside and then the heads re-attached. Rather than doing mini-punchdowns, each barrel is put on rollers and gently rolled during fermentation easily exposing the fermenting juice with the floating grapes.
This breaks down the winemaking into micro lots if you will – each barrel carefully tended to for the entire length of its fermentation and aging. And as an example – if they start with 60 barrels of wine – the amount of wine left post fermentation would be equivalent to less than 20 barrels (using all free run juice). This process has allowed them to obtain the desired flavors, color and tannin feel (even early on in the winemaking). In regard to tannins, this level of winemaking extracts a high quantity of tannins but ones that are fairly soft and approachable in their youth – but also gives the wine an age-worthy backbone.
The wines are never fined or filtered, and all primary fermentation is done using non inoculated yeast (indigenous).
An important aspect of their winemaking is to create wines that convey a sense of place – their specific terroir if you will (includes the soils, the varieties and the human element).
Martha oversees all winemaking duties and decisions at LEVY AND MCCLELLAN while Bob focuses on overseeing their vineyard.
The Wines
The varietal percentages change each year based on what they feel makes the best wine. Often the wine is technically a Cabernet Sauvignon, but some years the wine contains higher percentages of the other Bordeaux varieties.
Simply labeled as &, the Ampersand is a wine that is built to age but also meant to be highly approachable in its youth. The 2014 & is generous in its aromatic presentation with ripe blackberry, hints of chocolate, cinnamon and dry earth – as the wine breathes more fruit aromatics continue to show. Initially, pretty tannins show more in the front of the palate then the back. The wine feels supple across the palate – rich in flavor but with well-integrated fine-grained tannins that linger softly for some time.
The 2014 LEVY & MCCLELLAN is an impressive offering. This wine deftly straddles the line between elegance and power. When such a balance is obtained the resulting wine is a fine expression of terroir. Dark in the glass, it is bold on the bouquet showing darker fruits including plum, an Asian spice nuance and hints of cedar box. A freshness and a liveliness immediately are evident on the palate. The long finish features polished yet noticeable tannins – there are no harsh edges here, simply a nice integration between flavor and structure.
This is a wine that should be on the list of any serious Napa collector.
At this heightened level of attention in both the vineyard and the winery, the wine becomes like a living piece of fine art – to be collected and enjoyed for what it is, but also to be highly appreciated for the significant work and creativity that went into its journey from vineyard to bottle. And to be cherished for its pedigree – not only for the unique vineyard site but equally as important for the wine making efforts of its creators.
The wines are sold via a mailing list (with members receiving pre-release notifications) – and in select local restaurants including at the French Laundry, the Restaurant at Meadowood and at Auberge du Soleil. Bob and Martha have long held back a small portion of each vintage and each year re-release these library wines to their membership list. To join this coveted list, visit: www.levymcclellan.com